Five things to look forward to at the SS24 shows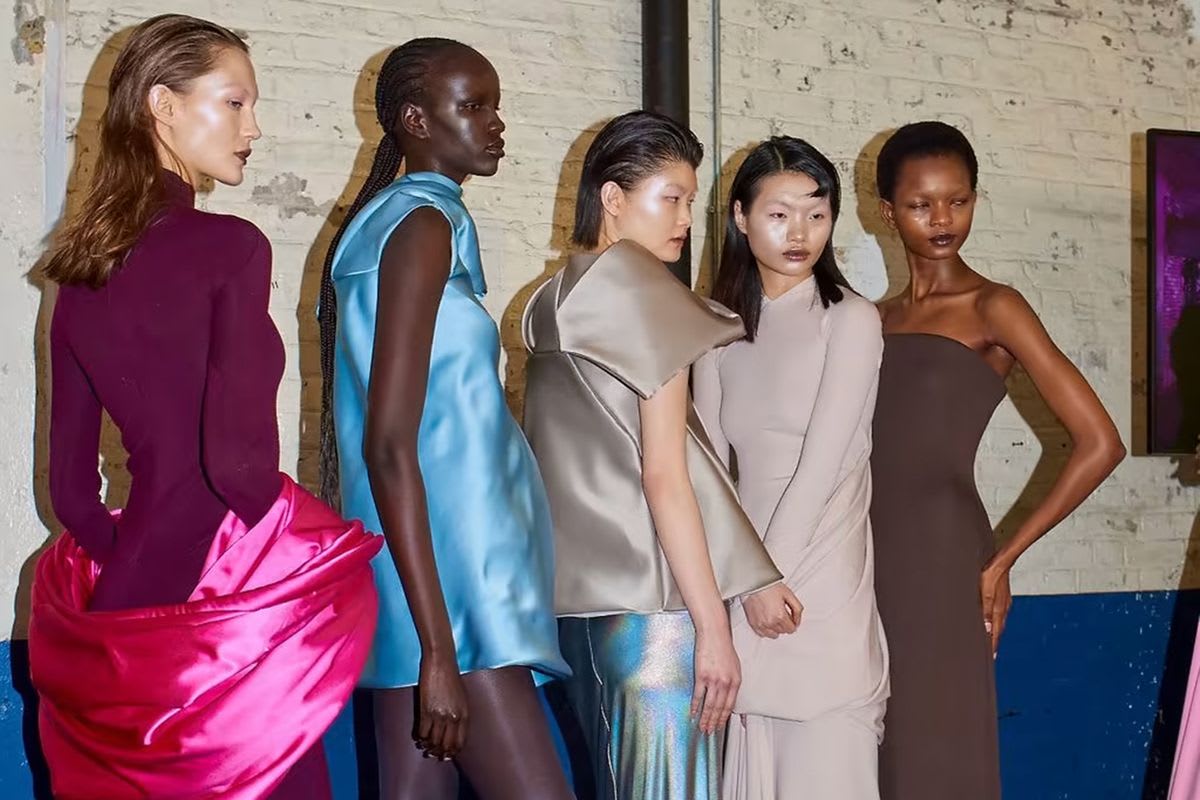 Plus the 2023 Fashion Award nominees, Jenna Ortega for Dior and more feel good fashion news
image Silvia Draz
words Sophie Lou Wilson
Happy fashion week! But isn't it always fashion week somewhere? we hear you say. Well, kinda, but this week New York Fashion Week kicks off the Big Four, with London, Milan and Paris to follow. With hundreds of on and off schedule shows, presentations, parties, exhibitions and events happening over the next four weeks, if you're feeling overwhelming, you're not alone. So, we've curated a list of five key moments to get excited about that you can keep up with from the comfort of your own home.
Elsewhere this week, the 2023 Fashion Award nominees were announced. The lineup includes Martine Rose, Grace Wales Bonner, Chopova Lowena, KNWLS and many more. Meanwhile, Jacob Elordi has been serving some seriously suave menswear looks at Venice Film Festival and Jenna Ortega fronts a new Dior campaign. Here's all the feel good fashion news from this week you might have missed.
five things to look forward to at fashion week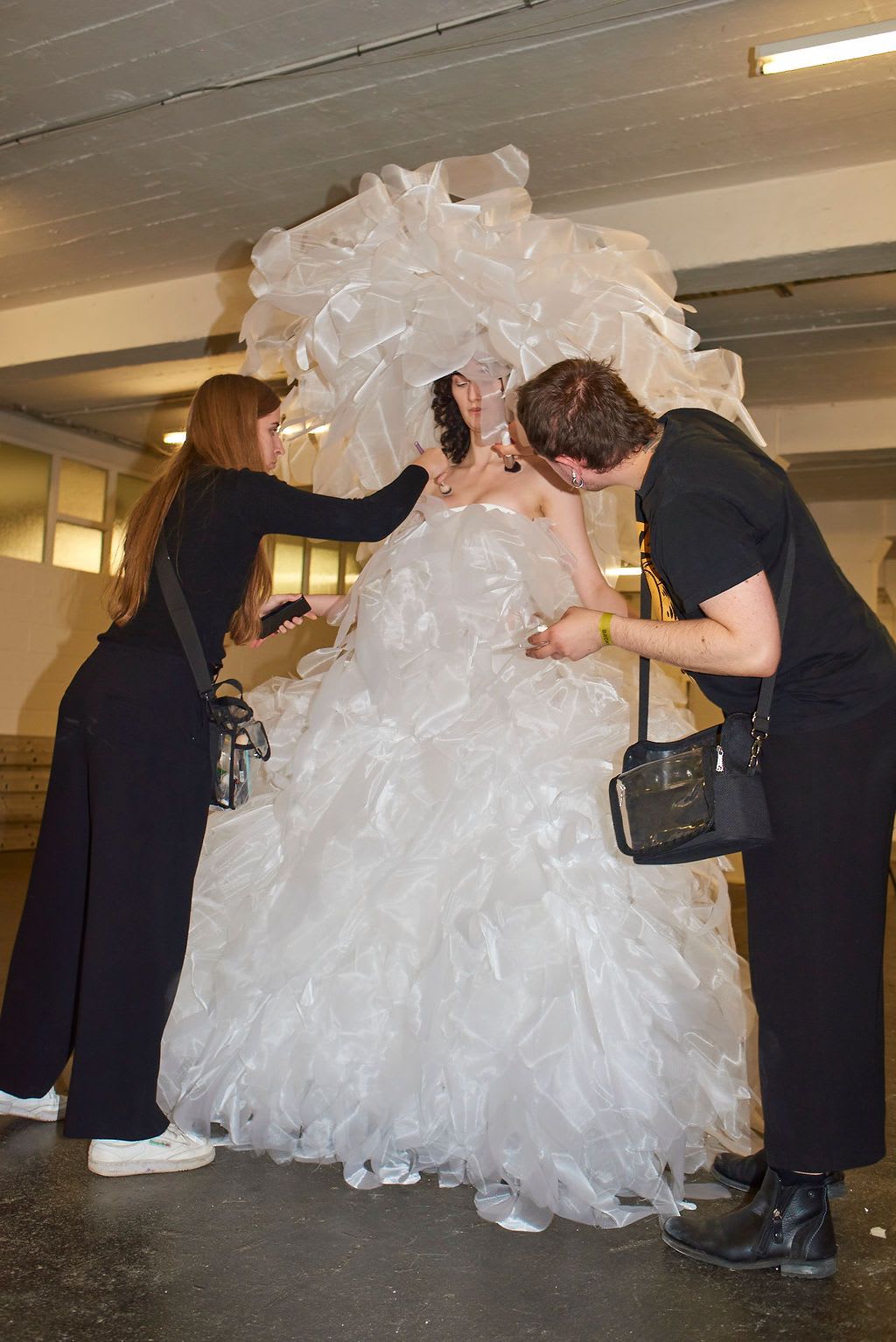 Photo by Silvia Draz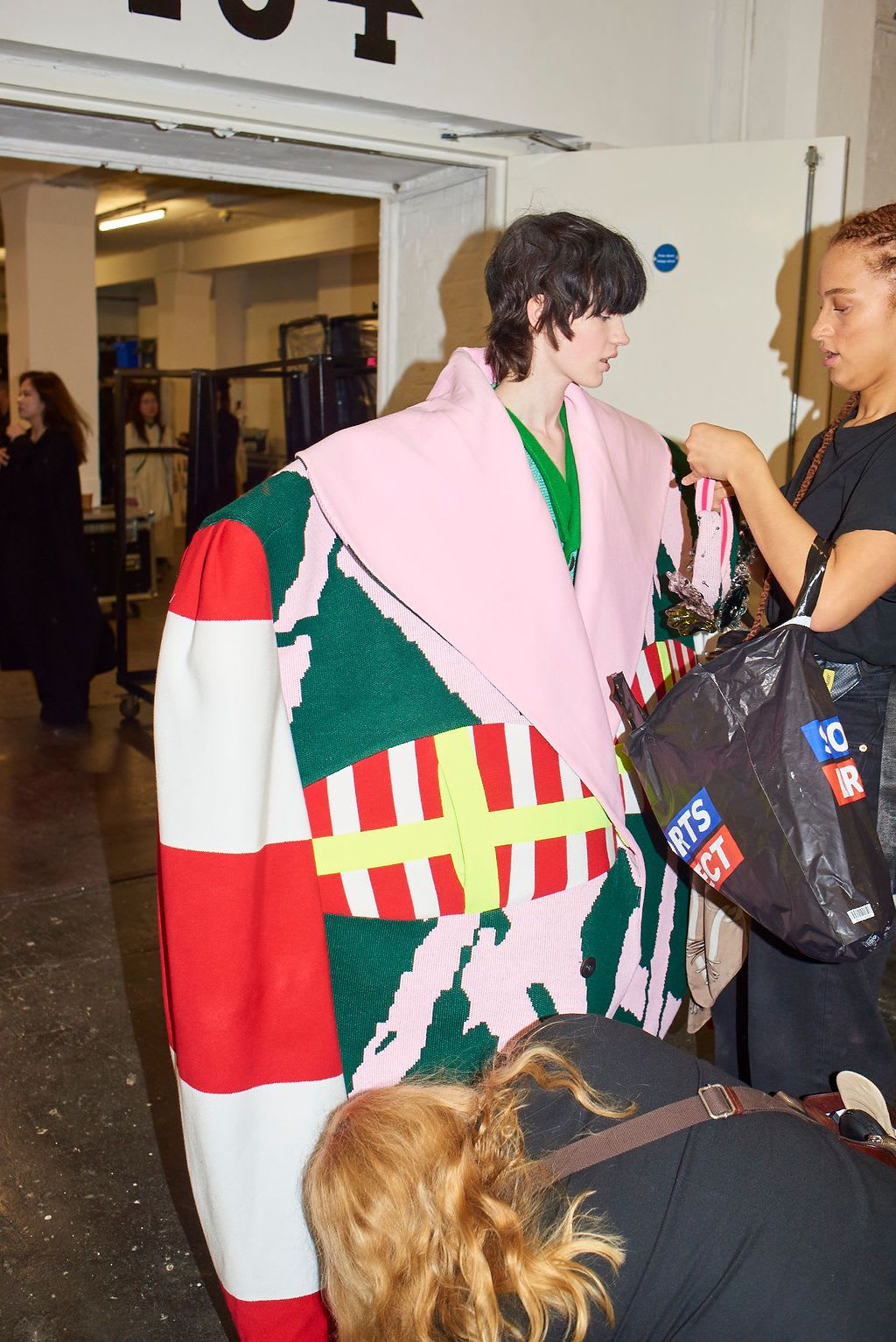 Photo by Silvia Draz
the street style
Fashion designers aren't the only ones at fashion week with a point of view. Street style is just as exciting as the runway shows and you don't even need an invite to enjoy it. What people are actually wearing might inspire your wardrobe more than what's happening on the runway. We predict we'll see plenty of biker boots, kilts and skirts over trousers this season, but the most refreshing style comes from those who don't abide by trends. Street style can inspire you whenever you step outside, but fashion week is a showcase of it at its very best.
the bfc newgen exhibition
This season, the British Fashion Council's NEWGEN programme turns 30. To celebrate, South Kensington's Design Museum is putting on REBEL: 30 Years of London Fashion, showcasing work from London's most trailblazing designers from the past three decades. The exhibit will include iconic, culture defining pieces like Harry Styles's S.S. Daley outfit from his 'Golden' music video, Sam Smith's inflatable latex suit by HARRI that they wore to this year's BRIT Awards and the giant blue tulle Molly Goddard dress Rihanna wore in a viral Instagram post. And if you want to pay a visit to even more fashion exhibitions this season, the Gabrielle Chanel A Fashion Manifesto opens at the V&A next weekend and there's still two more days to catch Fall In Love And Be More Tender, the Ashish exhibition at the William Morris Gallery.
the designers pioneering body inclusivity
Sinead O'Dwyer AW23 by Silvia Draz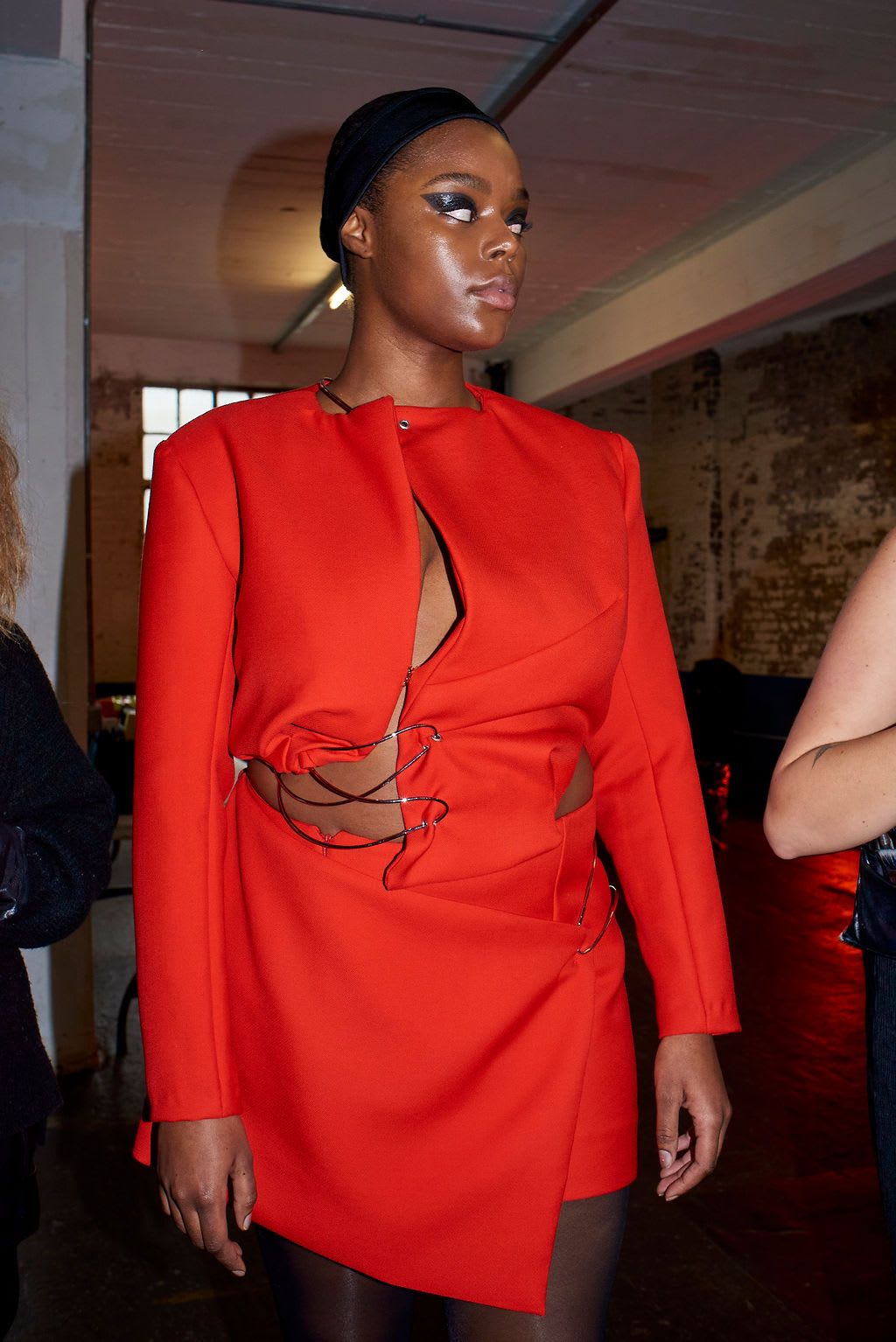 Karoline Vitto AW23 by Silvia Draz
Fashion still has a long way to go when it comes to size inclusivity, but a few designers are leading the way. Last season, Sinead O'Dwyer opened London Fashion Week with a radically inclusive show that challenged fashion week's sample sized status quo. The Irish designer cast models in sizes 8 to 26 in her tailored shirts and signature shibari rope-inspired body suits. Her SS24 runway show will take place on 16 September. Meanwhile, Fashion East alumna Karoline Vitto, known for her curve-accentuating cut-outs, heads to Milan Fashion Week where she will show her collection on 24 September. Other designers to pioneering inclusive casting this season include Collina Strada and Di Petsa, showing in New York and London, respectively.
new creative directors at gucci and helmut lang
Lately it has felt like fashion is playing a game of musical chairs as designers join and depart houses at an ever increasing speed. This season, the most anticipated appointments are Peter Do at Helmut Lang and Sabato de Sarno at Gucci. In the opening New York Fashion Week show, Do is expected to bring his signature cool minimalism to the helm at Helmut Lang with a collection that could reinforce a fashion vibe shift away from gimmicky viral moments to refocus on quality and craft. Meanwhile, Gucci collections have been designed in-house since the shock departure of Alessandro Michele in November last year. In February, it was announced that the relatively unknown Sabato de Sarno would be his predecessor. Will he also take Gucci in a more minimalist direction following Michele's tenure of kitschy maximalism? We'll have to wait until 22 September to find out.
the menswear
While these are technically the womenswear shows, London Fashion Week is now coed so menswear designers like Stefan Cooke, Ahluwalia,HARRI and Fashion East's Olly Shinder will all be showcasing their collections. Fashion is much less restricted by rigid gender divides today, anyway, so look out for genderless and menswear pieces even when you're not expecting them. This season, we're predicting more men in skirts and handbags for men alongside those timeless tailored classics.
announcing the fashion award nominees for 2023
you are missing out on some content here because you rejected our cookies. want to change that?
For the first time ever, this year's Fashion Awards will recognise designers across both menswear and womenswear. Taking place at the Royal Albert Hall on 4 December, the awards celebrate British fashion while offering support to its burgeoning designers. This year's nominees include Grace Wales Bonner, Martine Rose, Bianca Saunder, Chopova Lowena, Dilara Findikoglu, KNWLS and more. This year's Model of the Year nominees include Alton Mason, Anok Yai, Kai-Isaiah Jamal and Paloma Elsesser. The awards ceremony is open to the public and you can buy tickets here.
jacob elordi brings his fashion best to venice film fest
you are missing out on some content here because you rejected our cookies. want to change that?
Oh to be Jacob Elordi's Chanel handbag... The Euphoria star has been serving look after look at Venice Film Festival this month where he's been promoting Sofia Coppola's new Priscilla Presley biopic. From casual off duty denim to head-to-toe Valentino on the red carpet, the Australian actor has cemented his status as one of 2023's biggest menswear fashion icons – and heartthrobs. He's been showing off his impressive designer handbag collection, whether he's carrying a yellow monogram Louis Vuitton carryall or a small classic Chanel handbag. Men, why are you still trying to fit everything in your pockets when you could carry a chic handbag instead?
jenna ortega fronts the new dior campaign
you are missing out on some content here because you rejected our cookies. want to change that?
Jenna Ortega has traded her gothic Wednesday Addams look for Dior's demure Joaillerie's Rose des Vents Campaign. Shot by Tyler Mitchell, the actress is captured against a saturated backdrop in pink knitwear and a cottagecore white lace dress accessorised with the new jewellery collection designed by Victoire de Castellane. For Ortega jewellery holds sentimental value. "I've got a vintage scarab beetle ring gifted to me by my beautiful friend Jade, in honor of a character and job that she directed," she says via press release. "That role meant so much to me, and she means so much to me…. I try to wear it whenever I can."