A guide to Ice Spice's effortless New Yorker style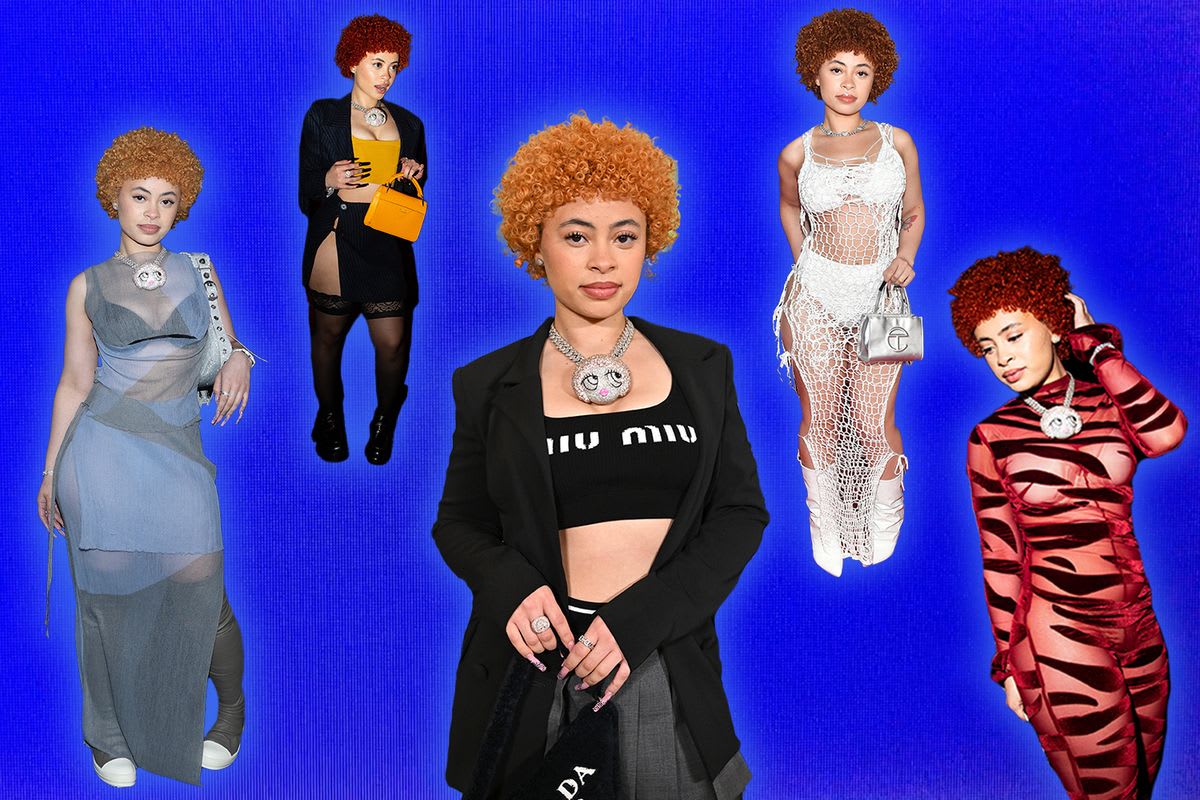 This season, the rapper came to claim the crown for NYFW's best dressed
image Team Woo
words Sophie Lou Wilson
Each fashion week, a new celebrity style icon is born. And this season, Ice Spice was the moment. Last year might have given us Julia Fox and Doja Cat's subversive and eye-catching lewks, but this year, the 23-year-old rapper came to claim the crown. The native New Yorker not only sat front row at Dion Lee, Coach and Tommy Hilfiger, but also performed at afterparties for LaQuan Smith and Tia Adeola. She's booked and busy!
Ice Spice burst onto the hip hop scene last summer following the overnight success of her single 'Munch'. The rapper's signature look was quickly established in the track's music video. The denim cut-off shorts, neon green tube top and orange press-on nails were made doubly iconic when Lil Nas X riffed on the look, complete with a flame-hued wig, last Halloween. 2023 has been Ice Spice's year. She released her debut EP Like…? in January which was swiftly followed by the collab of the year, 'Boy's A Liar Part 2', with PinkPantheress. The track recently reached the global billboard top 10.
But it wasn't until New York Fashion Week that Ice Spice truly asserted herself as a style icon to watch. Working with stylist Marissa Pelly, she turned out a series of figure-hugging, all-American looks that emitted effortless cool. "When I first met her, I just immediately got it-girl energy," Pelly told Complex. That may be true, but what makes Ice Spice's style so appealing is her down-to-earth, relatable energy. She rarely wears heels because she prefers trainers and even when she's wearing a lace bodysuit you still get the sense that the rapper doesn't take herself too seriously.
Whether she's perching front row at Coach in a pretty preppy dress or twerking at the after party in a sheer red bodysuit, there's no denying that Ice Spice has style. Below, we look at some of her most iconic looks to date and how to get them.
Varsity prep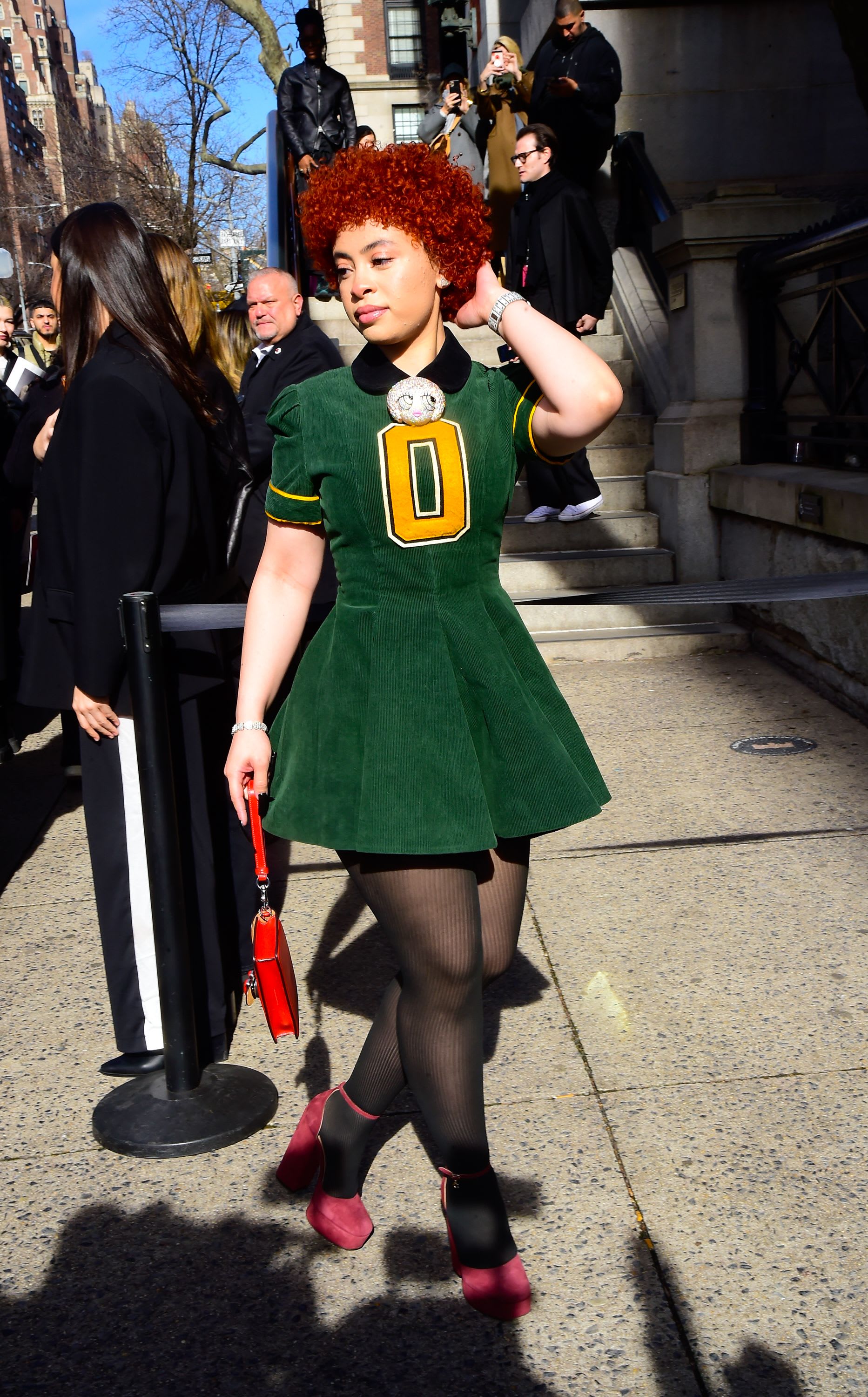 Ice Spice by Raymond Hall/GC Images
Ice Spice and Lil Nas X sat next to each other at the Coach show exchanging whispers. What were they talking about? "Sharing secrets," Ice Spice said after the show. She embraced the preppy trend in a cute green corduroy mini dress finished with a sporty varsity print. It's finished with her signature charm pendant, cherry red bag and platforms. The native New Yorker often references all American aesthetics. Here, she evokes the archetype of the high school cheerleader. We're supporting whichever team she's supporting.
Extra spicy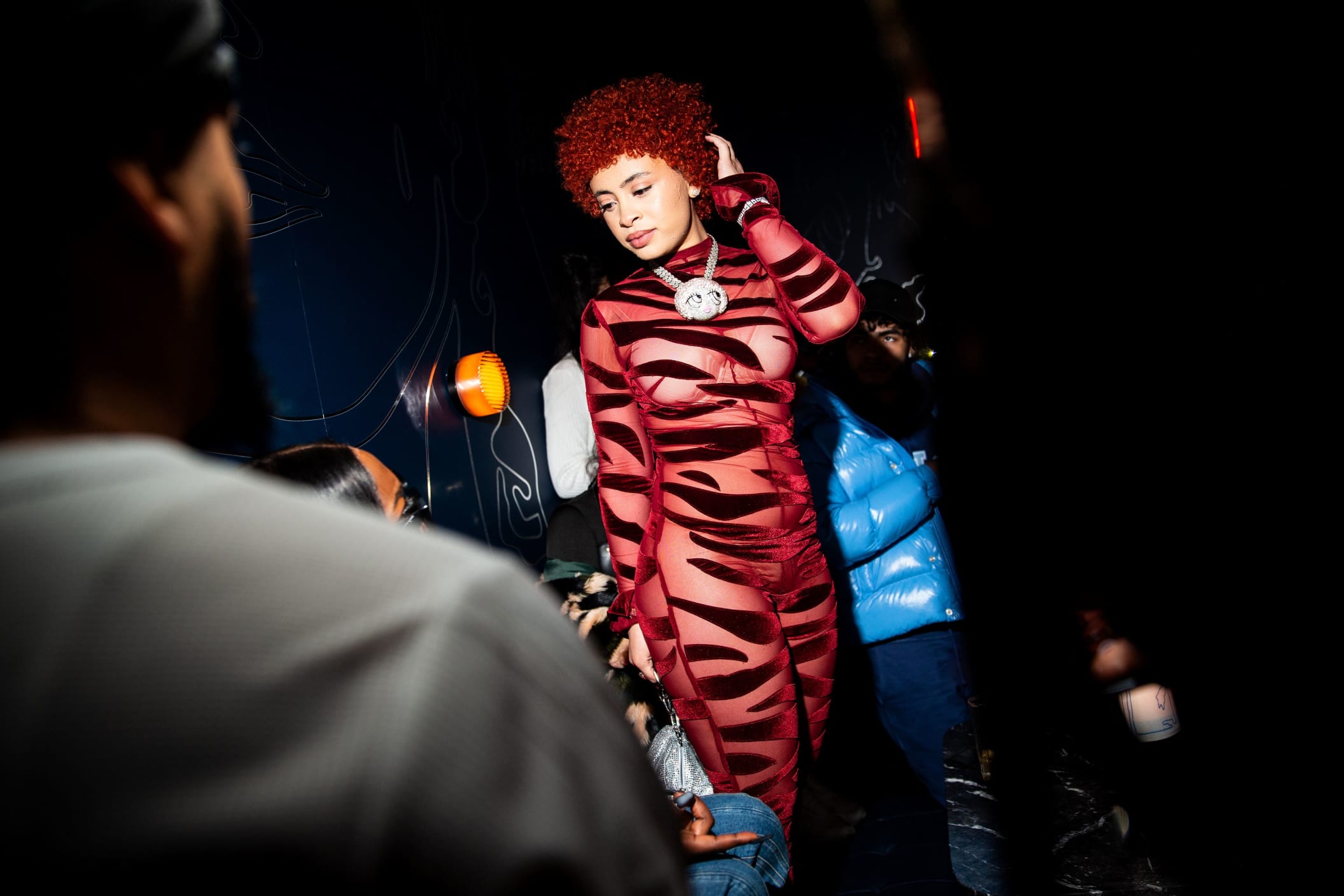 Ice Spice by Lexie Moreland/WWD via Getty Images
Ice Spice performed at the LaQuan Smith after party in this custom sheer red bodysuit complete with velvet animal print details. She often wears comfy figure-hugging silhouettes and each of her fashion week looks were specifically tailored to her body. LaQuan Smith is a quintessentially New York designer so it made sense for him to work with one of the city's biggest new stars.
Ready for work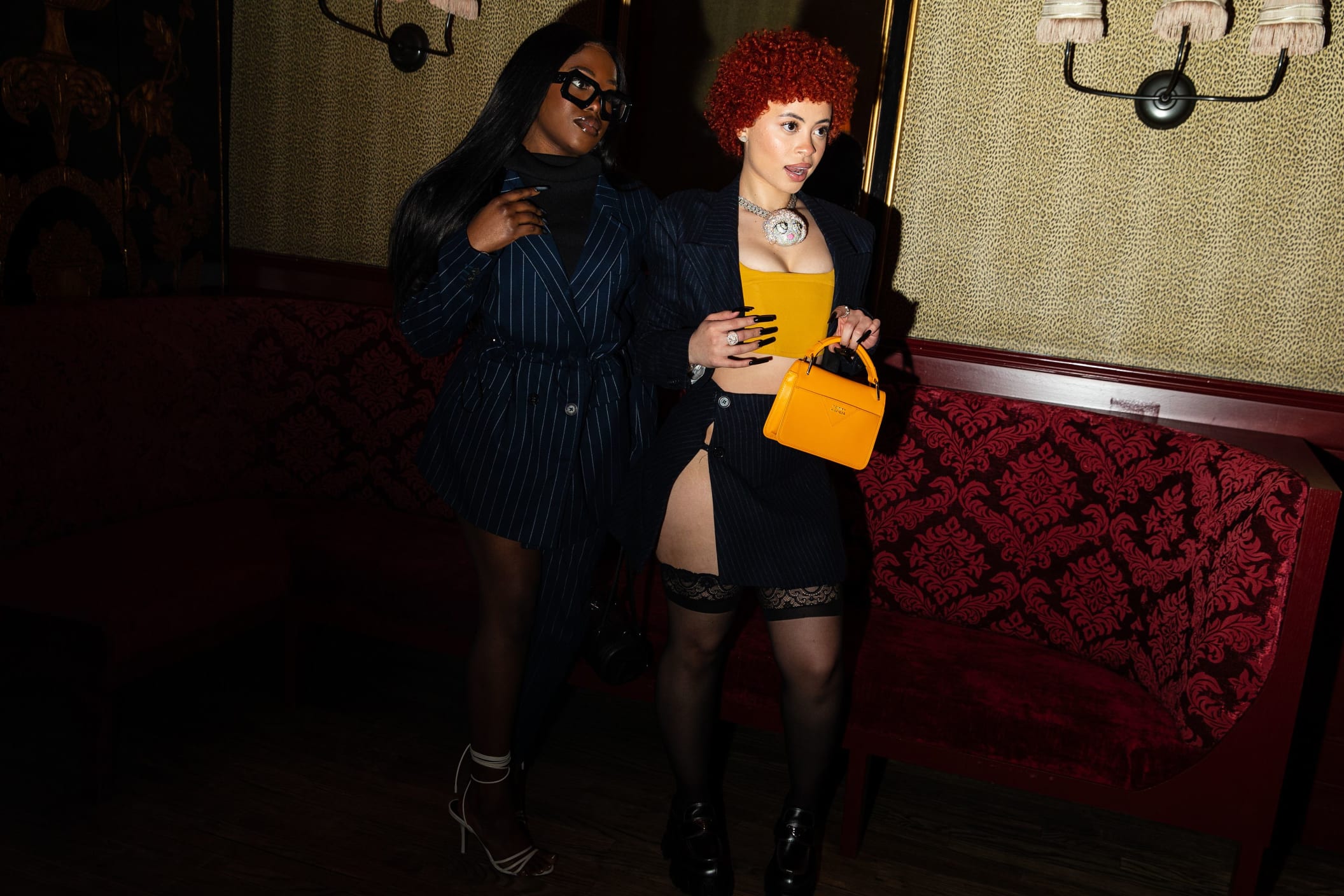 Ice Spice by Lexie Moreland/WWD via Getty Images
To attend Tommy Hilfiger's intimate NYFW dinner, Ice Spice wore this yassified office attire. The rapper loves tube tops and here she wears a yellow one beneath an oversized pinstripe blazer. A high side split skirt dials up the sex appeal, revealing lace-trimmed stockings beneath. She completes the look with a yellow Tommy Hilfiger bag and long black stick-on nails. Chic!
Lush lace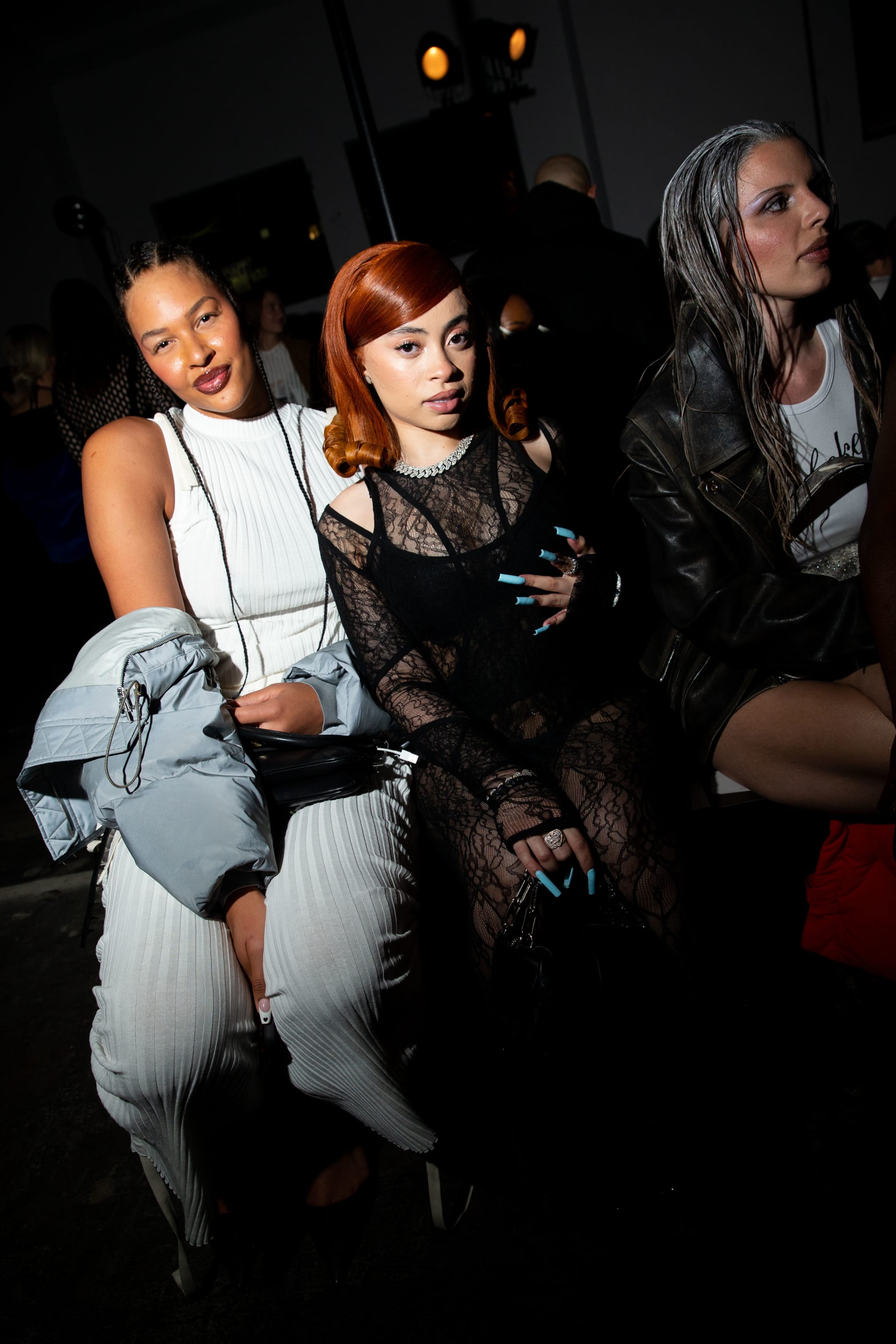 Ice Spice by Lexie Moreland/WWD via Getty Images
To sit front row at Dion Lee, – next to Julia Fox, no less! – Ice Spice wore a black lace bodysuit. Here, her iconic curly red hair is transformed into an adorable, bouncy bob. A fresh baby blue manicure and silver chain complete the look. We wonder what style tips Spice and Fox were sharing during the show.
Feeling blue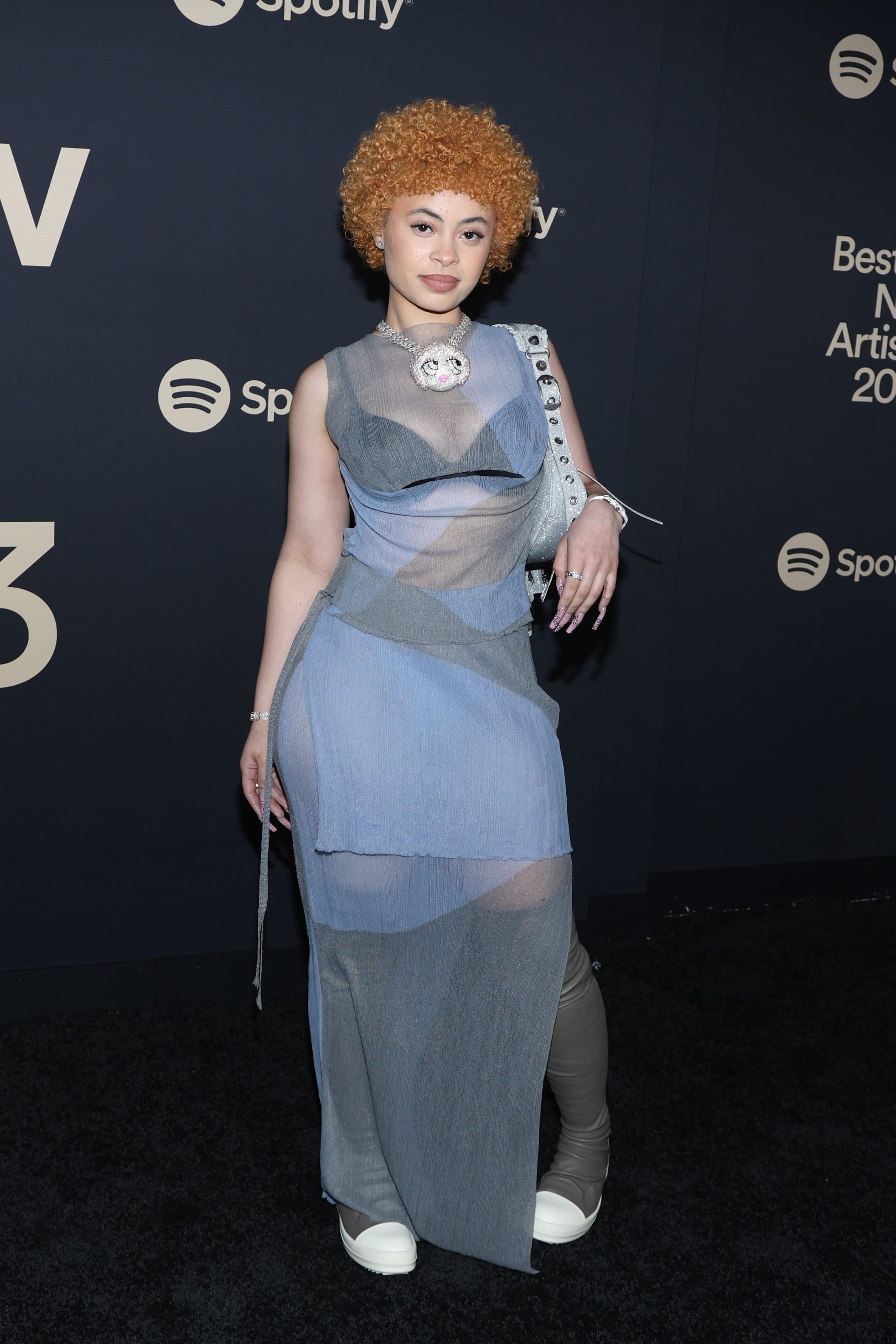 Ice Spice by Steven Simione/FilmMagic
At Spotify's Best New Artist party earlier this year, Ice Spice wore a see-through blue dress and made a convincing case for wearing black underwear beneath sheer fabrics. She paired it with over-the-knee leather flats and a Balenciaga Cagole bag. If Spotify has any taste at all then Ice Spice will certainly be nominated for next year's Best New Artist and we can't wait to see what she wears when she wins.
Caught up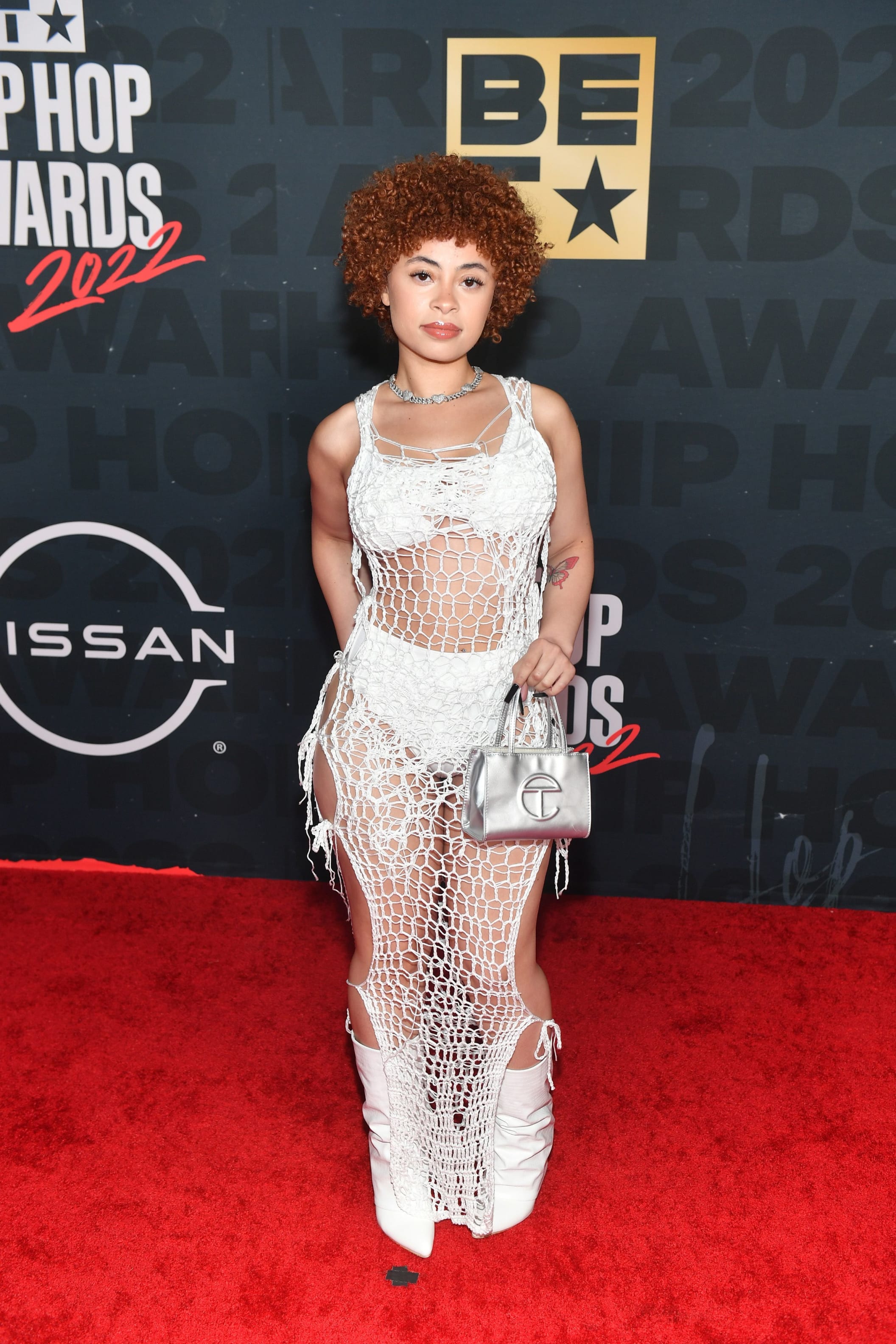 Ice Spice by Paras Griffin/Getty Images for BET
What would a native New Yorker be without her trusty Telfar? Here, at the BET Hip Hop Awards, Ice Spice pairs her small silver Bushwick Birkin with a distressed white netted dress with white leather boots. The rapper was invited to the awards after only having released one song which is kinda iconic.
Miu Miu girl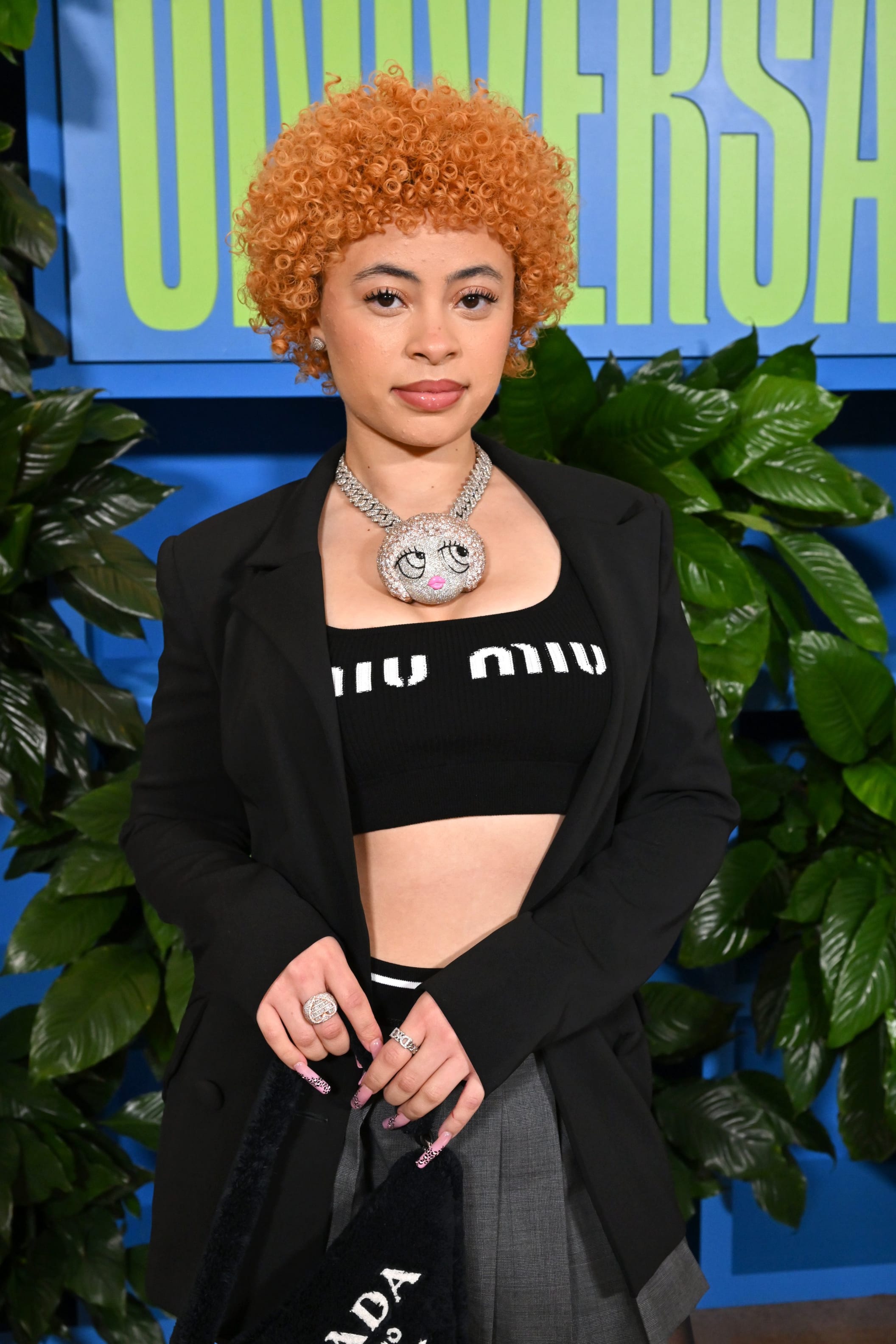 Ice Spice by Lester Cohen/Getty Images for Universal Music Group
School uniform has never looked so good! For Universal's 2023 Artist Showcase, Ice Spice trialled the preppy, scholastic aesthetic that would define many of her New York Fashion Week looks. Wearing a Miu Miu crop top, black blazer pleated grey skirt and a Prada bag. We didn't think we'd ever want to go back to wearing school uniform, but this look has us tempted to give it a go.
Munch
you are missing out on some content here because you rejected our cookies. want to change that?
Ice Spice might love a high fashion look, but her most iconic outfit is much lower maintenance. You know a look has become fashion grail when it gets turned into a Halloween costume. And that's exactly what happened to this green tube top and denim hot pants combo from the music video for 'Munch' when Lil Nas X wore the look as his Halloween costume last year. We have no choice but to stan.