Pink Pantheress didn't think Ice Spice knew who she was - then a DM changed everything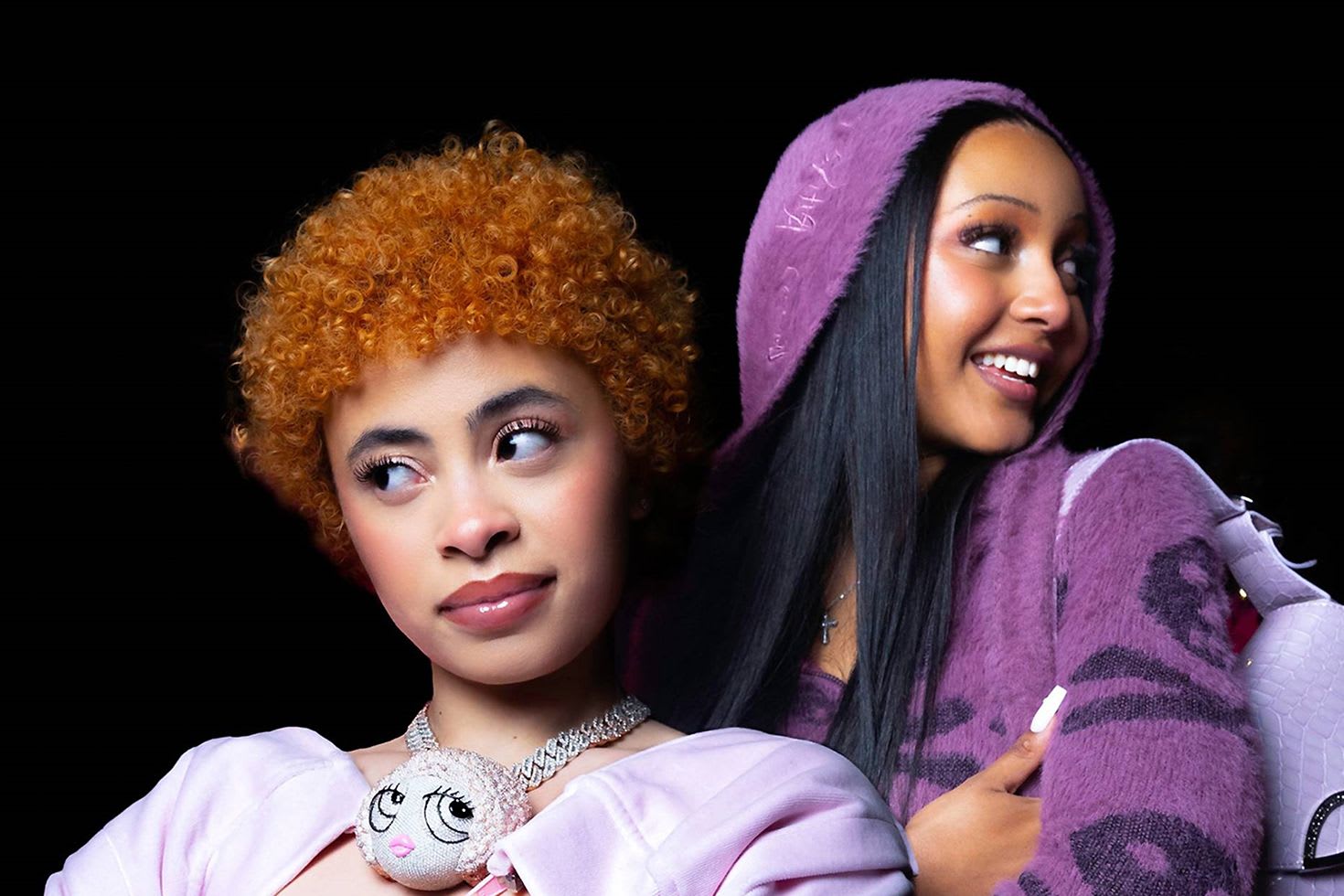 Turns out, Instagram played a fundamental role in the meeting of legends on "Boy's a Liar Pt. 2"
Sad girl patron saint and handbag enthusiast PinkPantheress has given us trust issues once more after dropping the remix of Boy's a Liar. The London musician jumped back on the Mura Masa co-produced beat, this time tapping up none other than Princess Diana, Ms Ice Spice for a verse.
And while you'd expect that Ice Spice — known for nonchalance, casual confidence and waving off simps — wouldn't vibe with Pink Pantheress's wistful musings, you would be wrong! It seems like the NYC drill queen has also been through it, rapping about not eating or sleeping because of a sneaky boy who - as the song suggests - is a liar.
But while the track might have you in your feels, the story behind it is seriously uplifting. And this is not least because Boy's a Liar Pt. 2 — which landed at Number 1 on the Spotify UK Song Debuts over the weekend and is (at the time of writing) the #1 trending music video on YouTube — very nearly didn't happen.
As it turns out, PinkPantheress thought that she wasn't even on Ice Spice's radar - until the very offline singer finally logged onto IG. "I saw that [Ice Spice] followed me because I was on Instagram, and I never go on Instagram," she said in an interview with NME. "I thought it was cool because I didn't think she even knew who I was."
You know the story from there: girl messages girl, they decide to link up and then, well, they create music history. "I popped in [the DMs] and said, 'Whenever you're in the UK, I'd love to meet'. I think she's really cool, above the music and everything. She said she was a fan [of mine], and I was like, 'OK, amazing'."
you are missing out on some content here because you rejected our cookies. want to change that?
Pink Pantheress has already collaborated with the likes of Willow and Beabadoobee, but has some thoughts on why her track with Ice Spice might have worked so well. "When it comes to collaborations, I'm quite picky: I always want someone who can match me well on a track," she explained. "Even though Ice Spice does drill, her flows are super unique and the beats she chooses are different. A lot of people would struggle with the beats I choose, but I knew she'd be good for it."
She also noted the ways that the collab is helping the world see a different, more tender side to Ice Spice. "My songs are quite dark lyrically," she said. "With Ice Spice, once you see the world she embodies and what she looks like, it makes you view the music differently. I listened to her and I'm like, 'Oh, she's actually more cute than a savage'. I guess it was a good opportunity for her to show a more vulnerable side. I think it's good to create more of a three-dimensional character as a musician."
And the love doesn't stop there! To mark the release of the track, Pink Pantheress took to Twitter to say that Ice Spice "radiated the warmest + most positive energy i've ever felt from a fellow artist" [sic]. And Ice Spice seemed to confirm that the admiration goes both ways, quote-Tweeting the post with "i loveee yuu pink."
Name a more iconic duo? We'll wait…
you are missing out on some content here because you rejected our cookies. want to change that?