a guide to Julia Fox's iconic, creative personal style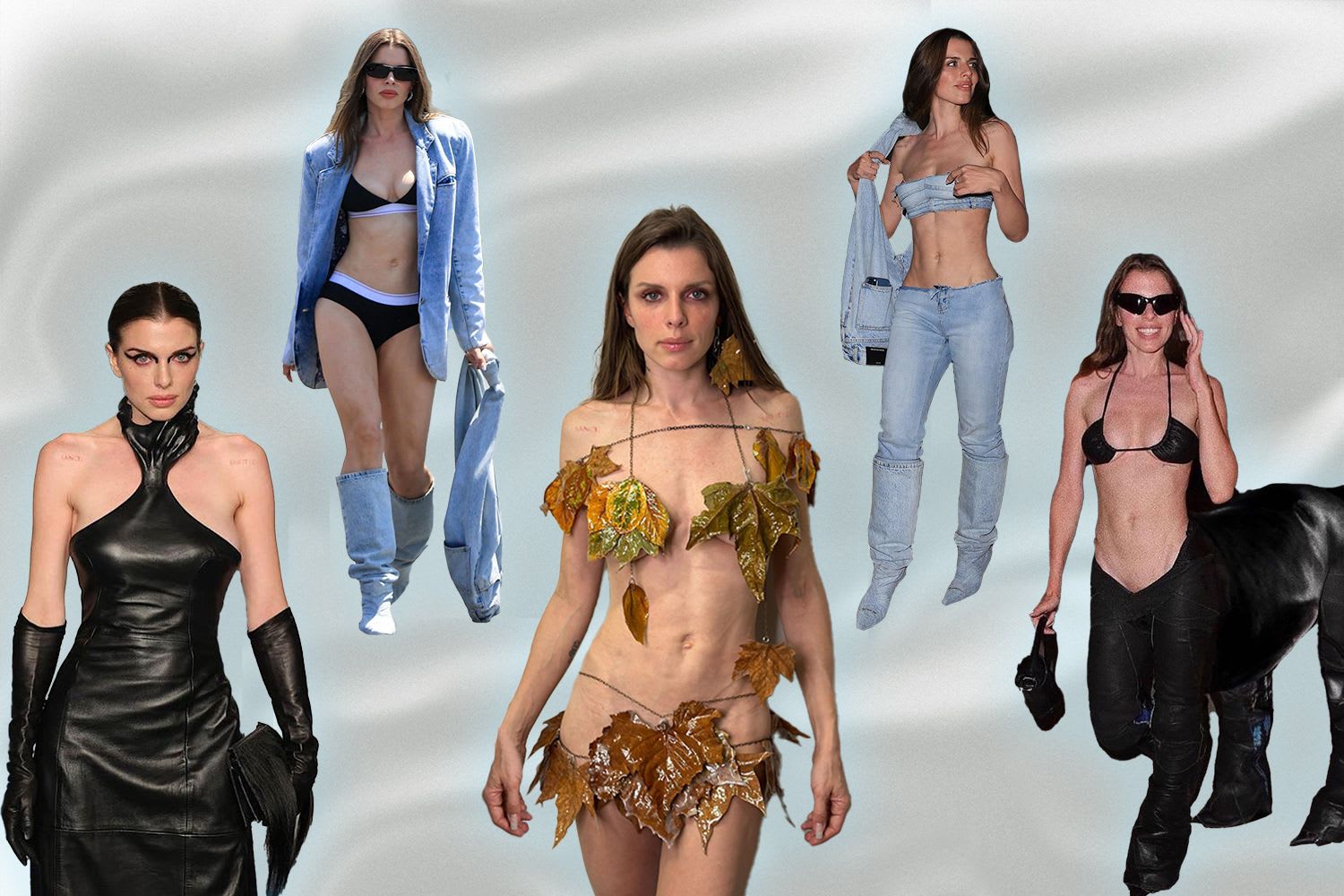 Because no one's doing it quite like her
image Team Woo
words Sophie Lou Wilson
For the past year, Julia Fox has been dishing out major celebrity fashion moments that we crave and need. When it comes to style, she's not only Josh Safdie's muse. She's everyone's. The multi-hyphenate It Girl has been breaking the internet with her outfits since attending Paris Fashion Week in January 2022, dominating our feeds with instantly memeable, outrageously memorable fashion moments. From wearing a dress made out of leaves to strutting around in ultra-ultra-low-rise leather pants, her style is always interesting and never predictable.
Fox had been a cult figure on the New York art scene for years before her breakout role in Uncut Gems in 2019. However, it wasn't until the Kenzo show in Paris at the start of last year, which she attended with then-boyfriend Kanye West, that she cemented her status as one of the most exciting style icons of our time. The double denim Schiaparelli look, complete with a coned bra and surrealist earrings, was complemented with extreme black eye makeup (now Fox's signature "fox eye") by Pat McGrath. Later that month, to sit front row at Schiaparelli, she wore a patent leather coat dress accessorised with leather gloves and statement-making thigh-high boots. And, just like that, a fashion star was born.
The trip to Paris launched Fox into the public eye, but she continued to provoke with her looks in day-to-day life, planning paparazzi shots so she can flaunt her daring style. "I'm having so much fun finding cool, student fashion designers and wearing their clothes," Fox told Emily Ratajkowski on podcast The High Low. "Then they get their first write-up and I feel really good about it. It's a really nice ecosystem." Fox has established a symbiotic relationship with designers both small and established. She wears their clothes and, in turn, they get inspired by her. Fox is the ultimate fashion muse, but she's a creator in her own right as well.
When she isn't wearing emerging designers, Fox is customising her clothes at home using low-effort, DIY techniques. In TikTok and Instagram tutorials, she shares how she splices her wardrobe into new silhouettes so we can copy her looks ourselves. In Fox's world anything can be turned into a viral fashion moment – leaves, hair, a beach towel.
Most of Fox's looks might not always be the easiest or most practical to recreate IRL, but her fearless style comes with a few recognisable signatures, such as double denim, leather or underwear as outerwear. So, if you'd like to get creative with your wardrobe and try out something different, read on for a guide to Fox's most iconic looks and how to get them.
Garden of Eden
you are missing out on some content here because you rejected our cookies. want to change that?
In November 2022, Fox made a TikTok about getting inspired by the changing colours of the leaves in the park. So, she decided to take them home and turn them into a dress. She invited her artist friend round who helped her paint the leaves in resin. They used a hot glue gun and some hooks and chains to make leaf earrings and a cute two-piece. The final look was Garden of Eden meets autumnal forest fairy. "I don't know if it's really wearable because my booty was all out in it," Fox said in the video, "but I'm obsessed with it and it was really a labour of love. Anything can be clothes, ladies. We all need to learn to be crafty." We love a DIY queen!
Supermarket sweep
you are missing out on some content here because you rejected our cookies. want to change that?
What do you wear for your weekly grocery shop? Perhaps you rush to Tesco in your work clothes or go in trackies at the weekend hoping you don't bump into anyone you know. If you're Julia Fox, you don't do either of those things. You turn your weekly shop into a paparazzi fashion moment because you're the main character, duh! After all, anything can be a fashion editorial if you want it to be. There's a lot going on here – underwear as outerwear, the joots – but the most interesting part of this look is the upside down jeans tied up as a bag, proving that you can turn your old jeans into something new.
Centaur chic
you are missing out on some content here because you rejected our cookies. want to change that?
You can always count on Fox to put her own spin on popular trends. When low-rise pants became fashionable last summer, she took the already divisive trend to new extremes, daring to go even lower. The memes inevitably rolled in, like this centaur edit that Fox reshared on her Insta. The actress said that she had to shave around the waistline because the trousers went so low. They were designed by Central Saint Martins graduate Liza Kearne, one example of Fox's unwavering support for young, up-and-coming designers.
Leather domme
you are missing out on some content here because you rejected our cookies. want to change that?
Fox loves an all-leather look. Here, she channels BDSM style in a zip-up patent corset with cut-outs at the thighs, long leather gloves and thigh-high boots. Fox used to be a professional dominatrix and she played a domme cam girl in the 2020 film PVT Chat. She's known for wearing revealing pieces, but here she swaps crop tops for hip cut-outs in another daring take on a contemporary trend. The look was made by rising, upcycle-focused New York label SEKS, a Fox favourite, focused on kinky afterdark clothing with an avant-garde twist.
The hair bag
you are missing out on some content here because you rejected our cookies. want to change that?
When it comes to red carpet dressing, Fox is never predictable. For the Vanity Fair Oscars party, she showed up in a leather dress with a clawed hand around her throat and a bag made from human hair. If the look was off-putting to some, it was immediately iconic to others, not least because this was also the event where Fox described her upcoming book as, "a masterpiece." We're still anxiously waiting for a release date, but Fox's outfits continue to provide enough talking points for the time being.
Double denim
you are missing out on some content here because you rejected our cookies. want to change that?
As high waisted denim falls out of fashion in favour of low-rise, you might be wondering what to do with all your high waisted jeans. Instead of forking out on a brand new pair, why not chop them up? That's what Fox did for this look. In a 4-minute tutorial shared on Instagram, she showed how she trimmed down the waistline and used the leftover fabric to make a teeny, tiny bandeau bra top. It might not be the most practical of looks, but it is a fun one.
Schiaparelli moment
you are missing out on some content here because you rejected our cookies. want to change that?
This was the moment that launched Fox into the fashion consciousness. In a Schiaparelli coned denim jacket, dramatic Pat McGrath makeup and surrealist earrings, she proved her style was a force to be reckoned with. During Paris Fashion Week Men's and Couture, she accompanied Kanye at the shows and the couple coordinated their outfits to create viral fashion moments. Fox admitted that she learned a lot during this period about about how to work with the paparazzi and create these moments. And thank God she did, because otherwise we would have been robbed of one of our most exciting contemporary style icons.