Paris Fashion Week SS23: glitching, getting muddy and the spray-on dress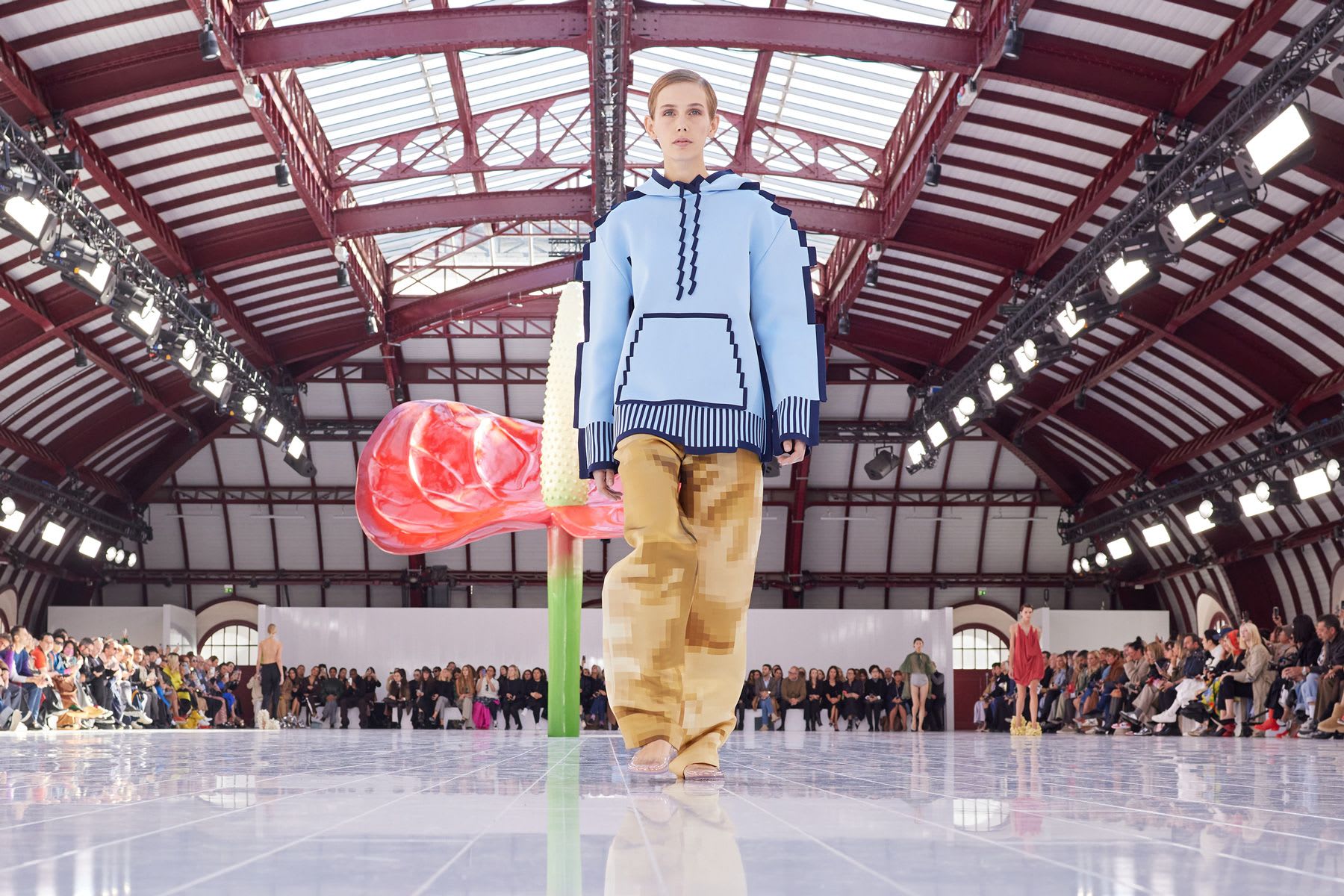 From the viral spray-on dress to getting down and dirty at Balenciaga: here are the most memorable moments from Paris Fashion Week SS23
image Peter White / Getty Images
words Sophie Lou Wilson
The past 28 days have served some major fashion moments, from Julia Fox being Julia Fox in New York, tributes pouring in - and shows being disrupted - for Queen Elizabeth II in London or Gucci's cast of 68 identical twins in Milan. A lot has gone down. But one show in Paris claimed the prize for SS23's most viral fashion moment.
Yes, we're talking about the Bella Hadid spray-on dress that closed the Coperni show last Friday. The case of fashion alchemy cooked up the perfect viral storm with videos still being shared and reshared across endless Insta stories and the conversation around the moment's merit (or lack of) still being battled out between fashion critics. However, this certainly wasn't the only memorable moment that the Paris shows gave us. Models stomped through the mud at Balenciaga, while Cher made a cameo at Balmain and Doja Cat gave an exclusive performance at Nigo's Kenzo bash.
Fashion's fave celebs were out in full force, but the clothes themselves were also key talking points as designers got increasingly conceptual. At Loewe, Jonathan Anderson blurred the line between reality and fantasy with glitchy Minecraft fashion and waxy anthuriums, while Demna's mud-drenched Balenciaga show was a metaphor for "digging for truth and being down to earth." And Botter made a statement about ocean pollution through kelp dresses and condom gloves filled with dyed water.
Of course, it's this combination of buzzy celebrity and cutting-edge sartorial concepts that makes fashion week the viral extravaganza that it is. So, let's dive into some of the best and biggest moments from the Paris offering.
The spray-on dress
you are missing out on some content here because you rejected our cookies. want to change that?
It's a thing of legend now. Bella Hadid stands almost naked on a mirrored platform while technicians spray her with white paint that turns, like magic, into an off-the-shoulder cocktail dress. Only it wasn't magic, but science. The dress was made using Fabrican, a polymer paint that hardens, turning it into the jersey-like fabric dress that Bella wore down the runway.
The spectacle has divided the fashion community. Some celebrated it as a mark that fashion is fun again and dubbed it a work of art in the same vein as Shalom Harlow's iconic spray-paint moment at Alexander McQueen's SS99 show. However, others suggested it was simply a gimmick, noting that what many have called pioneering technology has existed for over a decade.
But wherever you stand on the subject, there's no denying that this was a capital F Fashion Moment.
Down and dirty at Balenciaga
you are missing out on some content here because you rejected our cookies. want to change that?
At Balenciaga, models stomped down a mud-soaked runway like punters determinedly marching back to their tents on a rainy Glasto weekend. Shoes and hems got splashed by mud as they walked through the sludge as they clutched battered teddy bear handbags and (pretend) babies in papooses. While the apocalyptic themes were apparent, the collection was ultimately an ode to individuality and the resilience it takes to get back up when you've been knocked down. Kanye opened the show in head-to-toe black utility-wear, while model and artist Minttu closed it with an instantly meme-able hunched over walk, wearing a dress made entirely from cut up Balenciaga bags.
Real or fake?
you are missing out on some content here because you rejected our cookies. want to change that?
In fashion, things are rarely as they seem. Designers often manipulate clothing to look one way when really it's something else entirely. In Milan, Bottega Veneta crafted plaid shirts and denim jeans from leather, while at Coperni, spray paint transformed into a cocktail dress.
Loewe explored this idea of fantasy and reality in depth with Jonathan Anderson erecting a sculpture of a giant anthurium flower on the runway and using the motif on tops and dresses throughout the collection. Anthuriums have a waxy coating so they look deceptively plastic and fake, even though they exist in nature.
Elsewhere, the co-existence of nature and technology was further explored through t-shirts and hoodies embodying glitchy Minecraft graphics and cartoonish shoes that could have been stolen straight off Minnie Mouse's feet. As our lives continue to become increasingly enmeshed with technology, Loewe reminded us that pondering the difference between what's real and what's fake is more important than ever.
What's in the bag
you are missing out on some content here because you rejected our cookies. want to change that?
Forget splashing the cash on designer handbags. This season, all you need is your childhood teddy bear or a family size bag of crisps. At Paris Fashion Week, accessories were all about novelty. At Botter, bags were shaped like giant fish, ice cubes or single-use plastic shopping bags as a commentary on water pollution. Elsewhere in the collection, bags were replaced by gloves made from condoms filled with dyed blue water.
Meanwhile, Coperni created a solid gold version of its popular Swipe bag (worth a whopping $100,000) that was melted down after the show. At Balenciaga, a giant Lays crisp packet was a cheeky nod to the footage of Demna carrying a bag of crisps as an accessory last summer. Elsewhere in the collection, models clutched punk teddy bears the recalled Gucci's Gremlin pieces in Milan.
While bags were busy being anything but bags, clothes took on their appearance instead. At Balenciaga, the final look was made entirely from the brand's city bags, while at Givenchy, bralettes and handbags had identical belt details. We have our eye on the denim bralette bag combo Bella Hadid wore on the runway.
Spark joy
you are missing out on some content here because you rejected our cookies. want to change that?
An apocalyptic mood has hung over fashion in recent years, which isn't exactly surprising given how easy it is to feel pessimistic about the state of the world. But there's only so much moping you do before it's time to embrace a more hopeful view. For SS23, the tide has turned and optimism was the order of the day. Thom Browne's show ended with a joyous dance party, showcasing his signature cartoonish couture as OTT pastel coloured opera coats, polka dots and futuristic disc-shaped millinery. The designer presented his high camp version of Cinderella where the pumpkin carriage was replaced by a pink tulle Cadillac.
Meanwhile, Loewe made shoes from deflated balloons and crafted humorous cartoonish glitch garments. And backstage at Isabel Marant, models were implored to have fun on the runway instead of staring emptily ahead. "You can even have a little smile!" the designer told them before the show. Being serious is over. We're all in our silly eras now.
Back to school
you are missing out on some content here because you rejected our cookies. want to change that?
Fashion month coincides with the start of the scholastic year. It's fitting then that school uniform themes kept popping up at Paris Fashion Week. For his second Kenzo collection, Bathing Ape's Nigo hosted a graduation for the Kenzo class of '23. Berets, plaid and varsity jackets got a vibrant update as models walked out beneath graduation banners. Doja Cat performed at Nigo's Kenzo party wearing a blonde wig, plaid skirt and open shirt and tie, giving Britney music vid energy.
Elsewhere, at Ottolinger, a plaid dress and skirt added a grungy academic element to the otherwise sporty Y2K-driven collection. Finally, at Thom Browne, flamboyant gowns were finished varsity graphics while shirts and ties sat beneath bold polka suiting. If these were the uniforms, we'd never have skipped school.
How to style corsets
From layering to low-rise, here's how to style this season's hottest trend