NYFW SS23: The most memeable moments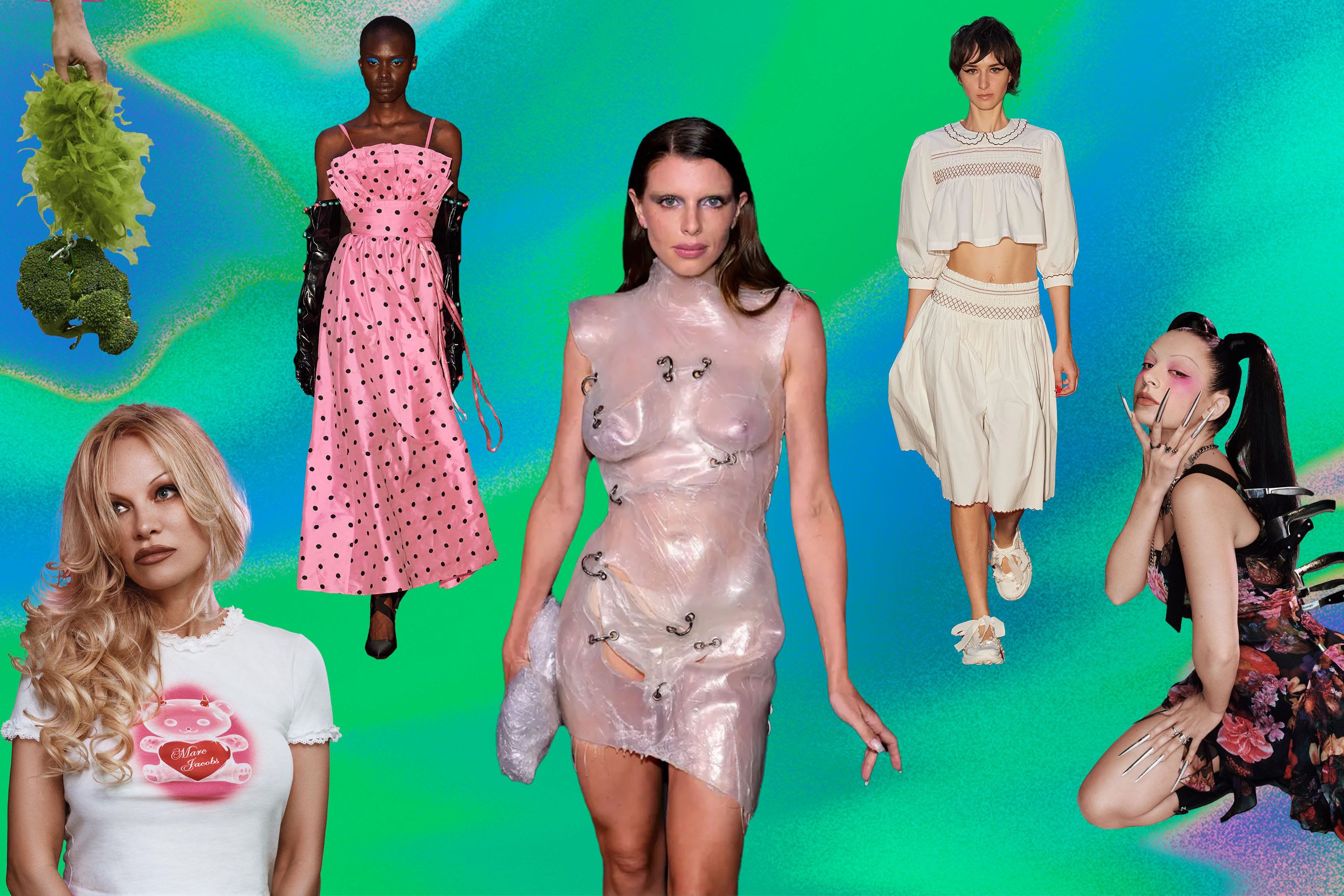 From Julia Fox being... well, Julia Fox, to a real Devil Wears Prada moment: here's EYKTK from the most stylish week of the year
image Bertie Warner
words Megan Wallace
That time of the year has come round again: a trip around the fashun world in 30(-ish) days and countless designer collections. It's September, which means it's officially fashion month, and you can practically smell the caffeine, feel the puff of eye bags and sense the prickly subtle snubs in the air, as fashion editors ferry their tired, hungover bodies from city to city in the name of style.
As the fashion elite will quickly remind you, all this free travel and paid-for dinners aren't as chic as they seem — which is why enjoying the spectacle from the comfort of your own home is a pleasure that shouldn't be undersold. Nowadays, it's maybe even the prime mode of consumption. Aware of the power of social media, most major designers cater more to the audience they can court on TikTok and Instagram rather than the journalists and buyers who are actually in the room, watching the collections proceed down the runway.
At least that's what it felt like at this year's NYFW where the most talked-about shows were the ones that clearly looked out to their digital audiences, breaking the fourth wall with Fleabag-style irreverence and a social media-friendly strategy. Whether it was manufactured throwback moments (looking at you, Anne Hathaway) or kitsch, designed-to-go-viral handbags, the mood was dominated by micro-trends, hyperpop and TikTok girlies — in short, it felt like a chaotic FYP come to life.
So, to stay true to the true spirit of this season's NYFW, we've rounded up the most memeable moments you may have missed.
Julia Fox being Julia Fox
Who could mention New York Fashion Week — nay, the entire city of New York — without mentioning our lord and muse Julia Fox? Known for her wry public persona (she once described her daring street style as a "public service") the dominatrix-turned-designer-turned-artist-turned-actress perfectly embodies the buzzy spirit of this year's NYFW. And whether she was turning up to shows in Matrix-style pleather with her toddler in tow or simply bopping about the streets of NYC with her long hair swishing, slashes of eye-liner and delicately constructed clothes, she emerged as NYFW's patron saint this season.
you are missing out on some content here because you rejected our cookies. want to change that?
A taste of Heaven
I don't know how to say this delicately, so I'm just going to bite the bullet: Heaven by Marc Jacobs might be better than plain old Marc Jacobs. While it's a take that any fashion purist would be loathe to endorse, it's true!
The preserve of bratty TikTokers and the 30-year-olds who want to be them, Heaven is the Marc Jacobs diffusion line that has tapped into the 90s and 00s revival with baby tees and sky-high goth shoes, mutant teddy bear graphics and cutesy prints. Where most brands fall into stagnation when they chase the nostalgia train, Heaven keeps it fresh and relevant with surprise celeb appearances (they were an early Pink Pantheress appreciator), a tongue-in-cheek attitude, and actually clever pop culture references.
Their NYFW party at Brooklyn's Elsewhere (usually a queer party haven) was no exception, pulling together a guest list including Kaytranada, Doja Cat and Charlie XCX, who performed at the event. While we can enjoy the party pics in peace, wannabe attendees in Brooklyn that night were queued around the block.
you are missing out on some content here because you rejected our cookies. want to change that?
Celebs became the new supers
Following on from the dream blunt rotation out in force at Heaven, the spirit of NYFW was all about bringing star power to the catwalk, not just the Frow. In short, if you didn't manage to cast a mega-star or an esoteric micro celeb, you might as well have packed up your runway and gone home.
Stealing the show was Lil Nas X giving his best ANTM impersonation for Coach but there were plenty of other note-worthy appearances: Arca walking for Proenza Schouler's comeback show, Caroline Polachek closing Puppets and Puppets, Ethel Cain strutting for Eckhaus Latta, Serena Williams opened the Vogue World runway show in Balenciaga and Lee Jeno of the K-Pop group NCT shutting down the runway at Peter Do's menswear debut. Even RHOBH's Lisa Rinna was there, closing for Priscavera.
you are missing out on some content here because you rejected our cookies. want to change that?
Objects of torture and desire
AREA, named after the night club of the same name, has long been a celeb fave for its glitzy, maximalist approach to clubwear and young, fresh take on eveningwear. Basically, if you've ever screengrabbed a meme about being overdressed at the function, this is a label that needs to be on your radar. For their SS23 show, hard femme energy ruled with the likes of Selling Sunset icon Christine Quinn and beauty influencer James Charles in attendance and a series of looks exploring geometric folds, dark colours and 3D textures. Of most note was a Middle Ages-inspired mini dress covered in bejewelled spikes that seemed to be channelling the iron maiden, a form of medieval torture. And my ex though I was intimidating…
you are missing out on some content here because you rejected our cookies. want to change that?
The return of Andy Sachs
The Anne Hathaway renaissance is upon us thanks to a jaw-dropping Barbiecore moment at Cannes Film Festival earlier this year and a Superwoman-esque Interview Magazine cover. And it seems her PR team have no intention of stopping their quest to keep the actress in the news agenda. During NYFW, Hathaway was (strategically, we might think) sat next to Vogue grand dame Anna Wintour on the Michael Kors front row.
If this doesn't mean much to you, let us explain. This is a moment which would pique any rom-com fan's attention, due to Hathaway's career-defining role in The Devil Wears Prada as wannabe journalist Andy Sachs, who scores a job as second assistant to fashion editor Miranda Priestly — clearly a thinly veiled version of Anna Wintour herself. To really hammer the point home and get these memes rolling in, Hathaway rolled up to the show in a chocolate brown croc-embossed coat which looks suspiciously like a chocolate brown leather jacket she wears in the closing moments of the 2006 film. What can we say? The devil works hard, but Anne Hathaway's publicist works harder.
you are missing out on some content here because you rejected our cookies. want to change that?
Wear your greens
And, lastly, the Collina Strada show. Breathing new life into the heretofore-pronounced-dead cottagecore trend, the whimsical show opened with Hari Nef wearing a green slip dress bedazzled with the phrase "Got milkweed?". Tongue-in-cheek slogans like these, fanciful frills and a clashing of patterns and shapes that would give Emily in Paris a run for her money, the mood was Little House on The Prairie meets stoner chic — and in reality, that's every bit as chaotic as it sounds. Our fave bit? A tiny, Swarovski-embellished broccoli bag carted down the runway by Jazzelle Zanaughtti aka @uglyworldwide. Eat your greens, I guess!
you are missing out on some content here because you rejected our cookies. want to change that?