Terrified of ageing? TikTok has a solution for timeless style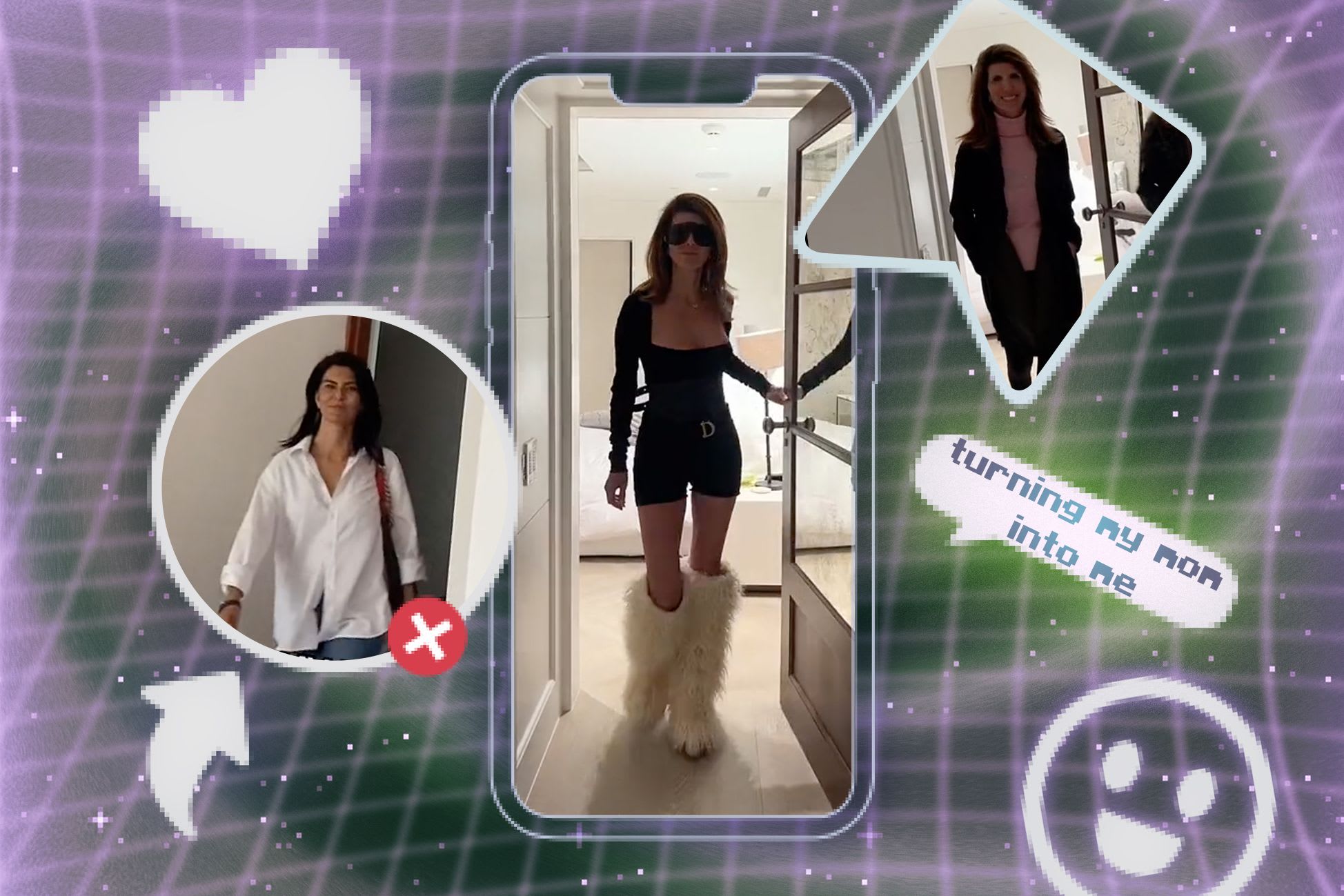 The dressing my mum like me trend proves that experimenting with style has no age limit
image Team Woo
words Sophie Lou Wilson
Welcome to The Drop, your fortnightly guide to feel-good fashion, from sustainability news and streetwear collabs to pop culture moments, TikTok trends and the latest from the runway.
There's no rule that says your personal style has to change with age. Yet there's a widespread assumption that growing up means dressing in more muted, serious clothes. Phrases like "dress your age" or even worse, "mutton dressed as lamb" send the message that experimenting with fashion has an age limit. TikTok's latest viral fashion trend flips that on its head. In the turning my mum into me trend, TikTokers are lending clothes to their mums who then catwalk down the living room in cut-out tops and low-rise cargo pants, and each look is an absolute slay.
you are missing out on some content here because you rejected our cookies. want to change that?
The feel-good trend has amassed more than 300 million views in recent weeks. It's bringing a much-needed dose of joy to our For You Pages and shows no sign of slowing down. Mums in leather trousers, tube tops and furry knee-high boots have ushered in an awakening; the realisation that getting older doesn't mean you have to stop having fun with fashion. It's smashing the stereotype that women have to "dress their age", showing that you can still look hot af in clothes society might deem inappropriate once you're all grown up.
This is a comforting thought, especially if the start of a new year has you freaking out about the passing of time. "We have discovered the fountain of youth and it's moms embracing their bodies," reads one comment. Another says, "I'm no longer scared to get older."
Studies suggest that fear of ageing starts early and being apprehensive about the inevitable is rising among young people. In 2018, the Royal Society for Public Health found that respondents aged 18-34 held more negative views about getting older than any other age group. In a survey by non-profit organisation Flawless, 60% of young adults believed that social media has contributed to their fear of ageing. The dressing my mum trend is refreshingly age-positive for TikTok given the number of anti-wrinkle and botox beauty hacks flourishing on the platform, with videos claiming the younger you start botox, the better.
you are missing out on some content here because you rejected our cookies. want to change that?
Fears about ageing are often influenced by society's made up rules about what you should look like and what you can and can't do when you reach a certain age. The pressure can be intense, for women and mothers in particular, but the dressing my mum trend proves there's space to subvert that pressure. You don't have to stop wearing, or doing, what you enjoy as you get older. As long as what you wear makes you feel good, then who cares? In these videos, mums look happy and confident in their daughters' clothes. Wearing something that pushes boundaries leads to compliments too, at least on TikTok where commenters type "slaayyyy" under every video or ask if the poster's mum is single.
Ultimately, the trend acknowledges the beauty in getting older, something that fashion has traditionally ignored in favour of prizing youth. Older models are still underrepresented on the runway, even when most luxury brands' customers are from predominantly older generations because they're the ones with the money. Bottega Veneta and The Row were among the few brands to cast older women in their Spring/Summer 2023 shows. Data from the Spring/Summer 2020 season revealed that the median age of models was 23 and only one out of every 200 models was over 50.
But ageing doesn't have to mean dressing in less eye-catching outfits. Advice on dressing for your age, like dressing for your body, is boring and prescriptive. It tends to make sweeping generalisations that disregard the fun in getting dressed.
There's no law that says you have to trade bright colours for beige when you hit 40. When did we decide that glitter and miniskirts were reserved for nights out in our teens and twenties? Like going to festivals or eating Nutella with a spoon, the only age limit on clothes is the one we impose on them ourselves. The dressing my mum trend is helping us put fears of ageing aside and embrace what we love forever. And who knows? Maybe the next step is inviting our mums to a rave. After all, they already know exactly what to wear.
More fashion news...
eBay recouples with Love Island for 2023
Good news! Love Island has partnered with eBay for a second season. Notorious for working with fast fashion's usual culprits like Boohoo and Pretty Little Thing, the sponsorship hopes to encourage more viewers to shop pre-loved. And new stats reveal that it worked. Research from ITV found that 53% of Love Island viewers who were aware of the partnership have shopped pre-loved in the past three months. Last year's Love Island finalist Tasha Ghouri is eBay's current pre-loved ambassador while sustainable fashion activist and 2021 contestant Brett Staniland, who refused to wear fast fashion when he was on the show, has also praised the partnership.
The fashion world mourns Vivienne Westwood
you are missing out on some content here because you rejected our cookies. want to change that?
The late designer and activist Vivienne Westwood helped define youth subculture and usher conversations about sustainable fashion into the mainstream. Upon her passing last week, the fashion world expressed their tributes on social media to honour her legacy. In a heartfelt post Bella Hadid wrote, "to me and most, in fashion & humanity, you, Vivienne, were the sun." Meanwhile, Naomi Campbell shared some adorable images dating back to the early '90s, describing how she remembers riding the bus home from school as a child and watching the punks on Kings Road. "YOUR LEGACY IS JUST BEGINNING, and it will be etched in stone forever," she wrote.
Dua Lipa hails the return of the whale tail
you are missing out on some content here because you rejected our cookies. want to change that?
First low-rise, now this! Is the whale tail making a comeback? According to Dua Lipa, it is, and seeing as pretty much everything she wears turns into instant fashion grail it'll be no surprise if 2023 turns into the year of the whale tail. Pop's most stylish star rang in the new year in a Swarovski crystal encrusted party dress by Ludovic de Saint Sernin. The twist? The dress's low back clearly revealed her white thong. It looks like the Y2K revival really is never going away.
Carhartt and Marni channel 70s flower power
you are missing out on some content here because you rejected our cookies. want to change that?
Just in time to brighten up your January, Carhartt's Marni collab has dropped and it's a serotonin-boosting splash of retro florals. If you're a fan of Carhartt's durable workwear but your style is more on the playful side, you'll appreciate Marni's take on their flap pocket shirts and heavy zip-up hoodies. These classic utilitarian staples get a lush 70s update with an allover flower graphic in yellow or green. Florals, for winter? Ok, this collab actually is kinda groundbreaking.