Are grandparents the new must-have accessory?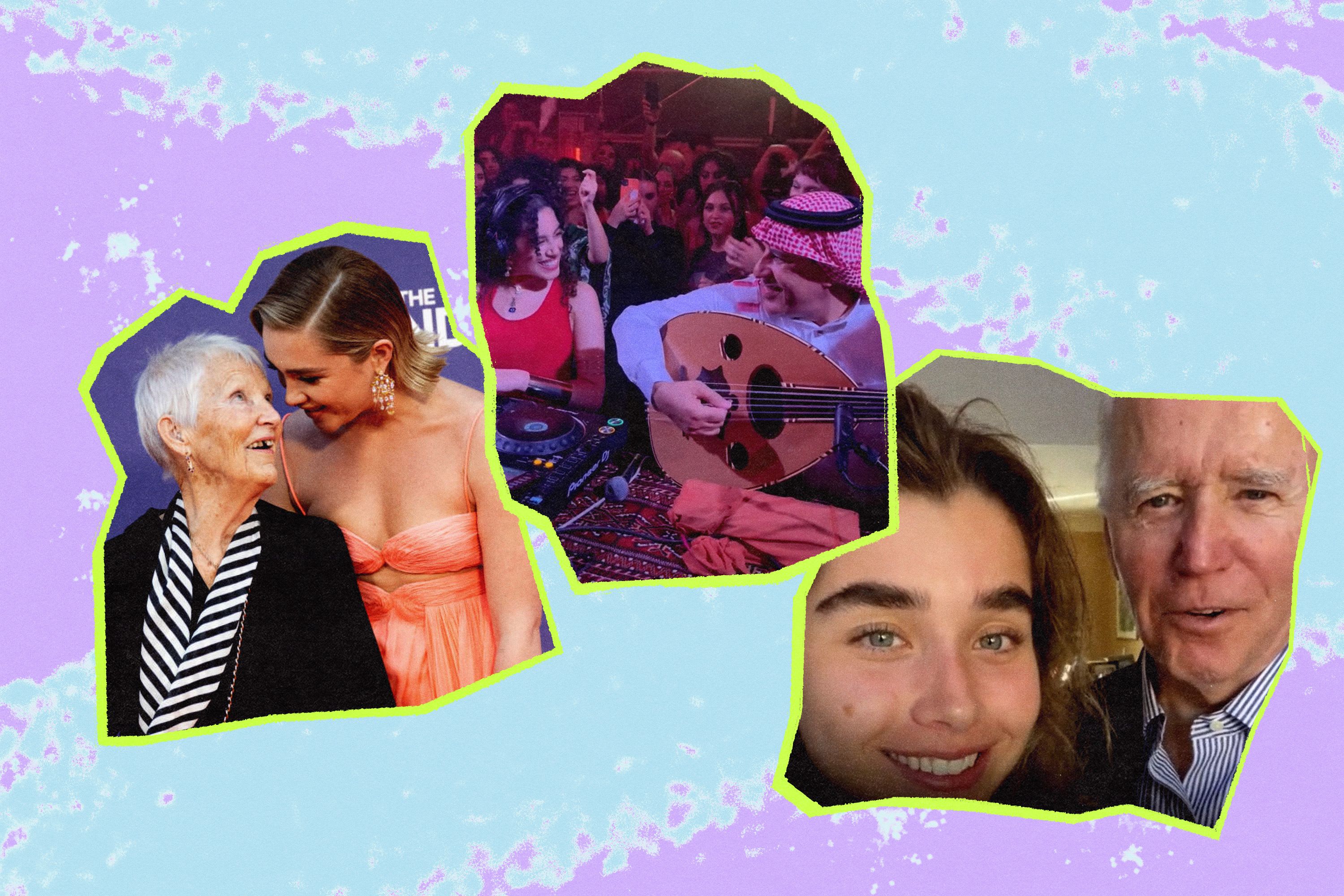 There's a new wholesome af trend: celebrities hanging out with their older relatives
image Team Woo
words Megan Wallace
Have you noticed that some of your fave celebs have been spotted out and about with a very specific variety of eye candy? Nope, we're not talking about Pete Davidson (though, we do love this therapised king). Rather, we're referring to the fact that some of the biggest faces have been logging in some serious face time with their grandparents - sometimes even on the red carpet. Don't believe us? Let's take a look.
This all seemed to kick off thanks to Florence Pugh, during her memorable Venice Film Festival appearance for Don't Worry Darling - you know, the one which sparked a billion "quiet quitting" think pieces. In addition to strutting around with an Aperol Spritz (possibly doing more for Italian cocktails than Emma D'Arcy and their negroni sbagliato with prosecco in it) Miss Flo served us with another iconic moment: stepping out at her film's premiere with none other than her "Granzo Pat".
While pics of the family duo on the red carpet quickly made their way onto the internet, the most wholesome moment came when Pugh followed up the appearance with an Instagram post dedicated to her "remarkable" grandmother, who had almost given up on travelling due to her age before Pugh encouraged her to renew her passport so she could travel with her to Venice. Okay, that one had us tearing up!
you are missing out on some content here because you rejected our cookies. want to change that?
In more grandparents news, you'll probably have seen the TikTok video where DJ and radio host Nooriyah welcomed a very special warm-up act for her first-ever Boiler Room: her grandfather and "natural musician" playing the oud. Nooriyah is the founder of Middle of Nowhere, a club event showcasing South West Asian and North African (SWANA) DJs and musicians; her Boiler Room set was actually part of a special Middle of Nowhere line-up which she curated.
This was the first-ever UK Boiler Room party specifically celebrating SWANA musicians and talent and was a pretty major deal. As she herself has explained, this is why Nooriyah decided to celebrate a key figure and musical predecessor in her family. As she wrote in an Instagram caption; "It made no sense to curate the first SWANA line up in UK history without baba on oud."
While we've got actresses supporting their grandmother's adventurous spirit and DJs paying homage to their family's creative spirit, there's also been a bunch of interesting granddad-granddaughter appearances stateside thanks to a certain Mr Joe Biden. In early May, Biden and his granddaughter Natalie turned up to vote at the polls together - a significant moment given that, at 18, this was the first time she'd ever cast a ballot.
However, this isn't the first time that there has been some grandad-granddaughter quality time in the Biden camp: Natalie's political involvement started yoooooung: she joined him as a four-year-old on his campaign trail for Vice President and yet again in 2020 during his run for President. Talk about girlbossing from the cradle.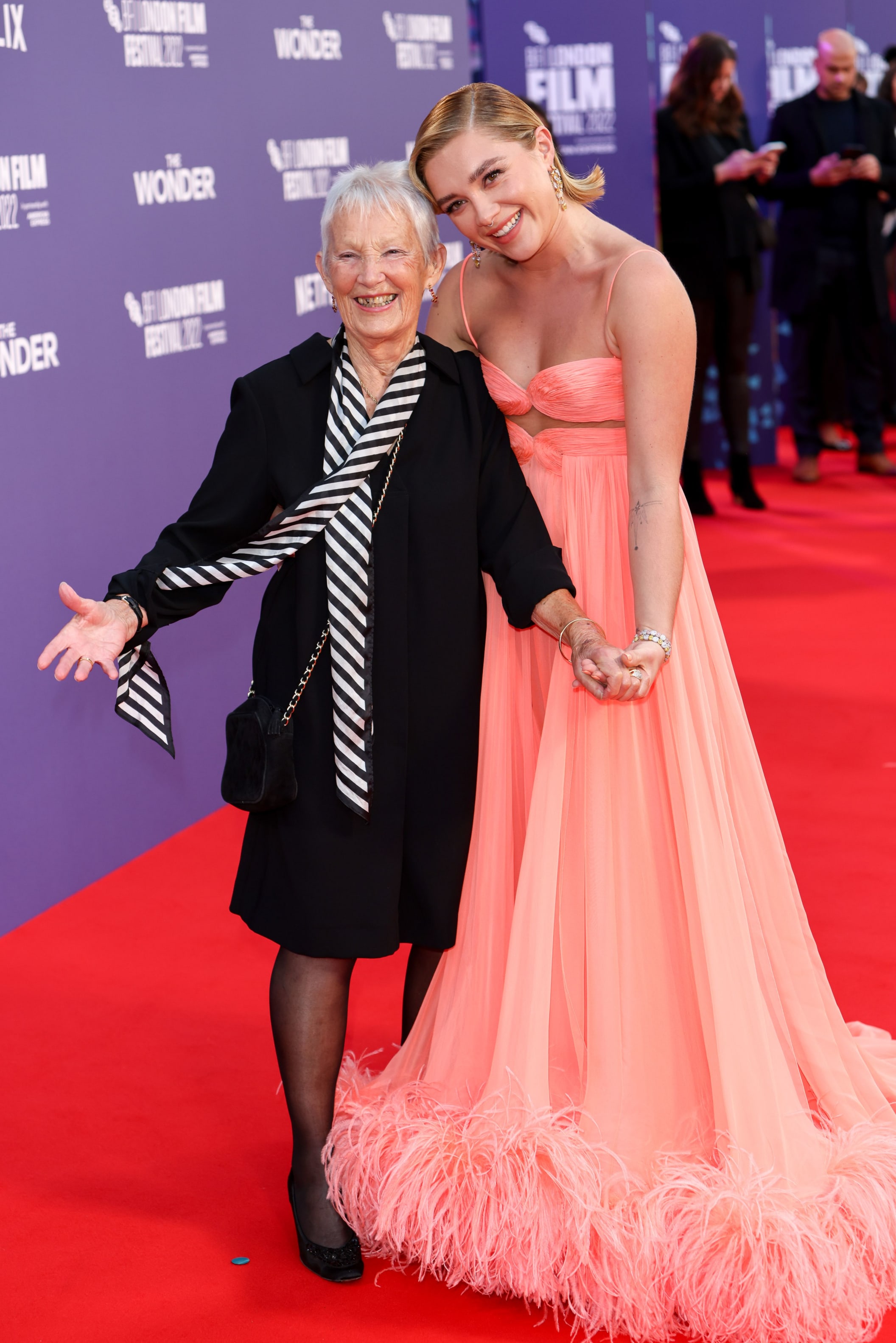 Getty/ David M. Benett
However, this kind of public intergenerational support isn't as new as you'd think! Genres like hip-hop, R&B and rap have interspersed traditional tracks with voicemail messages from family members, including grandparents: from Drake's Look What You've Done to SZA's Garden (Say It Like Dat). SZA even showed up to the 2018 Grammy's with her mother and grandmother in tow, paying homage to the women who made her. Heart eyes all round!
Obviously, it feels super heart-warming to see our fave celebs uplift members of their family and recognise their love, support and wisdom publicly. But giving the elderly people in our life some TLC doesn't need to be restricted to the trend cycle. Studies have shown that people potentially face an epidemic of loneliness as they get older, particularly as friends, loved ones and peers pass away or they experience reduced access to public spaces due to disability or declining health. If you're lucky enough to have grandparents in your life who you have a relationship with, giving them a call or popping round to visit can make a huge difference and help them to feel valued.
If you're interested in helping to ease social isolation among older communities, you may also consider helping out with a befriending service. This form of volunteering will match you with an older person for a weekly visit or a phone call to have a natter, make each other laugh and connect. Not only will you be helping another person feel more supported, you'll also likely benefit from learning about their perspective and experiences.
Age UK, a charity dedicated to helping people thrive in later life, always has an open callout for befriending volunteers available for telephone sessions. If you'd be interested in supporting specific elderly communities, there are a range of specialised befriending services out there such as Jewish Care's in person (North West London) and telephone services for elderly Jewish people, Opening Doors' befriending project for LGBTQIA+ people over 50, various volunteering roles within Hackney Caribbean Elderly Association and a telephone or in-person project from Sahara, a community initiative supporting the South Asian-British community in later life.