Let's raise a glass to all our therapised kings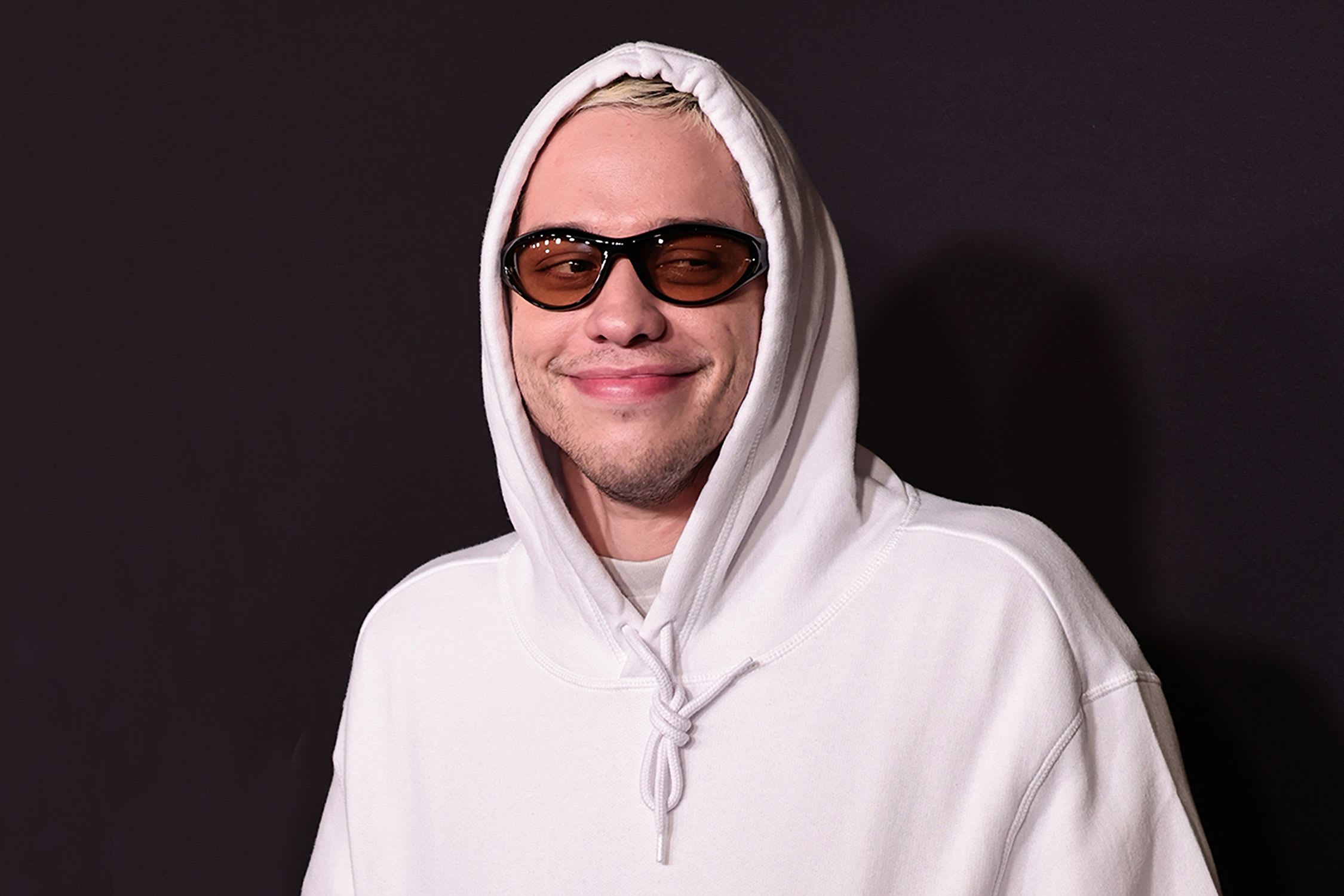 Pete Davidson is winning the celeb dating scene. Why? Because he's in therapy
image Jamie McCarthy / Getty
words Lucy O'Brien
Ariana Grande, Kim K, Phoebe Dynevor, Kate Beckinsale, Kaia Gerber, and now, Emily Ratajowksi: actor and comedian Pete Davidson has made us jealous for years by dating our all-time favourite celebrity crushes. But we can't help but wonder, what is behind his ongoing appeal? Let's face it, the celeb scene isn't exactly short of single bachelors, and yet somehow, Davidson re-emerges every couple of months dating yet another iconic A-lister. What's the deal? Well, perhaps the answer isn't anything to do with looks, but actually, has everything to do with emotional attraction.
It's nothing new that emotional intelligence is a non-negotiable in many people's list of musts when looking for a partner. But recently, it seems people want more than that: they want the people they date to be in touch with their own emotions before getting involved with someone else's. According to Hinge, 83% of UK users would prefer to date someone who has been to therapy, and you're more likely to get a second date if you talk about going on the first. The stats may seem a little extreme, but as it turns out, there is some sound logic behind them.
Celebrities have helped to carve important conversations about taking care of your mental health into the public consciousness. Davidson, for example, has spoken openly throughout his career about receiving treatment for his anxiety, depression and struggles with Borderline Personality Disorder (BPD). In 2020, Paul Mescal's portrayal of Connell in BBC's Normal People ignited nation-wide conversations on normalising men's mental health issues and the importance of going to therapy. Meanwhile, Selena Gomez's recent and candid portrayal of her mental health journey and battle with Bipolar Disorder in her documentary My Mind and Me has helped to shine a light on mental and emotional wellbeing. With these public figures opening up about how they prioritise their mental health, so it's no wonder that mental health has become an increasingly important topic in our dating lives.
you are missing out on some content here because you rejected our cookies. want to change that?
But what's the psychology behind this new approach to dating? Well, according to Marianne Johnson, individuals and couples psychotherapist and director of the Thought House Partnership, it's not surprising that young people are broadening their romantic expectations in this way. "Having grown up with social media, younger people are hyper aware of how to 'better' themselves. So there may be a greater expectation from daters to be with someone who understands themselves and can offer a more emotionally mature approach to dating; less messy and more self-actualised," she notes.
She's got a point. It's no secret that young people are raising their standards concerning who they choose to romantically invest in, and a strong level of emotional and mental self-awareness is climbing up the ever-growing checklist. "Someone having been to therapy may create a general hope of being treated more compassionately by that person," Johnson explains. "Emotional pain often gets projected outwards, so if someone has had therapy, there's a hope of less chance of being in the firing line for mistreatment," she says.
Essentially, it's about being emotionally available – being able to open up and talk about your intimate thoughts and feelings with a therapist is a big green flag when preparing to do the same with a potential partner. Nowadays, it seems that it's men in particular who are being encouraged to hone these skills to prepare for the dating world. "Traditionally men have been discouraged to be emotional," Johnson tells me. "A man going to therapy could show that he is stepping out of that limited way of thinking and is informed by a different set of values. Perhaps he is seen as someone more trustworthy and emotionally available; unafraid of digging into the emotional nitty gritty, and being more self-aware in the process," she adds.
you are missing out on some content here because you rejected our cookies. want to change that?
If there's one thing to take away from Davidson's latest romance, it's that young people are placing more value on emotional connections and being able to open up and develop healthy forms of communication. After all, who needs tragic, star-crossed lovers when you can have healthy, supportive relationships?
Focus, reset and get your life together
Best bits to kick start new habits