Could bingeing reality TV ever count as self care?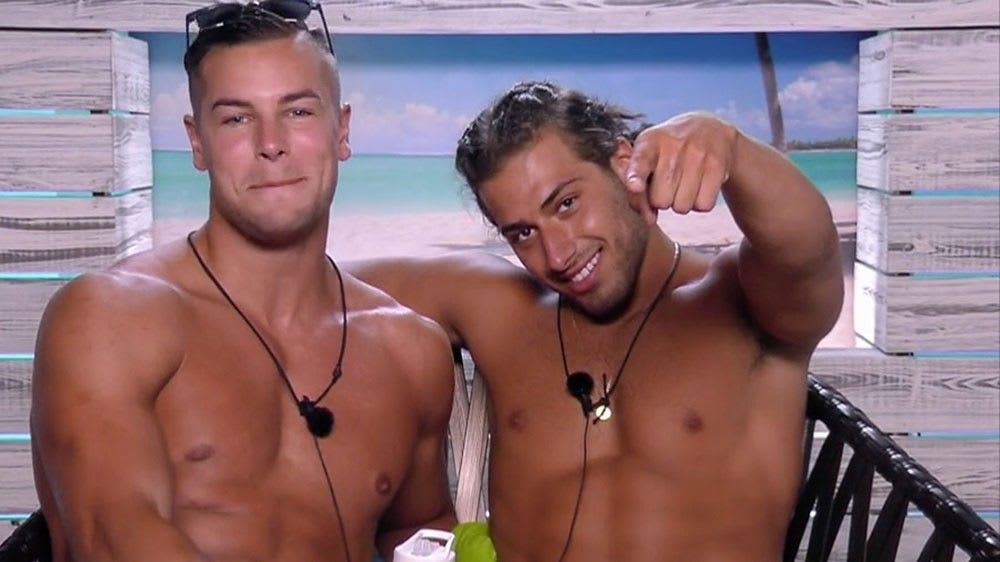 Is Drag Race a comfort blanket? Which Real Housewives hits different? Screenland is a tempting space for escaping our problems
image Love Island
words Naomi Attwood
Before I started down the wormhole of my current televisual addiction, I had no interest in reality TV. I had ignored many cultural phenomena including every season of X-Factor, The Kardashians (I'm still not 100% sure which sister is which) and, like the rest of Britain, Love Island. Missing out on office chit-chat seemed a small price to pay to keep my mind clean and my thoughts pure; uncluttered by what many – including fans of the genre – term as 'garbage' TV.
Then, the year before the pandemic, I had to take time off work sick. Confined to my bed I had time to kill, but my previous viewing habits of prestige series from years gone by like The Wire or The Sopranos, or feature-length documentaries didn't seem as absorbing as hours of RuPaul's Drag Race. And there was plenty of material to binge, an entire universe constructed by drag superstar RuPaul, with multiple seasons, international franchises, and spin-offs. When I recovered, the obsession receded, but I'd set up a coping mechanism – hours of TV, followed by Drag Race podcasts. I felt comfortably distracted, able to bear the solitude.
Then, in 2020 the pandemic hit, followed by two years that were very hard to deal with – my long term relationship ended, and having left my in-house creative job pre-COVID, I got stuck in temping work and fruitless job hunting.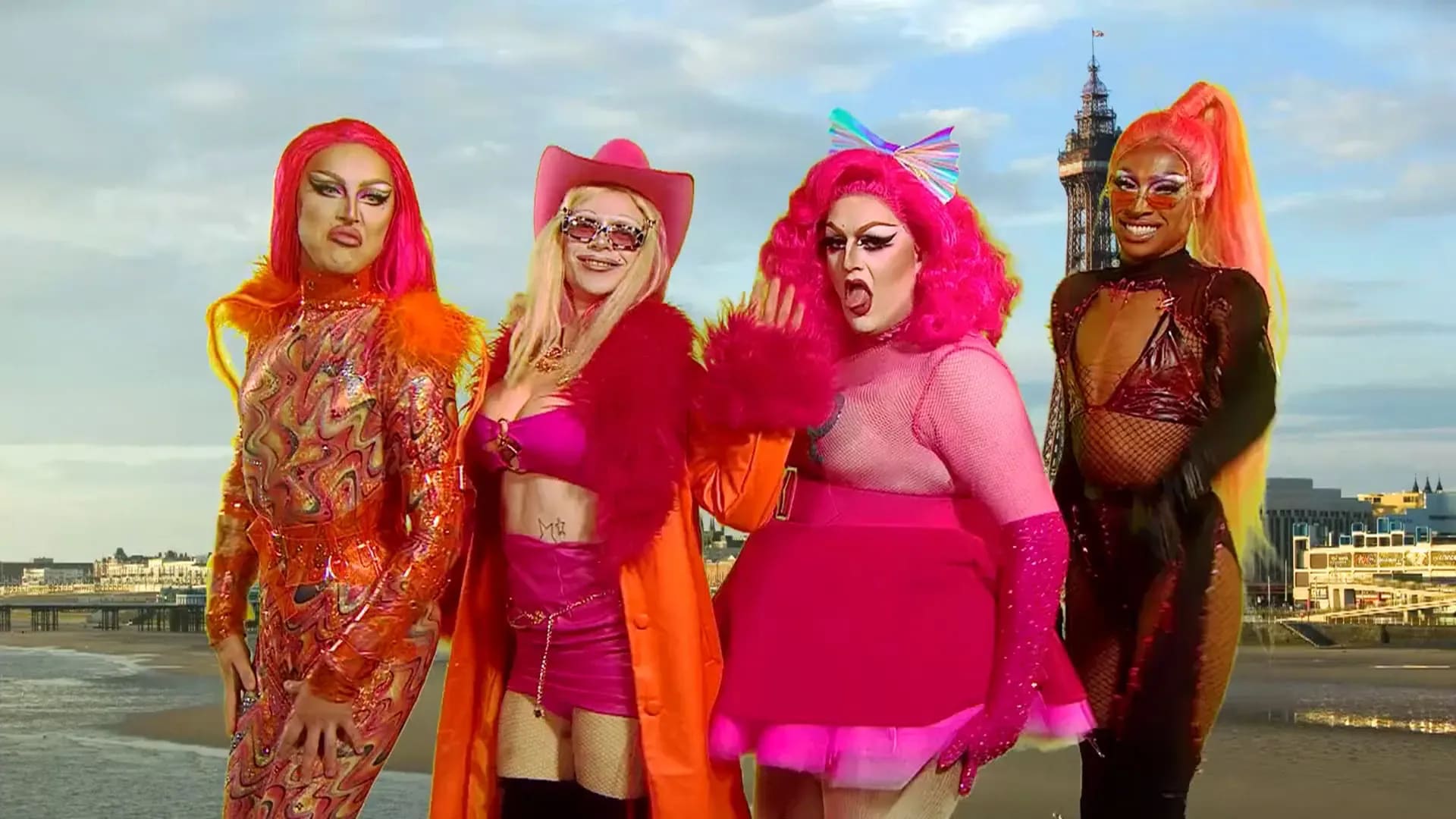 Drag Race UK
This time, I needed something stronger than drag queens to cope. I turned to the mammoth, The Real Housewives of Beverly Hills. The characters made me laugh at a time when I really needed it. There were many things not to like; the obviously exaggerated conflicts forming the "storylines"; their dictator-style taste in homes, clothing and pets; the racial bias and rigidly heteronormative standards, but I still found myself drawn to it. Strangely, while watching I'd be so engrossed I wouldn't feel sad about my own problems at all. Every evening I'd chase down the episodes with recap podcasts. Gabrielle de la Puente, one half of millennial art critics and activists; The White Pube, wrote an engrossing longform essay about how, while suffering with long COVID, she "tied herself" to the Housewives; "so that it could drag me through the long hours of a day and the long days of a month" while confined to bed with fatigue, muscle aches and other unenviable symptoms.
Hollywood actress and host of the Housewives-themed podcast Bitch Sesh, Casey Wilson, described the roots of her obsession in her book of essays, The Wreckage of My Presence; "I discovered the [Housewives] franchise during the darkest period of my life. My mom had passed away suddenly, and I was back in Los Angeles, a city I now loathed due to its relentless sunlight. I spent my days lying on a stained couch in my apartment" engrossed by the then brand-new Bravo series. Wilson adds that to her, the sound of Housewives' screaming is like "waves crashing upon the shore".
I described the syndrome to psychotherapist and podcaster Shelley Treacher, and asked her what we are doing to ourselves when we outsource responsibility for our emotional wellbeing to a group of overdressed reality stars attacking each other in restaurants. Binge-watching, she says, can be a positive pastime. "If you are grieving and you get to cry through someone's grief, that could help. If someone is lonely and watching a community where they relate to the characters, they could feel oxytocin" (the 'happy' hormone produced when hugging, or when babies breastfeed).
"Food, TV, shopping, scrolling Instagram all give you a dopamine hit. It's a reward system that makes you think you want it"
Shelley Treacher, psychotherapist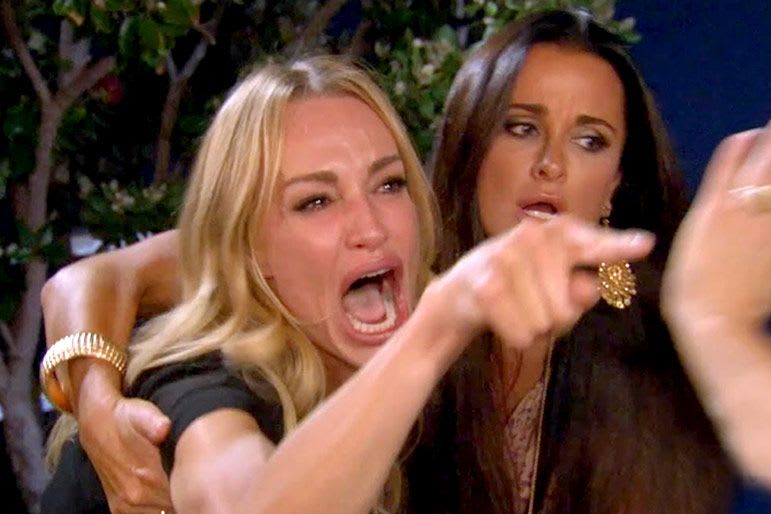 Real Housewives of Beverly hills
Treacher works mainly with people who struggle with binge eating, which as she says, is; "not a million miles away from binge watching." Why do her clients binge? "Mainly, because they don't know how to stay with how they feel and honour that, so they are escaping those feelings."
Treacher continues; "they're also getting hooked on the chemicals produced in our brain – a dopamine hit which makes you want more. People creating reality TV know this and create a hit." Modern life is deliberately built around this principle and many of our familiar temptations work in the same way, as Treacher identifies; "food, TV, shopping, scrolling Instagram all give you a dopamine hit. It's a reward system that makes you think you want it."
"My work is finding other ways of dealing with these uncomfortable feelings," Treacher says, and recommends techniques such as mindfulness to bring us back to [actual] reality, and to ground ourselves in the present. "The problem could be [TV] replacing intimacy, or you could become afraid of real intimacy," she says. "It's a good way to cope short term, but like any other drug, it won't solve underlying problems."
Although reality stars' finances and glam squads make them less relatable, their emotional lives often are a funhouse mirror on our own. A friend going through a painful breakup admitted she was inspired by Chrishell Stause from Selling Sunset, whose parents both died, and then her husband told her he was divorcing her... BY TEXT! Then, he got married to someone else, weeks later.
"I mean, if Chrishell can survive that, then maybe I can cope?"
"The sound of Housewives' screaming is like waves crashing upon the shore"
Casey Wilson, Bitch Sesh podcast host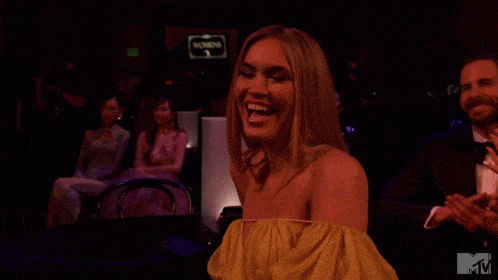 Chrishell Stause: Selling Sunsets
Author and meditation expert, Emma Mills, has a theory about the TV escape hatch. "During my psychology degree, I studied research on whether playing violent video games made people more violent. Some studies concluded it does, while other research found it had a more cathartic effect and discharged peoples' violent impulses." Could it be that watching people divorce, argue, scream, and cry on screen is a form of catharsis for me while I'm experiencing difficult transitions?
Mills pondered; "It's an interesting topic – does the drama reduce your feelings of stress or make it worse?" She doesn't think everyone would react in the same way to the same programmes and advises; "be mindful – observe yourself and see whether it has a good effect on you or if it's detrimental".
Despite working as a practitioner of mindfulness, Mills says, "in times of crisis, do what you need to do. When you're totally stressed you might not be in the right state of mind to meditate." Some tips she gave for simple exercises once you do feel calm could be "a mindful walk – fresh air, the outdoors and movement which is good. Pay attention to sounds of traffic, birds, looking around you, noticing the temperature of the skin." Another exercise she recommends is "a cup of tea and 10 mindful breaths with the out breath longer than the in breath."
Mills reminds us; "meditative or mindful acts work better when you do small things regularly and make it part of your routine, rather than waiting till you feel bad to use it."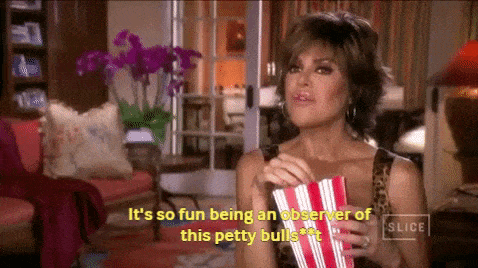 The Real Housewives of Beverly Hills