paris couture was an ode to hand-crafted daydreams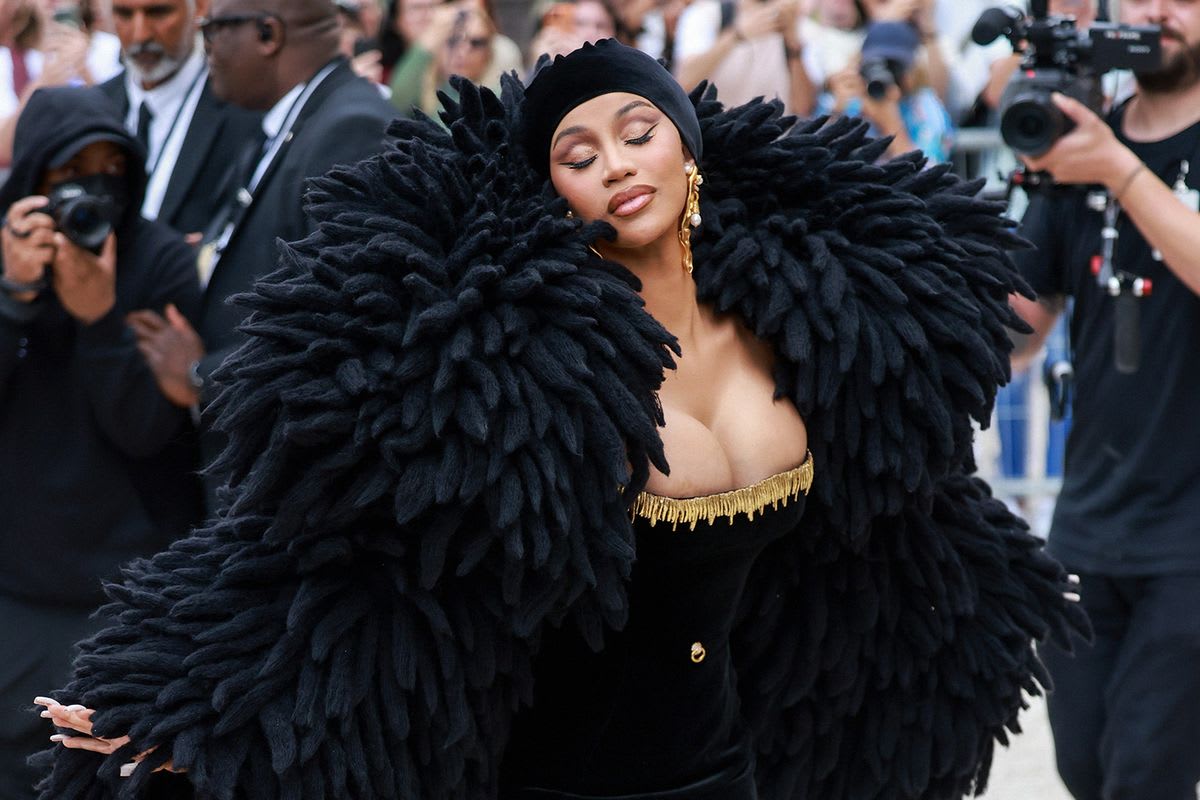 Plus more feel good fashion news from this week
image Arnold Jerocki/Getty Images
words Sophie Lou Wilson
This time last week the fate of Paris' couture fashion week hung in the balance. On Saturday, Hedi Slimane cancelled Celine's show due to the ongoing riots in France sparked by the police killing of a teenager. As the decision was praised widely, many wondered whether other brands would follow suit. It's not hard to see how parading clothes made for the 1% against such a backdrop can feel distasteful.
The debate over fashion's place during periods of social and political unrest is nothing new. Following the student riots of 1968, Yves Saint Laurent called haute couture irrelevant and outdated, declaring that, "Recent political events, the reaction of young people to fashion and the way of life today make haute couture a relic of the past."
Yet, by Monday, it was clear that the show would go on as Schiaparelli opened fashion week with a collection in ode to the creativity of the human hand. Behind the wealth and spectacle that keeps couture alive, there are legions of highly skilled, dedicated couturiers whose life's work it is to lovingly embellish and embroider each garment by hand. Much of the romanticism around couture comes from the idea of someone dedicating hundreds of hours to a single garment. It's why couture often draws comparisons to art.
you are missing out on some content here because you rejected our cookies. want to change that?
At Schiaparelli this season, Daniel Roseberry leaned into this idea of couture as art, dedicating the collection to famous artists throughout history. Some models donned body paint in Yves Klein blue while a paint splattered duvet coat served as homage to Lucien Freud's London studio. Elsewhere, a broken mirror two-piece conjured Jack Whitten's mosaic sculptures and a multi-coloured midi dress evoked the patchwork painting style of Gustav Klimt. As if in response to the backlash against holding couture week at all during the current riots, Roseberry explained, "People are not coming here for something that feels real. This is about fantasy, this is escapism."
you are missing out on some content here because you rejected our cookies. want to change that?
Cardi B sat front row in a voluminous embroidered black wool coat featuring hundreds of woolly tufts. The look included a body hugging gold trimmed dress and was finished with Roseberry's signature surrealist gold jewellery. Overall, though, the collection was more dialled down than last season's headline grabbing Kylie Jenner lion dress moment. It felt like more of a celebration of the craftspeople behind the clothes who are artists in their own way, laboriously working away to create these detailed pieces.
In France, the fashion industry provides over 600,000 jobs, so its impact stretches far beyond the famous creative directors and celebrities on the front row. To draw attention to the importance of human hands in the creation of couture, one Schiaparelli look featured the sketch of a hand against a white trench coat while others showed intricate hands crafted from wood, harking back to an older period of craftsmanship. With all the talk of AI in fashion, Roseberry seems to be standing his ground firmly in the camp of hand-craftsmanship rather than tech-driven art and design.
Balenciaga also honoured its couture atelier staff with an invite inspired by the magnetic wrist pieces typically worn by couturiers as home for loose pins and needles. "The Balenciaga Couture bracelet directly replicates the magnetic pin holder often worn by couture atelier staff," read a note accompanying the invitation. "The functional object has long been used by couturiers, especially during fittings. This bracelet is non-magnetic, an homage to the tradition and craft involved in Balenciaga couture." The collection continued in the more traditional, stripped back approach to couture that the brand has taken since their ad scandal last November.
you are missing out on some content here because you rejected our cookies. want to change that?
Meanwhile, Thom Browne staged his couture debut this season. The American designer crafted his surreal, dandyish tailoring for the tourist touching base at Gare du Nord, suitcase in hand. Intricate embellishment decorated smart two-pieces and abstract graphics found definition in structured coats. Patchworks of country landscapes and seasides fed into the theme of travel while haunting, dreamlike characters dressed as bells and pigeons also featured.
For Browne, too, couture is about a dream. After the show, he relayed a script that explained the story behind the collection. "The main character was sitting at the station, thinking about her life and not being very happy," he said. "And then all of a sudden she sees all of her fantasies walking in. She was planning to drown her sorrows so that was the reason for all the underwater kind of things. But then she realises her life was actually better than she thought. So she didn't get on the train."
Haute couture might be held up as the most unrelatable arena of fashion, but who among us hasn't sat at a train station feeling sad? Attaching such a story to the collection made it feel more human and real, despite the dreamlike, surreal silhouettes that had taken to the runway just before.
you are missing out on some content here because you rejected our cookies. want to change that?
Another designer making his couture debut this season was Paco Rabanne's Julien Dossena, the latest guest designer at Jean Paul Gaultier. Dossena delved into the house's sprawling archives, surfacing with a collection that merged ornate military style blazers, pinstripe corset suits and chainmail gowns. Oversized fur hats balanced out fur trimmed tailored jackets while metal headpieces felt as though they'd stepped out of another time.
Models walked down a catwalk so narrow that legs and wandering phones almost got in the way, but this was intentional. Dossena wanted people to really be able to see the craftsmanship of the clothes, to be part of the dream, and interact with each other in a more informal way. "I really wanted to be close to the people so they can almost be touched by the dresses," Dossena told W Magazine. "I remember the old shows of Jean Paul, which forced him to put those people and the models together with just enough space to go in between people. I loved that energy because people were talking to each other, facing each other, and the models were interacting."
Criticisms of couture are valid. When cities are ablaze, why are we focusing on clothes for the 1%? This season, though, designers honed in on the beauty that can come from the human hand rather than the pain. And if couture is art and art reflects the times we live in then this season, they offered surreal fashion for surreal times. If we're craving escapism then engulfing wool coats and pigeons wearing suits surely gives us plenty to daydream about. And, as Browne suggests, sometimes daydreaming is enough to snap us out of our sorrows and move forwards.
The Nike x Martine Rose collab is here
you are missing out on some content here because you rejected our cookies. want to change that?
To celebrate the Women's World Cup, Martine Rose has partnered with Nike to create a collection focusing on football dressing for everyone, promoting equality on and off the pitch. "When a woman wears a suit, it expresses strength, resilience, and beauty," Rose said via press release. "I want women to feel powerful in their suits like men do. More than that, although I'm using women to tell the story, there's no gender attached to the suit. Anyone can wear it. I hope one day we're not talking about gender in sport and are just talking about the sport. Once everything is stripped back, it's just the game that's left." The collection features tailored coats, jerseylike shirts and the Shox Mule MR4s teased by Hailey Bieber. The collection will be available on Martine Rose's website from 25 July.
Kendrick wins best dressed at Chanel's AW23 couture show
you are missing out on some content here because you rejected our cookies. want to change that?
If anyone can make Chanel cool again, it's Kendrick Lamar. The artist is no stranger to a bold fashion moment and at Chanel's Autumn/Winter 2023 couture show, he was on best form. The rapper rocked head-to-toe Chanel, evoking a dressed down elegance and proving that Chanel can be edgy and streetwear-adjacent. He wore a Chanel logo baseball cap with a classic cream tweed jacket, white vest and monogram jeans. The look was finished with chunky black loafers and gold jewellery. We're obsessed.
ASICS for the coquette girlies
you are missing out on some content here because you rejected our cookies. want to change that?
Spark joy for your inner child with Cecilie Bahnsen's latest ASICS collab. The Danish designer known for her voluminous confectionary dresses has partnered with the footwear brand once more to launch a range of Mary Jane hybrid sneakers. The trainers are lined with lace-like florals and there's a cutout panel and velcro strap embellished with a puffy flower where the tongue of the trainer would normally be. They're available now in silver and black with pink and blue styles dropping in November.