Why are we so obsessed with '90s Chanel?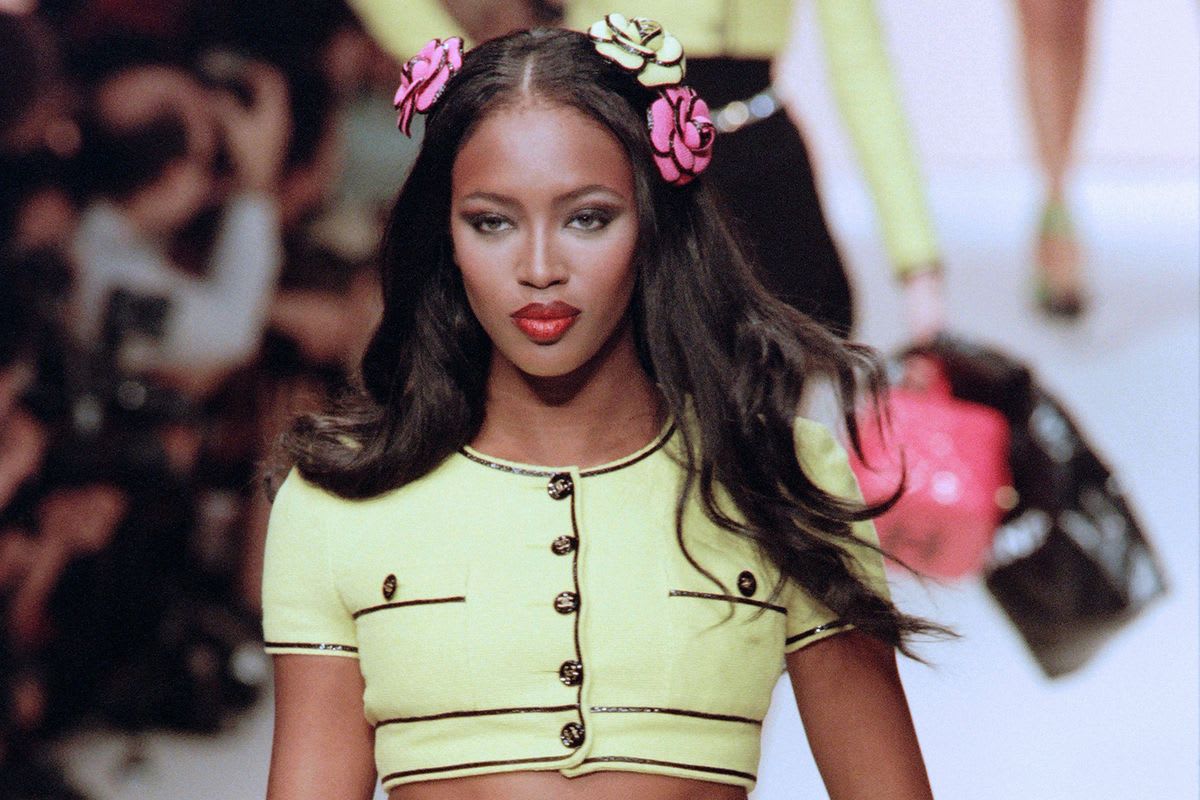 Ahead of the Karl Lagerfeld-themed Met Gala, we look at what's behind this enduring obsession
image GERARD JULIEN/AFP via Getty Images
words Sophie Lou Wilson
A wave of rainbow-clad models crashes onto the runway. It's the close of Chanel's Spring/Summer 1994 show, where tweed pastel miniskirts and double C-logo bikinis put a youthful spin on the brand's classic motifs. The rainbow-coloured wave parts for Karl Lagerfeld, the subject of this year's Met Gala, which takes place on Monday. While the late designer's problematic comments about women's body size and the #MeToo movement have been widely condemned by online communities of fashion fans, there's one era of his designs that they just keep going back to.
If you've ever spent much time on fashion TikTok, High Fashion Twitter or Tumblr's fashion community back in the day, you probably have images of Chanel's candy coloured micro-mini tweed sets seared into your brain. On Twitter, '90s Chanel runway pics are posted at least once a month, often racking up thousands of likes, so much so that it's become an in-joke and a meme within the High Fashion Twitter community. Elsewhere, the #90schanel hashtag currently has 14.7M views on TikTok where fashion fans unite in their nostalgia for the era, recreating looks from '90s collections, sharing runway edits and creating 'then vs. now' montages. Ten years ago, this era was equally ubiquitous on Tumblr, where entire blogs were dedicated to '90s runway shows and archival Chanel. And earlier this week, Sofia Richie wore a vintage pink monogram jumpsuit from the SS96 collection, proving that nostalgia for '90s Chanel is thriving offline too.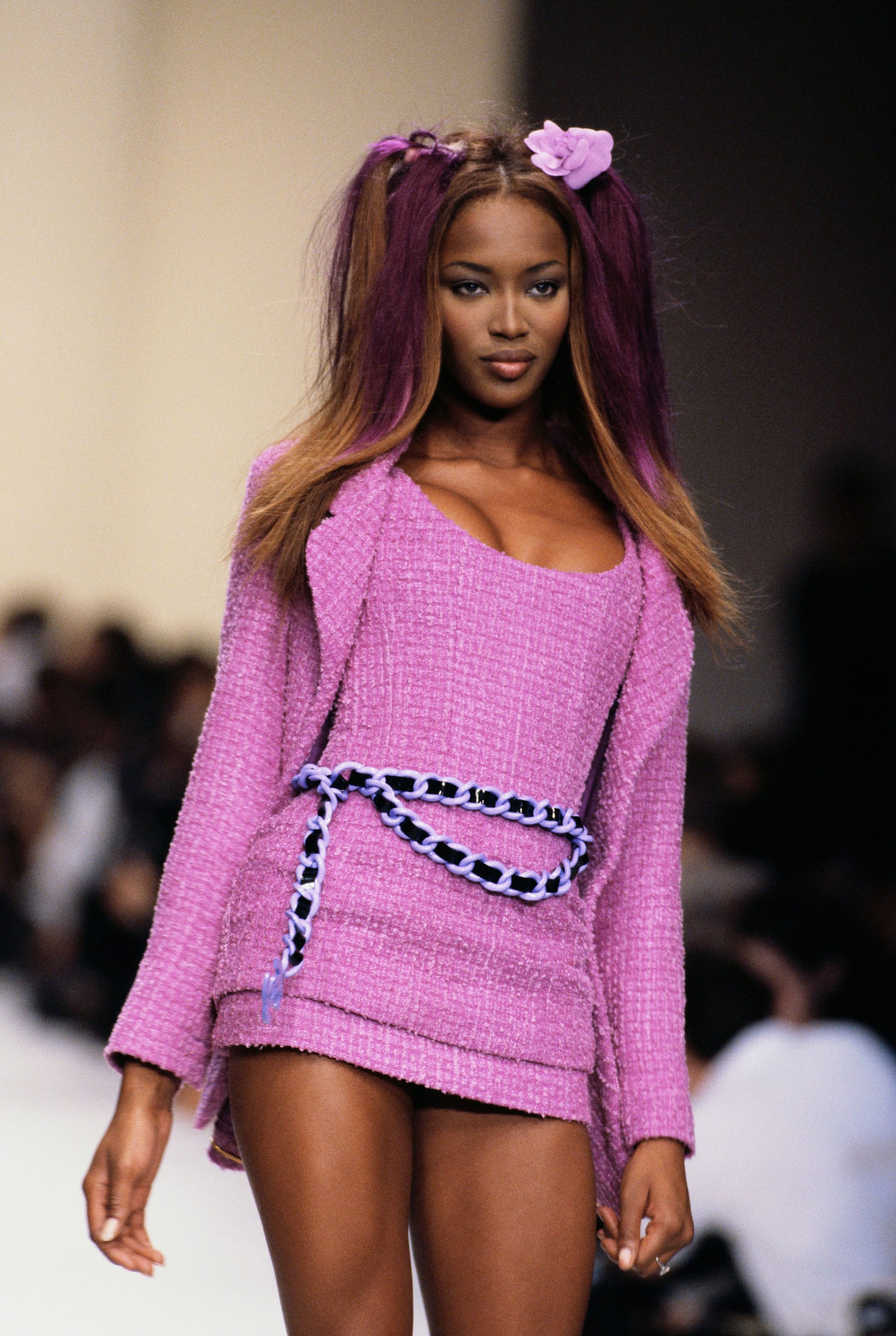 Chanel Spring/Summer 1994 (Photo by Michel Arnaud/CORBIS/Corbis via Getty Images)
Runway fashion in the mid-'90s was a whirlwind of big personalities, high glamour and hedonism. And, as one of the biggest brands in the world, Chanel was in the eye of the storm. Models were supermodels and supermodels were celebrities. Runway shows were positively bursting with energy. And Chanel adopted a playful, flirtatious aesthetic that freed it from the traditional, somewhat uptight sophistication it had hitherto been associated with. The iconic tweed suit was reworked into youthful micro-minis and cropped jackets in lilac, tangerine and pastel pink. Supermodels like Claudia Schiffer, Naomi Campbell and Linda Evangelista smiled and twirled as the crowd of photographers surrounding the runway clambered to capture the best motion shot.
Nostalgia for '90s Chanel, therefore, is about more than just the clothes. However, the clothes themselves also go a long way in explaining the era's enduring appeal. Hyper-femme silhouettes and candy colour palettes looked like they'd stepped out of a Barbie wardrobe, which goes some way in explaining their popularity in 2023. The Barbiecore trend has hit fever pitch and nostalgia for playful, childlike fashion is at an all time high. Many are hoping that Margot Robbie will don some '90s Chanel while promoting Greta Gerwig's Barbie this year.
Yet there's a simple, timeless beauty to '90s Chanel that goes far beyond fleeting cultural trends. Corinne Bickel, who runs popular High Fashion Twitter account @MIUCClAMUSE offers a straightforward explanation for our enduring obsession with '90s and '00s Chanel. "To put it simply, the designs are pretty," she says. "There's no need for the average person to look into the meaning of a collection or to try and understand why certain looks look the way they do with these older Chanel collections. They're just nice to look at, which I think makes them hold up over time."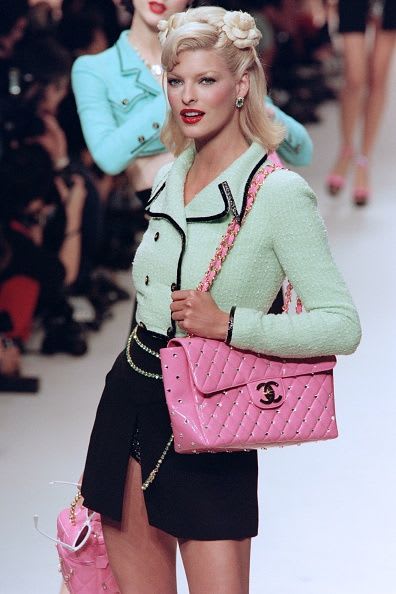 Chanel Spring/Summer 1995 (Photo by GERARD JULIEN/AFP via Getty Images)
This visual accessibility makes them easily discoverable for each new generation of fashion lovers. "I know saying that Chanel is accessible is a longshot and almost ridiculous," adds Bickel, "but almost every person, whether a dedicated fashion lover or casual enjoyer, knows Chanel and the designs are easy to digest." While it might seem ridiculous to suggest Chanel is or ever has ever been accessible, it's certainly become less accessible over time. Stripped back runway shows where models brought the energy transformed into the showy, gargantuan sets of Lagerfeld's Chanel shows of the 2010s where imposing artificial beaches, forests, rockets and supermarkets would loom large, sometimes overshadowing both the models and the clothes.
Since Virginie Viard took over as creative director after Lagerfeld's death in 2019, the brand has projected a more mature aesthetic, targeting the wealthy older women who make up the Chanel customer base rather than chasing online clout. Furthermore, the price of the classic Chanel 2.55 flap bag has more than doubled in price since 2016. It would now set you back a staggering £8000. In 1995, it cost just £810, meaning it was still an expensive investment bag, but one that some fashion fans might have been able to save up for in their lifetime. Now, it would probably send most people spiralling into debt.
Nostalgia for '90s Chanel is only heightened by the brand's faltering reputation today. The brand is frequently the butt of online jokes and has given rise to Instagram accounts like @chanelflopsagain, "A compilation of Chanel's greatest failures." Fans say they're counting down the days until brand ambassadors Kristen Stewart and Margot Robbie are free from their Chanel contracts so they can dress well again.
you are missing out on some content here because you rejected our cookies. want to change that?
"Chanel used to be quite different to what it is today; more fun and youthful, with models twirling and posing at the end of the runway," says Linda Sumbu who runs High Fashion Twitter account @itgirlenergy. "Today's Chanel is definitely made for a more mature audience, more focused on a very specific aesthetic rather than trends. I don't think the clothes are as good as they used to be. The styling of some of their recent collections feels a bit dated and tired."
However, a reluctance to enjoy Chanel today comes not only from the toned down runway shows and unrelatable aesthetics, but also a growing awareness of the brand's dark history. Social media can spread obsessive admiration, but it also spreads education. Whether it's Coco Chanel's links with Nazism during the Second World War or Lagerfeld's offensive comments, many fashion fans wish to distance themselves from the brand.
"I believe the new designs are less appealing to newer fashion lovers partly because they're not as fun and partly because of our distaste for the brand's inability to issue an apology for Coco Chanel's antisemitism," says Bickel. "I think that's why it has lost the magic that the brand once had for many of us." While, looking back, pre-social media fashion might appear more innocent, innocence can easily be a guise for ignorance. In the '90s, few spoke about Coco Chanel's collaboration with the Nazis while, under Lagerfeld, size diversity on the runway was pretty much non-existent.
Nonetheless, what's great about nostalgia is that we can cherry pick the good bits and work to leave the rest in the past. Besides, most online fashion fans aren't supporting the brand by actually buying anything from it. The '90s runway shows are as much about fantasy as they are about recreating looks with the clothes we have today.
Bickel and Sumbu are with the rest of High Fashion Twitter in hoping that some archival '90s Chanel looks will appear at the Karl Lagerfeld themed Met Gala on Monday, especially if supermodels from that era turn up as well. And, if that moment happens, you can bet the images will be shared and reshared online for years to come.