8 of Jeremy Scott's most delightfully camp Moschino moments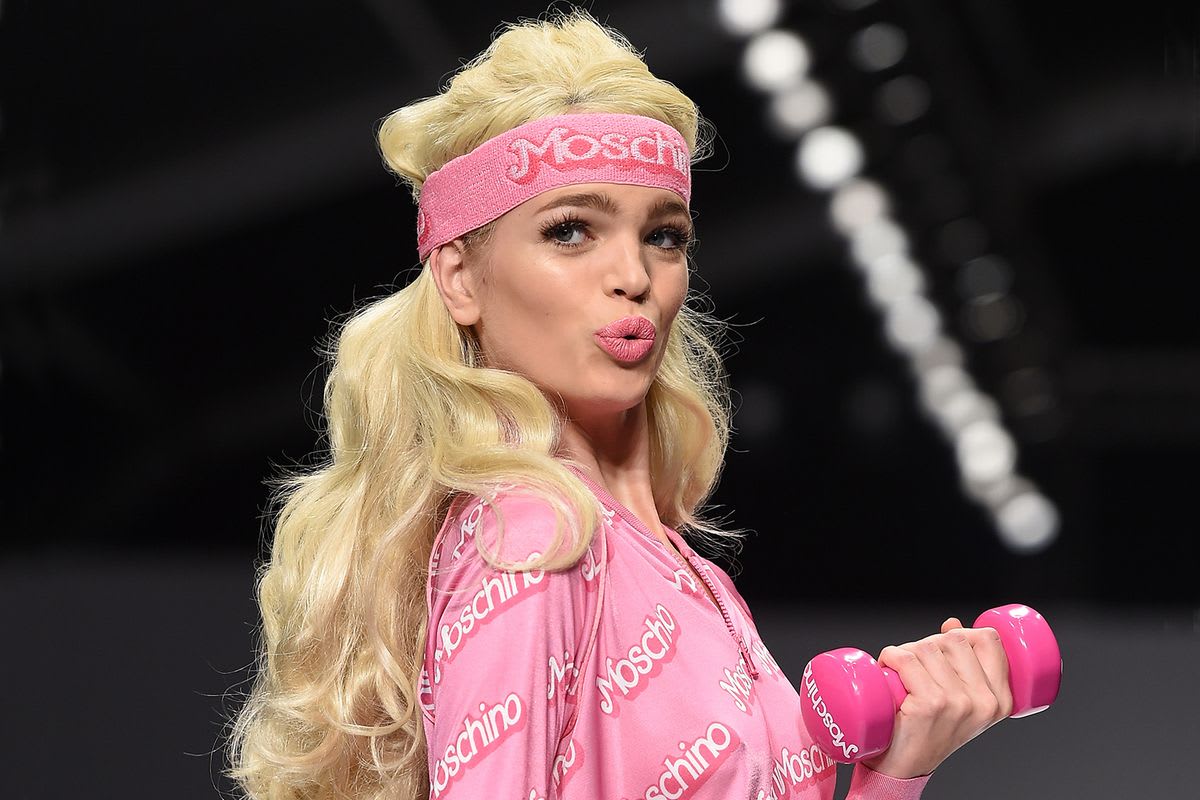 As the king of kitsch fashion steps down, we take a look at his most outrageous looks from the past decade
image Venturelli/WireImage
words Sophie Lou Wilson
There are few designers as polarising as Jeremy Scott. Cheeky, kitsch and camp, his decade-long tenure at Moschino gave us some of fashion's most outrageously fun moments with designs that were as addictive as a McDonalds Happy Meals. Some adored this tongue-in-cheek aesthetic while others labelled it cheap and trashy, but however you feel, there's no denying Scott's influence on the past 10 years of fashion.
McDonalds, Barbie, Spongebob and Chanel were all fair game for the Moschino treatment under Scott, their instantly recognisable logos reworked with a knowing wink and a smile. This exploration of consumer culture turned pop art into fashion, making it a hit among pop artists like Lady Gaga, Katy Perry, Madonna and Cardi B.
Remember Katy Perry's hamburger costume at the 2019 Met Gala after party? Or model Charlotte Free roller skating down the runway in a head-to-toe Barbiecore? What about the costumes in Madonna's star-studded 'Bitch I'm Madonna' music video? Yep, that was all down to Scott's compellingly camp vision at Moschino.
Founded in 1983 by Franco Moschino, the Italian brand was always known for flying in the face of convention and poking fun at people who take fashion too seriously. When Scott took the helm in 2013, he took these brash, playful, costumey ideas and ran with them. In doing so, he brought a new vision of Italian luxury to the runway, one that understood and predicted the relevance of recognisable viral designs even during the early days of social media fashion.
These days, Moschino feels almost inseparable from Scott. Prior to becoming the brand's creative director, the Missouri-born designer was focused on his own label which he founded in Paris in 1997 and stopped appearing on the fashion week schedule in 2019. At his own brand, Scott collaborated with Adidas, even dressing Madonna's dancers at the 2012 Superbowl halftime show.
Scott's last Moschino collection, shown at Milan Fashion Week last month, was inspired by Salvador Dali, a tribute from one divisive artist to another. Now, as the irreverent designer steps down from his role at Moschino, we look back at Scott's most iconic fashion moments from the past decade.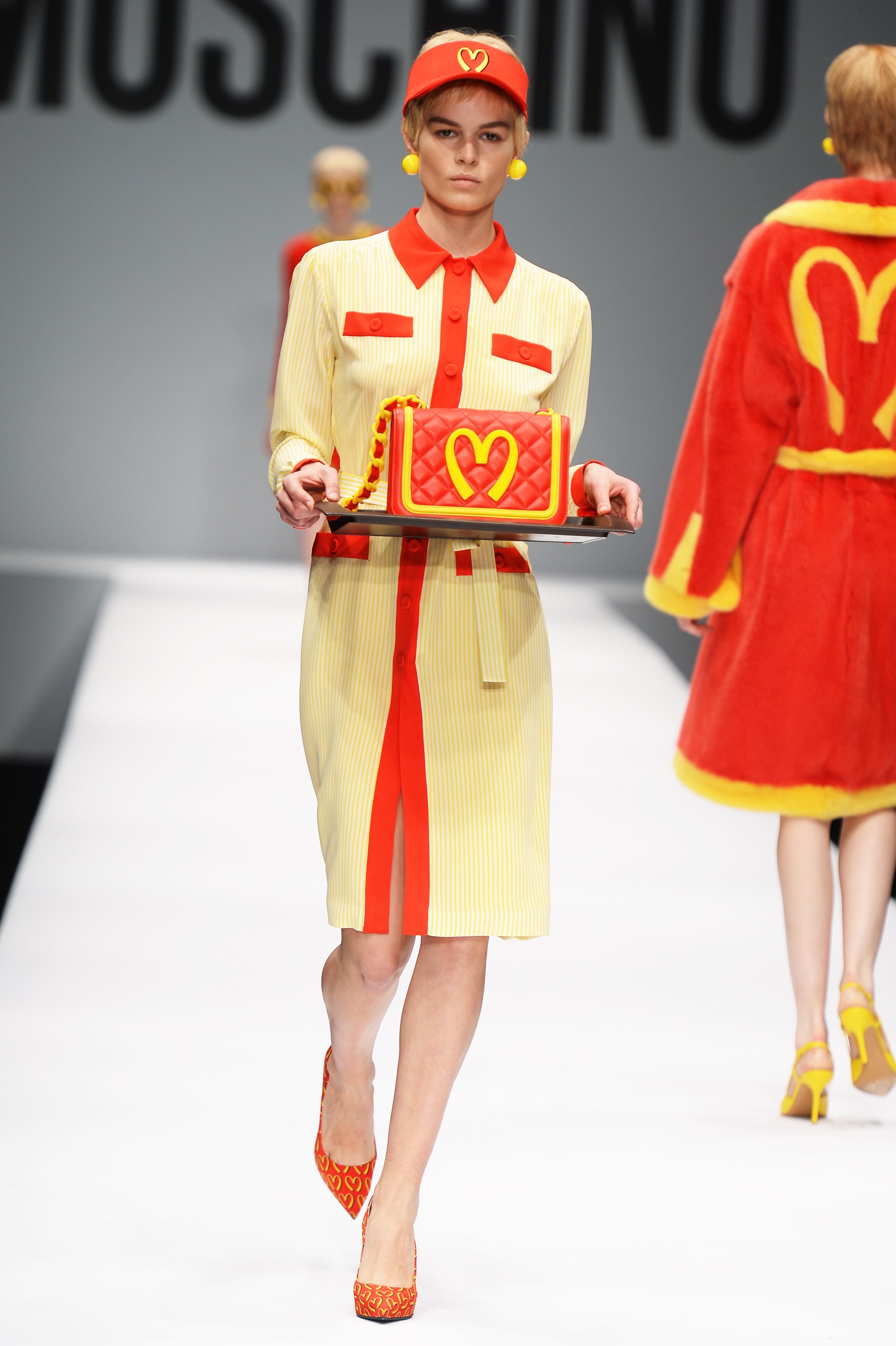 Photo by Fairchild Archive/Penske Media via Getty Images
The McDonalds collection
Taking the helm in October 2013, Scott's first collection for Moschino was an instant vibe shift. Opening looks riffed on the iconic reds and yellows of McDonalds while the fast food chain's famous golden arches were reimagined as Moschino hearts. Quilted leather skirt suits and gold chains gave the Chanel aesthetic an edgy update. And just when you thought it couldn't get any kookier, Spongebob appeared all over bags, coats and dresses. While some were lovin' it, others thought it looked gauche and vulgar, a kind of sartorial junk food. Either way, it was an incredibly bold first collection that set the tone for the decade ahead and announced that Scott's Moschino had arrived.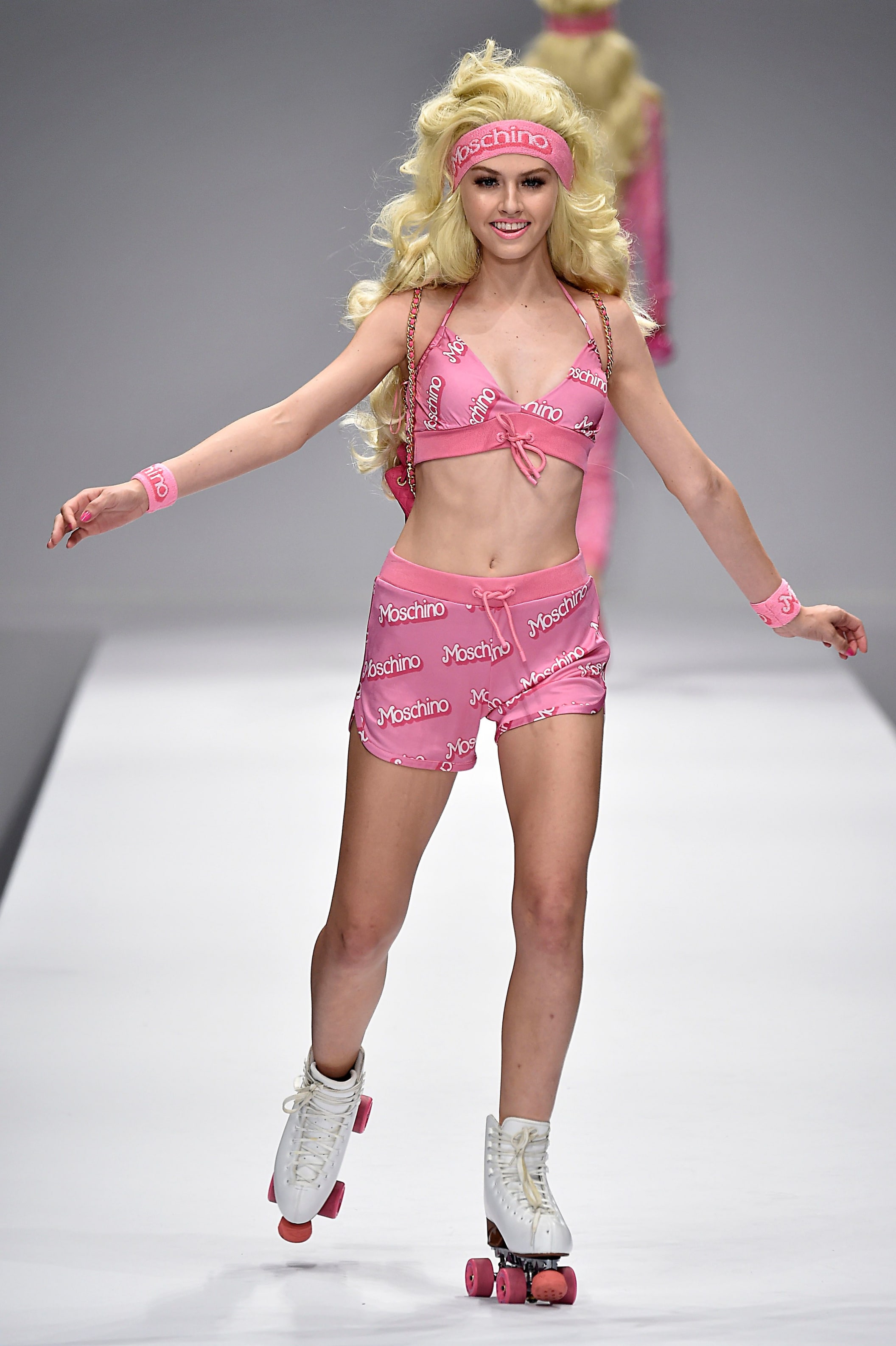 Photo by Victor VIRGILE/Gamma-Rapho via Getty Images
The Barbie collection
Years before the word barbiecore was furiously typed by fashion editors everywhere, Scott gave us the ultimate Barbie collection. Models carried tiny dumbbells, applied makeup or roller skated down the runway replete with platinum blonde wigs and bubblegum pink lipstick. Scott toyed with ideas of femininity, taking themes from traditional Barbie wardrobes and exploding them into lifesize reality. The result was a typically irreverent wink at consumer culture, but ultimately, the goal of the collection was to spark joy the same way Barbie dolls have sparked joy among children for generations. "Her and I share the same things," Scott said of the iconic doll. "We just want to bring joy to the people."
you are missing out on some content here because you rejected our cookies. want to change that?
Bitch I'm Madonna
The king of pop fashion meets the queen of pop. If you get a co-sign from Madonna, you're clearly doing something right. The video for 2015's 'Bitch I'm Madonna' is an all-out Moschino fest. Jam-packed with celebs and iconic pieces from Scott's first year at the label, it has racked up 355 million views on YouTube since debuting 8 years ago. Set in New York's The Standard hotel, Madonna dances decked out in a leopard print Moschino dress, belt and pink studded leather jacket accessorised with pink hair and grills. A two-piece from the Barbie collection makes a cameo while stars including Beyonce, Miley Cyrus, and Katy Perry join the party. It epitomises the fun excesses of early to mid-2010s neon party culture that the gaudy designs of Scott's Moschino complement so well.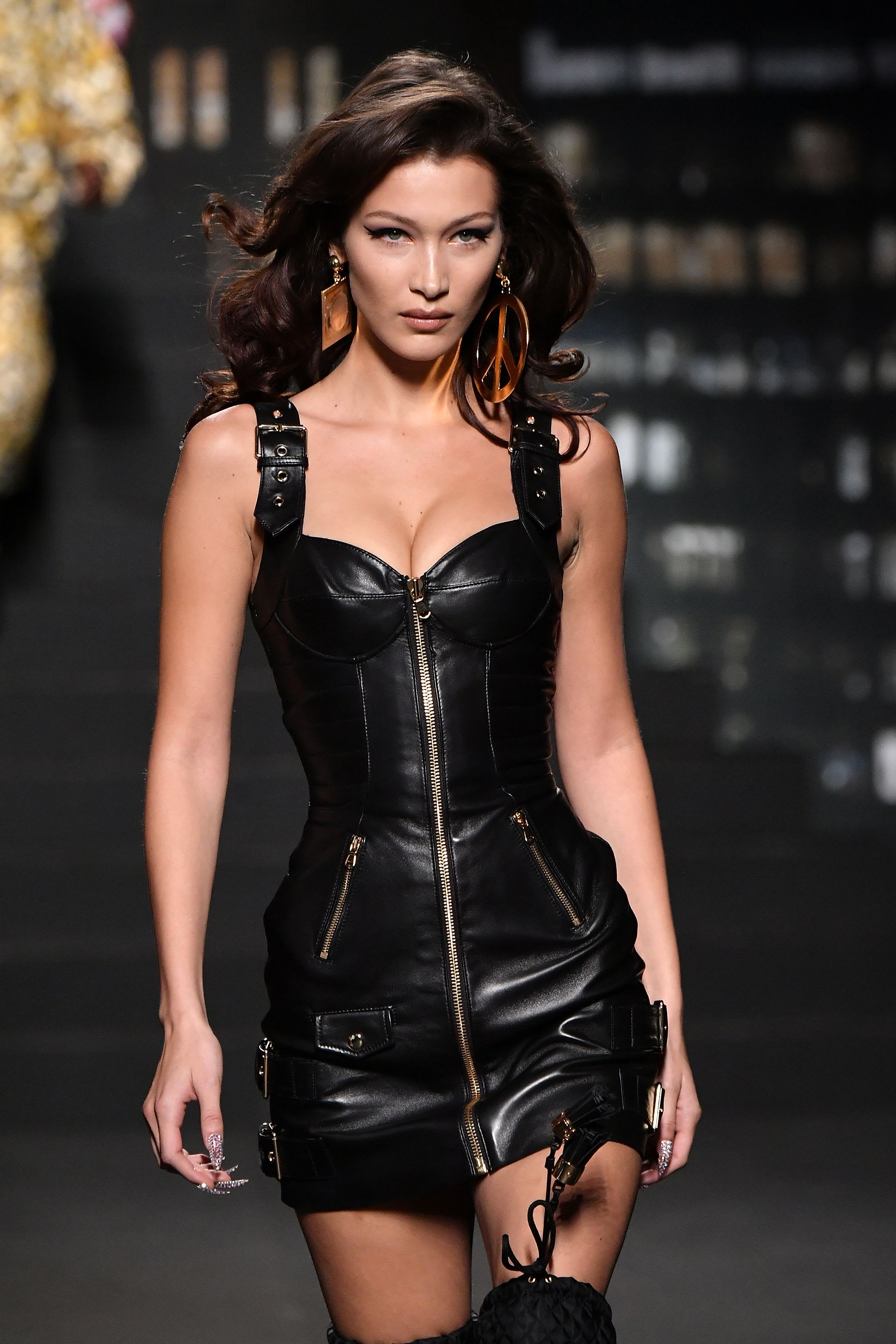 Photo by Mike Coppola/Getty Images
The H&M collab
The H&M collab is an inevitable right of passage for nearly every designer. And in 2018, it was Moschino's turn to take up the mantle with the high street brand. Leather trousers, bralets, chain motifs and CD prints all featured heavily while Disney's Mickey Mouse, Minnie Mouse and Donald Duck cartoons appeared on t-shirts and dresses, adding some of Scott's signature sense of humour to the range. The catwalk show to launch the collection starred Bella and Gigi Hadid and was closed by Naomi Campbell, proving how beloved Scott had become by industry greats.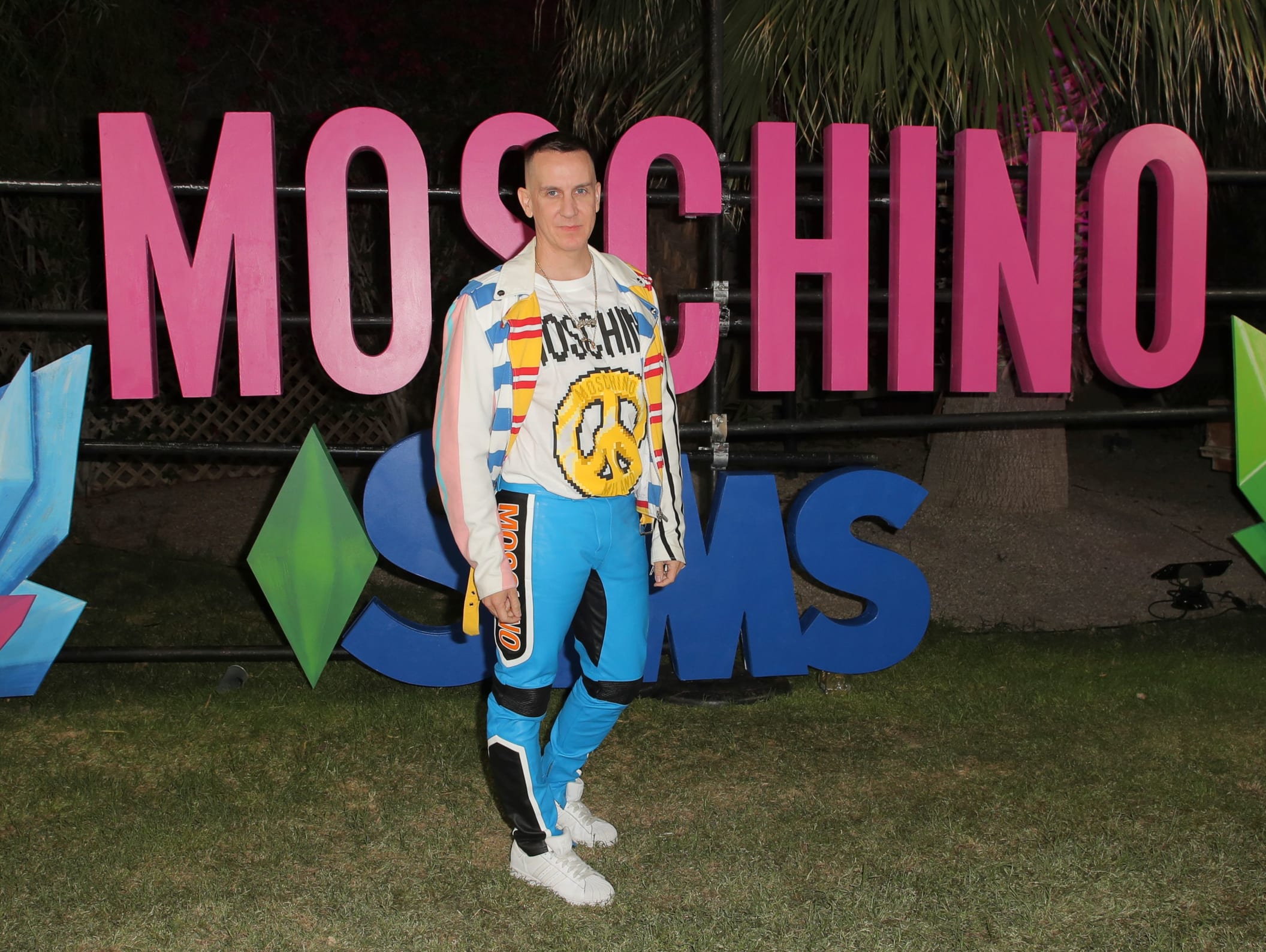 Photo by Chelsea Lauren/WWD/Penske Media via Getty Images
The Sims 4 collection
These days, digital fashion is poised to dress us in the metaverse, but if you've ever played Sims, you've likely dressed your virtual self before. Prior to 2019, perhaps you despaired at the lack of chic options available. But when Moschino announced a collab with the iconic game that all changed. The collaboration followed a capsule collection of IRL clothes featuring glitchy graphics and the green diamond Sims logo while the expansion pack itself includes fashion, furniture, hairstyles and decor. Later that year, Scott even hosted a Sims themed party at Coachella. "I hope that fans will get a kick out of it and love it too," Scott said of the collection. "As they say in Simlish: 'Benzi chibna looble bazebni gweb!'" Looks like it's time to log back in and live in a world where Scott's Moschino still exists.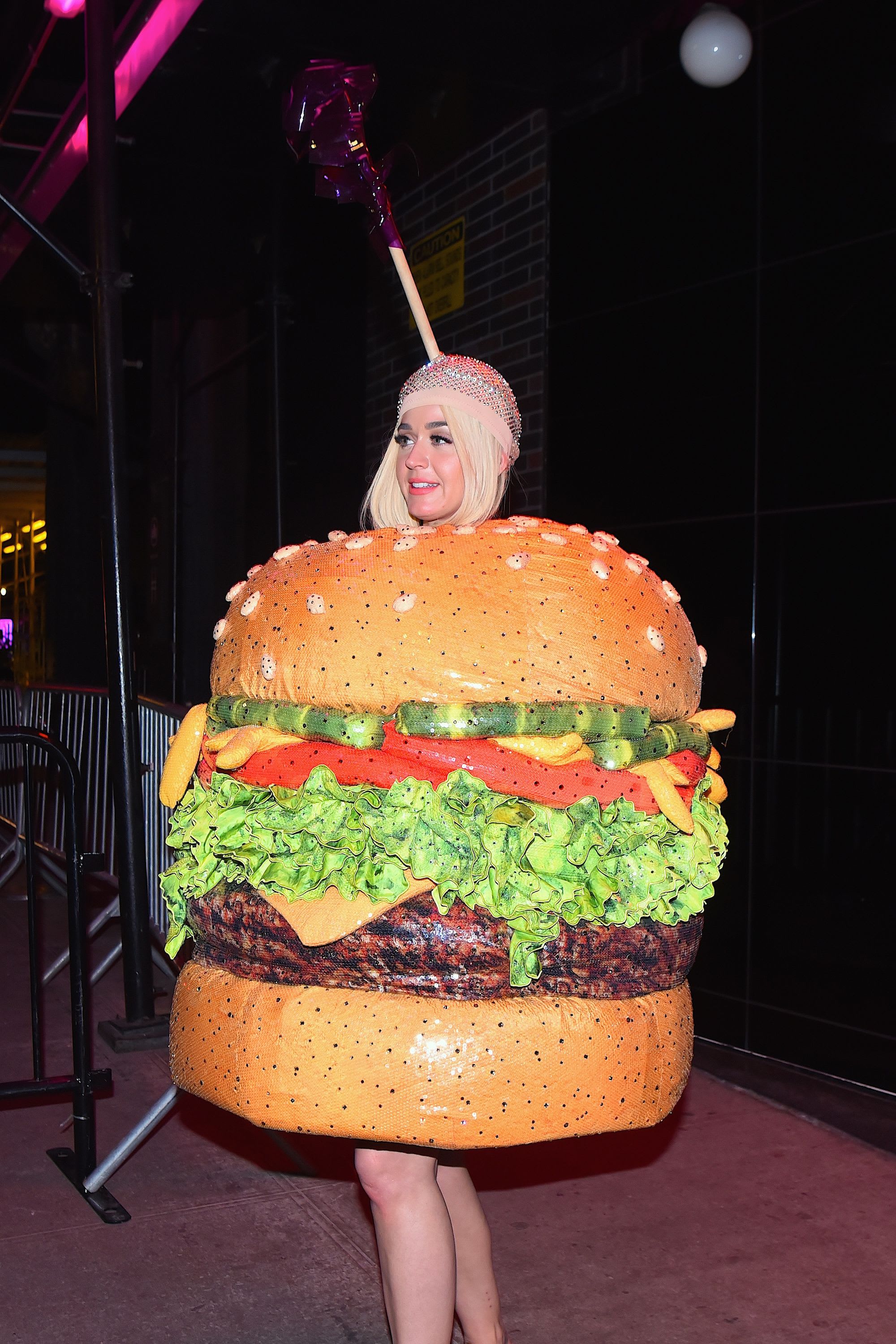 Photo by Robert Kamau/GC Images
Katy Perry's hamburger dress
The Met Gala's fateful 2019 theme 'Notes on Camp' got a disappointingly low turnout of celebs actually dressing up in line with the theme. The same couldn't be said, however, of Katy Perry who turned up to the main event draped in a chandelier before attending the after party literally dressed up as a hamburger. The look took Scott's fast food fashion to a whole new level and the outfit racked up the likes – and memes – attracting bewildered responses from fans and fellow Met Gala attendees alike. Unperturbed by these reactions, the singer told Scott, "This is the most favourite outfit I have ever worn in my life." She wore it again in the video for 'You Need To Calm Down' accompanied by bestie Taylor Swift in a Moschino french fries dress. And Scott revealed a similar burger skirt for Resort 2022 complete with a matching hat and bag. Anyone else feeling hungry?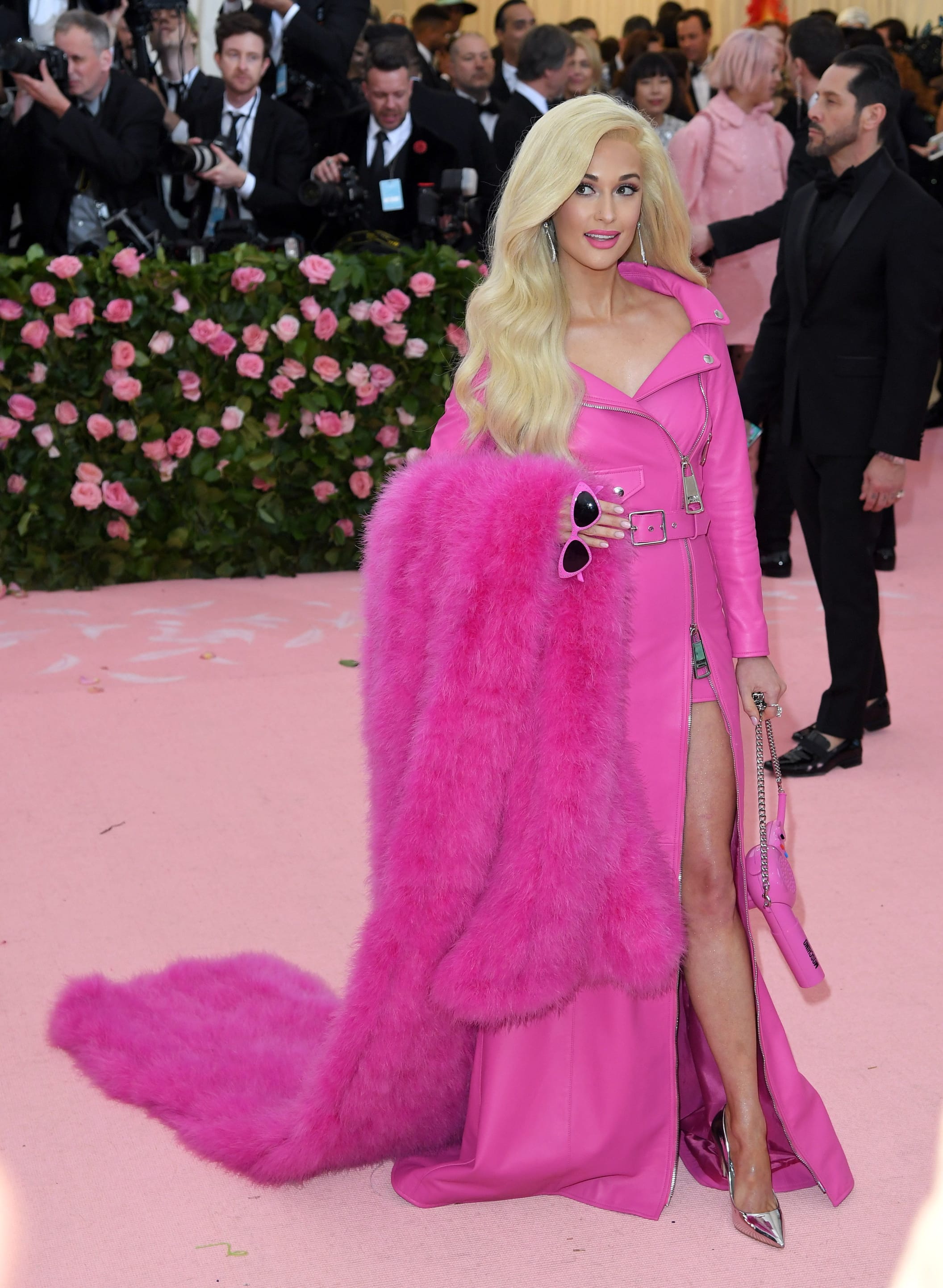 Photo by Karwai Tang/Getty Images
Kacey Musgraves as real life Barbie
Of course 2019's 'Notes on Camp' Met Gala theme was simply too perfect for Scott's Moschino to only dress one celeb. Kacey Musgrave rocked up in SS15's Barbie collection, stepping out of a hot pink convertible and onto the red carpet. The singer transformed into a real life Barbie doll in a fuschia leather bomber jacket dress, matching over-the-top fur feather boa, sunglasses and a hair dryer handbag. Musgraves proved why Barbie continues to be one of the most enduring style icons. Moschino even created a matching doll as a limited collector's edition Met Gala Barbie. We've not wanted a Barbie so badly since we were six-years-old.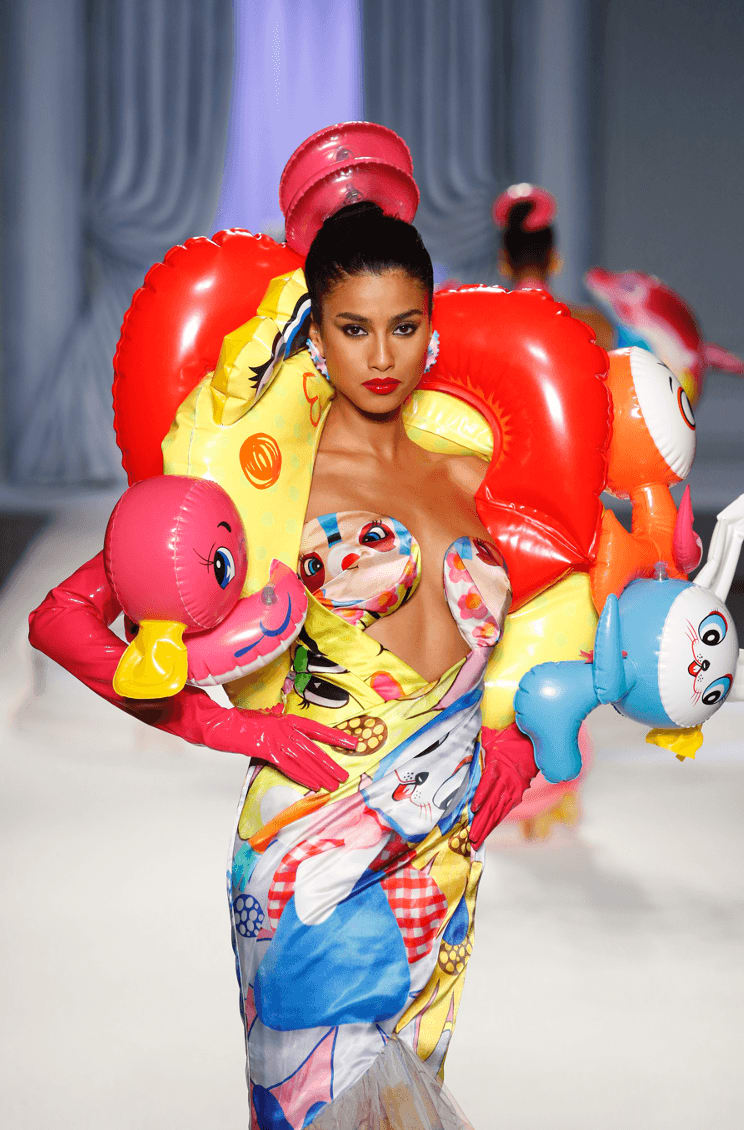 Photo by Aitor Rosas Sune/WWD/Penske Media via Getty Images
The SS23 pool inflatables
If you're craving summer you could book a holiday, crack out your SAD lamp or dress up in kids' pool inflatables, à la Moschino SS23. Inflatable fashion has been taking off lately and Scott called it back in September when he put colourful pool inflatables on the runway. The collection was designed to buoy up our spirits. "Sometimes we feel like we're drowning," Scott admitted, "but no matter what is going on, we have to save space for joy." And that's what Scott did best at Moschino: finding joy and sense of humour no matter what.