Why inflatable fashion is lifting off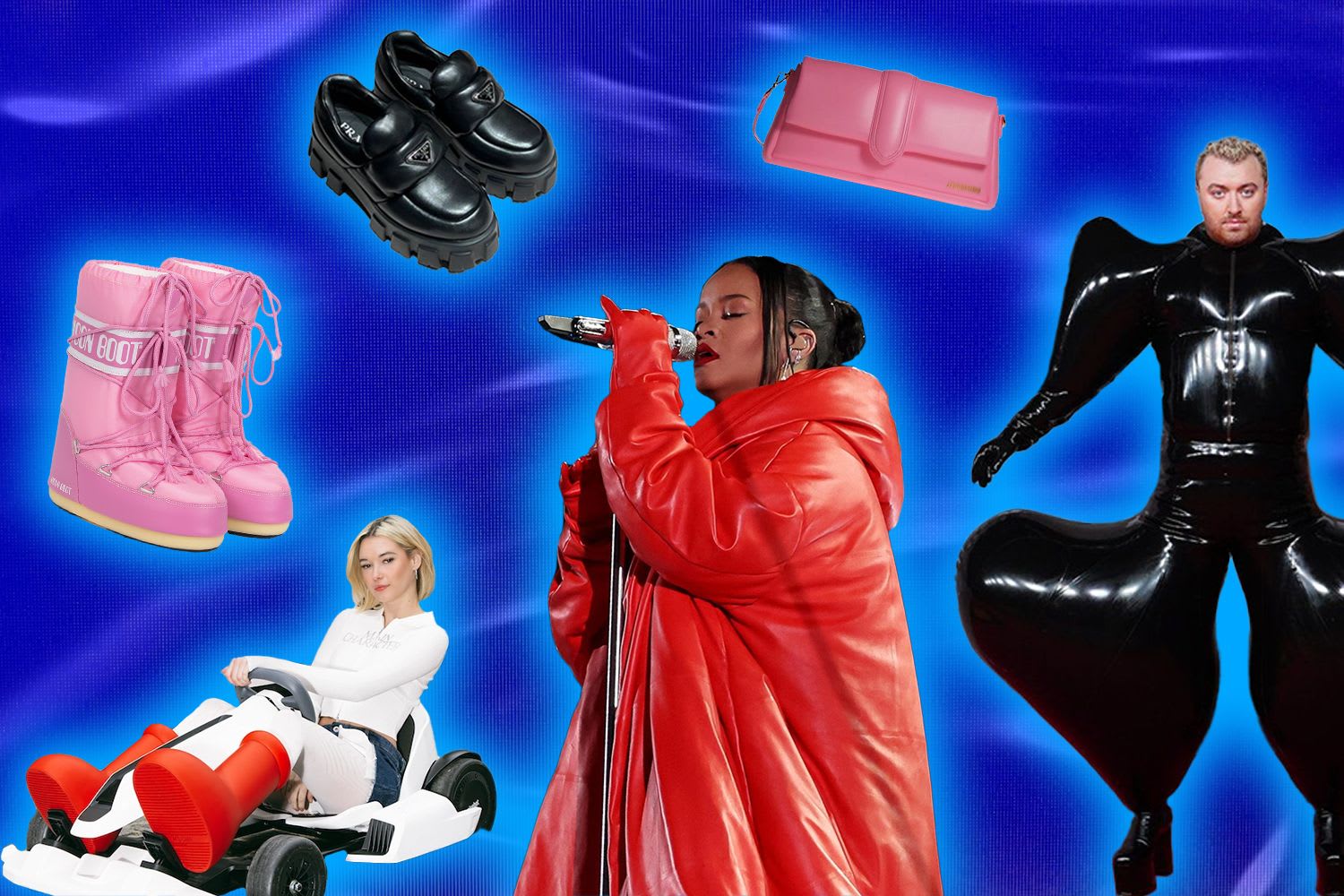 From the MSCHF red boots to Sam Smith's ballooning BRIT ensemble, here's why fashion is getting thicc
image Team Woo
words Lucy O'Brien
Big bouncy boots, expandable shoulders and thicker-than-thick thighs. Buoyant fashion is the latest in this awards' season and fashion month's playful, colourful and daring fits. Whether at the BRITS and Grammys or the runways of New York, Paris and Copenhagen, this year's viral fashion moments have been bigger than ever, literally.
Inflatable fashion is on the rise - between Rihanna's oversized red puffer at the Super Bowl half-time show, Sam Smith's kinkwear at the BRITs and MSCHF's whimsical, tube-like, obnoxiously oversized red astro-boots giving a nostalgic nod to noughties-era children's cartoons and reconnecting us with our tween Nintendo Wii gamer-eras. Inflatable design is underpinning a number of new drops, celeb ensembles and luxury brands' creative direction.
As videos surfaced of wearers straining to get their feet out of the viral MSCHF boots, their practicality came under question. But what makes them so perfect for the current moment is how funny they look online. Now, we watch influencers on phone screens like we watched cartoons on TV screens as kids – so it makes sense that clothes and accessories that make us look half-human, half-cartoon are popping up to reflect the blurring of our online and offline lives.
you are missing out on some content here because you rejected our cookies. want to change that?
The launch of the boots has coincided with a boom in inflated accessories across major fashion labels. Prada's update of their iconic black loafers are a fresh take on the classic leather design, but about three times the size. The padded leather sits on an elevated platform sole, making the shoe look like a pair of plush toys. The drop comes accompanied by their newest handbag design, "the soft bag", another playful pumped-up design that looks like it might float away at any given moment.
you are missing out on some content here because you rejected our cookies. want to change that?
Meanwhile Jacquemus, the French label known for its chic, draped dresses and structured, minimalist handbags, have forgone their traditional silhouettes and too opted to introduce a new, inflated sister accessory, "LE BAMBIMOU". The campaign video for this new bag, which sees the bubble-gum pink structured cross-body inflate like a balloon, is yet another nod to the increase in padded outerwear.
you are missing out on some content here because you rejected our cookies. want to change that?
As for celebrity style, Sam Smith's fetishcore take on inflatable fashion was the biggest style moment from the BRIT Awards. The ballooning latex look was by emerging London label HARRI, known for their avant-garde structural silhouettes. The instantly memeable outfit took up space and further cemented Smith's status as one of this year's most exciting and perhaps unexpected style icons.
Rihanna also embraced the puff in her blazing Super Bowl half-time performance. Surrounded by dancers wearing cloud-like, all-white puffer jackets and tracksuits, the singer served an oversized, monochrome red look as she took centre stage. The addition of her red leather padded trench (which was a tribute to the late fashion pioneer André Leon Talley) is yet another nod to the inflatable trend, one that distorts traditional interpretations of harsher, more rigid materials like leather by rendering them in a softer and playful way.
you are missing out on some content here because you rejected our cookies. want to change that?
While we can all agree that the aforementioned examples are all serving looks, what if this trend reveals something deeper at play? Fashion often offers some lighthearted escapism during harsh times and in the light of the cost of living crisis and global inflation, perhaps this rise in padded, insulative luxury garments trickling down is a response to the current socio-economic climate. Are designers changing the fashion narrative to comment on economic hardship?
Because it wouldn't be the first time that the rise of the padded fashion has intertwined with societal change. In fact, in 2013, academic Jung-Hwa Choi traced the rise of noughties puffer cropped jackets, explaining how exaggerated fashion made people feel liberated. Choi argues that playful, padded silhouettes "reflected a pleasant feeling through astonishment and surprise, nostalgia involved in memory and childhood play and disembarrassment from reality."
Perhaps the MSCHF red boots struck a chord not just because they're funny to look at, but because we're craving the escapism that childhood nostalgia has to offer. At this point, anything that reminds us of afternoons spent watching cartoons, oblivious to the world outside, can feel like some much-needed light relief. As adult as Sam Smith's kink-inspired outfit seemed, it was showing a softness, too; an incongruity that blurs normative interpretations of age-appropriate clothing. So as bubble bags, plush leather and pumped-up boots trickle down into everyday outerwear, the more we are encouraged to forgo traditional understandings of adulthood and embrace the bouncy, whimsical desires of our inner child.
Fashion has long been used as a creative outlet to provoke inspiration and forward-thinking, and in today's political climate,we need to feel inspired more than ever. Be it a way to actively combat the cold winter months by propelling insulative, cosy-core into the mainstream, or simply an aesthetic movement helping us to embrace the euphoric nostalgia and escapism of our childhoods, inflatable fashion won't be deflating any time soon.