Plastic fantastic: how fetishcore ruled the Brits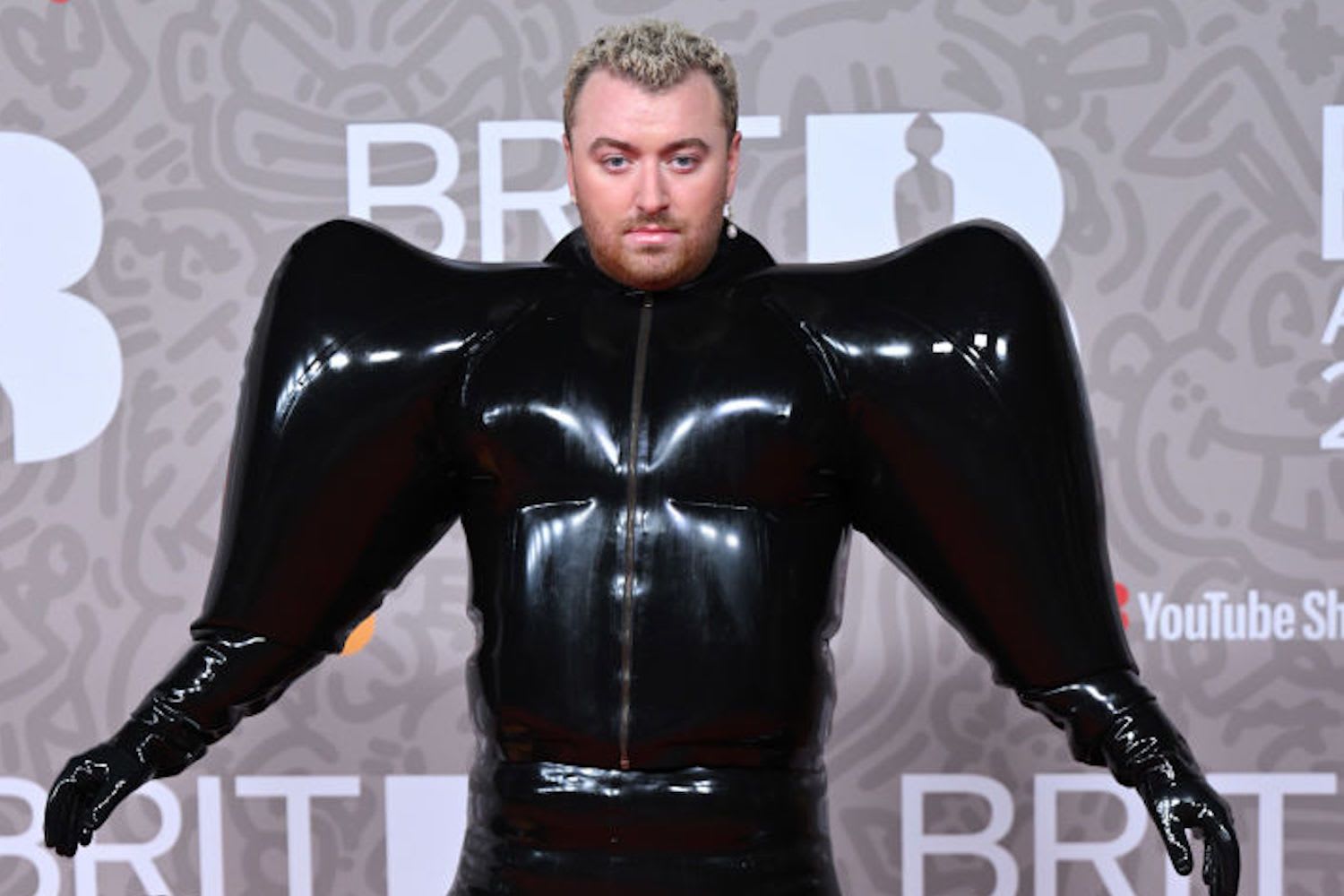 Sam Smith's NOS balloon chic shutdown the red carpet while other celebs looked like they had slithered straight from the sex club
image Karwai Tang/WireImage via Getty Images
words Megan Wallace
Red carpet fashion is undergoing a bit of a transformation. Gone are the days where celebrities were expected to pose in a predictable dress or samey tuxedo, cowering in fear of landing on a worst-dressed list or being verbally assaulted by a Joan Rivers type. Now, thanks to the fact that awards shows and premieres are consumed by a much broader audience, not just a small elite, due to video and photos quickly making their way to social media, the whole world's a stage - and the statements have to get bigger.
Not only has a huge rise in streetwear style, such as Kendrick Lamar's dadcore Martine Rose tracksuit at the Grammys or Central Cee's Decathlon chic at the British Fashion Awards, shown that dress codes are pretty defunct nowadays, we're also seeing a side of red carpet dressing that's pretty NSFW.
We can probably thank the perennial naked dress for this pivot - you know, those basically see-through dresses which seem to be everywhere? While they were a major shock to the system back in the 90s, when worn by the likes of Rose McGowan, nowadays they've become something of a new normal for everyone looking to raise even the most thinly plucked of eyebrows. In the quest to create a moment that's a little more avantgarde, celebs are mining the sex club for inspiration and nowhere was this more apparent than this year's Brit Awards where fetishcore seemed to be the order of the day.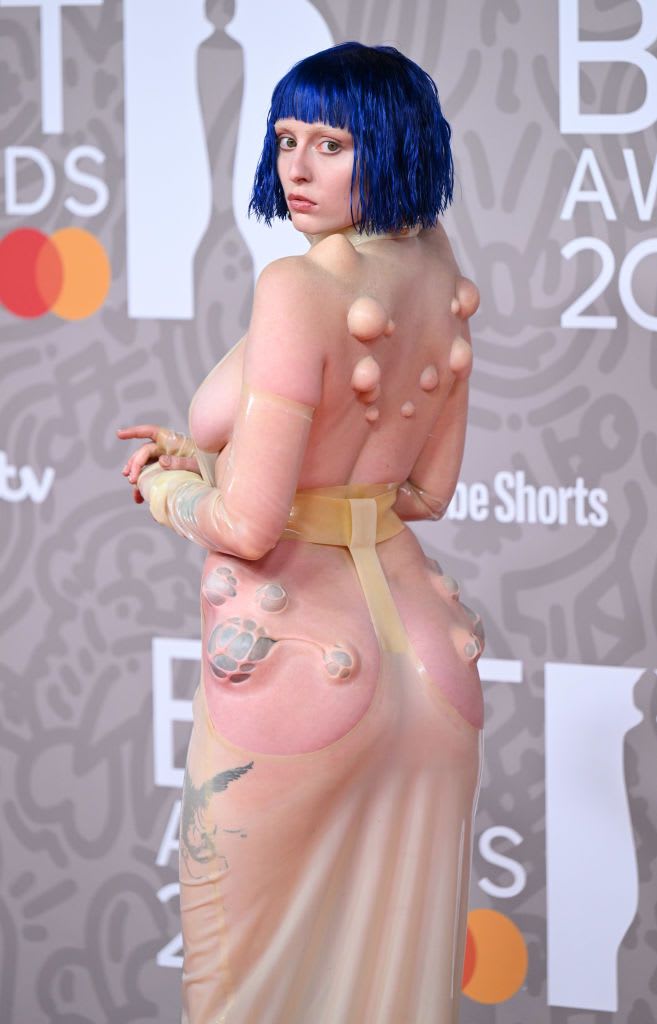 Ashnikko. Karwai Tang/WireImage via Getty Images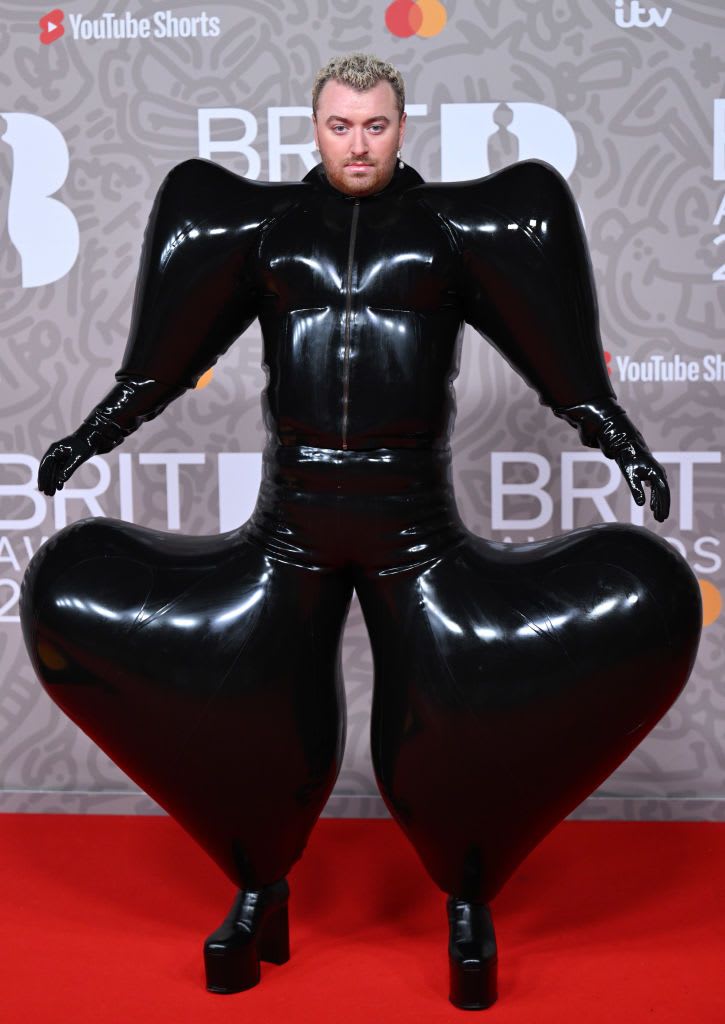 Sam Smith. Karwai Tang/WireImage via Getty Images
Don't believe us? Time for a recap. Of course, we can't go any further before pointing to Sam Smith's show-stopping (and instantly memeable) high-shine latex look. From the label Harri, the outfit featured ballooning black trousers and a matching voluminous top with some serious power shoulders.
There was also Ashnikko, repping our alien tentacle porn fantasy in a draped, latex gown which featured prominent, flesh-like bumps down the back. The look was a custom concept by HYRDRA, a label which twists latex into sinewy, flesh-like forms which draw on everything from wombs to fantasy.
Both these outfits play with the human form in new ways, using materials traditionally associated with the othered worlds of the kink scene in order to push the wearer's body into un-human and even grotesque dimensions. In the case of both Sam Smith and Ashnikko, artists who have been outspoken about their queer identity - and have even received backlash for doing so - it feels like a powerful reclamation of otherness and proof that fashion can help us tap into commonly-held anxieties about so-called correct ways of presenting gender.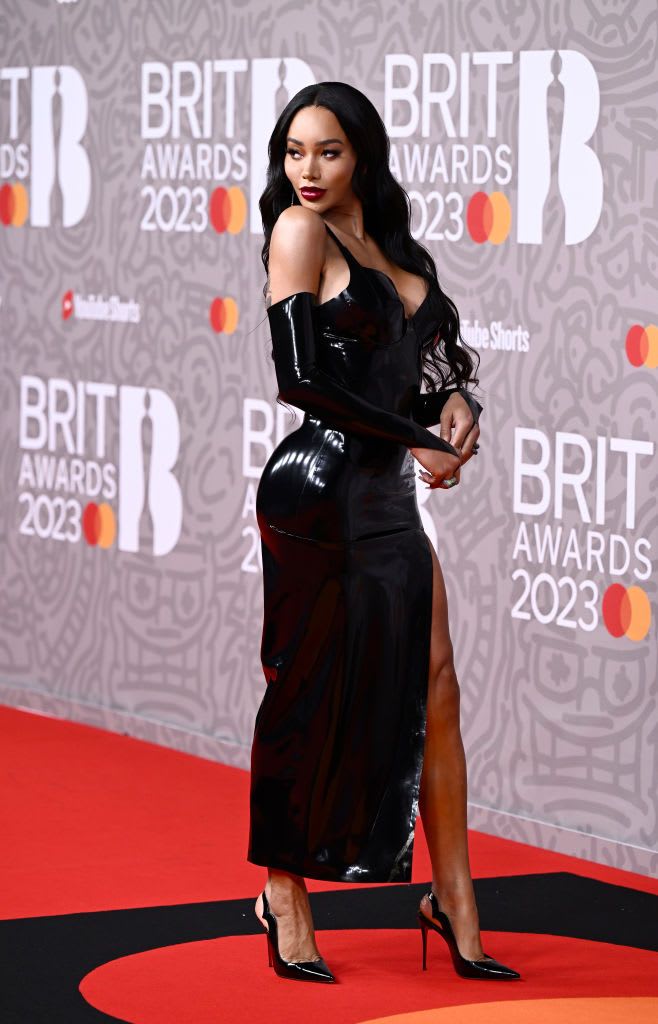 Munroe Bergdorf. Gareth Cattermole/Getty Images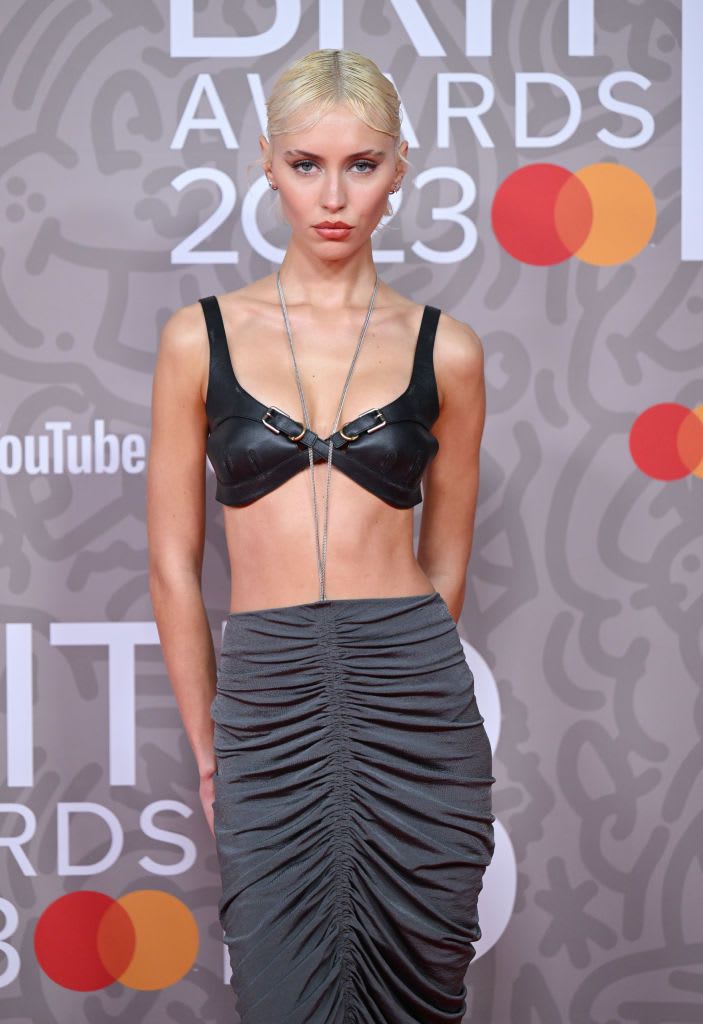 Iris Law. Karwai Tang/WireImage via Getty Images
And while the spotlight was deservedly stolen by the looks which verged into mutantcore, are other fetish angels were going less fantasy and more sex club. This includes Munroe Bergdorf, who wore a skin-tight, Jessica Rabbit-style dress in black, with matching gloves. The 'fit was designed by Atsudo Kudo, a brand which IRL latex fetishists would spend their life savings on. Closing up the pack we had Iris Law in a leather buckle bra top which seriously wouldn't have looked out of place at the latest KV event.
While comparatively tame, these looks, too, are a statement. By referencing ideas of domination, control and sexuality which are recurrent in the world of BDSM, these female invitees stare down the camera lens and refuse to be merely consumed by the observer's gaze. It's what power dressing looks like in 2023.
If you want an overarching take away from all this, it's this: whether you're a latex fan or a rubberist, you can finally start wearing all the BDSM clobber you've spent a fortune on outside of the dungeon and to your latest normie party.