How streetwear ripped up the red carpet rulebook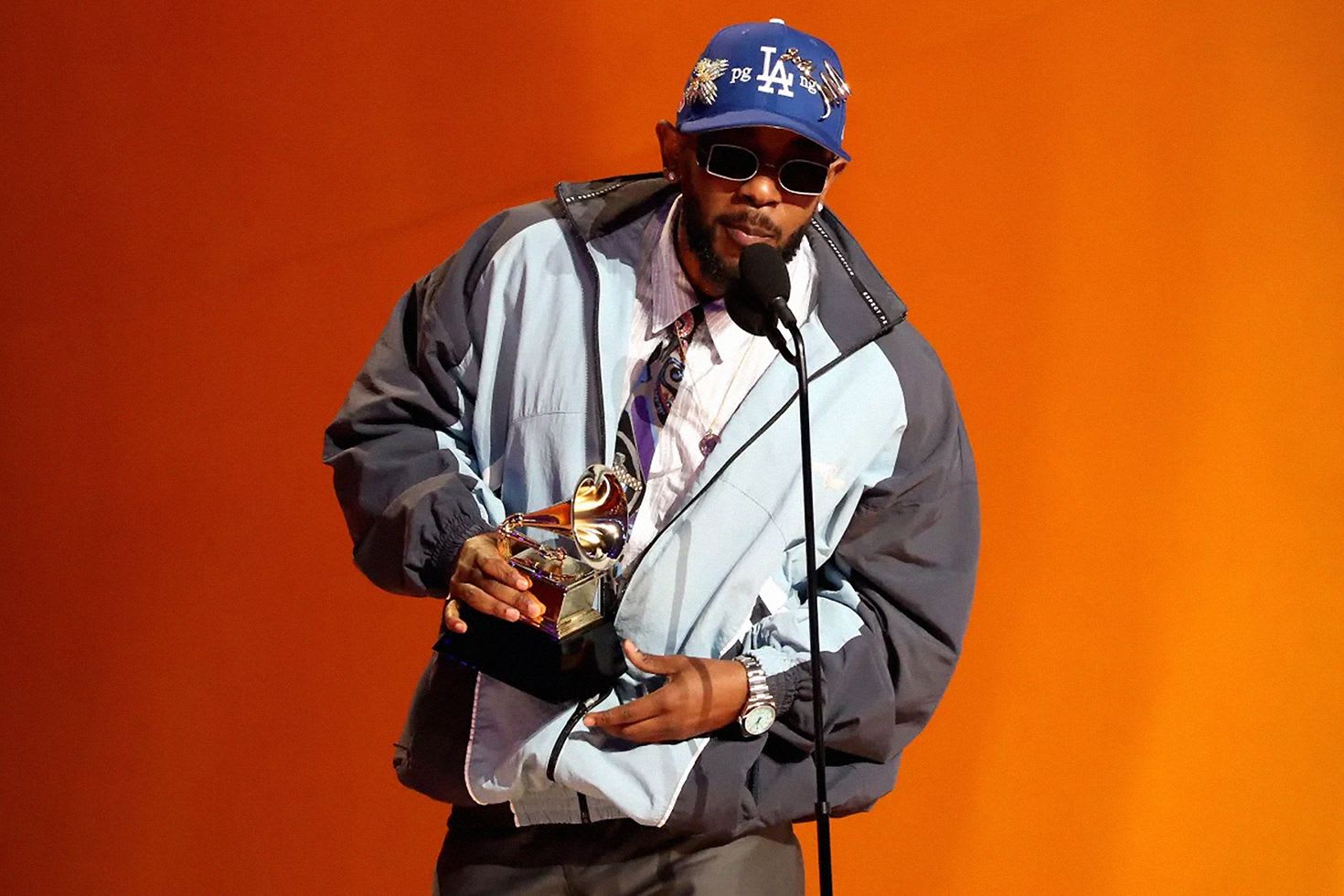 From Central Cee's dressed-down Fashion Awards fit to Kendrick's Martine Rose moment at the Grammys, streetwear is the real winner this awards season
image Johnny Nunez / Getty Images for The Recording Academy
words Sophie Lou Wilson
Some red carpet moments immediately assert their place in fashion history – Lady Gaga's meat dress, Billy Porter's tuxedo gown, or Rihanna's 25-kilo Guo Pei Met Gala look, to name a few. What these all have in common is a sense of drama and shock, of loudly disrupting the status quo. But what about the quietly subversive fashion moments which are changing the game, even without us quite fully noticing?
When Kendrick Lamar stepped out at the Grammys in a Martine Rose AW23 look to collect his award for Best Rap Album, he became the latest in a long line of artists to disregard the rules of awards season dressing in favour of something edgier, more modern and, well, comfier. In doing so, he elevated the retro-style blue track jacket, nondescript pinstriped shirt and casual business trousers to award winning style status. The dadcore 'fit was complete with Kendrick's own LA Dodgers baseball cap and the iconic purple-blue gradient Martine Rose x Nike Shox MR4 trainers. In hyping his fave London brand, the rapper created the most relevant fashion moment of awards season so far.
you are missing out on some content here because you rejected our cookies. want to change that?
The rise of streetwear on the red carpet suggests that celebs are increasingly showing up in what they actually want to wear rather than feeling pressured to adhere to traditional dress codes. After all, sports jackets and tracksuits are closer to what we see most stars wear in paparazzi pics. Not feeling the need to dress up in conventional formalwear also suggests a slight indifference to the awards themselves. Indeed, rap and hip hop artists have often criticised the Grammys for being unrepresentative and irrelevant. In the past, Kendrick has swerved the event and refused to perform while several artists including Frank Ocean, Nicki Minaj and The Weeknd have publicly spoken out against the institution and its nomination process. Deciding to turn up in something comfy rather than a dressy suit feels like a similar act of defiance.
you are missing out on some content here because you rejected our cookies. want to change that?
It would be wrong to talk about streetwear on the red carpet without acknowledging the hip hop artists who paved the way. The current rise of relaxed 'fits calls back to the '90s and '00s when artists like P. Diddy, Outkast and Missy Elliott would often eschew formalwear and opt instead for baggy matching tracksuits, trainers and baseball caps. P. Diddy helped establish the Y2K hip hop aesthetic and stayed true to it on the red carpet too. The rapper rocked up to the 'Red Dragon' premiere in 2002 wearing a velour tracksuit by his own streetwear brand, Sean John. As for womenswear, Missy Elliott was the blueprint for red carpet trackies, once wearing a now iconic pink Adidas set to the 2003 Grammys to collect her award for Best Female Rap Solo Performance.
But the look can be polarising, even today. When Central Cee wore a tracksuit he copped at Decathlon (albeit with a Dior beltbag) to the Fashion Awards back in December, people were perplexed. The rapper said he could see someone pointing at him and telling security to "get him off" the red carpet. Defending his look as a form of authentic expression, he took to TikTok to say, "Everyone in the premises was paid by a big brand to wear their outfit. I dress like this 365 days a year. I'm not changing it for one day. You lot go to these events in fancy dress dressed as other people. I went there as me."
While some celebs cultivate their awards show looks to create the perfect over-the-top viral fashion moment, the streetwear takeover feels more low-key. It's the opposite of camp extravagance, making it more accessible and, let's be honest, cooler than going all out. As the Oscars approach, will we see the new Stussy x Nike collab make its first celeb outing? Or perhaps Stone Island's SS23 beige workwear will take to the stage? The Academy Awards tend to veer in a more conservative fashion direction than, say, the Grammys, but perhaps one day soon that will change. Because we deserve an Oscar winner who loves cosy trackies as much as we do.