The Golden Globes prove menswear's in its fun era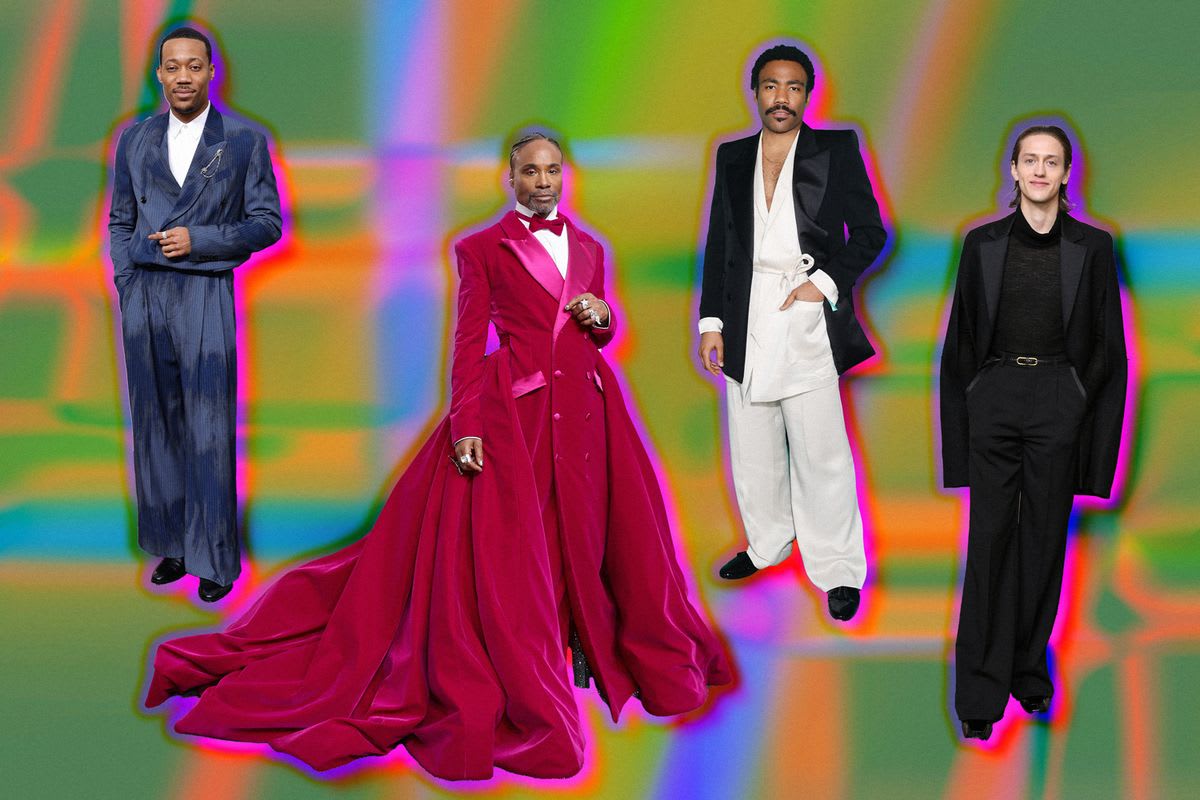 The suit is dead. Long live the suit. Men spice up the traditional tux at this year's Golden Globes
image Team Woo
words Sophie Lou Wilson
Let's be honest, awards season fashion is usually pretty predictable. There will be gowns. There will be glitter. Margot Robbie will wear some offputting look from Chanel (someone please free her from that contract already!) And the men will play it safe in black suits – navy if they're feeling really adventurous.
But lately there's been a shift. Blame it on the showstopping chameleonic style of Billy Porter, who always understands the assignment. Or the androgynous red carpet attire of Harry Styles and Timothée Chalamet. Either way, at last night's Golden Globes, menswear departed from its dull, predictable comfort zone and entered a new era marked by decadence and dopamine dressing.
For the first IRL Globes ceremony in nearly two years, the stars were out to do what they do best; entertain. Austin Butler committed to the bit, accepting his award for Elvis in his infamous Elvis accent. Jennifer Coolidge spent the evening being, well, Jennifer Coolidge, thankful for the success of The White Lotus because now her neighbours invite her to parties. Even Rihanna and A$AP made a surprise appearance, arriving fashionably late and looking cool as hell, of course.
you are missing out on some content here because you rejected our cookies. want to change that?
The event offered some much-needed light relief and the vibrant, varied menswear was right on theme. Billy Porter stole the show in a fuchsia velvet tuxedo gown, a riff on his iconic 2019 Oscars look. Seth Rogen also got the pink memo in a peach tux complete with cummerbund and matching bowtie. Meanwhile, Abbott Elementary's Tyler James Williams accepted his Supporting Actor award in a pinstriped Matador-style suit jacket tucked into loose fitting trousers and finished with a stylish silver chain broach. Then Wednesday's Percy Hynes White channelled Saint Laurent rockstar energy in black flares beneath a sleeveless blazer with oversized lapels.
That's not to mention Jerrod Carmichael, the night's host, who served several killer looks throughout, none of which included your typical black or navy tailoring. Kicking off the night by embracing the pink suit à la Seth Rogan, he later changed into a graphic velvet plaid two-piece before transforming yet again, layering a bold patterned vest over his white shirt and loose fitting navy trousers. For his final look, a sheer white turtleneck and pearl necklace peeked out from beneath his double breasted waffle fabric white suit. A*s all round.
Of course, there were still some attendees who went for the classic suited look and pulled it off well – notable mention to Austin Butler's Gucci tux. However, the move away from tried and tested simplicity means we could very well be in menswear's most exciting era. Subversive red carpet style is no longer reserved to a few boundary pushing style icons. Here's hoping men's best dressed continue the trend for the rest of awards season and into the Met Gala in May. It makes it more interesting for us, anyway. The plain black suit has dominated the red carpet for decades. It's high time for menswear's creative, new era. After all, this year's Golden Globes proved that experimentation can still look suave.