Lace up your Doc Martens! Copenhagen brings back 2014 Tumblr grunge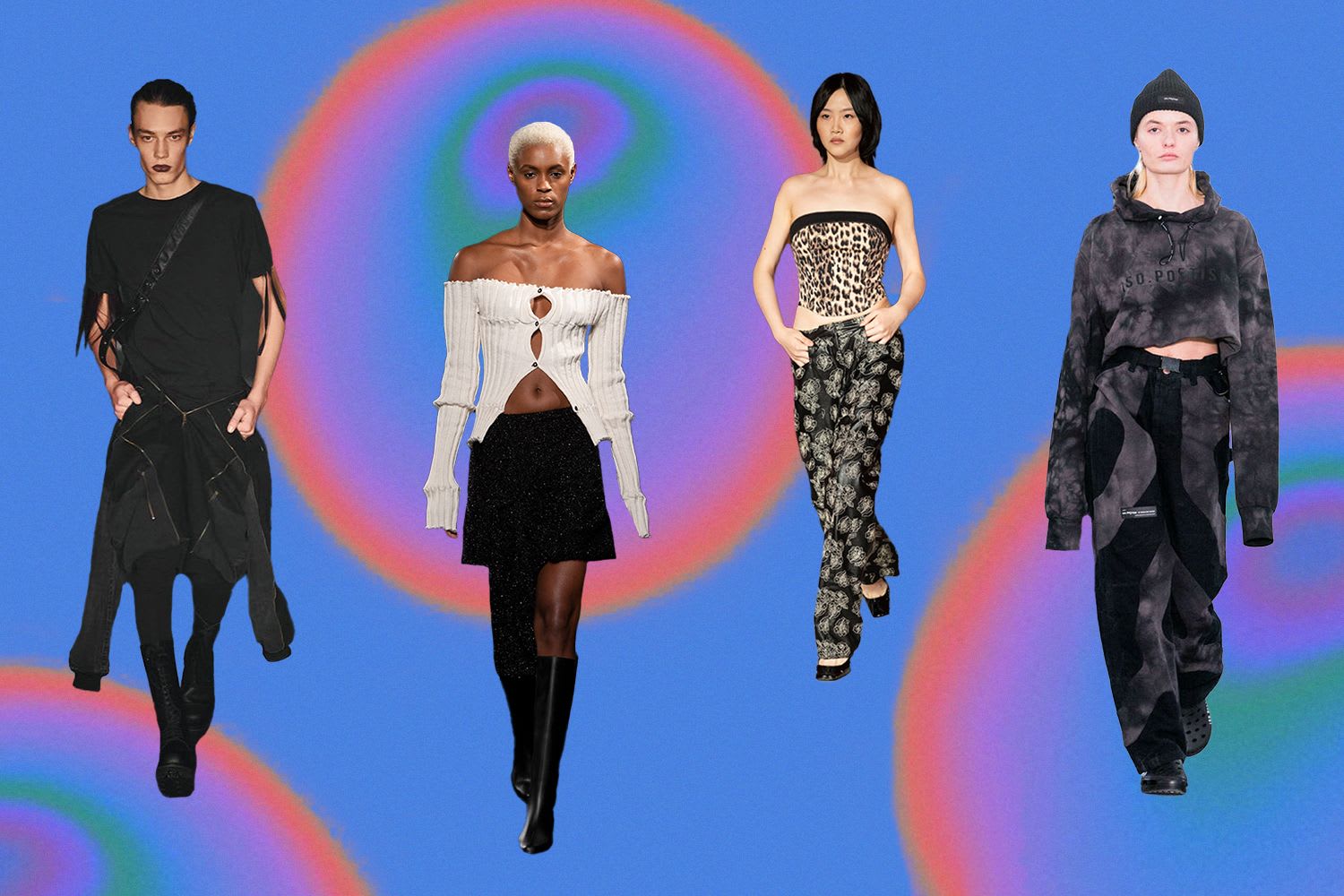 Pleated skirts, combat boots and soft grunge palettes evoked 2010s nostalgia
image Team Woo
words Sophie Lou Wilson
Scandi style, much like French girl style, has typically existed as a rigidly defined aesthetic imagined, for the most part, by outsiders. Popular culture would have you believe that Scandinavians dress almost exclusively in oversized wool scarves, tailored shirting and grey or beige basics. While some brands have made their name refining this chic, minimalist look, others used Copenhagen Fashion Week to express something edgier. Namely, this season, designers turned to 2010s grunge.
Grunge kicked off in the '90s as a musical genre with the likes of Nirvana, Pearl Jam and Soundgarden defining the quiet-loud sounds. Clothing was haphazard, a mix of punk, pink and plaid, and with so much of the scene emanating from the Pacific Northwest, it was all warm - heavy tights, heavy boots, cardigans and beanies. In tribute to this, soft grunge emerged on Tumblr around 2012 as the platform's most enduring style aesthetic, blending elements of overlapping twee and indie sleaze fashion with '90s goth and grunge. It was a nostalgic amalgamation that cultivated experimentation and rebellion through fashion.
Effy Stonem from Skins was the high priestess of Tumblr grunge while Matty Healy and Sky Ferreira were its king and queen. Band tees, smudged eyeliner, pastel hair, tie-dye, Doc Martens and American Apparel tennis skirts reigned supreme. This season, the quintessentially youthful trend took Scandi fashion in a messier, more spontaneous direction.
you are missing out on some content here because you rejected our cookies. want to change that?
At A. Roege Hove, black and white pleated skirts, skinny scarves and ribbed turtlenecks could have stepped straight out of a monochromatic Tumblr blog. Meanwhile, P.L.N's gothic offering included slouchy silhouettes, distressed leather, black denim and combat boots that reflected fashion's recent flirtation with darkness. Tie-dye tracksuits at Iso Poetism by Tobias Birk Nielsen evoked the 2013 obsession with galaxy prints while head-to-toe black looks channelled moody cyber angst.
It might seem strange to look back on a trend from only ten years ago with such misty-eyed nostalgia, but internet trends move fast and the Tumblr revival has been gaining traction since 2020, when TikTok users first started making videos dressed up as their 2014 selves, while younger users waxed lyrical about how much they wished they'd been teenagers during the era. In fact, nostalgia for the teen experience of decades past is another core tenet of the Tumblrsphere. Blogs could be moodboards of bands from the '90s, '70s fashion and '00s high school movies all collated into the same splace, hence the mix and match of this subculture's dress.
you are missing out on some content here because you rejected our cookies. want to change that?
It's easy to draw comparisons between the runway and Tumblr fashion because the era is so well-documented. Unlike the subcultures it pulled from, built on zines and erstwhile magazines, it existed almost entirely online. The indie sleaze generation might have used MySpace and Facebook, but they were largely tools to share photos of events that happened IRL. On Tumblr, however, the platform itself was the subculture. Many users had online alter egos and, while the trend would suggest that everyone dressed that way between 2012 and 2014, Tumblr kids were often socially outcast and chronically online.
The Autumn/Winter 2023 shows in Copenhagen merged several Tumblr-era trends on the runway, from monochromatic styling to chunky black combat boots. It felt like a more unified version of the aesthetic, perhaps coming from a desire to go beyond fashion's ubiquitous Y2K obsession and instead twist adjacent trends from the '90s and 2010s to create something fresher. And as Scandi brands increasingly embrace maximalism, the angst-driven soft grunge world of social media's past is the subcultural melting pot that offers endless interpretations.