How ugly fashion took over Paris couture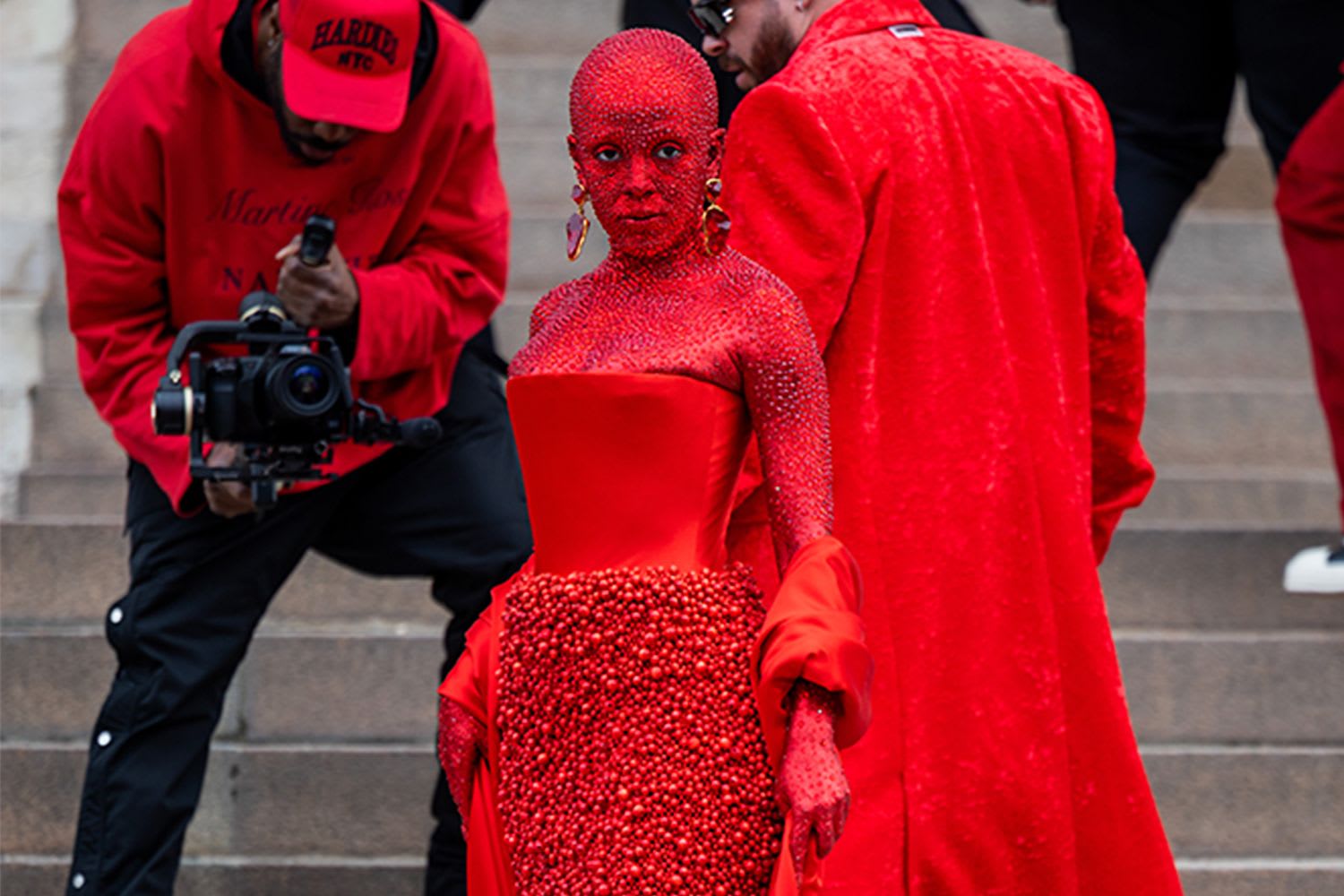 Schiaparelli, Viktor & Rolf and Doja Cat embrace the ugly beauty of bad aesthetic taste
image Christian Vierig/Getty Images
words Sophie Lou Wilson
When you imagine couture, beautiful dresses probably come to mind. Maybe it's a celeb in a custom gown on the red carpet or an extravagant closing look with hours of painstaking hand embroidery that wins a standing ovation. You might imagine black and white images of Balenciaga's 1950 balloon dress or Dior's ultra-feminine New Look.
While couture is widely considered the closest fashion gets to being art, it's still associated with a rather conservative, princessy aesthetic. After all, the very small minority who have access to these expensive expansive garments are either literal princesses or people in a similar social class.
However, some couturiers have used the space as a playground for their most absurd, surrealist ideas. Elsa Schiaparelli, fashion's surrealist godmother, was making hats in the shape of shoes, dresses with imitation skeletons sewn in and lobster print dresses as far back as the 1930s. At the time, each of these was considered an offence against good taste.
There's a saying that art is about disturbing the comfortable and comforting the disturbed. It was fiercely reblogged by misunderstood teens on Tumblr back in the day, but it's worth bringing it back now after a week of couture that was punctuated by viscerally repulsive, aesthetically disturbing moments. From Doja Cat covered in thousands of red crystals to Schiaparelli's realistic animal heads and Viktor & Rolf's upside down dresses, the most memorable looks this season were all at least a little disconcerting.
you are missing out on some content here because you rejected our cookies. want to change that?
Schiaparelli's faux taxidermy dresses inspired by Dante's Inferno caused uproar. If people weren't accusing the brand of promoting trophy hunting, they were calling the dresses hideous and tacky. While they did look like imitations of some of the ugliest rugs you've ever seen, that was probably the point. Besides, from a craftsmanship perspective, it was an impressive feat to create animal heads so realistic that some people thought they actually were real.
Meanwhile, at Viktor & Rolf the first few dresses were your typical tulle ball gowns, but soon they were skewed at an angle or turned upside down. It looked like playing an online dress-up game like Stardoll with bad WiFi. The collection explored what happens when you take prettiness and conformity then turn it on its head, literally.
Another artist who explored this theme was Doja Cat, proving that the biggest fashion talking points weren't reserved for the runway alone. The popstar turned avant-garde style icon continued her mission to wear the most perturbing looks of all. For the Schiaparelli show, she turned up covered in all-over body paint and 30,000 red Swarovski crystals. The luxurious fit looked more like something out of a horror movie than a fashion week front row. Then at Viktor & Rolf, she dressed in off-kilter drag with a moustache and brows made from false eyelashes and a ballooning brown pinstripe suit.
These eccentric looks all inspired strong reactions. Schiaparelli's taxidermy-inspired looks went viral for being perceived as in poor taste while others speculated on the state of Doja Cat's mental health as a woman who dares to not conform to conventional fashion and beauty. But not conforming to prewritten ideas about good taste is when fashion can be the most fun, freeing and experimental.
It trickles down from the catwalk too. Think of the popularity of ugly shoes like Crocs, Uggs and Margiela tabi boots. Once derided footwear is now a chic statement. Puffer coats are back and so are weird sunglasses. Fashion isn't about just looking good anymore. It's about chaos, drama and ugliness. So, we say embrace it. Ugly is the new cringe. Our outfits may be ugly, but we're free.
How to style corsets
From layering to low-rise, here's how to style this season's hottest trend