How gaming got a fashion glow-up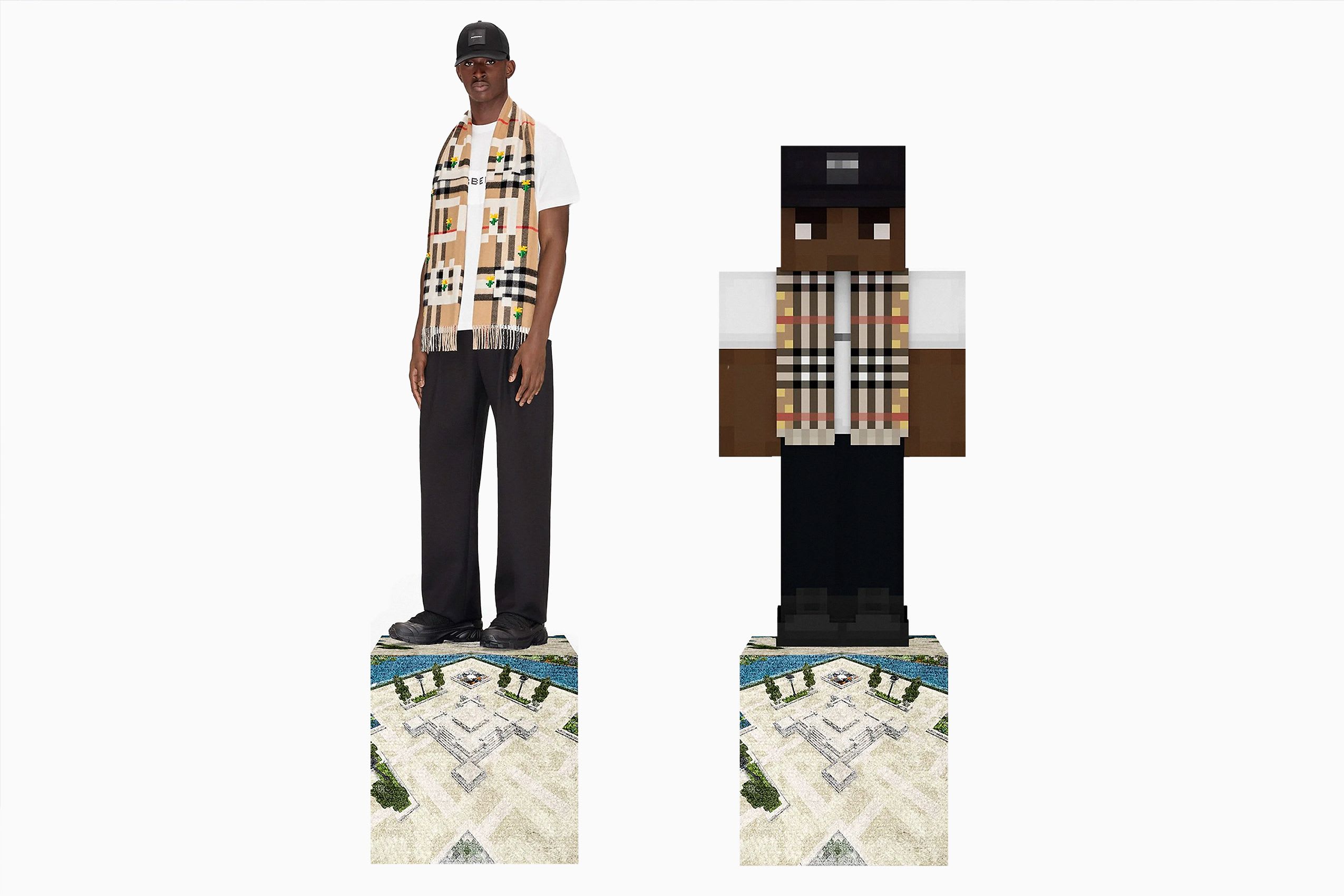 Burberry's Minecraft capsule, Wednesday Addamscore, World Cup shirts and everything else from this fortnight in fashion
Welcome to The Drop, your fortnightly guide to feel-good fashion, from sustainability news and streetwear collabs to pop culture moments, TikTok trends and the latest from the runway.
Last week, a lot went down. Raf Simons announced he was closing his namesake brand just one day before Alessandro Michele left Gucci. Meanwhile, Lyst released its 2022 Year in Fashion Report, naming Miu Miu, Barbiecore and the 'weird girl' aesthetic as the trends that dominated our feeds this year. Elsewhere, Virgil Abloh's wife spoke about her plan to continue his legacy and Amnesty International partnered with 13 artists on a capsule collection to raise money for migrant workers in Qatar. So, let's get into it all, shall we?
Burberry and Minecraft give gaming its latest glow-up
you are missing out on some content here because you rejected our cookies. want to change that?
High fashion and video games haven't always seemed like the most obvious collaboration, but the myth of the gamer as someone sitting in their mum's basement for days on end in Cheeto dust-crusted sweatpants belongs in the past.
If there was any doubt at all left in our minds, Lyst officially named fashion and gaming partnerships as the biggest digital fashion moment of 2022. It makes sense. After all, fashion and gaming have more than a few things in common. They're both rooted in fantasy, escapism, and self-expression. Perhaps more than ever before they offer ways for us to connect with likeminded people around the world.
Burberry is the latest luxury brand to make a play for gaming fashion, collaborating on a new capsule collection with Minecraft. These playful casuals are embossed with the game's signature pixelated graphics evoking vast digital landscapes. It's accompanied by a new Minecraft adventure game, Burberry: The Freedom To Go Beyond, where the game's block-like avatars can rock the iconic Burberry check.
It's not the first time Minecraft has collaborated with a fashion brand. In March this year, Lacoste's iconic crocodile motif got a glitchy Y2K makeover and players could purchase Croco Island, a Lacoste space featuring a tennis court, parkour course and a giant crocodile. The clothes themselves could be purchased to wear in-game or in real life. According to Lyst, the demand for the capsule collection skyrocketed to 1,011% following its release.
Fashion has been exploring gaming beyond Minecraft too, creating its own unique spaces, such as the first Metaverse Fashion Week which took place in March this year. It was hosted on Decentraland and looked like an old-fashioned 2D gaming site rather than a multi-sensory virtual universe that's often alluded to in discussions about the metaverse. The clothes you could dress your avatar in were limited and walking your avatar around the space didn't feel much more advanced than '00s games like Club Penguin or Habbo Hotel, but it was still the first of its kind, showcasing virtual experiences from brands including Tommy Hilfiger, Perry Ellis and Imitation of Christ.
Fashion tech is constantly advancing, whether designers are developing fabrics from mushrooms or working with augmented reality accessories, but the attraction of gaming aesthetics is less about looking to the future and more about finding comfort in nostalgia, real or imagined. Minecraft itself is part of this nostalgia. It launched in 2011, but the pixelated graphics hark back to earlier eras of gaming. Its simplicity is part of the appeal.
The allure of Y2K gaming graphics has made its way onto the runway too. At Loewe's Spring/Summer 2023 show, boxy t-shirts, hoodies and trousers appeared like pixelated clothes for video game avatars. Perhaps it was a little gimmicky, but you could argue most gaming fashion is. Besides, what's gimmicky for some is fun for the rest. This gaming nostalgia extends to the rise of toys in fashion like Barbie, Bratz and Furbies who have all had their high fashion moments in recent seasons.
There's comfort in these aesthetics that we associate with simpler times. Whether Burberry's Minecraft collection reminds you of whiling away after school hours exploring the pixelated terrain or the game has become your comfort activity more recently, fashion's gaming obsession is only set to grow in 2023 as the gaming space grows alongside the expansion of virtual fashion's functionalities. Whether you're a die-hard gamer or just like to play Sims for 24-hours straight once a year, we can all find something to relate to in gaming's cosy nostalgic aesthetic.
Raf Simons and Alessandro Michele say farewell
you are missing out on some content here because you rejected our cookies. want to change that?
By the middle of last week, fashion fans were throwing their hands up in despair with sighs of, "What a week and it's only Wednesday!" The game of creative director musical chairs continued as Raf Simons announced the closure of his youth culture-inspired namesake brand just one day before Alessandro Michele left Gucci. Raf will continue as co-creative director at Prada while Michele's successor has yet to be announced.
The outpouring of love for both designers was a testament to how much they shaped 21st Century fashion so far, albeit with widely different, distinct aesthetics. Raf's label and Alessandro's Gucci will be missed, but hopefully these changes will open doors for younger designers to make their own mark on the decade as we're seeing with Maximilian at Ferragamo and Ludovic de Saint Sernin's recent appointment at Ann Demeulemeester.
The 50-year plan to honour Virgil's legacy
you are missing out on some content here because you rejected our cookies. want to change that?
A year ago this week, we lost Virgil Abloh. His wife Shannon accepted his posthumous award at the CFDA fashion awards last month, later discussing the 50-year plan she has to honour her late husband's legacy. When Virgil was alive, the couple were private and rarely photographed together, but Shannon decided she wanted to help shape his legacy for the sake of her children and Virgil himself.
Earlier this year, she founded Virgil Abloh Securities, which ties together all of her husband's creative ventures across fashion and music. She also helped set up the Virgil Abloh Foundation which focuses on mentoring 12-17 year-olds from minority backgrounds. "Through everything," she told The New York Times, "through all the grief, [I] was able to pull it together and move forward…I knew every inch of him. I knew every inch of his brain."
Football and fashion join forces
you are missing out on some content here because you rejected our cookies. want to change that?
The 2022 Qatar World Cup has been controversial, to say the least. The host nation has made headlines around the world for its questionable human rights record. In response, human rights group Amnesty International has collaborated with Dublin-based store Hen's Teeth to bring together 13 artists from around the world to put their own unique spin on their home nation's shirt. All profits from the shirts will go to Amnesty to raise funds for its ongoing investigation into labour abuses in Qatar.
Wednesdaycore takes over TikTok
you are missing out on some content here because you rejected our cookies. want to change that?
If you haven't watched Tim Burton's Wednesday on Netflix yet, what have you been doing? The new series has broken records for the streaming platform's most-watched English-language series of all time and it has us all seriously lusting after Wednesday's gothic fits. From preppy black uniforms to stripy emo shirts and tulle Vampirish gowns, just head to TikTok to see how people are recreating her dark and moody looks at home.
Crocs are formal now
you are missing out on some content here because you rejected our cookies. want to change that?
Love 'em or hate 'em, the once-derided comfy staples beloved by gardeners, nurses and chefs have become fashion statements in their own right. Now, they're not only reserved for lazy days around the house, but events as formal as meeting the King or appearing on BBC Breakfast. Yeah, you heard us. If Crocs are good enough for David Hockney meeting King Charles or Stormzy on breakfast TV, then they've well and truly made their way into our everyday wardrobes. Just don't blame us if you get weird looks for wearing them to your work Christmas party.
Alexa Chung's indie sleaze fashion throwback
you are missing out on some content here because you rejected our cookies. want to change that?
If one throwback trend dominated 2022, it was indie sleaze. The hedonistic anti-clean girl aesthetic celebrates the grungy hipsters of '00s Camden. And if one It Girl embodies the era, it's Alexa Chung. In one photo from the time, she's crouched in a smoking area, cig poised between fingers, in a vintage velvet Peter Pan collar dress. This week, she shared the story behind the photo after it was shared on the @indiesleaze Instagram account. "This brown velvet dress I probably got from Beyond Retro on Brick Lane," she wrote in the caption. "It was floor length so I hacked it off and hemmed it up with gaffer tape on the inside." We love an upcycling queen! Read the full caption via the link above.