Feel-good street style from London Fashion Week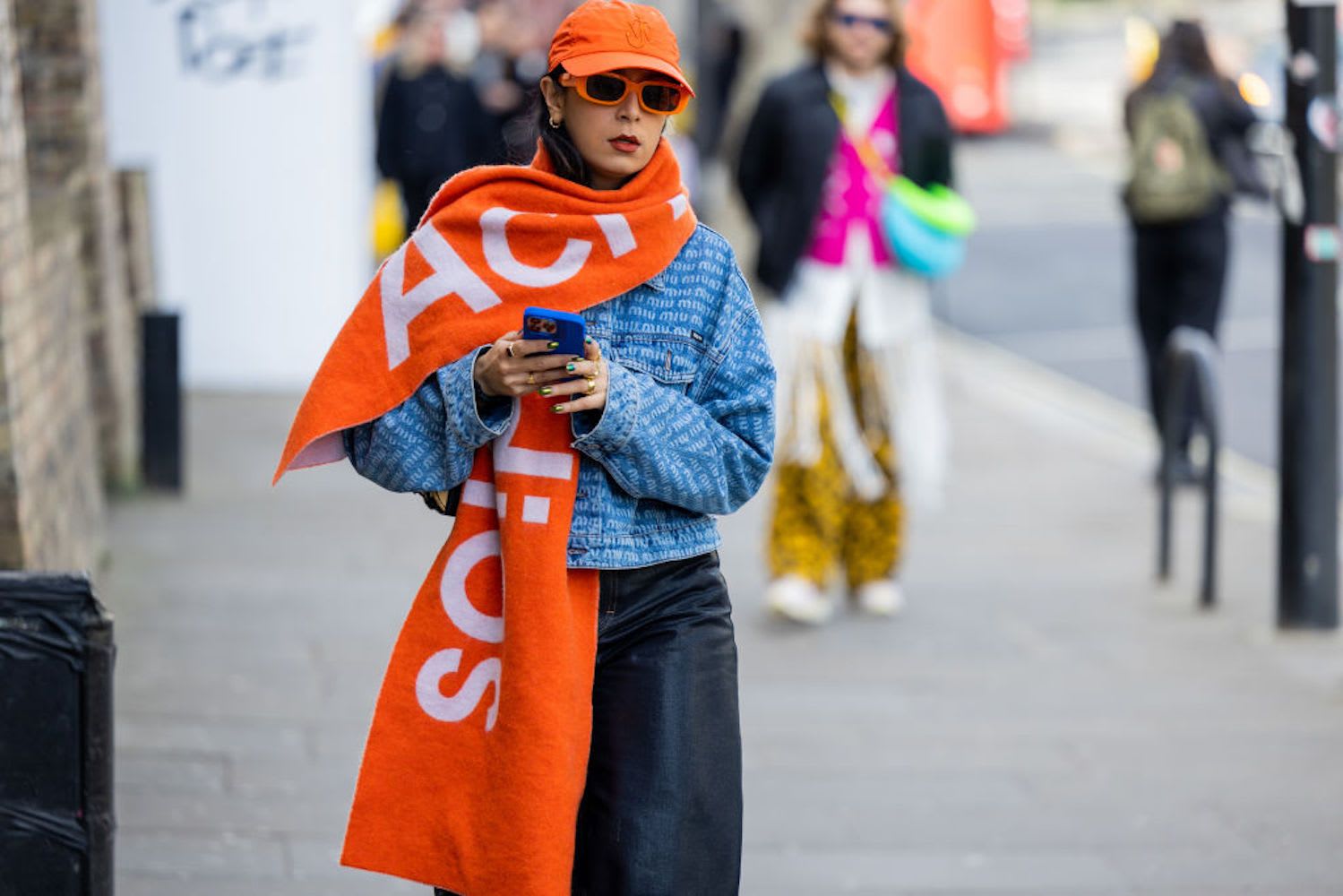 In neon coats, stomp-the-house-down boots or charity shop steals, our fave style insiders give their tips on how to stand out at LFW
image Christian Vierig/Getty Images
words Team Woo
Fashion shows are fun, but some of our favourite fashion week moments happen off the runway. Seeing what people wear on the street is always fascinating, but at fashion week, guests go all-out, battling to wear the biggest, boldest, brightest look of them all. While these might attract weird stares on the central line, no one bats an eyelid once you've arrived. Ginormous colourful fur coats, head-to-toe neons and full glam evening wear line the streets outside Selfridges.
Competing for the attention of street style photographers means pushing boundaries to get noticed, but fashion week veterans will know that it's not worth sacrificing comfort and sometimes a simple, well-styled look is just as likely to get papped. We caught up with some of this season's best dressed fashion week insiders to ask about their outfits, LFW style tips and what made them smile this season.
Sabina Weston, Content Writer Drapers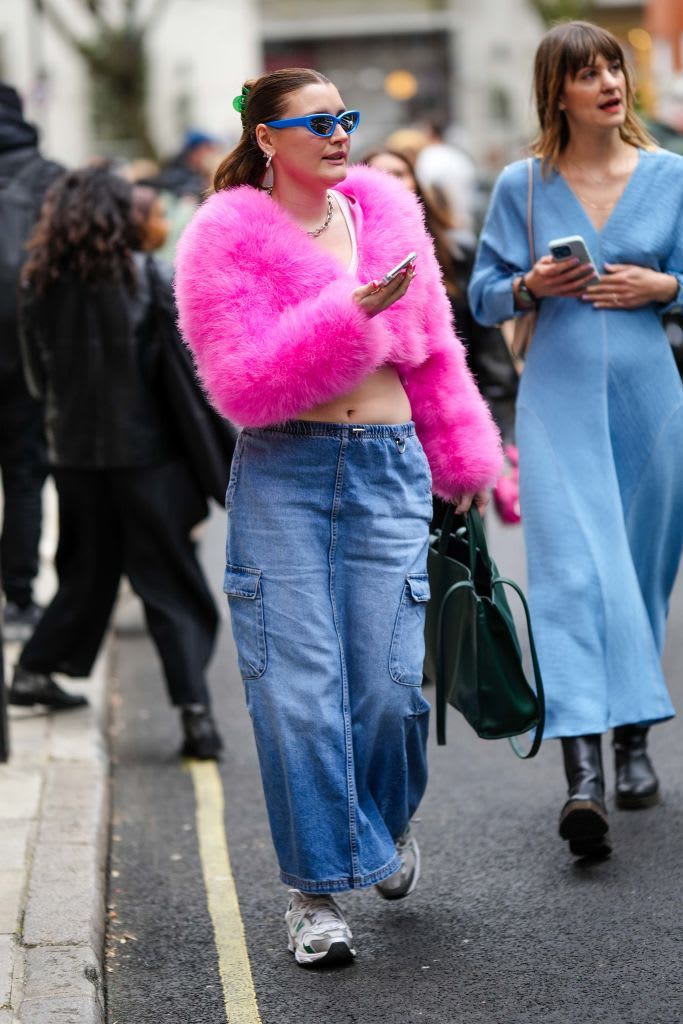 Edward Berthelot/Getty Images
I like the soft feather texture and the hot pink shade of this beautiful Nadine Merabi jacket I was lent specially for London Fashion Week. I felt so cosy and it's so different to the dark jeans and oversized jumpers I usually wear this time of year – it's probably the most colour I've worn since I was 10.
How does your outfit make you feel good?
Once I put on the jacket, it gave me the confidence to go full on and get out the brightest accessories I own, including an emerald hair claw, azure blue-rimmed Jimmy Fairly sunglasses, and a pink chunky resin ring my brother's girlfriend got me for taking care of her dog (hi Gary!). I felt like a glamorous exotic bird and fluffy marshmallow in one.
What's your number one piece of LFW style advice?
Stay away from heels. Or at least take a pair of trainers with you to change in case you need to run from paparazzi, attempt to break into Daniel Lee's debut Burberry show, keep up with your fast-walking colleagues or dance the night away with your mates at Fabric.
What's been the most LFW moment of your LFW so far?
I was a massive Rizzle Kicks stan growing up and I was extremely starstruck by seeing Jordan Stephens sitting front row at Mark Fast. He was so sweet and put his shades on to match me when taking a pic. I then saw him at the Conner Ives show and he smiled and nodded at me. I almost fainted while he's probably in talks with his solicitors to arrange a restraining order against me.
What does feel-good fashion mean to you?
Making you feel powerful and confident in celebrating yourself. The right outfit makes me forget my physical flaws and feel comfortable with my own imperfect self.
Darkwah Kyei-Darkwah, Multi-Disciplinary Artist and Creator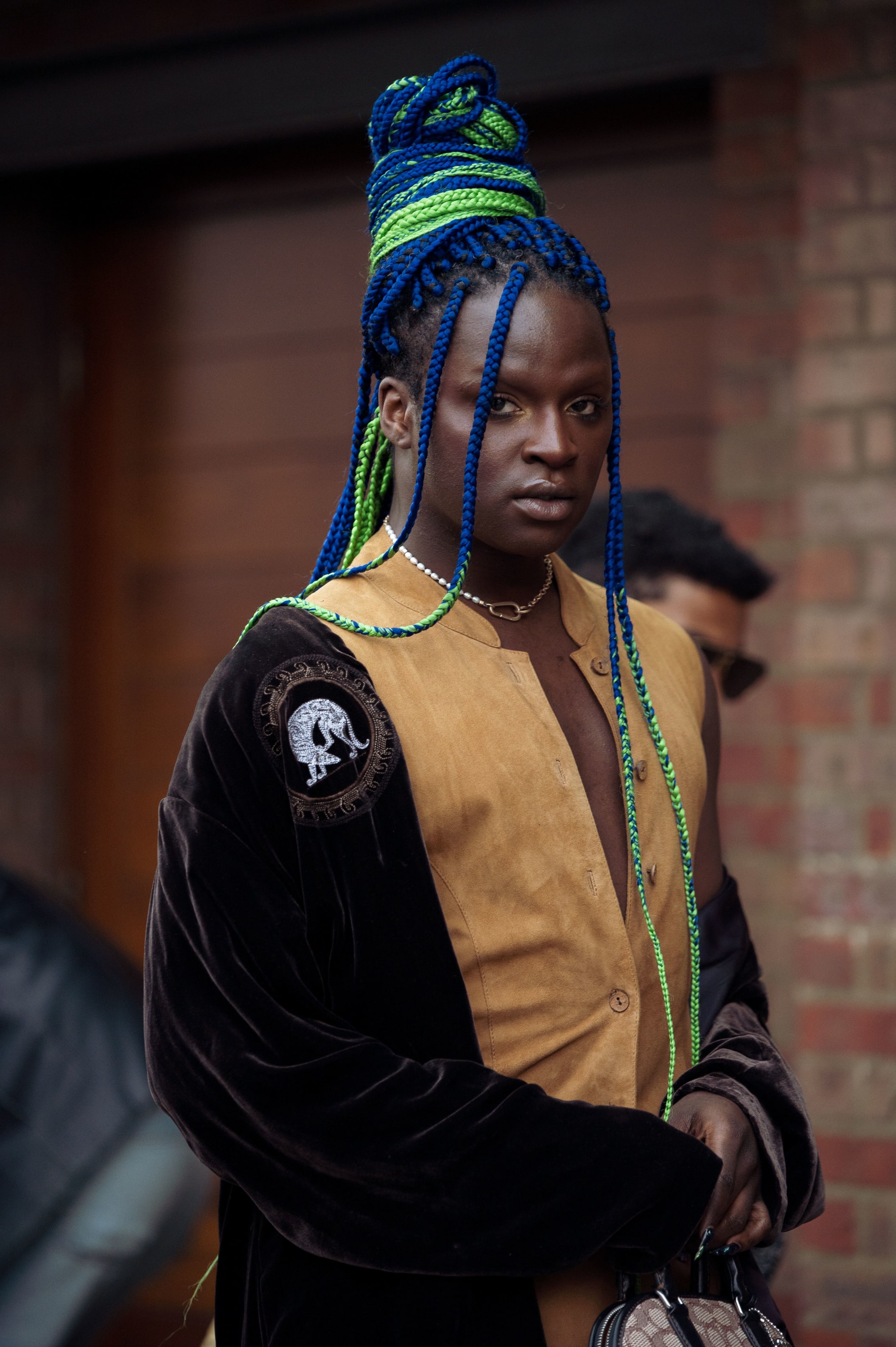 Raimonda Kulikauskiene/Getty Images)
What are you wearing and why did you choose it?
I really just wanted to feel comfortable in my outfit. Lately I have been moving more towards the middle of my non-binary identity and when I say middle, I mean androgyny so I wanted to merge and blur the masculine and feminine energy that I feel within me. In this outfit I think that comes through in the mixture of patterns, lengths and textures that kind of alludes to a school uniform in the trouser but, with the longer tan suede piece, I still have that flowing, feminine feel. Then, with the jacket by Edward Crutchley, the tailoring is masculine but its fabric is quite feminine.
What's a moment this LFW that made you smile?
Something that made me smile this LFW was when I was able to take my younger cousin to fashion week for the first time because of the amazing people at The Lobby London. I think it's so hard to get into shows and really start making your way in the industry if there aren't nice people who are willing to say "yes you can" and it made me smile to know that a PR agency that I worked with for so long is also one of the places that says yes every so often. I am so grateful.
What does feel-good fashion mean to you?
Feel-good fashion to me is wearing all of you proudly and comfortably. It's not about anything else but making you feel the most you that you can be. It may sound selfish, but ultimately if you feel absolutely fantastic in what you where you can pass on a good feeling to other people too!
Navi Ahluwalia, UK Editor Hypebae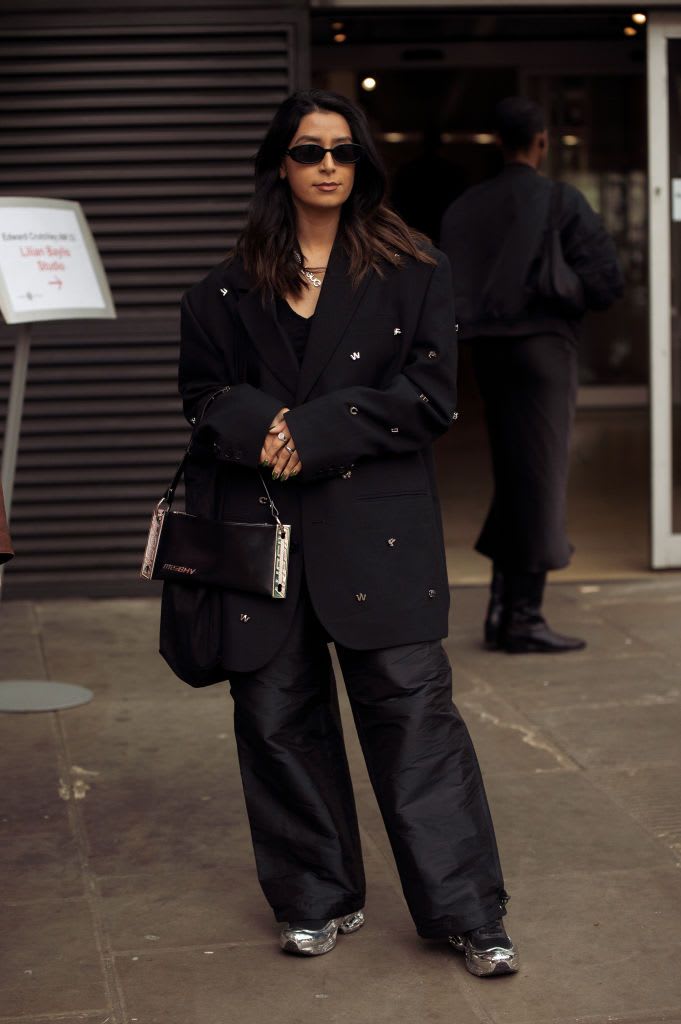 Raimonda Kulikauskiene/Getty Images
I'm wearing a Feng Chen Wang blazer and necklace, charity shop cargo pants and some Adidas x Raf Simons Ozweego trainers from Depop.
What's been the most LFW moment of your LFW so far?
JW Anderson's Tesco bag unitard!
What's a moment this LFW that made you smile?
Seeing the kids walking the runway at Susan fang's show.
What does feel-good fashion mean to you?
Bright colours, experimenting and trying something new!
Maddy Reid, Model and Deputy Editor of Bricks Magazine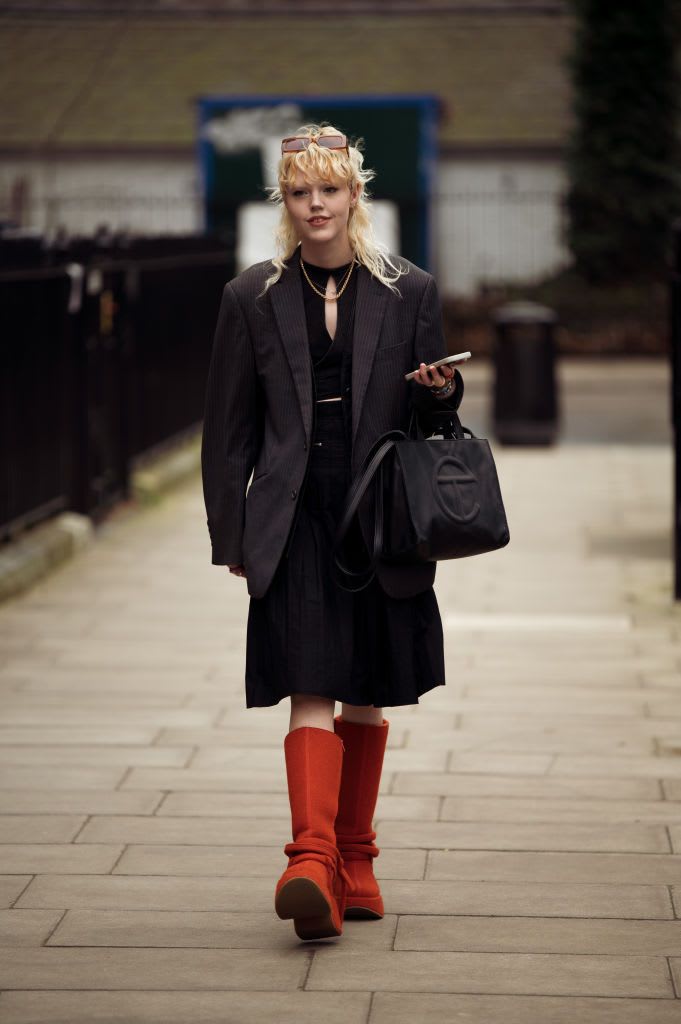 Raimonda Kulikauskiene/Getty Images)
My outfit is a very old Topshop denim top, a leather vintage waistcoat from Beyond Retro, a blazer from a charity shop, a skirt by Chopova Lowena and boots by Camper x Ottolinger.
How does your outfit make you feel good?
What makes me feel good about this outfit are my boots! Literally the happiest item I have ever bought. I adore them for their bright colour and cartoonish shape and size – and that I got them on sale!
Do you have any LFW style advice?
My number one piece of LFW advice is to wear comfortable shoes. I spend most of the day walking or standing in queues, so it's not a good day without good footwear. And cereal bars - seriously when are we supposed to eat?
What's been the most LFW moment of your LFW so far?
My most LFW moment this season was working a 12 hour day and partying all night, then getting a migraine the next day and having to miss all of Saturdays shows.
Joe Bromley, Contributing Editor ES Magazine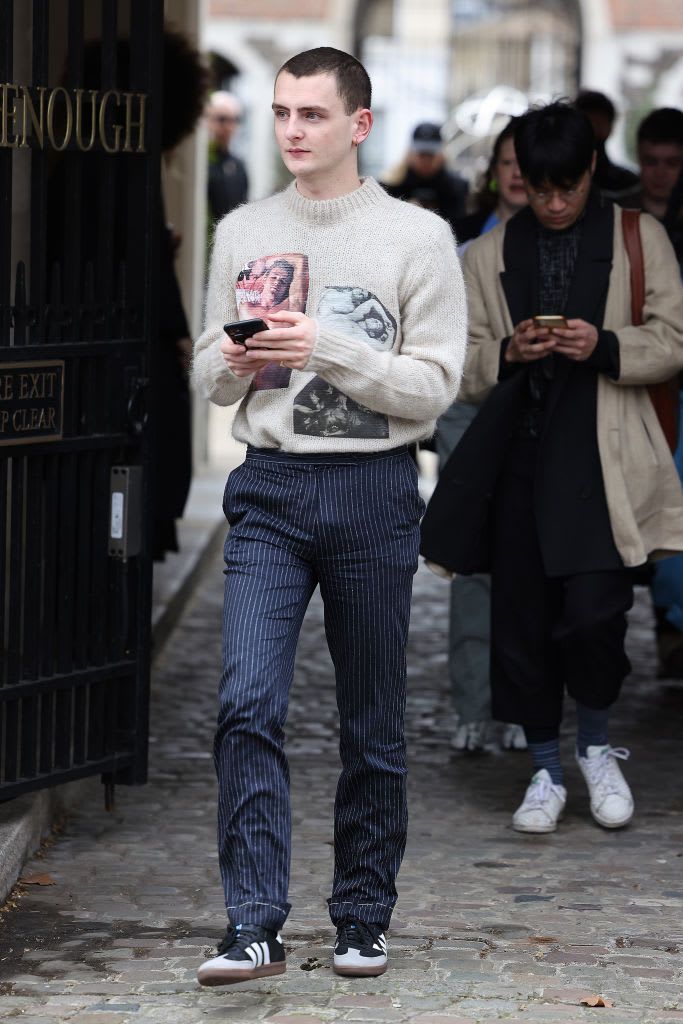 Neil Mockford/Getty Images
The knitted jumper is from a collaboration between Honey Dijon and Tom of Finland and it's from Selfridges. It's a jumper with naked cut-out men which I got a few compliments on so that was nice. The trousers were from Golden Goose from TK Maxx and the trainers were Adidas Samba shoes.
What's been the most LFW moment of your LFW so far?
The most LFW moment was when I was walking and staring at my phone and basically boshed into Naomi Campbell as we were both running late for the JW Anderson show. Then I had to wait outside behind her before she went in and she had her whole glam squad touch her up and brush her hair as she walked into the door so that was quite chic from Naomi.
What's a moment this LFW that made you smile?
The biggest smile was definitely at Labrum who did this incredible show at the Brixton Village. They had this amazing band and they opened up some of the independent shops in the market so people could go and buy a little beer which was actually really refreshing because obviously drinks are usually plied on you for free so it felt nice to give back to the community and it felt like a real celebration and the clothes were fabulous as they always are.