New York Fashion Week takes a walk on the wild side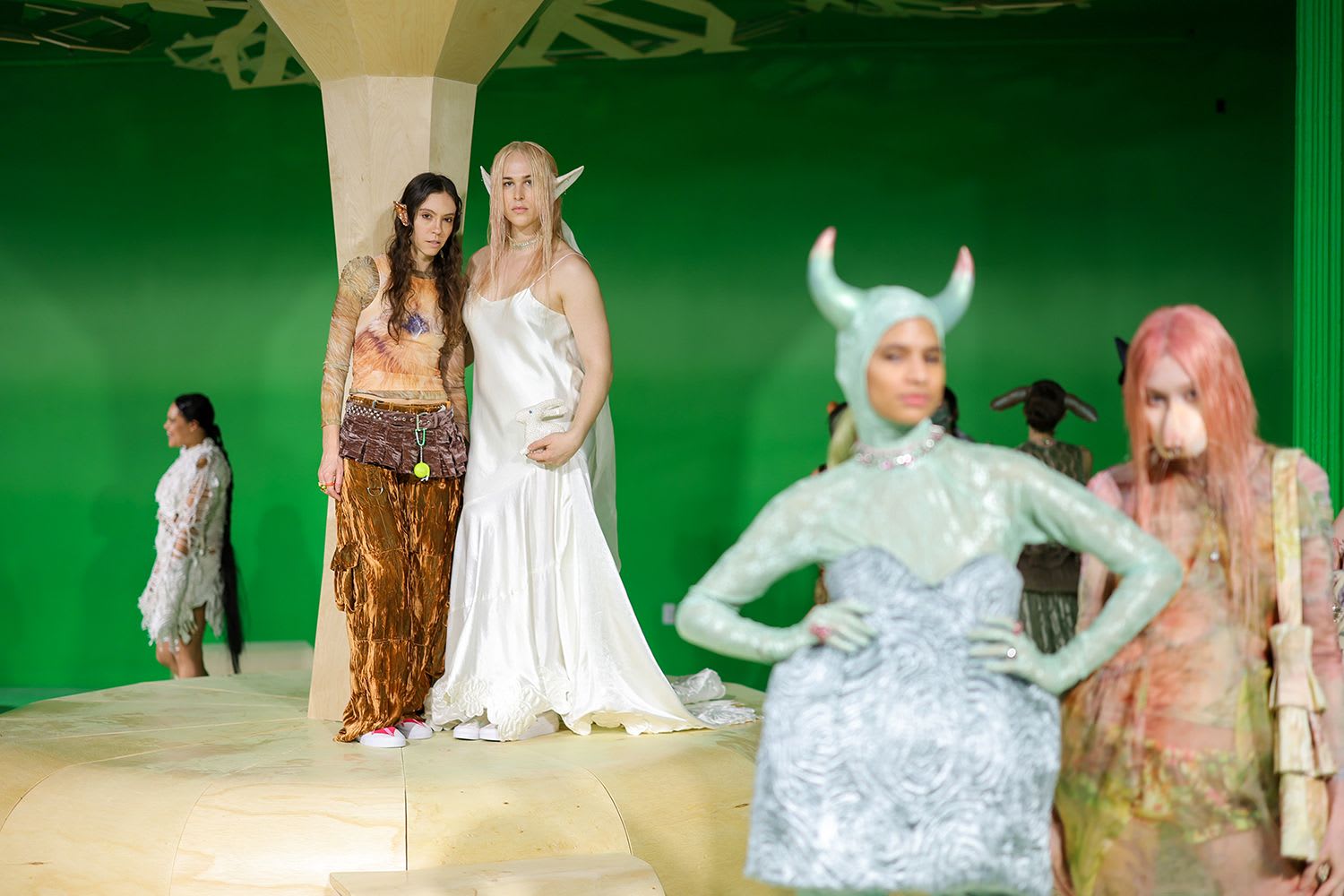 From Collina Strada to Dion Lee, this season's designers are redressing fashion's relationship with the animal kingdom
image Michael Loccisano / Getty
words Sophie Lou Wilson
For most of history, animals have been relentlessly exploited for their fur, skin and tusks so we can have warm winter coats and luxury handbags. Animals themselves, of course, have no need for clothes. Other than dogs in adorable raincoats, they're perfectly content to wander about naked. So, it's fair to say that the relationship between fashion and animals is more than a little unbalanced.
However, at New York's Autumn/Winter 2023 shows, designers started to redress fashion's complicated relationship to the non-human world – with more care and directness than before. At a time when fashion is wrestling with its contribution to the climate crisis, brands from Collina Strada to Area are decentring the anthropocene to consider earth's full spectrum of flora and fauna.
you are missing out on some content here because you rejected our cookies. want to change that?
This season, Collina Strada's Hillary Taymour sent models out with wacky animal prosthetics made in collaboration with experimental makeup artist Isayama Ffrench. The collection, titled 'Please Don't Eat My Friends' was a continuation of the brand's vivid exploration of the animal world. The somewhat nightmarish makeup brought to life the psychedelic Animorphs that Taymour first introduced digitally for AW21. Pig snouts, lizard heads and mice ears protruded from models' heads as they walked, hopped or slithered down the runway, sometimes adopting the mannerisms of their given creature.
But beyond the spectacle, the clothes themselves were also in rhythm with the natural world. Suits came in biodegradable satin and overcoats were crafted from deadstock wool. Taymour's pet Pomeranian even made an appearance – but no animals were harmed in the making of the collection. This was vegetarian fashion freed from its associations with dull, earthy tones, instead pushing animal-friendly looks to a more colourful, creative space. The collection was also a departure from many of fashion's past dives into the animal kingdom. Now, our furry friends are a source of inspiration rather than a resource to be exploited.
you are missing out on some content here because you rejected our cookies. want to change that?
For his latest collection, it-girl fave Dion Lee looked to the reptile as his muse. The Australian designer used fishnet bodywear, ripped fabrics and Japanese shibori dyeing techniques to evoke reptilian scales, riffing on the concept of shedding a second skin. "I'm focused on how plants and reptiles shed their skin and that as a visual in itself," he told Vogue, suggesting we have as much to learn from plants and animals as they do from us.
Traditionally, exotic snake, lizard and crocodile skins have been farmed for luxury goods, but major brands are increasingly turning their backs on the trade as it threatens biodiversity and drives certain species into endangerment. Lee's snake and crocodile print garments were instead made from leather – so the collection wasn't entirely free from animal-derived products, but it still marked a shift away from the detrimental use of real exotic skins.
you are missing out on some content here because you rejected our cookies. want to change that?
Meanwhile, at Prabal Gurung, butterfly patterns took flight. The Y2K-adjacent motif has been cropping up all over the place in recent seasons. Here, wing patterns were blown up and dyed onto asymmetric draped dresses or knitted into sweaters. The collection was inspired by a 10-day silent retreat Gurung took recently where his only interaction was coming face-to-face with a butterfly. New York Fashion Week must feel like quite the contrast to those peaceful moments, but by pulling from that experience, the collection was a grounding reminder of nature's power to help us take a step back and be in the moment.
you are missing out on some content here because you rejected our cookies. want to change that?
Area's AW23 collection also looked to insects. The sound of buzzing flies filled the space as guests waited for the show to begin. Flies are drawn to fruit and that was the key inspiration behind this collection. "The beauty of them, but also the symbolic meaning of them," said creative director Piotrek Panszczyk. "In a way you can think of fruit as something fresh, a new start, but when it starts decaying, it becomes mortality." Yet another example of the lessons we can learn from nature.
Dresses were sculpted in silhouettes inspired by bananas or melons while prints appeared like scattered seeds. Two slices of melon became a bralet while banana prints overlapped in a bandeau two-piece. The fruit inspiration was also felt through the vibrant colour palette while sculptural banana dresses served as an ode to nature's sweet treats.
Above all, this season, New York Fashion Week was a reminder to get back in touch with nature. These collections revealed how we can connect with and get inspired by the natural world without exploiting it. Fashion is redressing its relationship with the plant and animal kingdoms in an era of growing awareness of the climate crisis, working with materials that are kinder to animals and the planet alike. As the fanfare of the Autumn/Winter 2023 shows continues in London this week, we'd do well to remember that plants and animals are where it all began. We should honour the natural world by working with it rather than against it because, without it, there would be no fashion at all.