From hangover cures to healing crystals – what's inside the bags at London Fashion Week?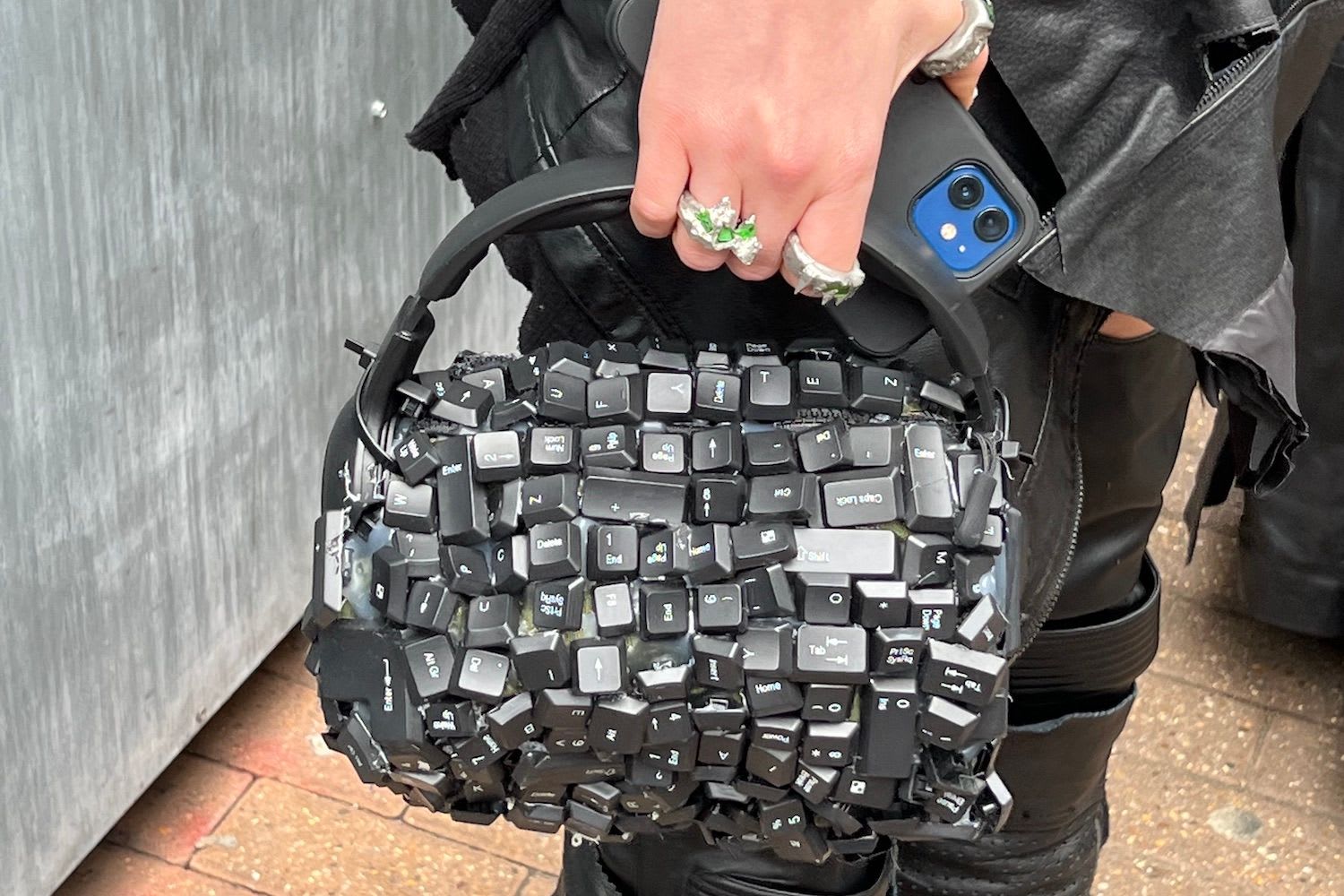 A writer and accessories enthusiast asks fashion insiders all about their LFW arm candy
image Puja Bhatia/Getty Images
words Dino Bonačić
What even is fashion week? Why am I here? Is it all worth it? Does my breath stink? These are the kind of existential crises I indulge in while sitting – or even better, standing – in a crowd of people I know even though they don't know me, waiting for a show to start. Or at least they pretend they don't know me, despite us previously saying hello to each other and even engaging in the act of small chat a number of times. It's a game of who's who (them) and who's not (me), which results in most people simply avoiding eye contact while simultaneously pretending not to eye out all the reality TV celebs in the front row. (Indiya and Dami from Love Island are this season's highlight, so far.)
It's a crazy game, this whole fashion week thing. And in those dramatic moments, which can sometimes take you through the emotions of a three-hour war drama, you look out for a sense of safety. First up, the armour – an outfit of choice that either allows you to camouflage into your surroundings or makes you stand out and appear powerful; maybe even more powerful than you actually are. It's all about choosing whatever tactic works best for you.
And then there's the pièce de résistance – a weapon, if you will – in the form of a handbag. Big or small, filled to the brim or completely empty. A bag is a fashion person's closest confidant that provides a much needed sense of control amidst the high-danger fashion week environments. It can act as a conversation starter in those awkward moments of being sat next to a stranger while waiting for the lights to go down and a techno remix of a 90s pop track to start blaring. It can also carry chewing gum, which is always helpful when trying to snuggle up to the PR in the hopes of getting a better seat next season. For others, the bag choice comes from a place of pure necessity – like the many make-up artists, hair stylists and photographers who make the magic happen while lugging their equipment between venues.
So, what is in the artillery of London Fashion Week's show-goers? From oversized backpacks to keyboard baguettes that don't even open, these are some of the bag highlights and their interiors, as explained by their owners.
Yu Masui, Journalist (@yumasui)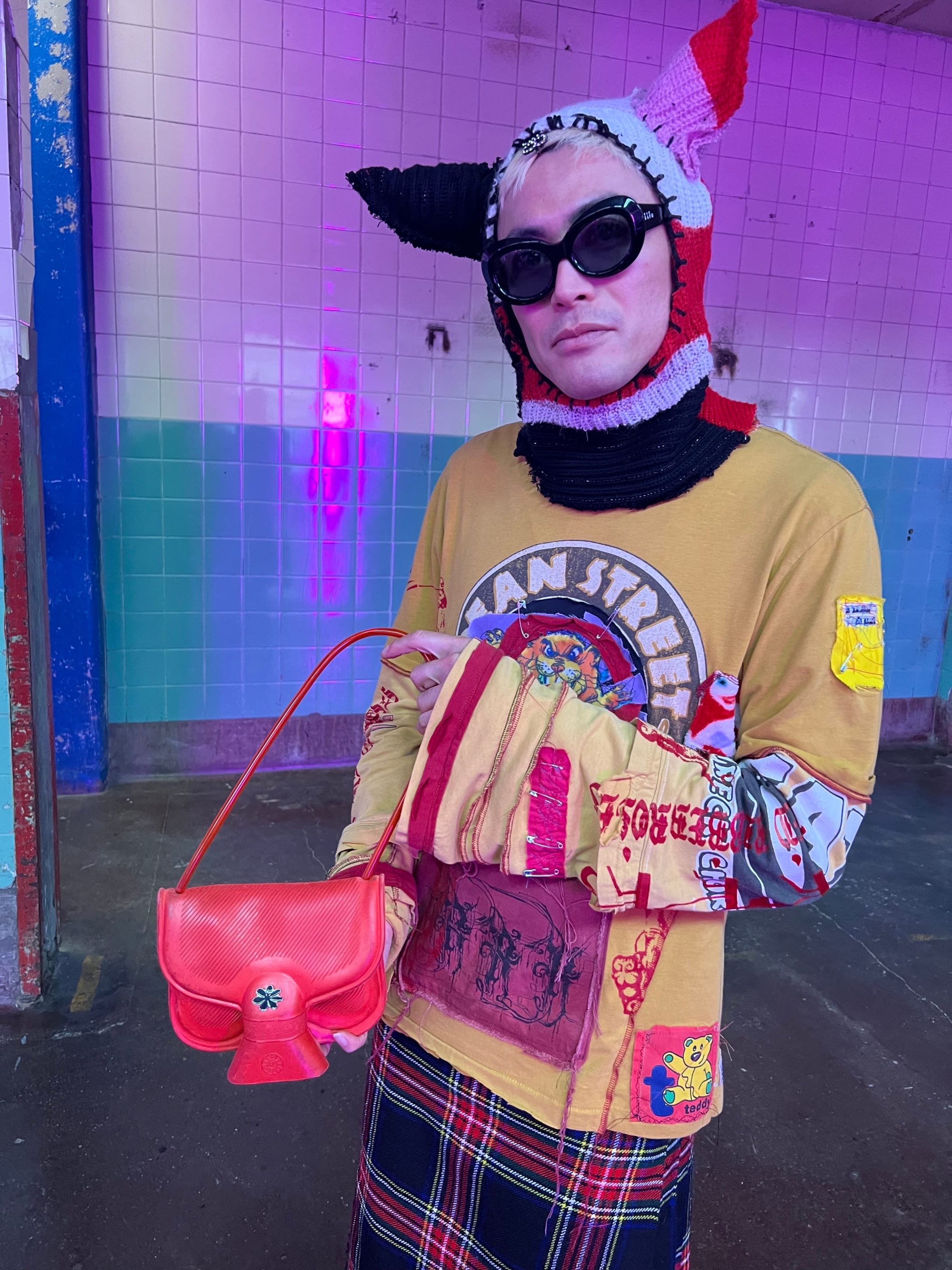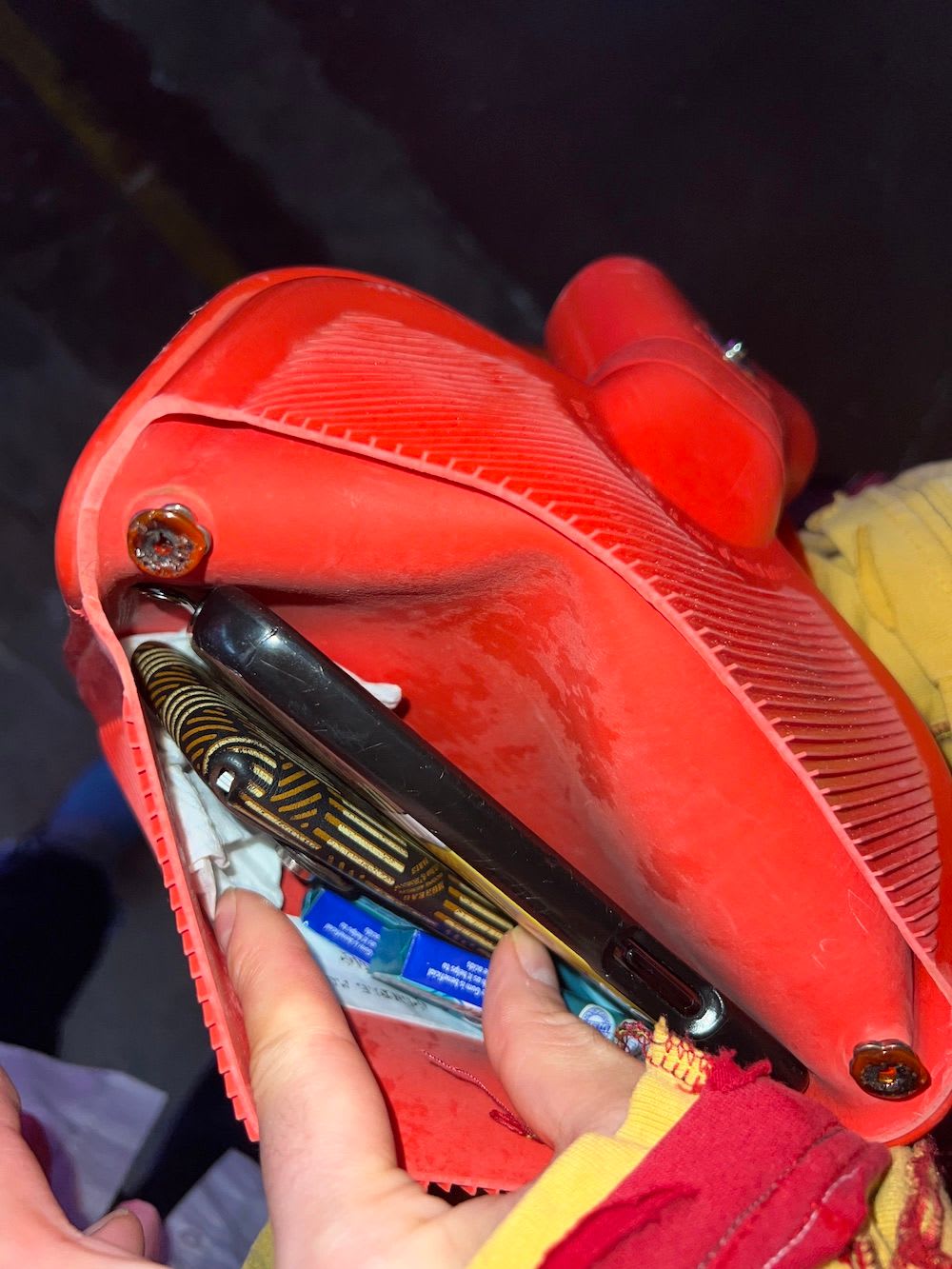 "I chose this bag by Gentle Mutilation because they're an emerging designer – a fresh idea, something unique and an inspiration. I wore it for fashion week because I don't think that anyone else has one like it which makes it so special. Sadly, it doesn't fit any fruit, crisps or Red Bull, which are my usual hangover cures – but it is day one. All of those have to wait in the car."
Ying Suen, Co-Founder of APOC (@_suenying, @apocstore)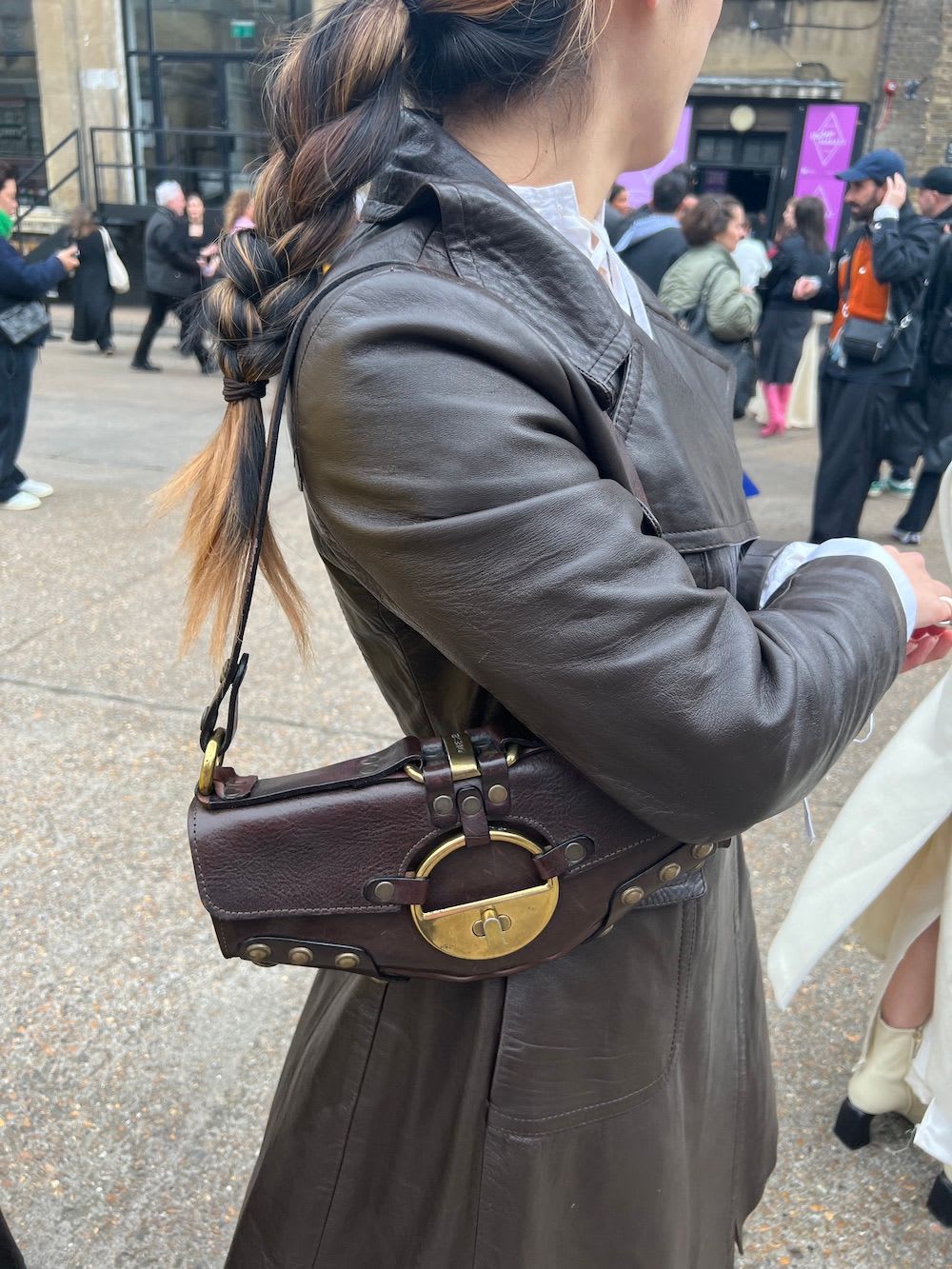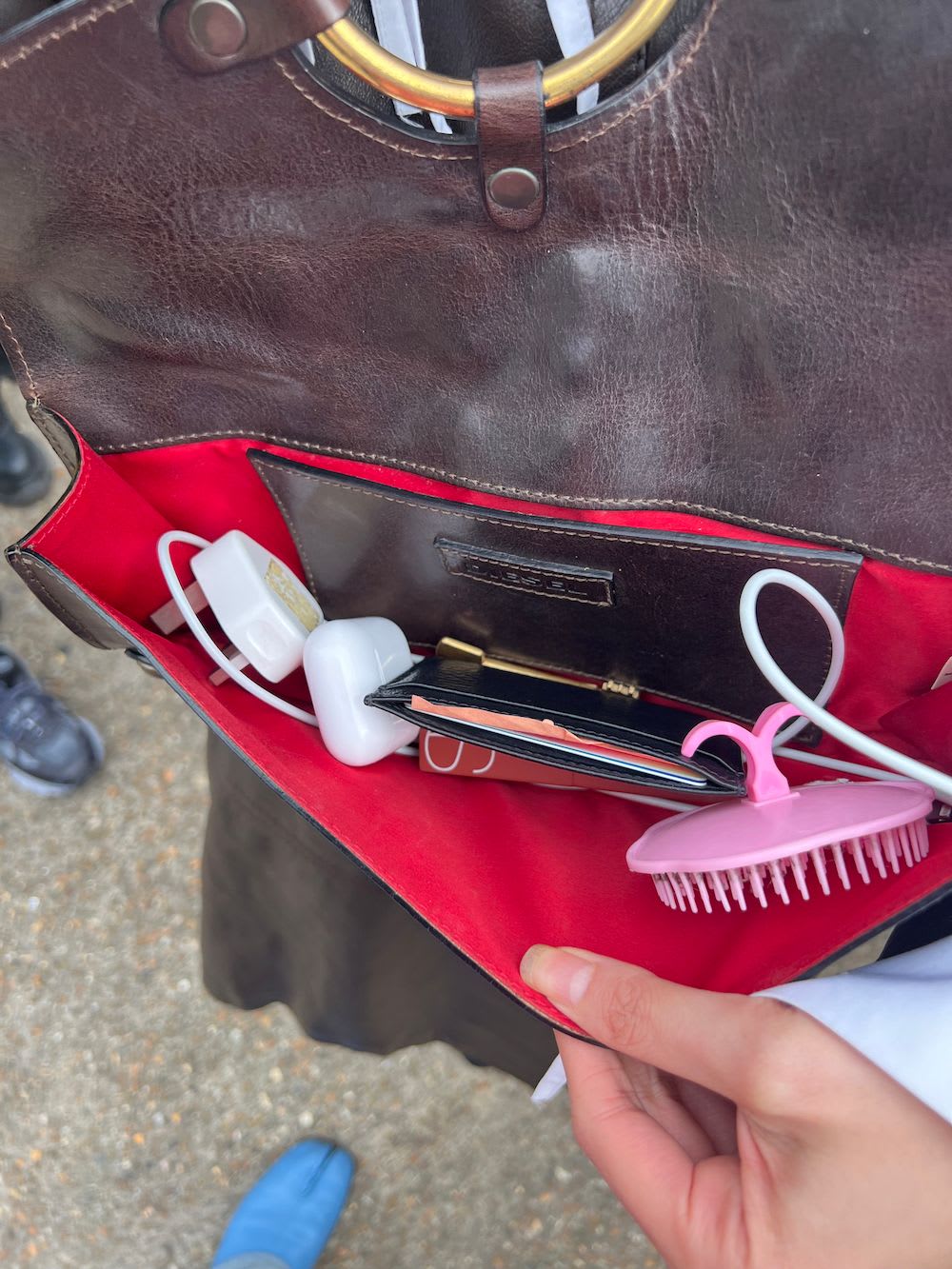 "I love this vintage Diesel bag because it has an understated, brutal look with a strong presence. I appreciate things that aren't too feminine so it felt quite me and it went well with my jacket. The inside of it says that I'm practical and not frivolous. Never frivolous!"
Eni Subair, Fashion News Editor at ELLE UK (@eniitay)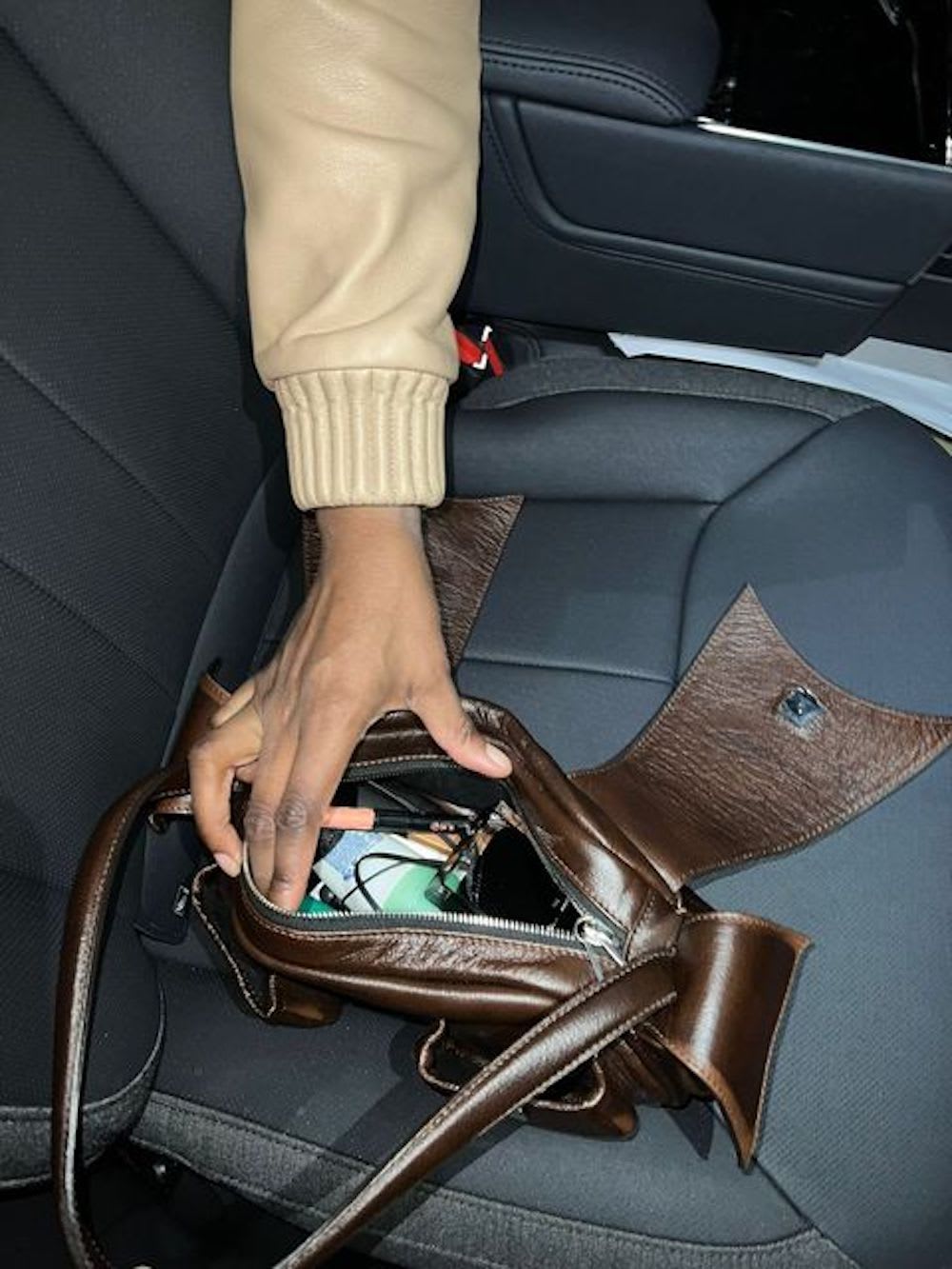 "Inside, I've got my powder, eye-liner, lip liner, lip gloss, lip oil from Dior (a favourite of mine), perfume, a comb, and a pass to get into work. I think it says that I like to feel prepared at all times and that I like to smell great? I chose the 16Arlington Kika bag as I felt it complimented my outfit, but also because it was their show today and I wanted to support the brand. Actually, it's only the second time ever that I've used it because I'm quite precious about it."
Nassia Matsa, Model (@nassia_)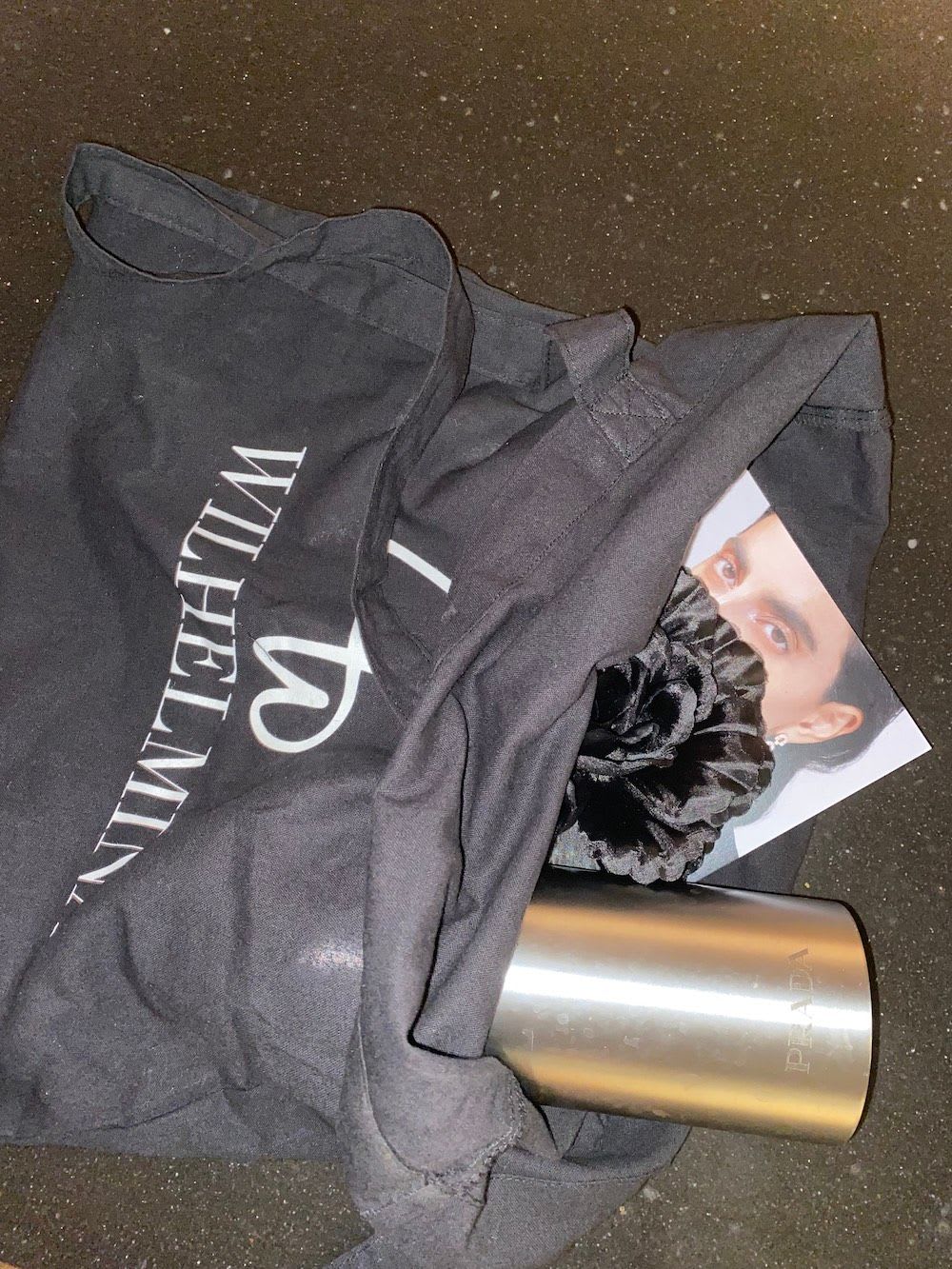 "I never usually wear a tote bag and I kinda hate them, so you know that when the tote bag is out – I mean serious business. And it was! I had to wake up at 5.30am for a shoot before walking in the Di Petsa show. It's all about survival, baby! The bag, which I got from my agency Wilhelmina, has snacks, a Prada water bottle to stay hydrated, my comp cards… Oh I also have a black dress in there too, which I wore for the castings in the afternoon."
"I chose this bag today because it's very useful… It doesn't open! It's just an amazing sculptural piece by designer Julia Silver."
Chris Fragkou, Photographer (@cris.fragkou)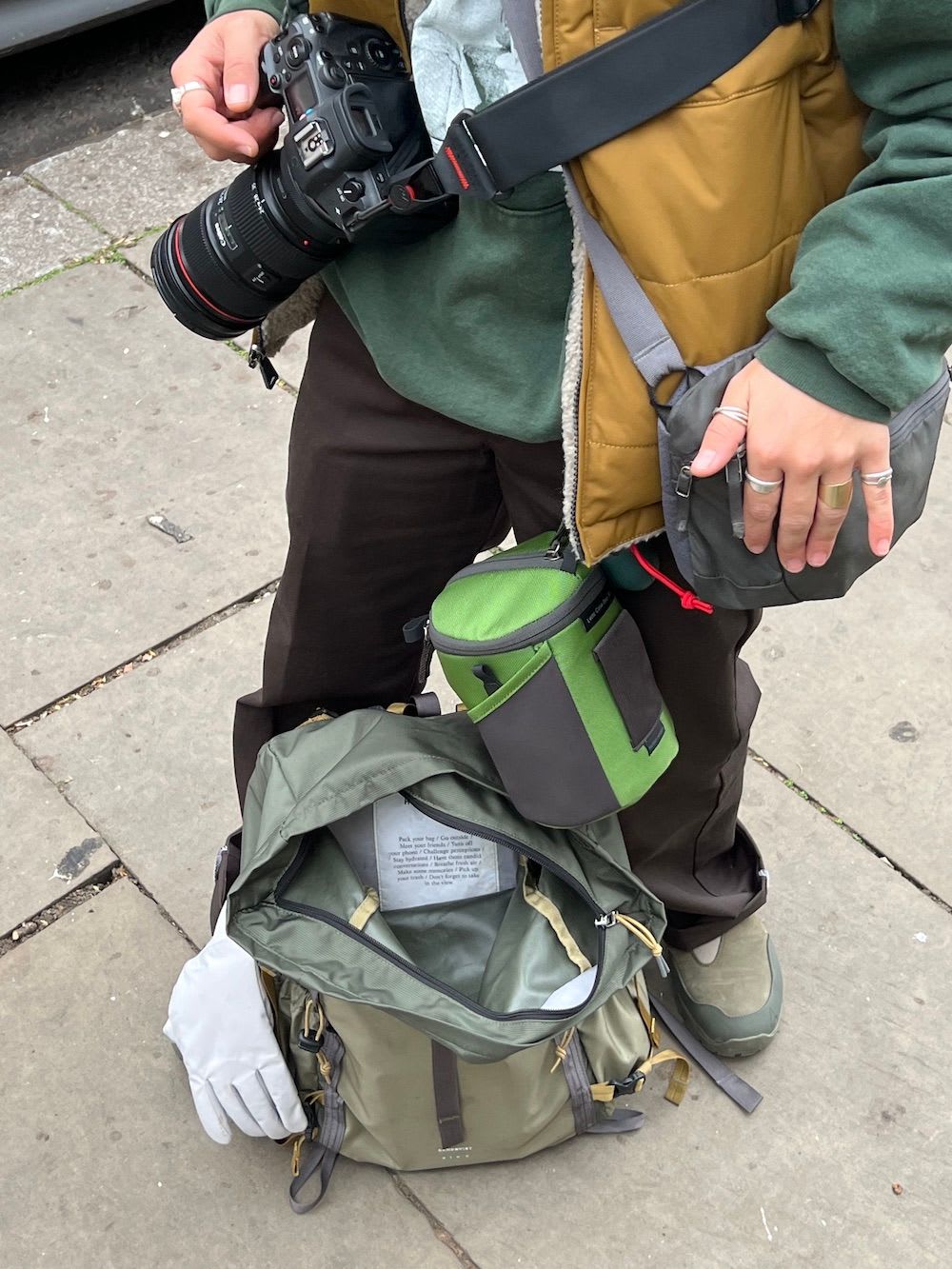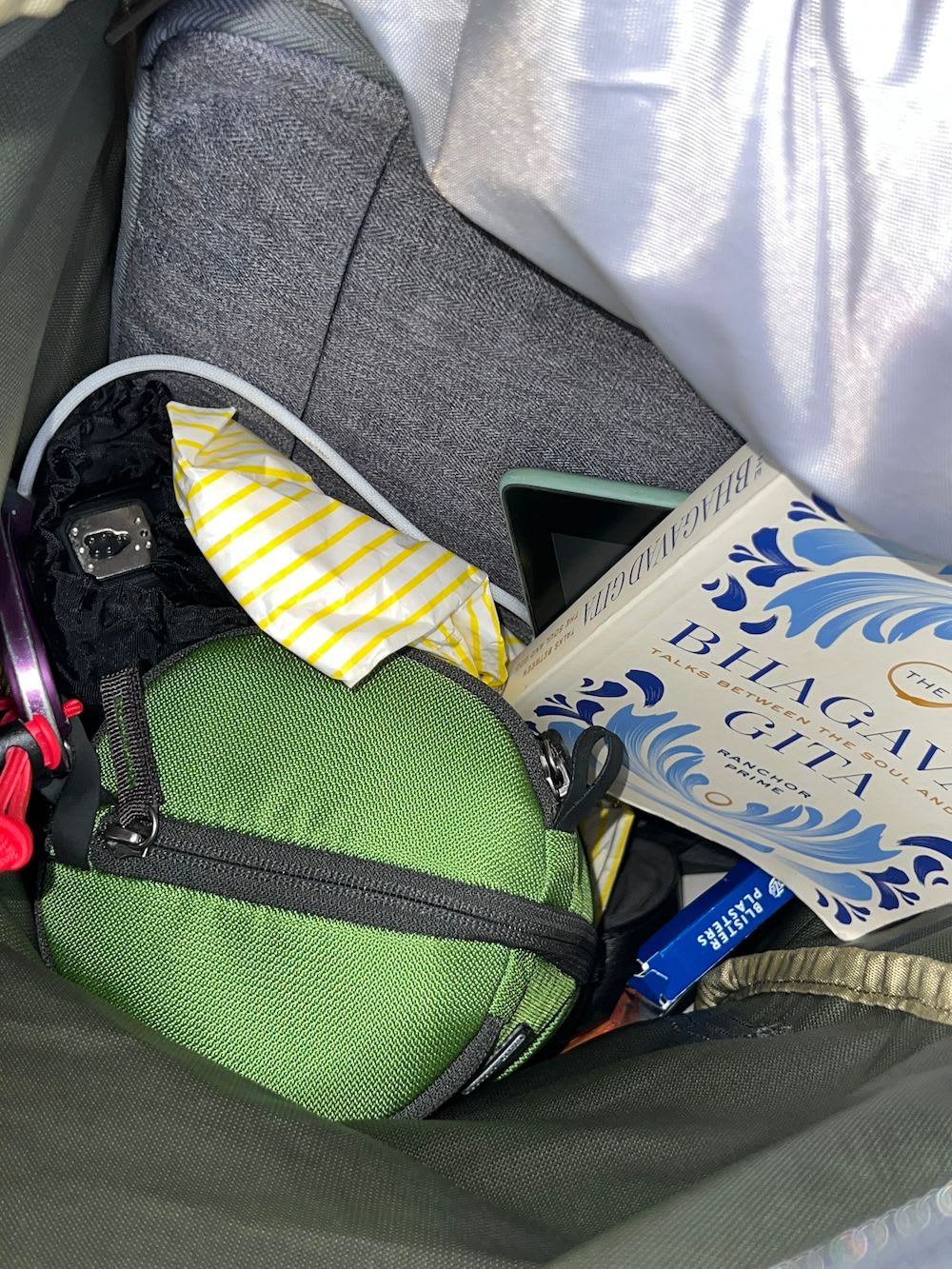 "My bag choice for fashion week is about how much I can carry without hurting my back to death by the end of the day – I can sometimes have up to three cameras with me. Quick access pockets are also important, as well as whether my laptop fits inside. This Sandqvist backpack is practical but it also brings me joy – like the positive, sentimental message written on the inside pocket. My other, small body bag always has to have chocolates inside. And some crystals for positive energy in case of a moment of crisis."
Lara Johnson-Wheeler, Writer, Editor and Broadcaster (@laraletticejw)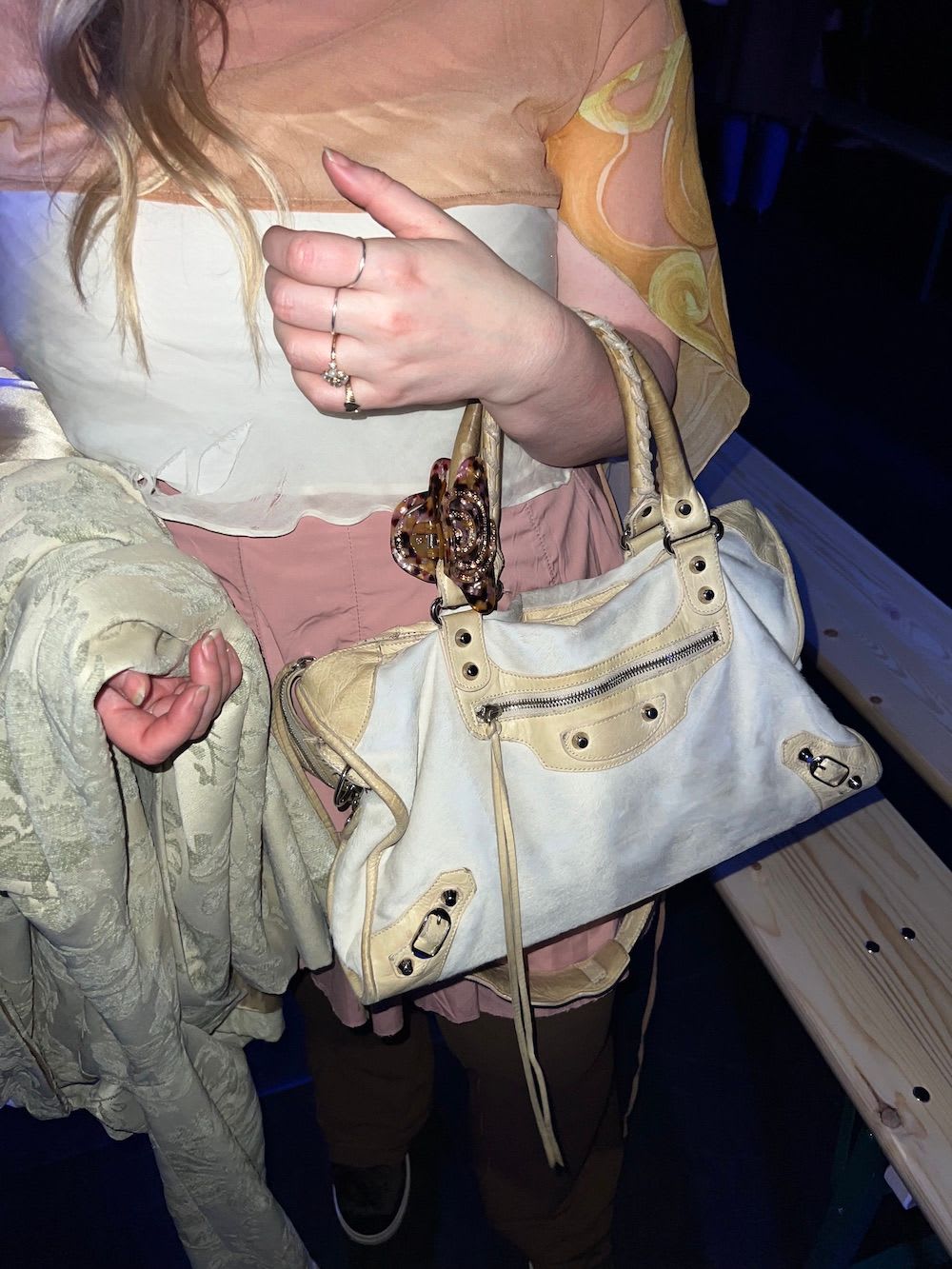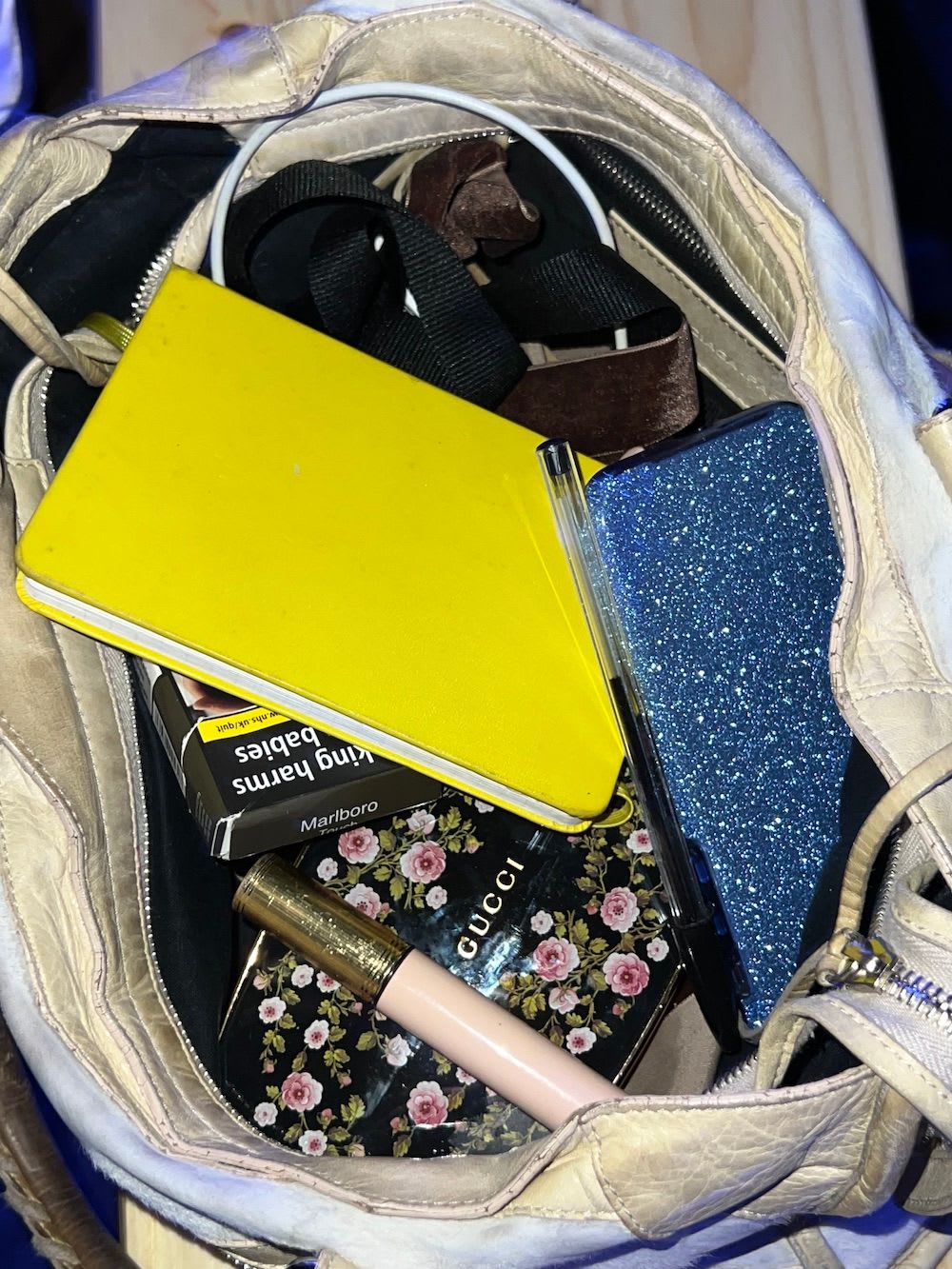 "I didn't technically choose the vintage Balenciaga City today. In fact, all my stuff was already in it, so I guess the bag chose me? It's a good fashion week bag because it's a nice size and it's seen some better days, like me. I like how beaten up it is – exactly the same level as my coat, which makes it work. The inside of it says that I hate the fashion week experience, but I'm also blessed to be there."
Rachael Clifton, Content Creator (@bubblyaquarius)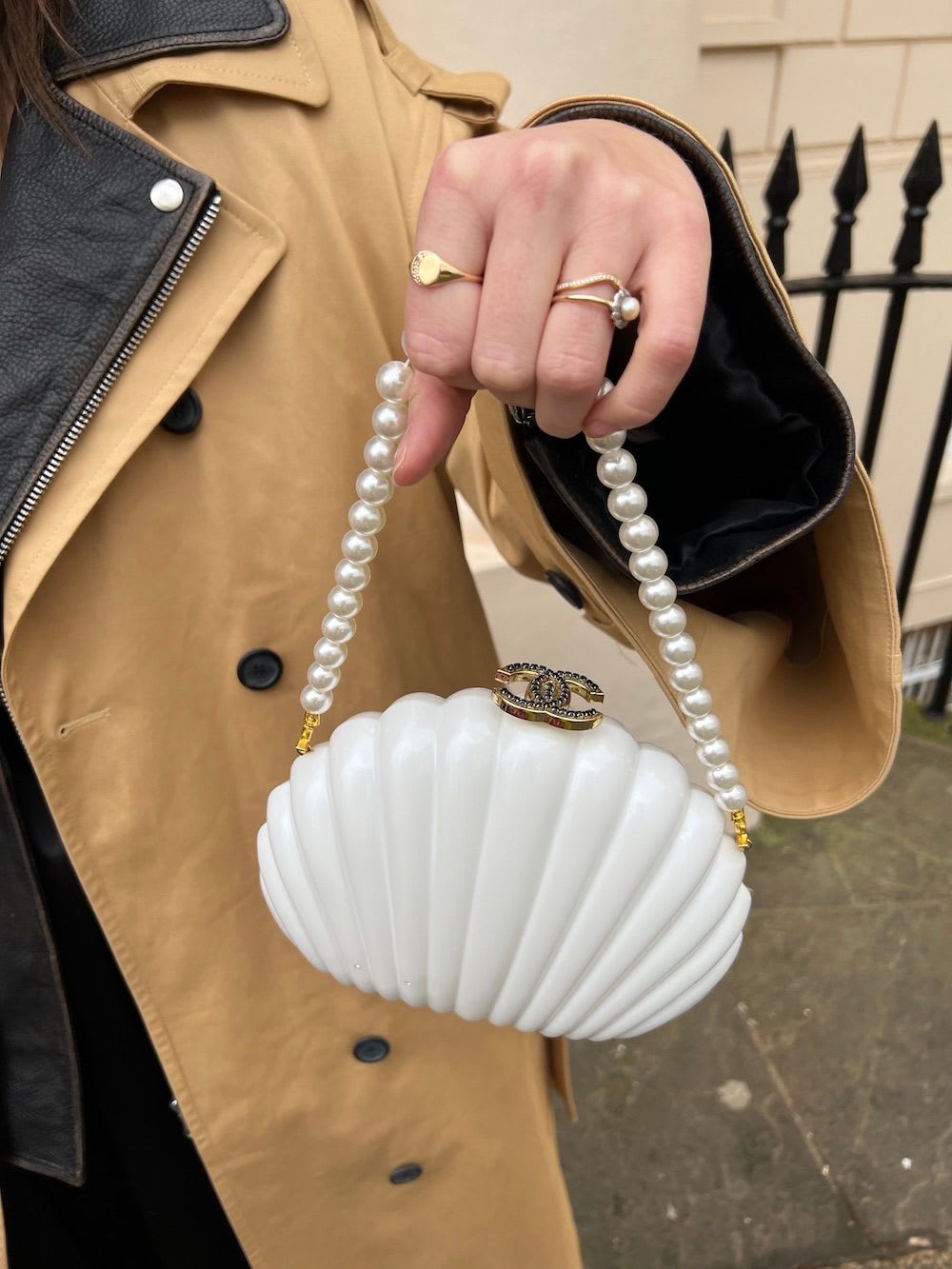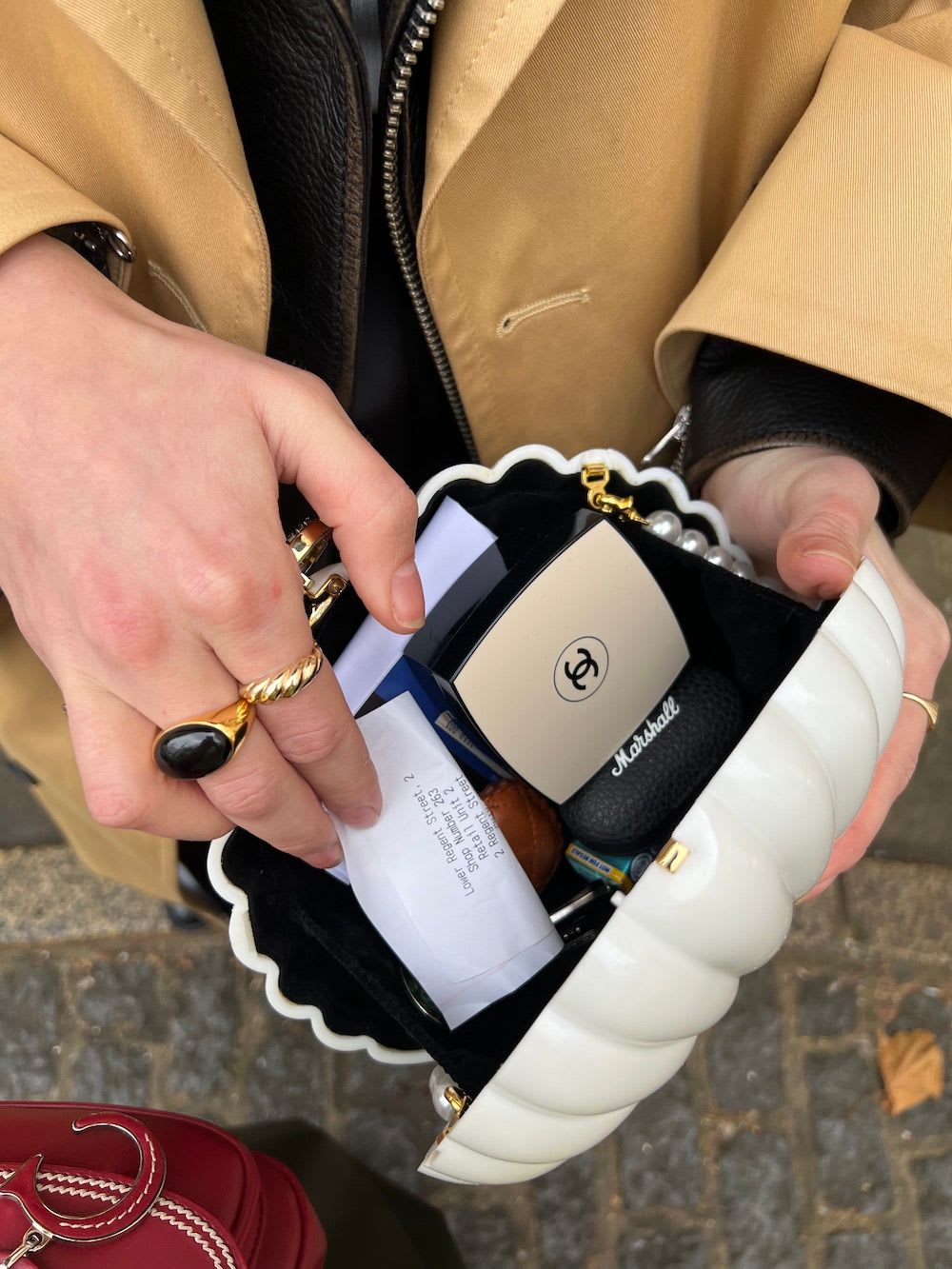 "This is actually a bag I bought for my wedding, but I love it and have used it a lot since. I chose it today because it added a sense of fun to a classic outfit. My usual hangover trick for fashion week is plenty of water, but sadly no water fits into this Chanel bag so my pockets are literally full."
Anita Chhiba, Creative Director and Founder of Diet Paratha (@achhib, @diet_paratha)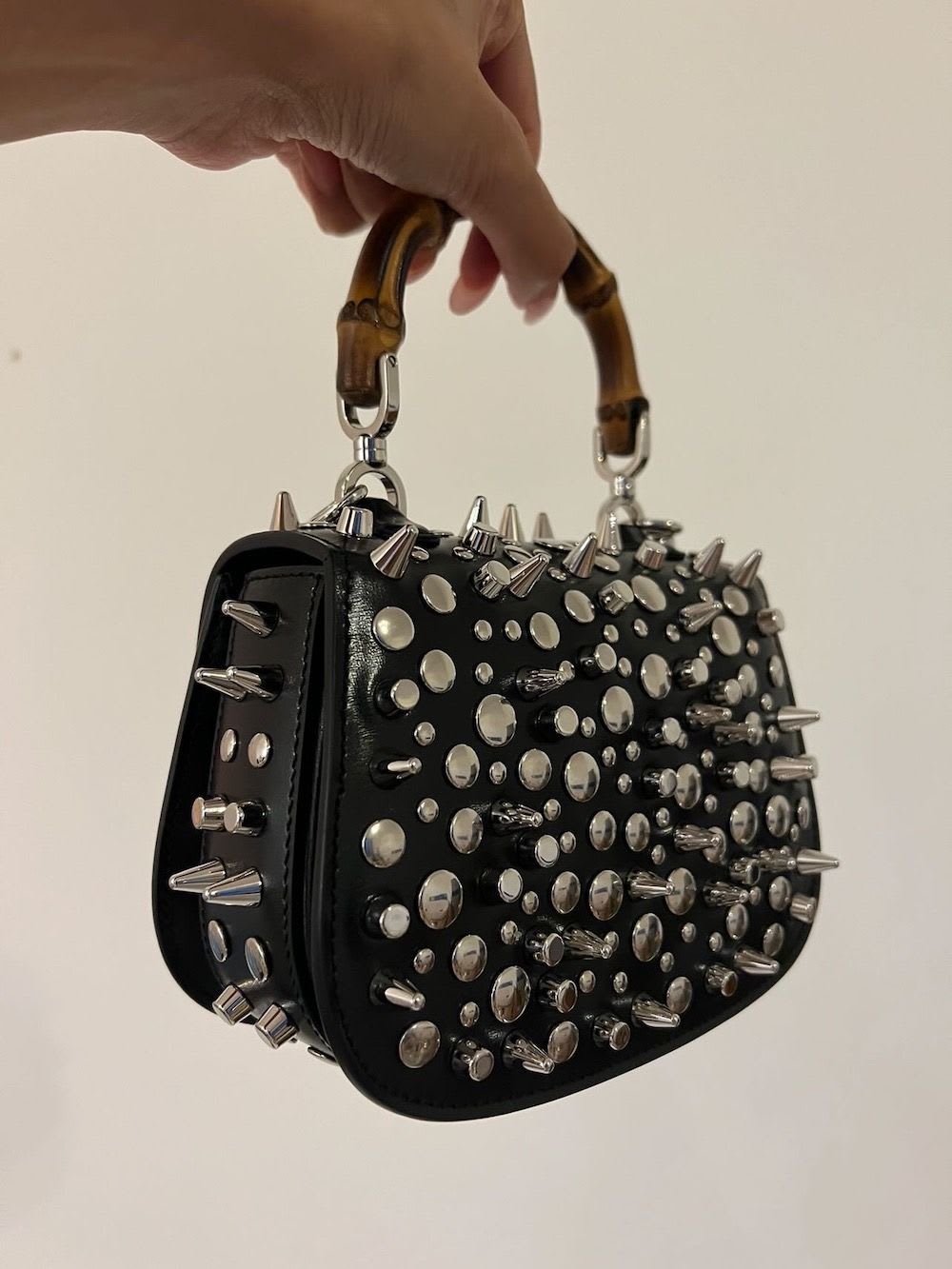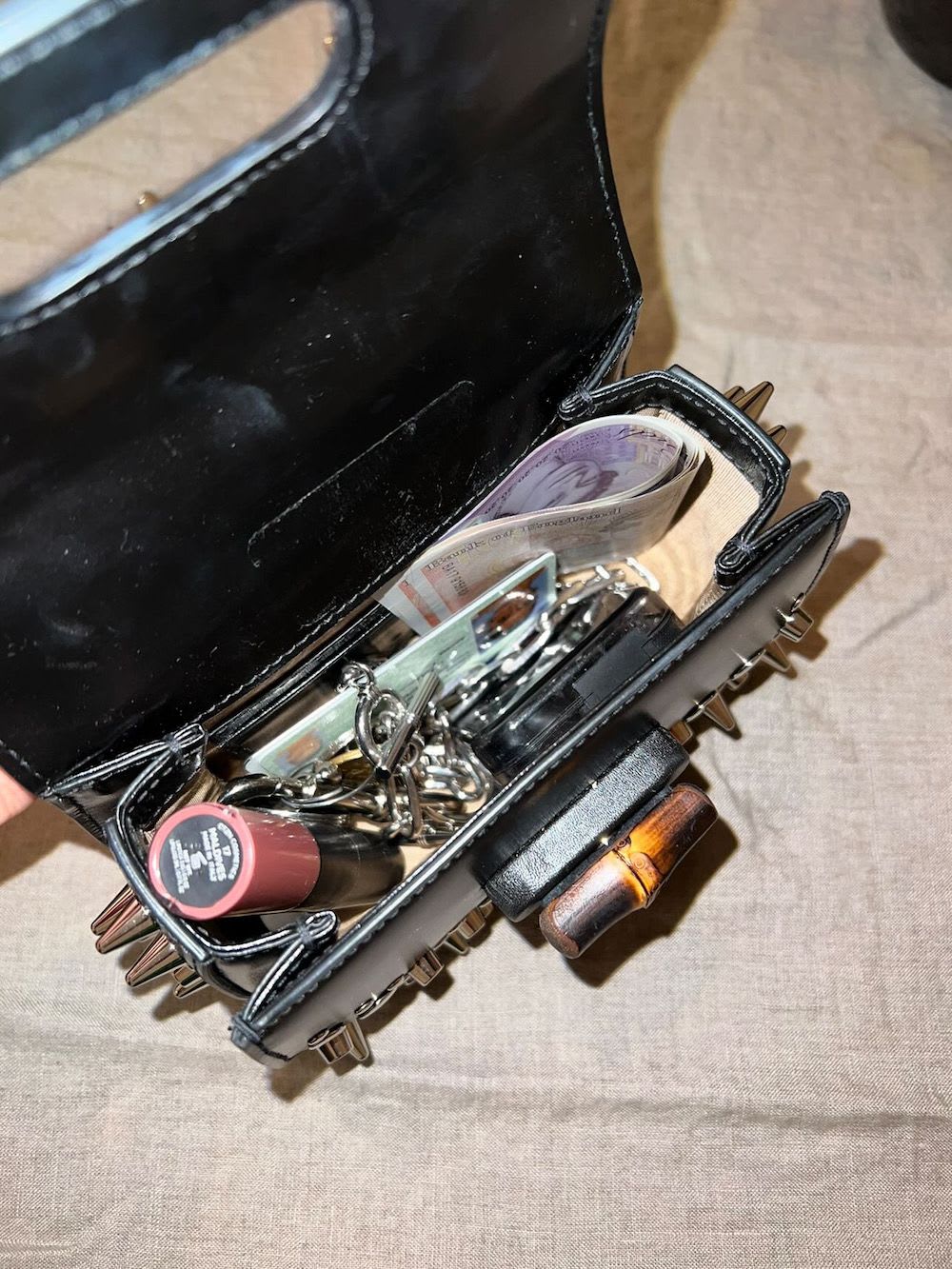 "This Gucci Bamboo is the perfect fashion week bag because it's a statement. It either has to have a print or some weird bits hanging off it, especially if I'm running from show to show and my outfit is simple and plain. A statement piece like this can really save my soul."
Handbags at Dawn is a (theoretically) fortnighly newsletter and "purse pursuing venture" by Dino Bonačić. Subscribe on Substack.