Milan Fashion Week was a much-needed celebration of sex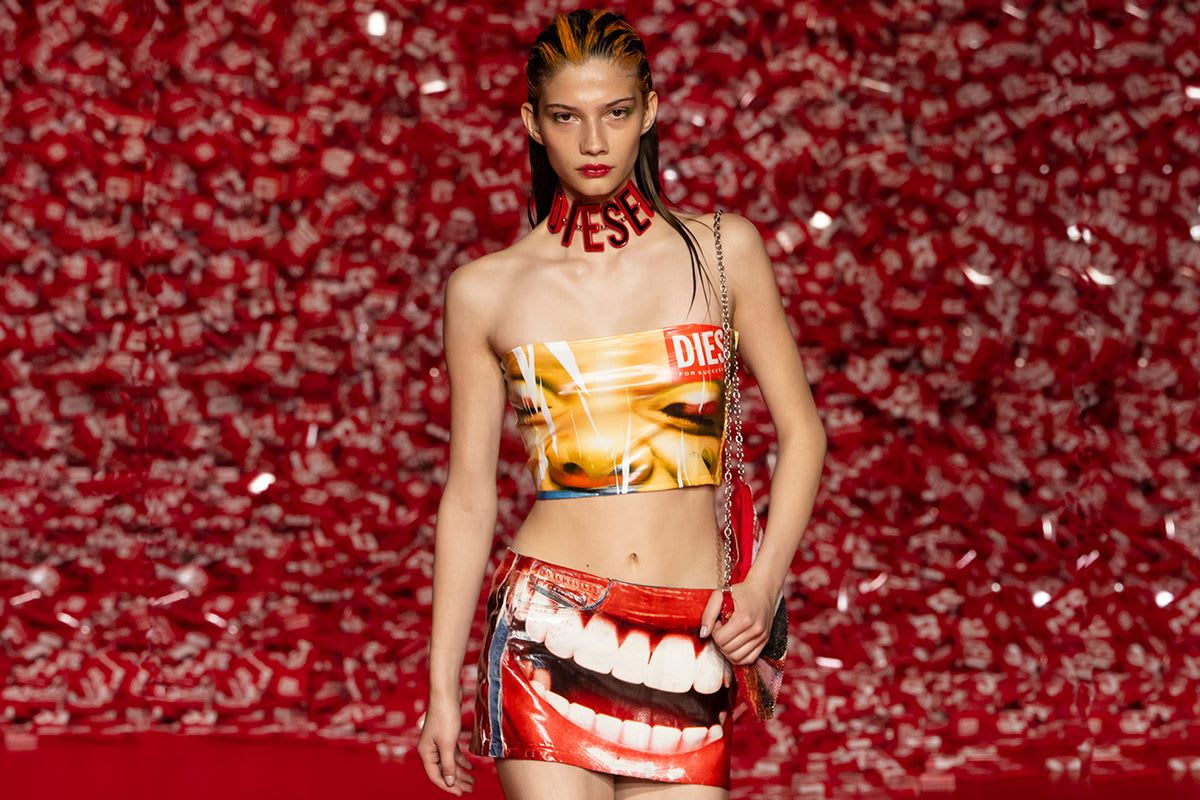 Sex recession? We don't know her!
image Victor VIRGILE/Gamma-Rapho via Getty Images
words Sophie Lou Wilson
With condoms, naked dresses and skintight jersey, Milan Fashion Week hosted some of the horniest shows of the season so far. Online we might be fighting over whether on-screen sex scenes should even exist or not, but on the runway in Milan, clothes were made for those who've logged out, touched grass and actually have sex. Indeed, if Diesel's mountain of Durex was anything to go by, good old-fashioned shagging is still very much á la mode – it would be wrong to let 200,000 condoms go to waste, after all.
Granted, it's not the first time fashion has sought inspiration in sex in recent seasons. At Paris Fashion Week's men's shows back in January, Ludovic de Saint Sernin peppered his collection with laced-up leather, teeny tiny briefs and sheer mesh tops. Just last season, Versace, JW Anderson and Nensi Dojaka went back to the bedroom, sending out sensual silk slips and lace trimmed lingerie. And who can forget Christopher Kane's series of sex-themed collections in the late-2010s paying tribute to ecosexuals, rubberists and other niche fetishists?
This season however, fashion's focus on the joy of sex feels like it came (sorry) at just the right time. This zoom in on sensuality is part of a wider aesthetic shift towards sleaze. At a time when conservative sexual views – see the aforementioned sex scenes debate – proliferate online, it only makes sense that bolder displays of sexual freedom, like Diesel's mountain of condoms, would provide a counterpoint. Fashion brands are increasingly releasing their own luxury sex toys too, with Dsquared2 being the latest to put out a range that includes a clitoral sucker, dildo and penis ring. Sex and fashion have always been close bedfellows so designers are perfectly poised to remind us how good sex can feel, and look.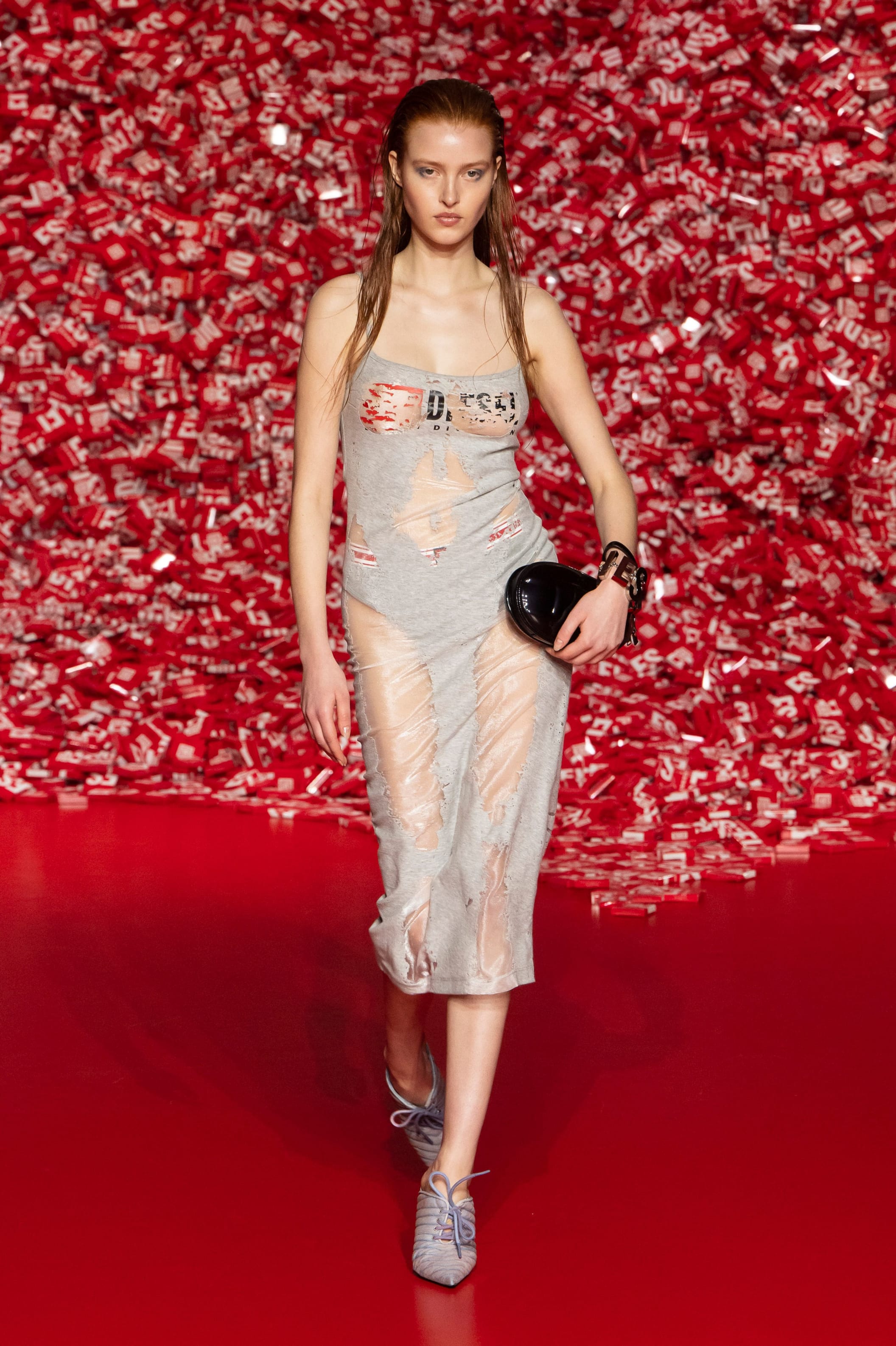 Diesel by Victor VIRGILE/Gamma-Rapho via Getty Images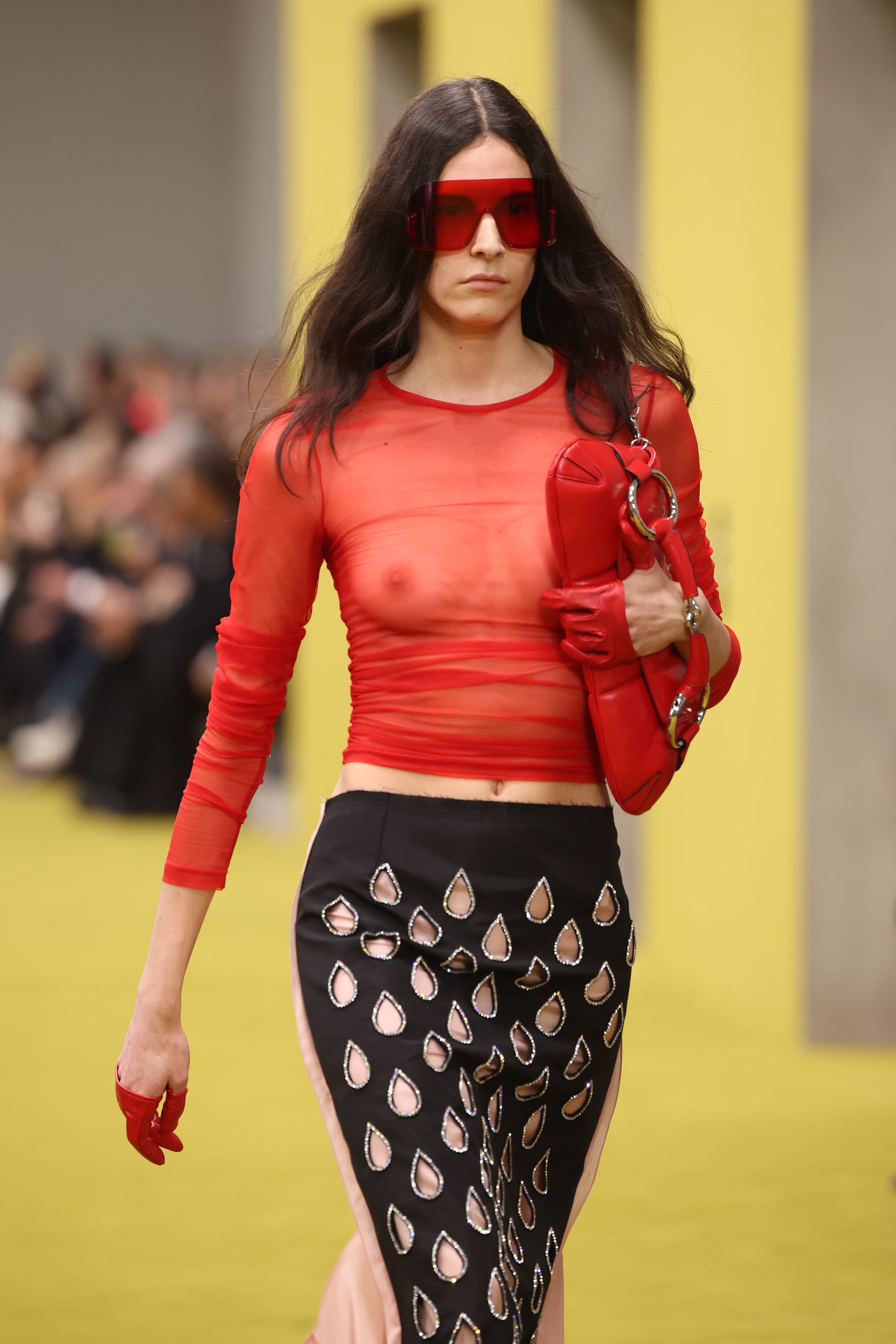 Gucci by Daniele Venturelli/Getty Images for Gucci
For proof, look no further than Diesel's safe sex bonanza, which saw models in cheeky ultra-low-rise denim, shimmering naked dresses and barely there ripped two-pieces circle a mountain of condoms. Add to that the soundtrack of sensual moans and fashion porn takes on a whole new meaning. The show was about, "being sex positive, having fun, enjoying life, and also being respectful and safe," said creative director Glenn Martens. So, ultimately, it served as a reminder that when it's consensual, respectful and safe, sex is worth celebrating.
In a similar vein, Gucci's AW23 collection, which was designed in house between the departure of Alessandro Michele and debut of new creative director Sabato de Sarno, rendered teeny tiny chain bikini tops, skintight sheer fabrics and shimmering sheer party dresses. It was a departure from Michele's more-is-more aesthetic, quite literally – the first look was a teensy top paired with a plain black satin skirt. But not everyone was happy with the brand's sexy new direction with The Telegraph calling it "sleazy and misogynistic" – yikes! It certainly leaned into the sleaze of Tom Ford's Gucci years in the '90s and '00s which are fondly remembered for their sex appeal, though some of the campaigns were controversial at the time.
you are missing out on some content here because you rejected our cookies. want to change that?
Meanwhile, at AVAVAV, clothing fell apart as models walked the runway. The effect was more of destruction rather than sensuality, but getting naked would surely be easier if clothes could undress you themselves. Shredded miniskirts and heart shaped crop tops disintegrated to reveal glimpses of underwear beneath. Elsewhere, in Milan this season, Aniye Records injected sex appeal through leather buckles, sheer nightdresses and over-the-knee boots to an otherwise angelic collection.
It's no surprise that designers are returning to sex as a source of inspiration right now. As puritanical arguments wage on about sex scenes, porn and whether age gap relationships are ever ok, a sartorial celebration of sex feels like a much-needed antidote to all this chronically online discourse. Sex might not require any clothes at all, but fashion certainly plays a role in seduction. And this season, consider us seduced!