London Fashion Week's new nostalgia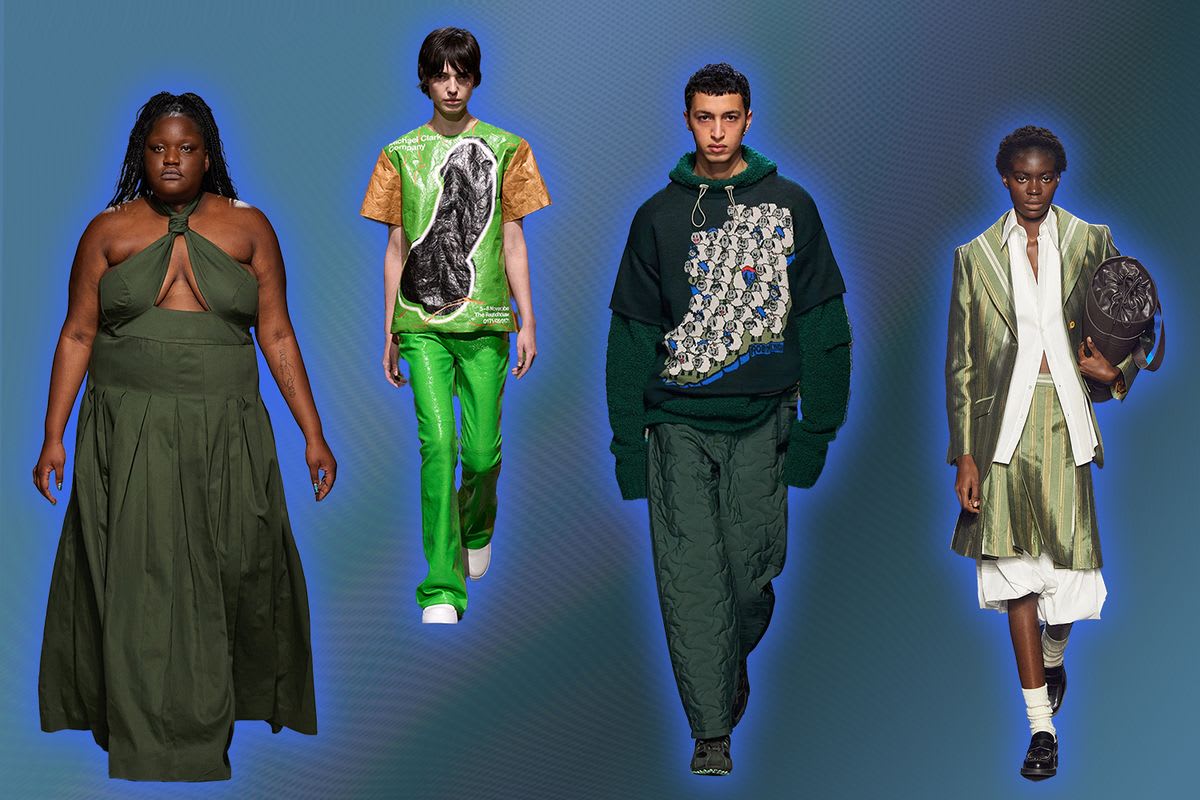 For AW23, designers from JW Anderson to Sinead O'Dwyer paid homage to hometowns, grandparents and coming of age
image Team Woo
words Sophie Lou Wilson
One day you're dragging your feet through your hometown's crumbling high street and the next you're downing copious amounts of Diet Coke handed out for free at London Fashion Week. Life comes at you fast! If you ask any exhausted/hungover/overwhelmed fashion editors about what keeps them going during fashion week, more often than not the answer is some version of, "13-year-old me would be so excited to be here!" Ask designers this season and their response might be the same, given the number of collections that expressed nostalgia for hometowns, grandparents and adolescence.
The tale of small town outsiders – or anyone from outside London, for that matter – making it in the world of fashion never gets old. It's an archetypal fashion fairytale that we love to peddle whenever someone from outside the capital who didn't have famous parents hits the big time. Christopher Kane, for instance, grew up in the Scottish mining village of Newarthill, while Jonathan Anderson spent much of his childhood in the slightly larger town of Magherafelt in Northern Ireland. Then there's Daniel Lee, who twisted quintessentially British traditions for his first Burberry collection and hails from Bradford.
The trope of the kid with big fashion dreams growing up outside a major city is so pervasive that it even appeared in The Devil Wears Prada, one of fashion's most famous on-screen representations of the industry. Stanley Tucci as Nigel, art director at fictional fashion magazine, Runway, explains how the magazine was, "a shining beacon of hope for a young boy growing up in Rhode Island with six brothers, pretending to go to soccer practice when he was really going to sewing class and reading Runway under the covers at night with a flashlight."
At London Fashion Week this season, designers addressed their origins without leaning quite so heavily into sentimentality, calling back to times and places that came before. Ireland, in particular, has been experiencing a huge cultural moment in fashion and film of late. Coinciding with the BAFTAs, where Paul Mescal and Barry Keoghan both won big, Irish designers at London Fashion Week drew from the country's heritage and their own personal memories of growing up there, twisting tradition in thoughtful and innovative ways.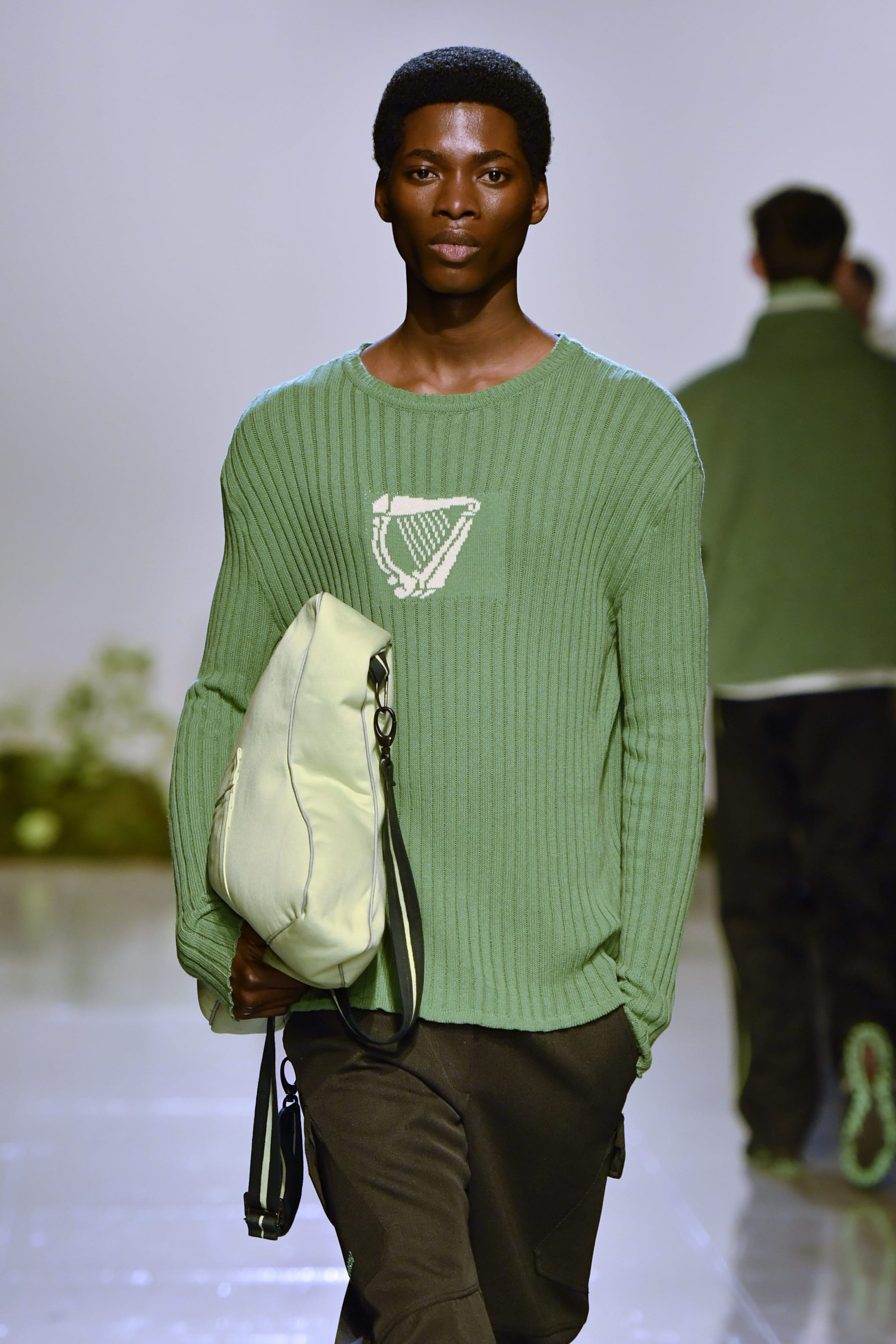 Robyn Lynch by Victor VIRGILE/Gamma-Rapho via Getty Images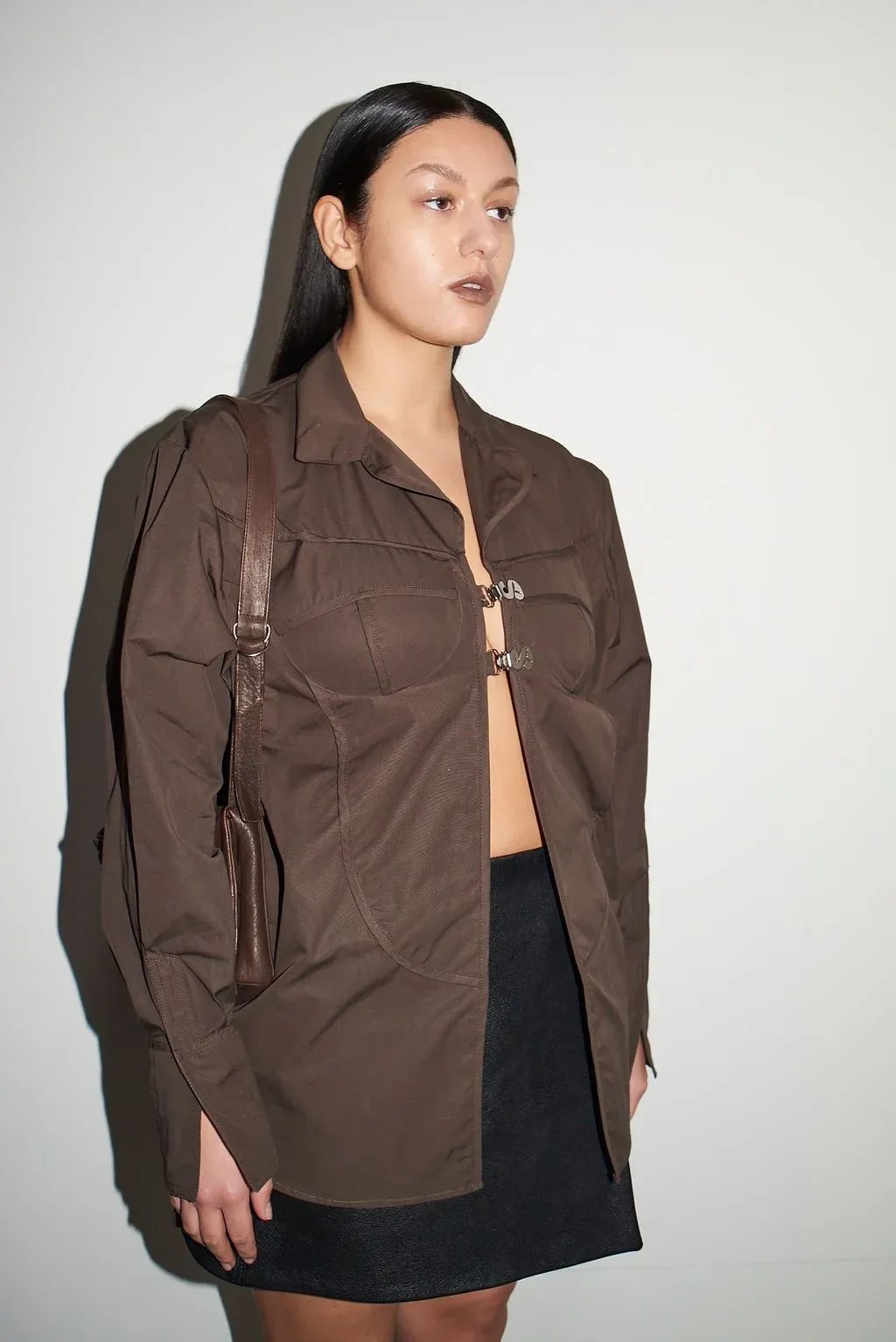 Image courtesy of Sinead O'Dwyer
Menswear designer Robyn Lynch, who grew up just outside Dublin, in Malahide, delved into Irish culture with a collection that celebrated the country's green landscapes and traditional symbols. Lynch embraced Irish heritage with a sportiness that made it feel new, incorporating zip-up waterproof jackets, oversized hoodies, technical tracksuit sets, Geox sneakers and sporty short shorts that wouldn't look out of place on Paul Mescal next time he pops out to stock up on tinnies of pink gin and tonic.
Also repping Ireland, Sinead O'Dwyer opened London Fashion Week with the most inclusive show of the season. The collection was inspired by her late Irish grandmother, Rita O'Dwyer, and "the romance of being brought up in Ireland." Linen dresses in military tones evoked the Second World War years that Rita lived through while the more contemporary garments harked back to Sinead's own teenage years in the sleepy Irish town of Tullymore.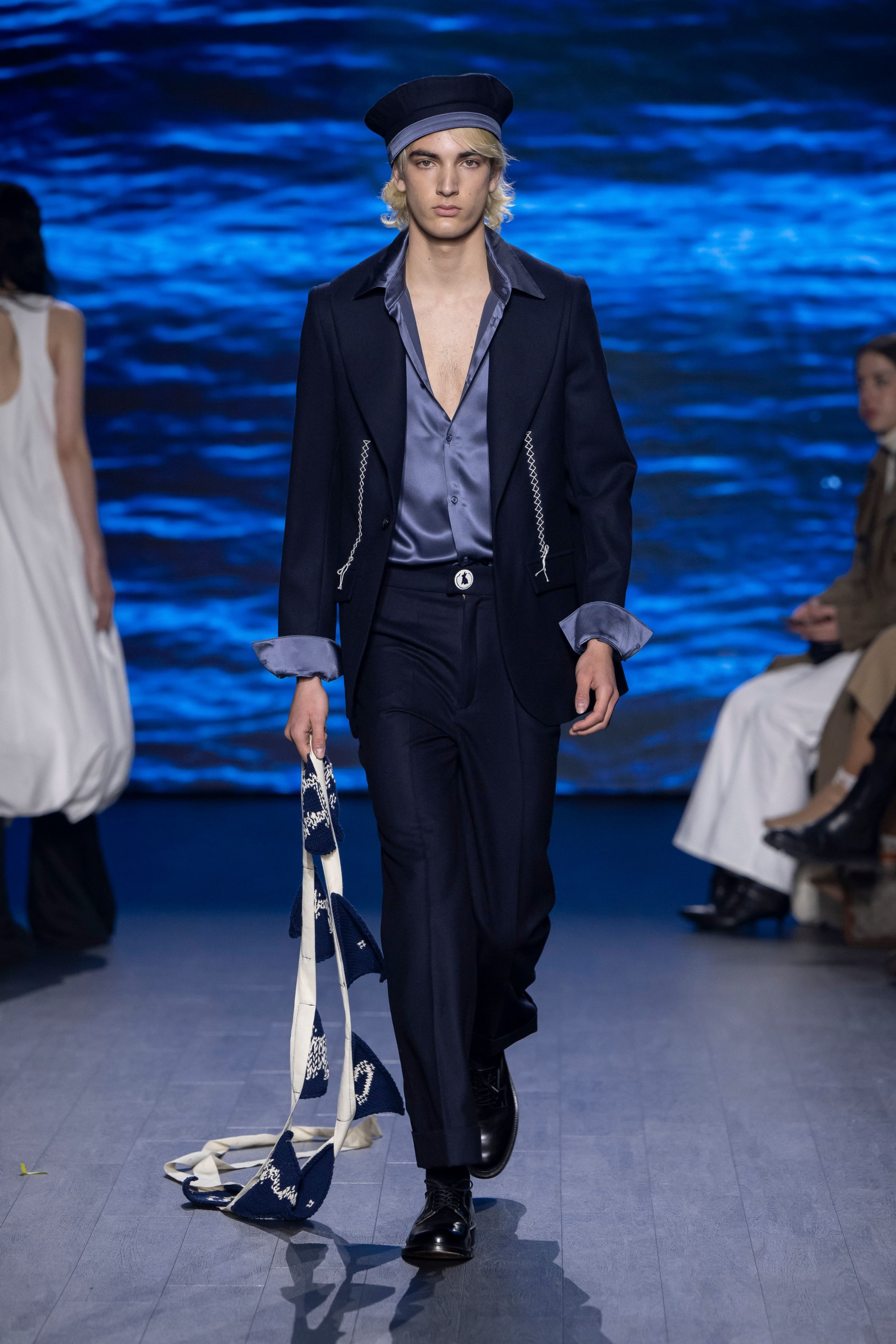 S.S. Daley by Victor VIRGILE/Gamma-Rapho via Getty Images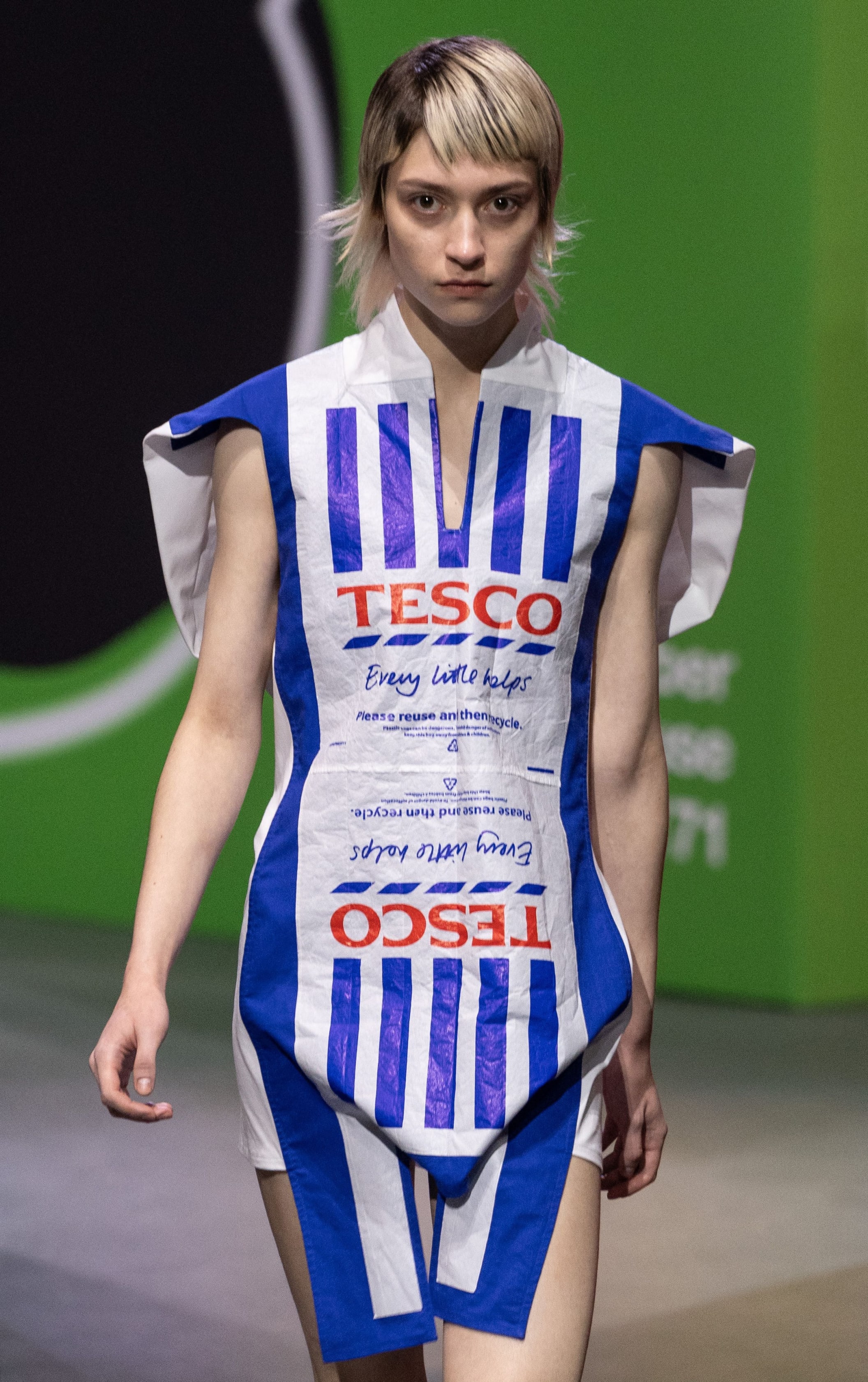 JW Anderson by NIKLAS HALLE'N/AFP via Getty Images
Grandparents were on Steven Stokey-Daley's mind too. The Liverpool-born S.S. Daley designer drew from his knowledge of his great-grandfather's experience sailing the world in the merchant navy while casting the nation's adopted grandfather, actor Sir Ian McKellan, to open the show. Sailors' caps, stripes and navy blues made not-so-subtle reference to the nautical themes. Sequin briefs, a sequin tux and silk printed with male nude pin-ups exaggerated the campiness that sailors are often associated with in pop culture.
And if it's camp you want, then look no further than JW Anderson's AW23 collection which was an ode to the fangirls/boys/theys. A giant penis billboard loomed large at the designer's Roundhouse show. Garments riffed on Tesco and Coca Cola. The playful collection was inspired by dancer and choreographer Michael Clark who, like Anderson, grew up in Scotland. The core theme was fandom, the pastime that grips us most during adolescence, while the clothes drew from the JW Anderson archive from the past 15 years. "I wanted something which was about how you kind of reconcile the past and how you deal with what you have done," Anderson told Vogue.
Fashion moves fast. In the industry, nostalgia is often treated like a dirty word – Anna Wintour famously hates it. But the past is undoubtedly a rich pool of inspiration and this season, designers proved that appreciating where you came from doesn't have to translate as over-sentimentality.
Sometimes making it big in fashion might include an America's Next Top Model-level makeover. There is something alluring and undeniably chic about the fantasy of moving to a big city, changing your name, trading Primark for Prada. But at the London shows this season, designers revelled in rather than hid from their past, revealing that honestly mining your own origins can be as rich a starting point as any. While fashion can be transformational, it's easy to tell when something feels inauthentic. Drawing from your own hometown, family or adolescence keeps that personal theme going strong. Whether you still hate the town you grew up in, or think of it now with fondness now that you've grown up and left, part of it will always be with you and perhaps that isn't a bad thing, after all.