Ducks, hot water bottles and grunge galore: welcome to Burberry's new Britain
Daniel Lee thinks the UK needs a makeover - and we agree
image Bloomberg / Getty
words Sophie Lou Wilson
Nothing gets fashion people going quite like a big brand revamp. And in Britain, it doesn't get much bigger than Burberry. The heritage brand, known for its iconic trench coats and ubiquitous monogram check, revealed its latest makeover at London Fashion Week yesterday courtesy of former Bottega designer Daniel Lee.
Burberry has been going through an identity crisis over much the same timeframe as Britain's own. What does the UK look like post-Brexit and post-Queen Elizabeth II? While emerging designers are busy carving out their own creative, inclusive vision of Britain now, on the global fashion stage, the expectation for answers fell squarely on the shoulders of Lee's new Burberry. In response, the Bradford-born designer presented an Autumn/Winter 2023 collection that embraced British archetypes, from feeding ducks in the park to London's history of subculture, through a colourful new lens. "I want it to show some positivity about Britain to the world again," Lee said.
Advertisement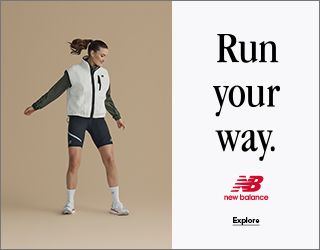 The first preview of the new direction came weeks earlier with a new – old – Burberry logo featuring the brand's Equestrian Knight Device which was originally crowd-sourced from a public competition held circa 1901. But the vision felt youthful too, recruiting Skepta, Shygirl and John Glacier among others, as the new faces.
Image courtesy of Hollie Adams/Bloomberg via Getty Images
Image courtesy of Hollie Adams/Bloomberg via Getty Images
As the biggest event of this season's fashion calendar, the show itself was a who's who of British icons. Stormzy, Jodie Comer and Naomi Campbell joined designers like Christopher Kane, Grace Wales Bonner and Martine Rose who sat on Burberry check blankets, clutching hot water bottles and hot toddies inside a tent erected for the show in Kennington.
Celebrating Britishness can sometimes be a difficult path to tread without falling into nationalist stereotypes. In fashion and culture, however, there's no denying that the UK has helped bring many vibrant subcultures into being which is what Lee focused on for part of the collection. Punk and grunge motifs appeared as multi-coloured Burberry plaid and tops emblazoned with 'THE WINDS OF CHANGE.' There were even references to the late Vivienne Westwood in check trousers with punky zip details.
Other themes felt more tongue-in-cheek. Duck prints and a duck hat reminded us of walks in the park while continuing the critter themes that designers explored in New York. Hot water bottles emerged as the standout accessory, a practical solution to our long winters. There were fluffy shoes, too – less practical, but just as cute. A striking royal blue asserted itself as the new Burberry colour and the national flower of England covered the collection's more mature offerings like wrap dresses and chiffon midis.
Living in Britain might not always feel great, but Lee's Burberry debut was a reminder that there's always something to find joy in, whether it's the UK's dynamic creative scene or simply taking a walk in the rain to feed the ducks in the park. So, it's not all bad in Britain. Sometimes it's even quite beautiful.
Image courtesy of Hollie Adams/Bloomberg via Getty Images
Image courtesy of Hollie Adams/Bloomberg via Getty Images
Image courtesy of Hollie Adams/Bloomberg via Getty Images
Image courtesy of Hollie Adams/Bloomberg via Getty Images
Image courtesy of Hollie Adams/Bloomberg via Getty Images
Image courtesy of Hollie Adams/Bloomberg via Getty Images