How I discovered Tumblr through TikTok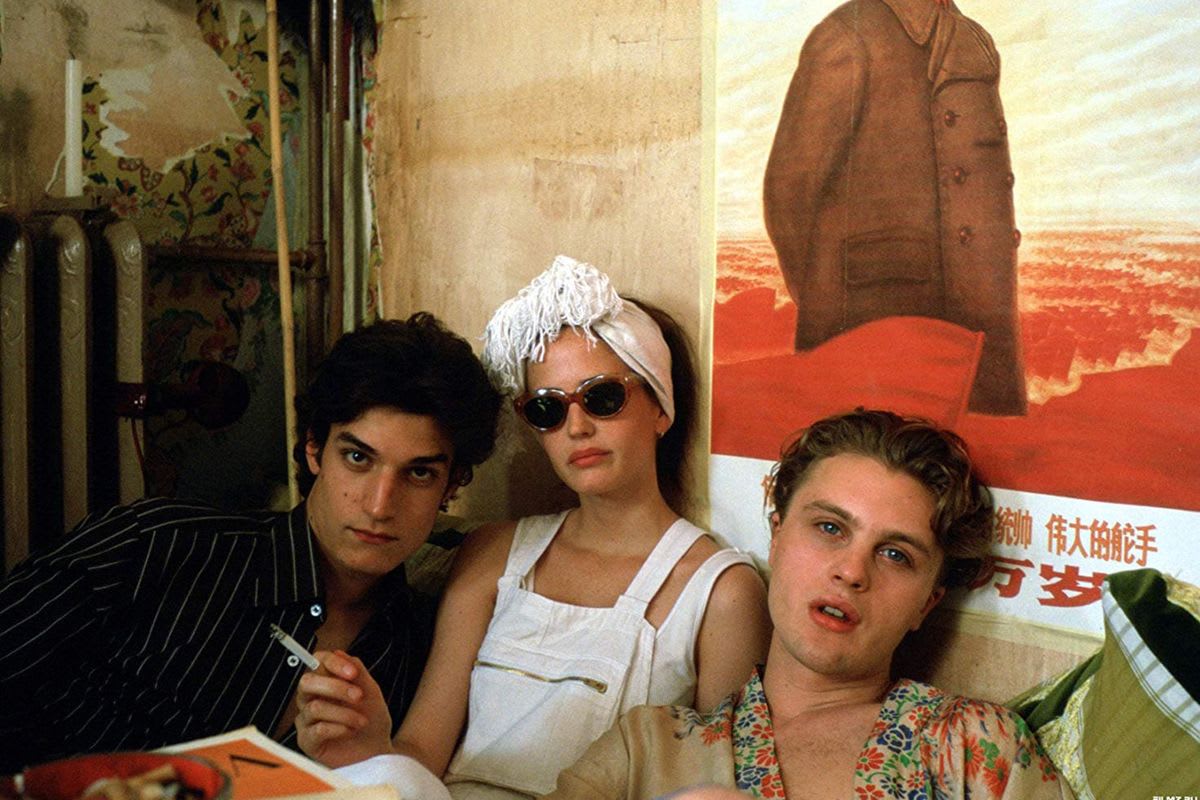 It is with my sincerest apologies to the Dr. Martens community that I admit I had no clue what Tumblr was until now
image The Dreamers / Searchlight Pictures
words Lucy O'Brien
There are times when I am reminded of the burden of being a true Gen Z. This is one of those times. See, I only know what Tumblr is because of TikTok. There, I said it. Zillennials, please don't come for me. I just want to explain.
If you're anything like me, you'd rather die than appear out of the loop in social situations. There's literally nothing worse than being in a group conversation and missing a cultural reference that resonates with everyone but you. "Just laugh along and agree", I always tell myself, "don't show any sign of weakness". Some may call this approach compulsive lying, others (like me) call it survival skills. And for some time now, there's been one particular pop culture reference that has eluded me when I find myself among my zeitgeist-y friends and colleagues: Tumblr.
Don't get me wrong, I learned long ago how to recognise and react to the general cues that surround Tumblr culture: black fishnet tights, Dr. Martens, beanies and general teenage angst – never once have I owned any of these aforementioned things, but my slightly older friends and social circles don't need to know that.
Despite my well-informed facade, I really had no clue what these immortal aesthetic archetypes had to do with the mysterious platform known as Tumblr. Was it like Reddit – an online forum? Was it Instagram's image-sharing predecessor? An adjacent to Pinterest? A website? An app? I literally couldn't tell you.
I'm not quite sure how I managed to avoid falling down the Tumblr hole during my teen years – being a 2000 baby meant I was of appropriate age when the platform came to its real prominence around 2013; a year that saw the platform bought by media giant Yahoo after it had just reached 73 million registered accounts since its 2007 inception. By comparison, by then I was knee-deep in my One Direction phase, far too busy working out the age gap between myself and Niall Horan to be indulging in my teenage woes. Perhaps I just took a different path than my angsty Tumblr counterparts, or perhaps I was just a year or two late to the game. Either way, I couldn't shake the feeling that I was missing out.
But as I have come to discover, Tumblr was (and is, apparently) a way of life. Not just an online platform – far from it. It remains a much-loved aesthetic, a fashion revival, a cultural reset, and for many people, a turning point in their teen lives.
It wasn't until I was scrolling on TikTok in late 2022, where the spontaneous resurgence of our cultural obsession with Matty Healy took over all of our FYPs, that I was truly exposed to the reign of Tumblr. "Wow, Arctic Monkeys and The '75 on the same weekend," Healy announced during his headline set on the Reading Festival stage, which, naturally, went viral on TikTok. "Get your Dr. Martens, your fishnets, your vinyl and your Tumblr aesthetics – get 'em all out!" Just like that, I was sucked into the indie-sleaze renaissance, except I hadn't been present for its beginning.
you are missing out on some content here because you rejected our cookies. want to change that?
So, I decided to investigate the platform for myself.
After signing up and selecting a few of my interests – of which I chose categories like "soft grunge", "nostalgia", "goth" and "punk" in order to get the full sleaze experience – my page was plastered with an unhinged collection of images, "notes" and hashtags that made no sense at all. One post was literally a picture of 10 differently-sized cigarette butts – no caption needed. Another was a collage of two teenage girls in matching chequered shirts, sitting on the edge of the pavement, covering their faces coyly with their hands. "Friendship 🖤", the caption read. Okay, I actually feel bad for my 13-year-old self for missing out on this, she would've loved it.
But as I continued my investigative scroll, past a kaleidoscope of anime, old-school emoji memes, staring-into-the-void-type existential quotes and an inspiring overuse of hashtags, I got a glimpse into the real Tumblr of the 2010's: porn.
Stumbling across some naked pics, I had just dipped my toes into the world of a sex subculture that, as I've come to learn, was rife during the platform's peak years: one Google search into Tumblr's history of porn revealed a plethora of foot fetish, kink, nudity, erotica and sex content – it had it all. When I discovered this, it became clear that the Tumblr we encounter today is a very different landscape to the platform that fascinated tweens almost ten years ago. After a 2018 crackdown on guidelines banned NSFW content, the platform lost a staggering 30% of its users – so it's safe to say this type of adult content was a major source of attraction to users back in its heyday.
And that removal was key to Tumblr's demise - increased censorship alongside the emergence of other social media giants (namely Instagram's rising popularity in the mid-2010s, which, believe it or not, is a culture I have partaken in) resulted in a general disenchantment with the platform, as users felt Tumblr's original vision of unfiltered image-sharing and sense of community slip further from their fingers.
And while I'm sure stumbling across images of fingering and masturbation may not have been the best introduction to sex and intimacy for a generation of young teens, it did make me realise how much of our social media is overly censored today. Even TikTok, essentially the new app for oversharing, has rigorous and sometimes silly banning regulations that prevents users from talking openly about sex, bodies and intimacy. Perhaps my generation could learn a thing or two from Tumblr – a forum that created a space to talk about anything and everything, forgo social expectations and share candidly about the issues we weren't learning enough about IRL.
One thing's for sure, I thought: the legacy of Tumblr is one that will endure. Even I, a 22-year-old non-user of the platform, instantly resonated with the introverted, grungy and freeing nostalgia of it all – I now understand why people pretty much universally look back on their teenage Tumblr phase with simultaneous feelings of fondness and cringe.
Much like how Gen Z like to harken back the pop-punk fashion of the 80's, or re-invent the maximalist, Y2K looks of the noughties, today's resurgence of the Tumblr aesthetic is just another way to immortalise an era that has been carved into the collective consciousness, set to be replicated by generations to come. I'm sure the recent influx of Tumblr-influenced, Matty Healy-amplified indie sleaze will not be the last time we encounter its renaissance.