The anti-Instagram? Why everyone is obsessed with the BeReal app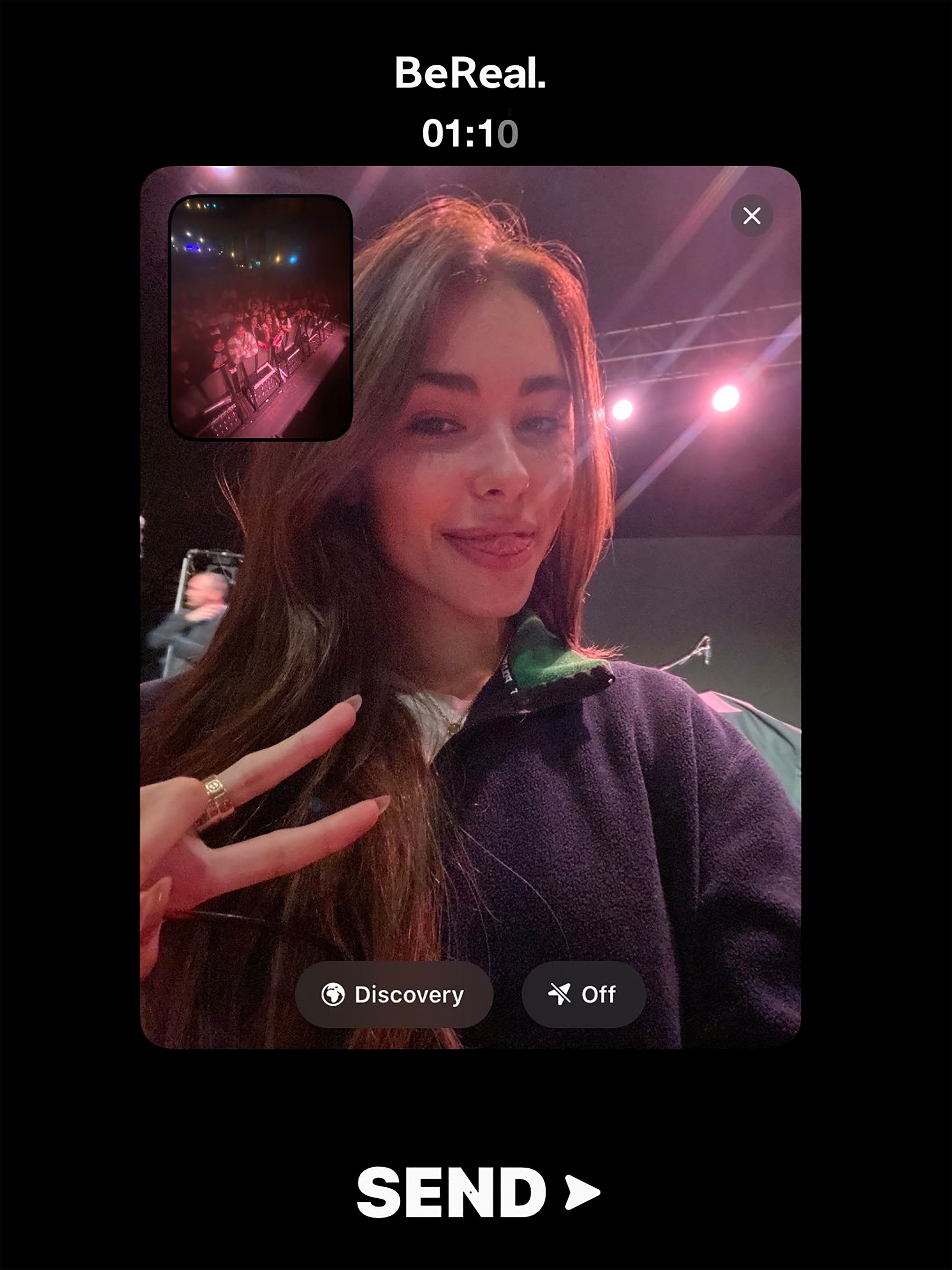 The unfiltered, once-a-day photo app has amassed millions of Gen Z users as an authentic social media alternative – we find out why
image via twitter @orlahoughton
words Hannah Bertolino
While it may seem that the social media app landscape is densely overpopulated – we've come a long way since MySpace, Bebo, and that one your auntie uses, Facebook – a new viral app, BeReal, has now amassed over 7.4 million users since its launch last year. It has gained momentum as a platform for candid, zero-edits photo sharing, an antidote to the hyper curated ideals of Instagram or the endless scroll chaos of TikTok. And there's a catch, too: you can only post once per day, and you don't get to decide when.
Especially favoured by Gen Z and university students, the app works by sending out a notification to all of its users at a random time each day – prompting them to take a simultaneous photo from the front and back camera within two minutes. Each day, the images are sent into your newsfeed of friends, allowing other users to scroll through what everyone was doing at the exact moment when the notification hits. It's basically a return to the early Snapchat or Instagram days of imperfect selfies, spontaneous food pics, blurry night out photos, and plenty of images of you doing, well, nothing.
"It's a fun peek into what my friends are actually doing at that moment. The more random, the better," says 23-year-old Holly Brookes-Smith, who uses the app to connect with close friends. "I also like the simplicity of it, I think that's most of the charm.You can't scroll endlessly on it unless you've got 1,000s of friends on it, but I follow about 10 people."
Alfie White, a 21-year-old London-based photographer, agrees: "It's just a bit of fun, really! It feels like this daily check-in with all my friends, but without any arrangement on our part. It also feels completely removed from any level of ranking, like likes or engagement or growth."
you are missing out on some content here because you rejected our cookies. want to change that?
While BeReal has drawn in younger users due to its authentic platform, it isn't the first time Gen Z has rejected Instagram's performative, algorithmic nature. In the late 2010s, young people began opening up private "finsta" accounts to share funny, no-filter images with a select number of friends, which Instagram began to capitalise on with its Close Friends feature. In 2020, users on TikTok began declaring finstas as "dead" and demanding to "make Instagram casual again" by posting candid (plandid?) photos on their main accounts. YouTuber Emma Chamberlain and model Bella Hadid got on Casual Instagram hard. The 'Photo Dump' also deserves an honourable mention here, a gallery of usually quite chaotic curated images on grid that capture a mood, from food to landscapes and nights out.
But Casual Instagram, as it has been noted may be just an even greater performance, as users aim to curate what only looks to be a laidback narrative of their lives through their feed. Perhaps, BeReal's reality-based concept could be the solution?
you are missing out on some content here because you rejected our cookies. want to change that?
"You just share what you're doing at that exact time, even if you're just sitting in bed watching Netflix," explains John Milne, a 19-year-old UCL student and BeReal user. "It reminds you that life isn't always exciting and that's okay."
Some users, however, have shared concerns that the app may contribute to feelings of isolation and FOMO if they're having a quiet night in or mental health day while their friends snap photos out together. "I can definitely see how it might lead to FOMO, especially if you see your friends hanging out without you," says Milnes. "But, I'd say that risk is probably the same on any social media."
you are missing out on some content here because you rejected our cookies. want to change that?
White says the app, for him, does the opposite – connecting him with friends that he rarely has time to see. "(It) enables me to see what they're up to on a day to day (basis) and vicariously enjoy whatever that is through them."
While there's no saying how long the app might stay relevant among Gen Z, Milnes credits it with aligning with the generation's values of authenticity in private settings, free from employers or pressure to stage your social media presence. "It's the same reason why private spam accounts were so popular," he says. "We just love to shitpost."