Marc Jacobs invites ChatGPT to his three-minute fashion show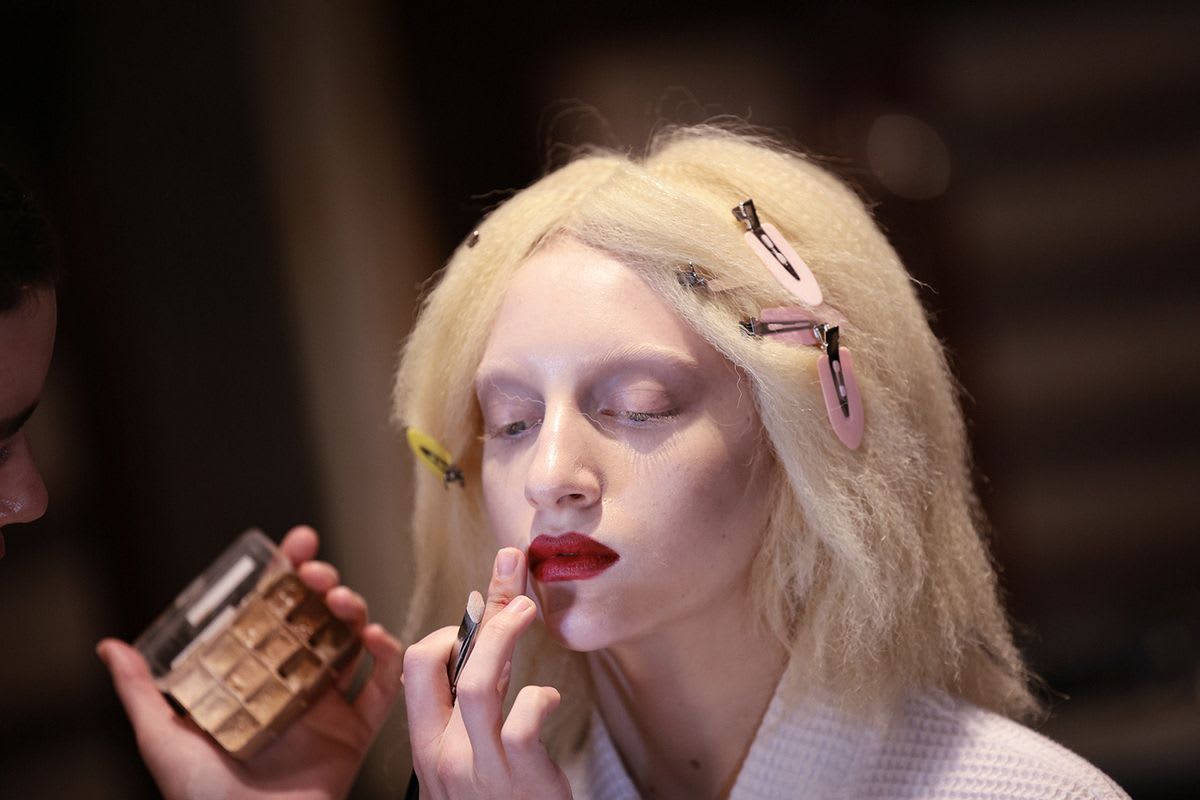 Plus Rihanna welcomes you to Fenty's virtual world, the 28-year-old lensing Pirelli's 2024 Calendar and more feel good fashion news
image Dimitrios Kambouris/Getty Images
words Sophie Lou Wilson
Greetings fashion darlings and welcome back to our feel good fashion news roundup! This week, Marc Jacobs invited ChatGPT to his three-minute fashion show, giving new meaning to fast fashion and providing a refreshing antidote to fashion week theatrics. Meanwhile, Fenty is the latest brand to make a play for VR, creating a virtual playground with Roblox. Elsewhere, the 2024 Pirelli Calendar will be shot by 28-year-old Ghanaian photographer, Prince Gyasi and lastly, Copenhagen's Global Fashion Summit brought together over 1,000 representatives from across the fashion industry to discuss turning ambition into action when it comes to implementing sustainable practices. So, buckle up fashionistas and let's dive into all the feel good fashion news from this week you might have missed.
The Marc Jacobs show proved size doesn't matter
you are missing out on some content here because you rejected our cookies. want to change that?
At some point, we as a culture, decided that the longer a creative work is, the more artistic merit it has. That's how we ended up with three-hour long Marvel movies and fashion collections with 100+ looks. Sure, there are great works of art that are long, but when it comes to cultural significance, does size really matter? At Marc Jacobs' Autumn/Winter 2023 show, which took place at The New York Public Library earlier this week, the resounding answer was "no". The entire show was over in just three minutes, hardly even giving guests enough time to take out their phones and record it. Models in disco-infused '80s attire stomped down the runway one after the other at finale speed as if running late to the club. Business met balletcore with sequins, ruched minis, sheer leggings, tulle neckties and striped tuxedos that went by in a blur. Time stops for no one!
To hammer home the speed of modern life further still, Jacobs invited ChatGPT to write the show notes. They made vague musings about the collection, referring to its "innovative approach to blending menswear-inspired tailoring with feminine aesthetics" and its "individuality and timeless style." Essentially, these sentences could refer to nearly every fashion collection ever, so, while Jacobs thanked OpenAI for their collaboration, the whole thing still felt somewhat tongue-in-cheek. The collection might have leaned into the fast-paced, tech-driven nature of our contemporary world, but it felt like it was done with satire, a cheeky return to Jacobs' '80s punk roots. It was the antithesis of the over-the-top performances that have become a fashion week staple and, for that, it was all the more memorable.
Fenty Beauty makes its virtual world debut with Roblox
you are missing out on some content here because you rejected our cookies. want to change that?
Imagine a world with plump orange groves, hills of whipped shea butter and best of all, an interactive maze curated by Rihanna. No you're not dreaming, this is real! Well, almost. Fenty Beauty is launching its first campaign on virtual playground Roblox from June 30 to July 30. In a gamified lab section, users can customise Fenty Beauty's Gloss Bomb lip gloss with their own ingredients, bottle designs and even shade names.
These creations can be submitted into the Sephora Experience where viewers will vote for their favw products every week. It gets better: at the end of the month, Rihanna will pick a winner, whose product will actually inspire the next Gloss Bomb. No kidding. Players can also jump hoops through the maze to collect ingredients and make their own Fenty Skin cleanser. The whizz kids who ace the game, will win a Fenty beanie IRL, a true win-win sitch. Good luck and get playing x
28-year-old photographer Prince Gyasi will shoot the 2024 Pirelli Calendar
you are missing out on some content here because you rejected our cookies. want to change that?
You know we're halfway through the year when news of the Pirelli Calendar starts popping up. (A moment for those of us who haven't yet processed the start of 2023.) Anyway, the 2024 edition of the highly anticipated calendar will be lensed by Prince Gyasi, a self-taught photographer from Ghana. Like so many of us, the 28-year-old learnt how to take pics on his iPhone and has since worked on projects with Apple, Converse and Balmain. Big flex.
Gyasi is known for framing community-centred shots with poppy colours that could easily pass off as painted artwork. Accordingly, the upcoming calendar will feature children from his home city of Jamestown as models alongside fresh creative talent. Pirelli also told WWD that they hope Gyasi's work will serve as "a counter-narrative to dominant Western notions of the African continent." Since its launch in 1964, the infamous cal has been shot by the likes of Sarah Moon, Richard Avedon and Robert Freeman.
Copenhagen's Global Fashion Summit on turning ambition into action
you are missing out on some content here because you rejected our cookies. want to change that?
If there's one word the fashion industry loves to throw around at any opportunity, it's "sustainability". But how do brands go from having these grand sustainable ambitions to turning them into realistic actions? This was the theme of this year's Global Fashion Summit which took place from 27 to 28 June and included speeches from Jonathan Anderson (creative director of J.W. Anderson and Loewe), GANNI founder Nicolaj Reffstrup and Nike Chief Sustainability Officer Noel Kinder, as well as leaders across the LVMH Group, the European Commission and the United Nations Environment Programme. Topics discussed included supply chain transparency, implications of the European Green Deal and how conversations in the Global North can better acknowledge realities in the Global South. Hopefully, this marks a transition towards an era of less talk, more action.
Jacquemus' Versailles show is a coquette girlies dream
you are missing out on some content here because you rejected our cookies. want to change that?
The Palace of Versailles is a symbol of architectural extravagance and splendour that would ultimately come to represent the downfall of the French monarchy. A hefty history, yes, but for fashion fans the landmark has added significance. In November 1973, it was the site of The Battle of Versailles Fashion Show: an infamous face-off between American designers like Halston and Oscar de la Renta and their French counterparts, including Yves Saint Laurent and Hubert de Givenchy. The event was staged in effort to raise funds to restore the palace. Solidifying the palace's fashion credentials, Karl Lagerfeld staged his Cruise 2012 show for Chanel in the prestigious location.
And now, Simone Porte Jacquemus has got in on the action. For his Autumn/Winter 2023 show, an all-star cast of models including Kendall Jenner, Gigi Hadid and Imaan Hammam walked along the banks of Versaille's famous boating lake in romantic lace, knee socks, coquettish lingerie and ballerina tutus in a subtle nod to Versailles' most famous resident Marie Antoinette, who has been hailed as a misunderstood icon by TikTok. Menswear offerings came in the form of sheer lace vests, off-kilter tailoring and corsage embellished suits fit for a wedding. Is Versaillescore the new coquettecore?