what is your 2023 festival style clique?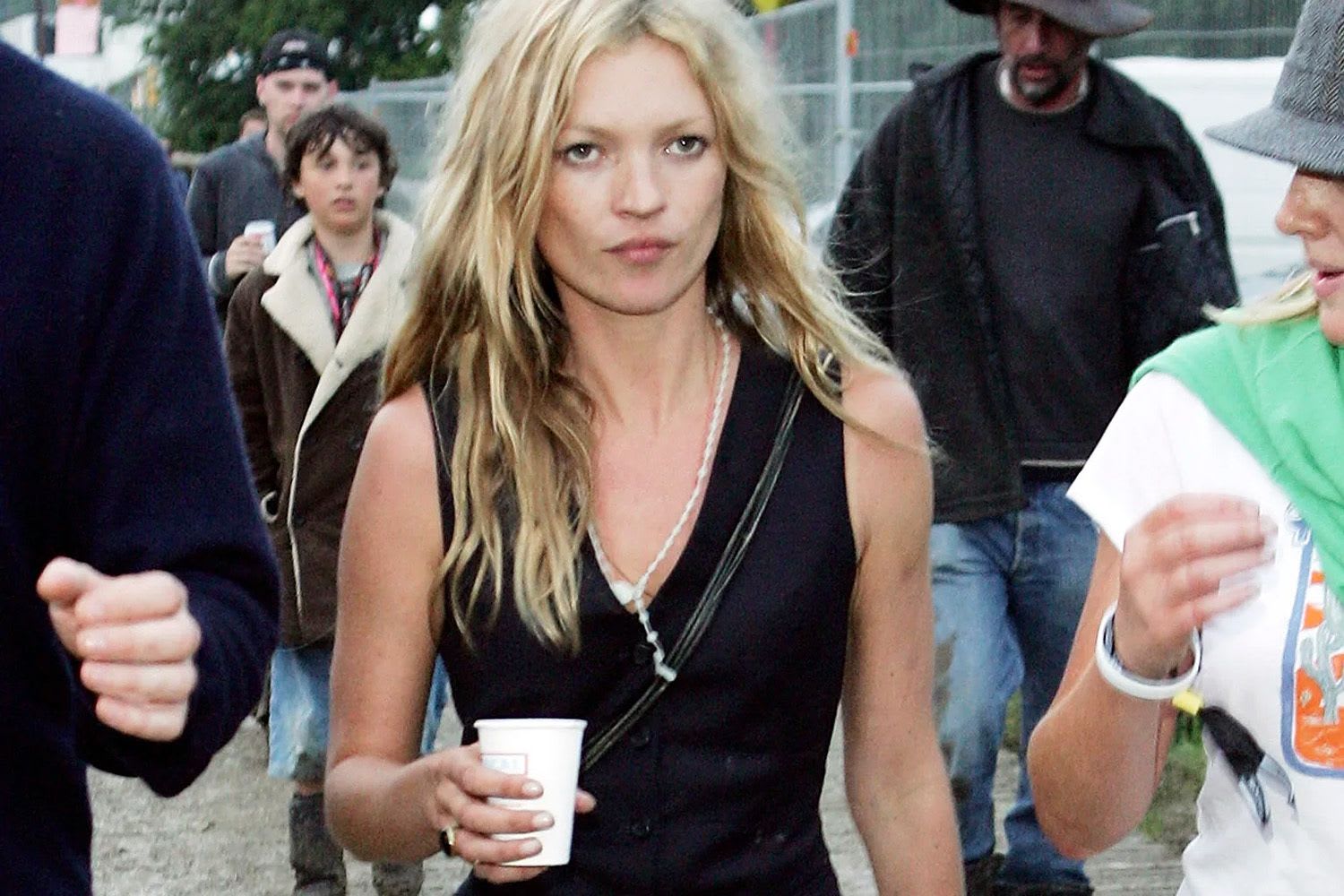 Are you a gorpcore goth? Or a Y2K butterfly girl? Introducing the style cliques you'll encounter this festival season
image MJ Kim/Getty Images
words Sophie Lou Wilson
Festival fashion is a mud-splattered subculture in its own right. It's '00s Kate Moss with tousled hair and Hunter wellies. It's flower crown clad Coachella influencers in boho fringing. It's subversive, expansive and experimental. Yes, it's that time of year again. The temperature is creeping up. The group chat is popping off. You've got that edgy, exhilarating mix of nerves and excitement that comes before a big night out. And you're counting down the working days between now and when you get to spend three delightful, carefree days drinking warm beer and listening to music with your best mates.
By now, hopefully you've sorted all the boring stuff like tents and travel so it's time for the fun part; curating your festival wardrobe. Festivals are a chance to get as experimental and avant garde as you like without anyone even batting an eyelid. Everyday is a catwalk and the campsite is your runway. That said, if you look for pieces that align with your personal style you can wear them all year round. Making a festival statement once then never wearing it again is no good for your wallet or the planet.
Perhaps you've already started diligently making mood boards for your summer festival 'fits. Or maybe you're not quite sure where to start. After all, if you're going to a festival in the UK, the unpredictable weather makes it notoriously difficult to plan outfits far in advance. Will there be a record-breaking heatwave? Or will it pour with rain for three days straight? Who knows! It's all part of the fun. So, we suggest planning your festival style based on ~vibes~ (and layering options) so you're prepared to serve a look come rain or shine.
When it comes to festival fashion cliques, there are always a few key mainstays. You've got the magpie girlies who gravitate towards anything with glitter, the '90s raver dads and the boys imitating the '90s raver dads, the wannabe Kate Moss/Alexa Chungs, and the healing circle hippies in their patterned trousers and hemp T-shirts. But each year, some newer style cliques dominate the festival circuit. We've curated a few of them below to help you figure out your 2023 festival style.
The gorpcore goth is a seasoned festival pro. You can put up a tent with your eyes closed and you seem to know about all the secret sets before anyone else does. You're somewhat of a Glasto nepo baby, meaning your parents took you to festivals every year as a kid. This adventurous childhood has seeped into your wardrobe to this day and you've been dressing in cargo pants and utility vests since before it was cool. For festivals, you make sure to top off the look with a waterproof bucket hat. Your deep pockets are filled with baccy, hand sanny and secrets.
Your favourite festival: Gottwood
Your song of the summer: 'Good Lies' by Overmono
Where your friends can find you: At a niche secret set in the woods
Most likely to be overheard saying: "Festivals just haven't been the same since the pandemic."
Armed with a digital camera from Depop and a bisexual butterfly tattoo, the butterfly girl is still clinging onto the Y2K revival for dear life. The tent poles of your festival style are low-rise micro minis, slip dresses and accessories decorated with hearts, butterflies or (better yet!) both. You loved Dua Lipa's Versace collection, even though you complained about the prices on TikTok. And at festivals, you're obsessed with your daily step count, scaled back skincare routine and staying hydrated, but you'll still buy a pill off a stranger at 4am after too many vodka sodas and puffs on your watermelon Lost Mary.
Your favourite festival: All Points East
Your song of the summer: 'Boy's a liar Pt.2' – PinkPantheress ft. Ice Spice
Where your friends can find you: Trying to send a voice note from the middle of the crowd during your favourite pop girlie's set
Most likely to be overheard saying: "Thanks! It's from Depop."
Where would festivals be without hippies? We can take a lot of festival style cues from the OG festival revellers of the '60s and '70s. You channel their low key earthy aesthetic with organic cotton tees and comfy trousers in neutral tones. You have a high stress fast-paced city job, but you like to think of yourself as bit of a hippie. You enjoy engaging in wholesome festival activities like yoga or talks about the power of mushrooms, but you'll still party until 5am. As a result, you spend a lot of time preaching to your friends about the importance of balance.
Your favourite festival: Shambala
Your song of the summer: 'That Life' – Unknown Mortal Orchestra
Where your friends can find you: Chanting around a campfire with people you've just met who you've decided will be your new best friends for life
Most likely to be overheard saying: "I'd honestly be a hippie if rent wasn't so expensive"
Festivals can be a chance to embrace the more colourful side of your style. But not for you. Since living in Berlin for two weeks (it was a holiday) you've sworn to wear all black from now on, even if you end up at a festival during a heatwave. Your festival essential is your futuristic black sunglasses that you keep on even when it gets dark. You're most likely found in the tent that's playing underground techno tracks and in the morning when your friends are talking about how much they enjoyed the headliner on the big stage, you won't shut up about how "intimate" your own niche mystery tent was. You spend the days necking pints with your situationship you met at a rave a few weeks ago and you complain about how festivals are so much better in Eastern Europe, even though you secretly loved Lizzo's set.
Your favourite festival: Junction 2
Your song of the summer: 'DIE LIEBE KOMMT NICHT AUS BERLIN' by Brutalismus 3000
Where your friends can find you: At an "intimate" techno set from a DJ they've never heard of (and you haven't either, but you pretend that you have)
Most likely to be overheard saying: "When I was living in Berlin…"
For the main character to be a style clique might seem counterintuitive. In theory, there can only be one main character. In reality, you can spot the real main characters at a festival from a mile off – or at least the ones who are trying the hardest to be them. If you're a main character, dressing up for a festival means going full glam. Who cares if you're sleeping in a tent and haven't showered for days? That's no excuse not to serve a look. Your festi wardrobe is replete with sparkly minidresses, bold colours and jewellery you probably shouldn't be trusting yourself to wear at a festival. You categorise everything at the festival by whether it does or doesn't "serve cunt", you only smoke imported Vogues and you avoid tap water as much as you can – fizzy water only, thank you.
Your favourite festival: Boomtown
Your song of the summer: 'Welcome To My Island (George Daniel & Charli XCX Remix' – Caroline Polachek
Where your friends can find you: Power walking between sets, using your tappy tap long acrylic nails to try and text them
Most likely to be overheard saying: "The showering situation here does not serve cunt."