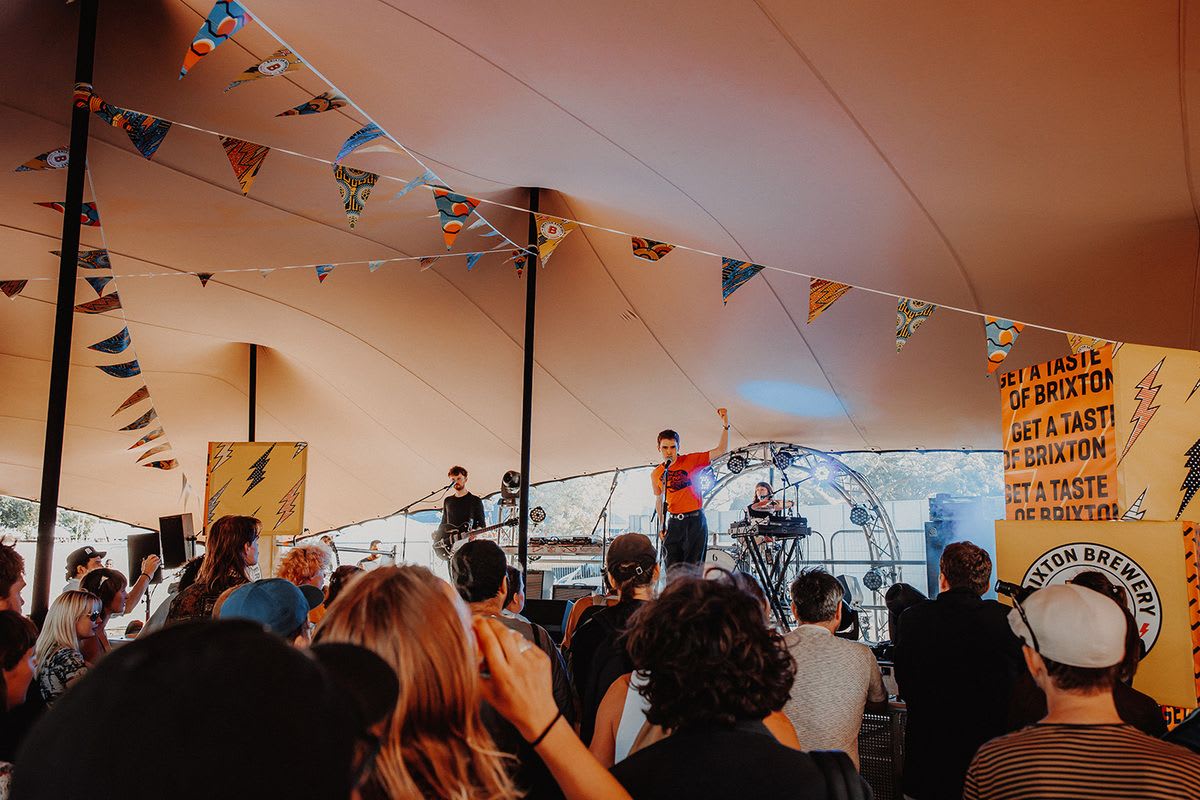 Congratulations, you made it, the actual most wonderful time of year has arrived
image Luke Dyson
words Rhys Thomas
Is that… a morning where the sun is pouring through your window, and it feels...warm? And is that a crossbody bag with a jar of glitter inside, hanging up next to a mesh dress and a bikini, with an old-but-gold pair of trainers underneath? Is it a weekday, and yet you're not doing anything except applying some SPF, asking friends where to meet up, and making sure someone remembers to bring the tent? Is this festival season starting up once again? It sure looks like it.
It's time to anticipate those deep euphoria-inducing basslines pumping out of massive speakers; the unmatched sensation of dancing in a crowd of thousands, lots of wanting to hug your mates as the band plays your favourite song, cute moments with the people you love (lots of swaying and kisses on the neck), the mingling scents of sunscreen, cigarettes, and grass (various types). It's time to take a trip to quirky worlds like Glastonbury's Healing Fields, or just (safely) in your own mind. It's time to get lost in music, sober or otherwise, solo or with crowds of loved ones. The mutual experience of festivals is one thing: enjoyment, escapism, bliss.
Wide Awake is taking place this weekend (!) May 27, in south London's Brockwell Park, which marks the beginning of the wonderful season as far as we're concerned. The forecast is currently giving a sunny 19 degrees, Caroline Polachek, Shygirl, Alex G, Trizah, and many more great acts will be gracing the stages. Soon, there'll be Primavera Sound, then Glastonbury, then Green Man, then All Points East (and Field Day!), and endless great festivals from tiny to massive in between. European giants like Sziget and Roskilde, new gems like Rally Rally Rally, and Cloud X. It's all going on. Whether you booked the ticket by waking up at 4am nine weeks early and manifesting every hour on the hour (we're looking at you, Glasto) or you've decided on a Thursday night to just go to that festival at the weekend because why not!?
Why not!? It's festival season! From the one-day festivals where everything is a fast and furious adventure from one early morning into the next, to a city festival where you get to enjoy days of music and leisure, and feel the magic of re-entering the arena each day, but also get to stay in a real bed and use a real shower. Or a good old camping festival, where mud increasingly becomes part of your personality, you not only touch grass but sleep on it, and end up so tired that getting back into your sleeping bag as the sun rises, only to find two sets of tents nearby are shouting "ALAN" at each other while a third blasts Crazy Frog and dozens more yell for them to "shut the fuck up", is actually a little bit emotional. Choose your fighter, there's about to be so many of them in abundance. There might even be someone dressed as a bun dancing.
The wellness element of festivals is stronger than you'd think, too. And we don't mean you chilling in a gazebo with an oxygen tank, or going for a run around the campsite before the day begins kind of wellness. We mean generally, just by being there, listening to the music!
In one study, it was found that 69% of the respondents who go to see live music rated their brain health as excellent or very good, compared to 52% who never attended live music. Similarly, the Welsh NHS confederation has reported on the benefits dancing has for our mental health. Other studies say that music can evoke more than a dozen emotions within us, music can even be used as muscle relaxation. Of course, you add that to the fact that nature is incredibly good for us (from helping our circadian rhythm, to reducing anxiety, depression and loneliness.
For these reasons and more, festivals are a blissful and near-sacred experience. We hit highs we can't elsewhere. We leave temporarily transformed. And the best thing is, most of the people you know will be hitting the festivals all season too. So even if you are a bit out of sorts when you get back to reality, you won't be the only one. We'll all be going through the same fields, hearing the same songs, and feeling the magic that is being outside with loads of people dancing to music.
People go off about Christmas being the most wonderful time of the year, and sure, it's nice and all, but it isn't quite festival season. The true wonderful time of the year, and it's here, right about… now! Enjoy!
In the downtime between festivals, remember to check woo. We'll be playing you through all the wooness elements of the festivals, and looking into how we can feel even better at festivals too!