how women's football kit is changing for the better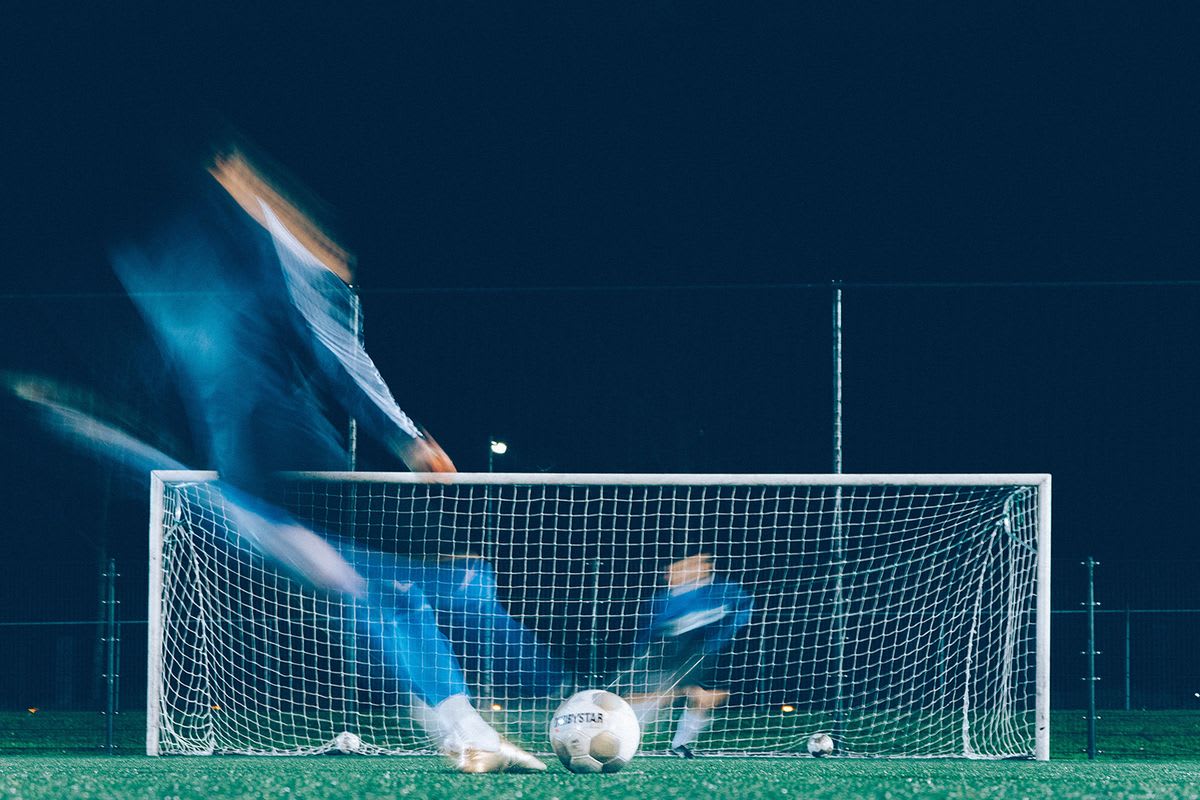 Nike and other sporting brands are revolutionising kit for women athletes, here they speak to woo about these innovations
image Jannes Glas on Unsplash
words Rhys Thomas
Well you've probably seen that rocket of a hop-skip penalty by now, haven't you? Chloe Kelly slamming the ball top nets to put the Lionesses through to the quarter-finals where they face Colombia tomorrow. The kick sealed a 4-2 (on penalties, it was 0-0 at full time) victory for England against a very very good Nigeria. That winning penalty shot was struck at 69mph, which is faster than any shot in the men's Premier League last season, and from stand still. Incredible. It's also the fastest shot at this year's FIFA Women's World Cup so far.
The 25-year-old's super shot is a compelling statistic, but there's even more to it. That feat was achieved with a ball that isn't even designed for Kelly's anatomy. See, despite what many may think, the football being used in the FIFA Women's World Cup is the same specification as the men's FIFA World Cup football from 2022. Both are produced by Adidas, include the same AI-based technology, and are size five. Yet generally, women have smaller feet than men, so relatively, they're kicking a heavier, larger ball than the men do. And they still hit it harder and faster, or at least Chloe Kelly does.
While grams and millimetres might seem inconsequential, they're not in elite sport. Look at 100m sprints where people lose by fractions of a second, a basket scored as the clock hits zero. A dart clipping the metal wire around the bed instead of slotting into the double. Sport is full of tiny, tiny details. And they make all the difference. For better, and sometimes worse.
you are missing out on some content here because you rejected our cookies. want to change that?
ACL injuries are very common in women's football, they have been described as an epidemic and affect women six times more than men. ACL injuries are injuries to the anterior cruciate ligament, a ligament inside your knee joining your thigh bone to the front of your shin. The injury can be anything from a tweak all the way to a snap. This is incredibly painful, and typically takes around eight months to recover from, effectively ruling players out for an entire season.
The British Orthopaedic Association has released a report written by two Consultant Trauma & Orthopaedic Surgeons. Within this report, they say reasons for women players getting more ACL injuries than men "include environmental elements such as the fact that women's football boots are smaller versions of those designed for men, rather than women's specific".
The report also mentions that injuries generally happen in the first half, and are more likely the more competitive the game is. Essentially, those small tiny details of running and twisting and turning at the very peak of your powers, combined with a lack of precision in the kit women wear is partly responsible for injuries. Chloe Kelly herself suffered an ACL injury in the penultimate game of Manchester City's 2020/21 FA Women's Super League season, after a year she was back, and has continued to impress on the biggest stages. Others are less lucky.
Within elite sport, alongside those small yet consequential details, there are also large disparities between the sexes. Financially, they're obvious – almost always, sport categorised as male are set up to make more money, which means more resources, more people watching, more things to sell to more people off the pitch.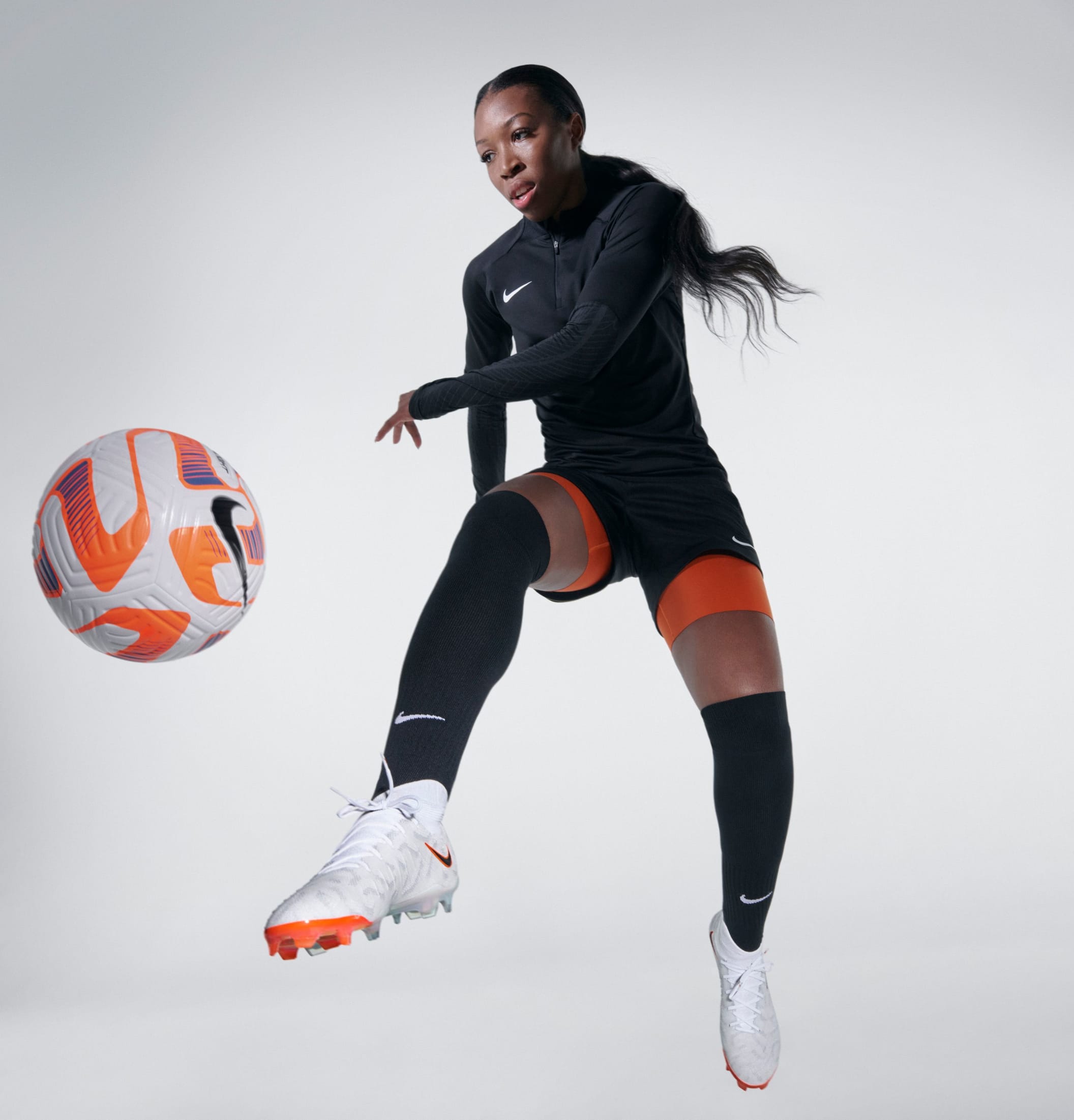 Courtesy of Nike
On the pitch this issue feeds into a lack of quality control. From the surfaces that players play on, to injury protocols and even access to the best of the best where coaching and medical staff is concerned. There's also a lack of regulation that is women's game specific. Most blatantly, around periods and menstrual cramps, ovulation, and other hormonal changes that affect performance for women and people with wombs can leave them more injury prone, according to a study published in the National Library of Medicine.
Fortunately, and finally, companies that manufacture the clothing, kit, and equipment athletes use are starting to do their bit to make things fairer, and safer. Nike, the official kit providers for England (and many other countries) in this year's world cup are at the helm of it and have developed a series of products specifically designed for women in recent years.
"Our team of women's specific researchers, scientists, and designers know more about the female body than ever before" a Nike spokesperson tells woo, adding that the years of research dedicated to studying and understanding how to improve and design performance gear for women "has research allows us to create products that address multiple needs and remove barriers". The fruits of this research are starting to blossom now. Just in time for the FIFA World Cup 2023, Nike unveiled the Phantom Luna boot.
Nike describes the shoe as its "most innovative and researched women's-led boot in history," adding that it took the company over "two years for research, trailing, designing, and styling." Of course, performance is at the heart of the design. "While an elite footballer might run more than seven miles during a 90-minute match, the split-second changes of direction -dictated by a boot's rotational traction- are what often decide the outcome", the spokesperson said. The result of these countless hours is called cyclone 360. It's a circular stud pattern near the toes which "hits the sweet spot of traction,".
Alongside the performance aspects, which are of course a primary consideration for any sports kit, safety has been improved in the Phantom Luna boot too. This started by getting feedback from professional football players, which led to a more snug ankle fit being developed. Then, there was consideration for how the players interact with the balls that are designed for men.
"Because her foot, on average, is smaller than that of her male counterpart, she needs bigger touch zones for this control and accuracy." Nike says. All of this is hoped to lead to a grippier shoe that allows for more agility and better control of the ball. In essence, the boot is there to allow players to have more confidence in their feet when playing football. Alongside aspects like performance and safety, Nike has been considering other ways to provide comfort, which resulted in a new technical fabric called Leak Protection: Period.
Nike's spokesperson tells woo this is "an ultrathin, absorbent liner that helps protect against period leaks" which will be first incorporated into a new Nike One Short, which is among their bestsellers. This provides extra comfort and allows people with wombs to do the sport they love with peace of mind.
Of course, it's not just Nike paving the way. Puma designed their Future Match, and the Future Ultimate football boot for women specifically, and myriad other brands are innovating products dedicated to women, and athletes with wombs. All of which points to another positive shift in equal representation across genders within sport. Of course, we're a long way off, but if the momentum continues, we'll have a safer, fairer, world for all athletes.