People are falling in love with football again thanks to the women's game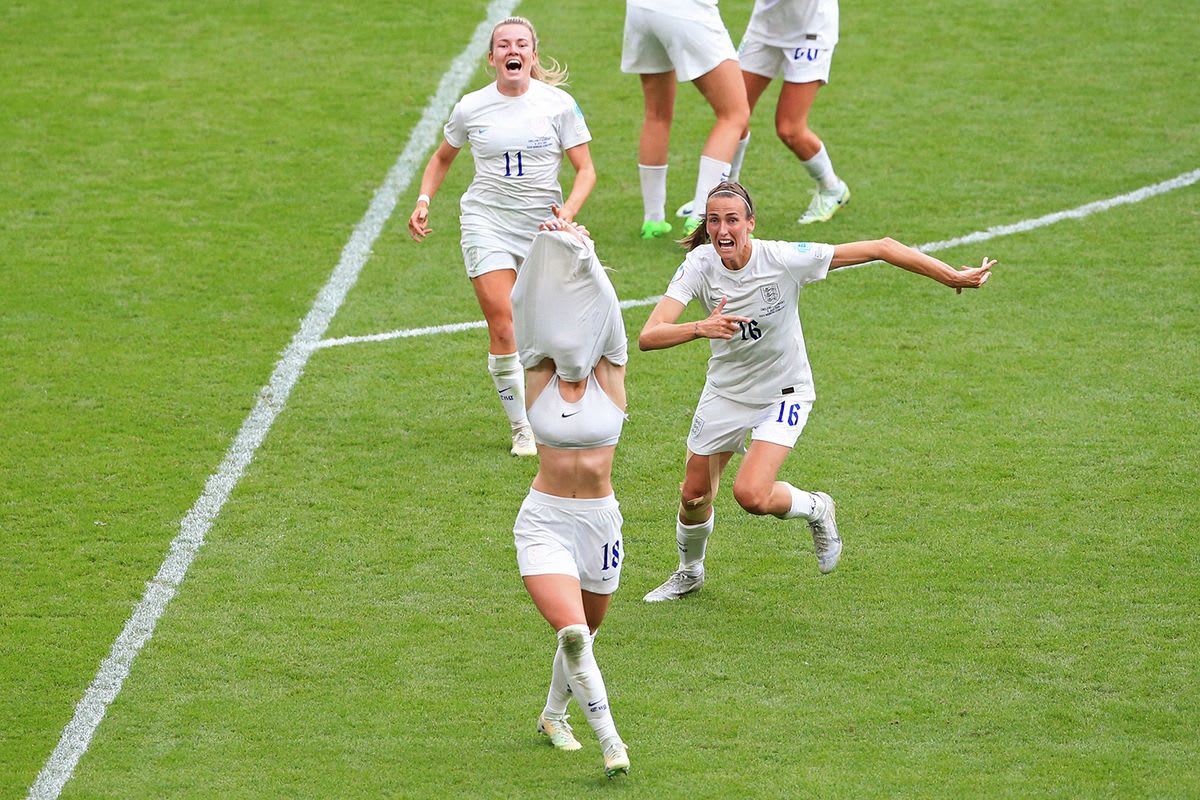 With the FIFA Women's World Cup just days away, we speak to people who owe their football fandom to the Lionesses and women's football
image LINDSEY PARNABY / GETTY IMAGES
words Rhys Thomas
Roughly 50 weeks ago, at just after 6pm on a Sunday, a 22-year-old from Tyldesley, Greater Manchester, put a ball in a net, and inspired millions across the world. That was Ella Toone, scoring a goal to put England 1 - 0 up against Germany two thirds of the way through the UEFA Women's EURO 2022, at Wembley Stadium. Another goal (and iconic celebration) from Chloe Kelly in extra time sealed the deal. The Lionesses did what the men's team has never done: win the Euros.
This year, it's time for the biggest tournament of them all; The FIFA Women's World Cup. With it, is England's chance to finally bring it home. It'll be difficult, USA (the reigning champions) and Canada are both strong opposition. As are Germany, who will want revenge, and France and Spain. But there's every chance the Lionesses can go a step or two further than the men's most recent performance. The tournament started today, so be sure to tune in and find out!
Regardless of what happens on the pitch this summer, the Lionesses' have already achieved something insurmountable, they have inspired millions of people to fall in love with football again, and they have brought the sport back to those many of those who have been excluded by the men's game.
See, back in 1920, 53,000 spectators watched a game between Dick Kerr Ladies and St Helen's in Liverpool. This matched, if not exceeded, average attendances for men's games at the time. A year later, the Football Association of England (the FA) reached the verdict that football was "quite unsuitable for females and ought not to be encouraged". From there, the game dwindled for decades and decades - it was effectively banned - while men's football continued to grow into the world's most popular sport. This boom happened after the 1930 World Cup, almost a decade on from women's football being suppressed in England.
But that was then. Slowly and surely, women's football is back. Over the last decade attendance figures have far exceeded that 53,000 across Spain, the United Kingdom, France, and the USA. Many teams at the highest level are now full-time professionals again too, after years of having to play elite football while working other jobs. And the momentum hit new highs during the Euros.
Because women's football winning is the real victory, we've decided to speak to people who fell in love with - or back in love with - football recently through the women's game. Just in time for kick off.
Sophie Winfield, High Wycombe, Arsenal supporter
I've not been into football for a year yet, it was only after the final of the Euros when Alex Scott made a speech encouraging people to see how them winning was only the start and that people need to now get behind women's football so they can do more, that my housemate and I were like: 'oh yeah, we obviously do!'
We live in Finsbury Park so we're Arsenal fans, as that's the local team. Our first live match was the North London Derby (Arsenal v Tottenham Hotspur), it was phenomenal. We're massive music girls, so putting us somewhere we can sing and cheer and support someone is always a good time. I think it definitely helps that Arsenal won and were just perfect the whole match. We both left feeling like we could really really get into football and going to watch teams play. Next season I hope to watch Arsenal at other stadiums and will rope friends into coming with me.
"Since then I've been more into women's football than ever before"
Aimee McIntosh
I think it makes me feel good because the players clearly know how much it means to everyone but it's obvious what it means to them too. I don't think they've taken a moment of it for granted. The men can seem lazy sometimes, I've never seen that from the girls. Plus, my sister looks up to them a lot, she's even started playing football.
At the North London Derby, a young girl was sat behind us. We were chatting with her, and then their dad told her to repeat what she'd just said. She looked us dead in the eye and said "one day I'm going to play for Arsenal" and we both just choked up. This is why we love it, this is why the players do it.
Aimee McIntosh, South London, Tottenham Women supporter
I had played football from a young age and we had girls' teams in the area so I never had to play with the boys, but when I hit teenage years I felt like there would never be a career in football, so I decided to focus on other things. I started to resent football too and fell out of love with the women's game as there seemed to be little opportunity. Then I went to watch the Euros final last year - I managed to get a ticket a few days before and went on my own - and I've never felt anything like I did in that moment where we won. Something magical happened, and everything clicked for me. These were women my age and younger, and unlike me they continued to play, to fight against discrimination, and write their names in history.
Since then I've been more into women's football than ever before, I play for a team and it makes me feel free again - plus it's great for making friends. I also go to as many WSL [Women's Super League, the Premier League of the Women's] games as I can, and want to go to more grassroot games next season. I'm excited for the world cup to help young people make their own memories watching such an inspiring bunch of people and watching the games with friends and the women and non-binary people on my football team.
Hollie Macdonald, 24, Manchester, Aston Villa supporter
I first got into football with the Euros last year. I hadn't really ever watched football before then but people were talking about it so I decided to watch the final during my shift in a library, and I actually really enjoyed it. That opened my eyes to football in general a bit. A month later I moved to Manchester and started playing women's football, which got me even more into it, and then I was following the Premier League, the WSL, and more.
I don't know if I prefer it to men's football, I like them both differently. I like men's football because it's everywhere, and I like feeling like I'm part of lad culture in that way. But with women's football, watching the games feels a lot friendlier. You can see the difference in the players, watching a WSL game you can see England teammates being friendly even if they're playing for their respective clubs. It's friendlier.
"I support Arsenal because the club respects its players, its community and gives back."
Zoya Raza-Sheikh
Along with being friendlier, it is a fun and accessible sport to follow. Women footballers feel more real, the players are relatable people - I guess because there's less money and superstardom involved. As someone who plays women's football, even though I'm non-binary myself, I guess it feels exciting because women's football is coming up in the world at the moment, and more and more people are aware of it. By joining a more grassroots team as a player, I feel super invested and excited by this thing we're all growing.
Zoya Raza-Sheikh, Nottingham, Arsenal supporter
I grew up watching football but after time the sheer establishment of the men's game (the success, fame, investment) made it impossible to overlook the lack of attention and investment in the women's game. This disparity made me uncomfortable and, for a while, I switched off from the sport. The World Cup in 2019 renewed my interest, the scale and excitement were incredible. And then, of course, the Euros last year created even more momentum.
The quality of the game has massively shifted in recent years, there's more sponsorship and attention on the players too so I watch football more than I ever did. I support Arsenal because the club respects its players, its community and gives back. For me, it's more than the players but what a team and community mean to one another. Arsenal have proven to back everyone.
The World Cup will be no easy achievement for England. We have a few injuries and major players missing out - but we've got the talent and experience to bring it home.
Emily Powell, south Wales, Chelsea and Cardiff City supporter
Honestly, I just couldn't get over (and stop crying over) the collective excitement and passion from all the women - and men - I knew watching the Euros last year. Women were literally banned from playing football 101 years prior, and suddenly we're selling out Wembley Stadium and doing what the men have never done, win the Euros.
Through my childhood and teens I loved football, I even played it in primary school. My pappy was a huge Cardiff City fan and we used to go to games together, my dad and brother were big Chelsea fans, so I had Chelsea calendars, stationary, everything. When I got to university, football just felt like something I couldn't access without being accused of wanting to be 'liked by the boys', which is just so stupid. That Euros final last year made me run back to football with open arms.
I'm so excited for the World Cup. For the last World Cup, my best friend and I were working at an advertising agency where none of the men wanted to watch the Women's World Cup. We were so angry – the agency had basically gone part-time when it was the men's but eventually we got them all super into it. I can't wait to have the girls' group chats going with football and to share all those emotions again.
These interviews have been edited for clarity.