Goal! The rise of blokecore and football fashion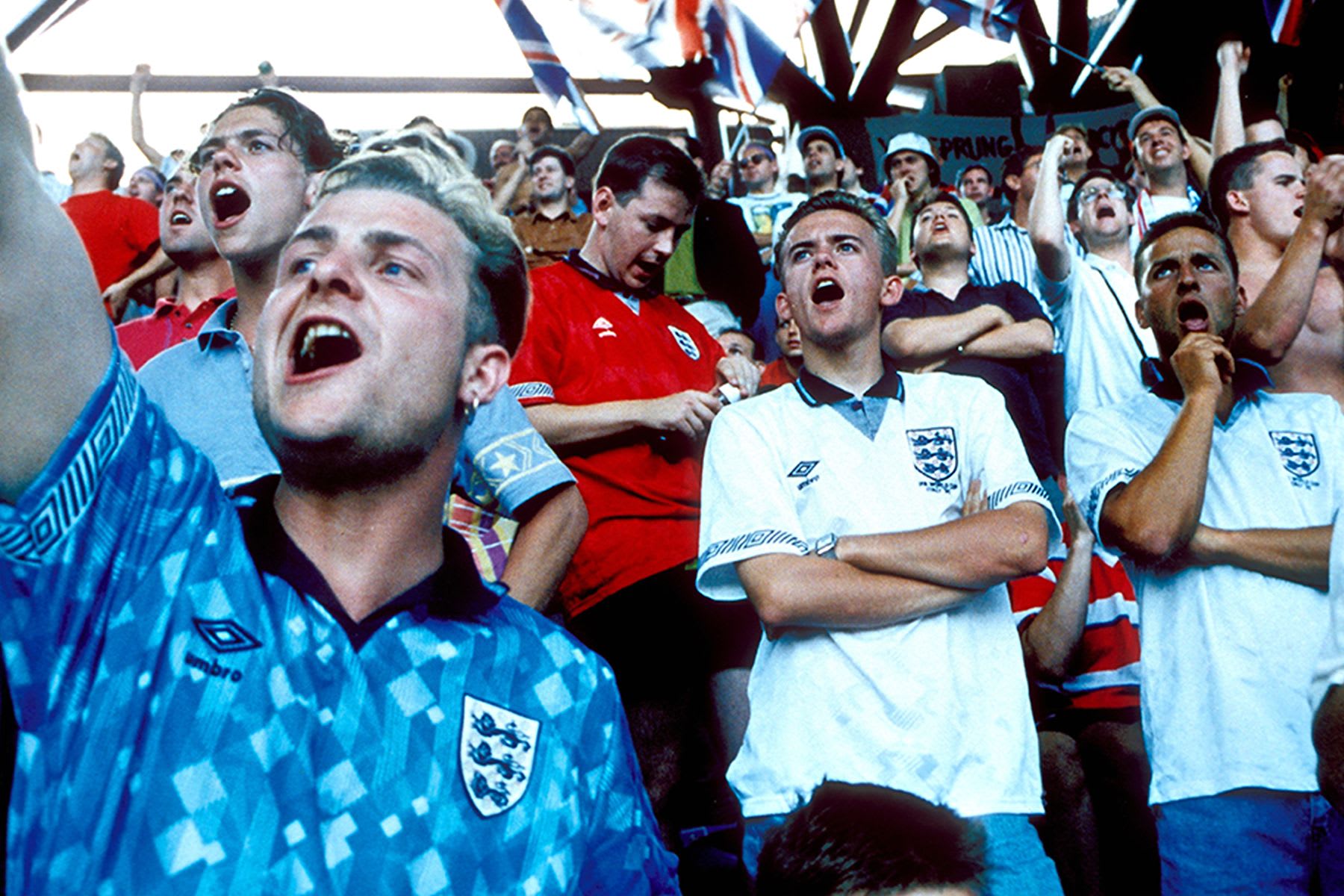 Sporty fits to keep you looking stylish and slick, on and off the pitch
image PYMCA / Getty
words Sophie Lou Wilson
Football and fashion go hand in hand. Friendships are forged and fights break out depending on the colour of the shirt you're wearing. But Britain's favourite sport is often associated more with lairy shouting and spilt beer than it is with style icons. Until now. The once derided style worn by lads smashing down pints at their local boozer has become a diverse and expansive fashion trend in its own right. Aptly coined 'blokecore', its staples include vintage football shirts, shell jackets and sweater vests.
Footie fans get a bad rep. Violence and bigotry often plagues football fanaticism – just cast your mind back to the chaotic, and at times frightening, energy of the Men's Euros in 2021. But while drunken antics make headlines, last summer revealed the power of football to unite people from all walks of life when England's women's team finally brought it home.
Conversations about diversity in football are happening more and more, and the aesthetic no longer feels like it exclusively belongs to white male fans. It's been reclaimed by women, people of colour, and the LGBTQ+ community. Clothes are often worn with a sense of irony, too: the quintessentially British trend references patriotic themes, but it's pulled off with a tongue-in-cheek attitude. It's true also that many elements of the blokecore aesthetics originate from Jamaican Rude Boy culture as it collided with the London punk scene in the 70s, so amplifying those roots today is all the more important.
Artists like Slowthai and Lava La Rue are modern proponents of the trend, often wear sports jackets, sweatpants and Fred Perry shirts. The look also brings to mind the Britpop era, specifically the 1996 charity football match between Oasis and Blur.
Fashion, too, is taking notice of our footie fanaticism: from Marcus Rashford for Burberry, to Jack Grealish for Gucci. Balenciaga and Martine Rose have made direct reference to the football jersey on recent runways and in capsule collections, Palace was tapped for a Juventus collab, and Armani's sub-brand EA7 develops kits for the Napoli team. Admiral Sporting Goods Co, the heritage British brand that reimagines and elevates classic sportswear of times gone by, recently launched its AW22 collection titled Jumpers for Goalposts. Its campaign celebrates the traditions and rituals of kicking a ball about the park, and was shot in South London's Hilly Fields – where Arsenal legend Ian Wright would have honed his skills.
We could attribute the 2022 comeback to the women's Euros win, the World Cup, or the 90s/00s revival, but it's just as likely down to the simple fact that these clothes are comfy and casual. If they're cool too, which they are, then that's an added bonus. So, without further ado, here's how to nail the football casual blokecore look that everyone's going crazy over right now.
All products are selected independently by our editors. If you purchase anything through this article, Woo may earn an affiliate commission.