meet the designer blending streetwear with islamic fashion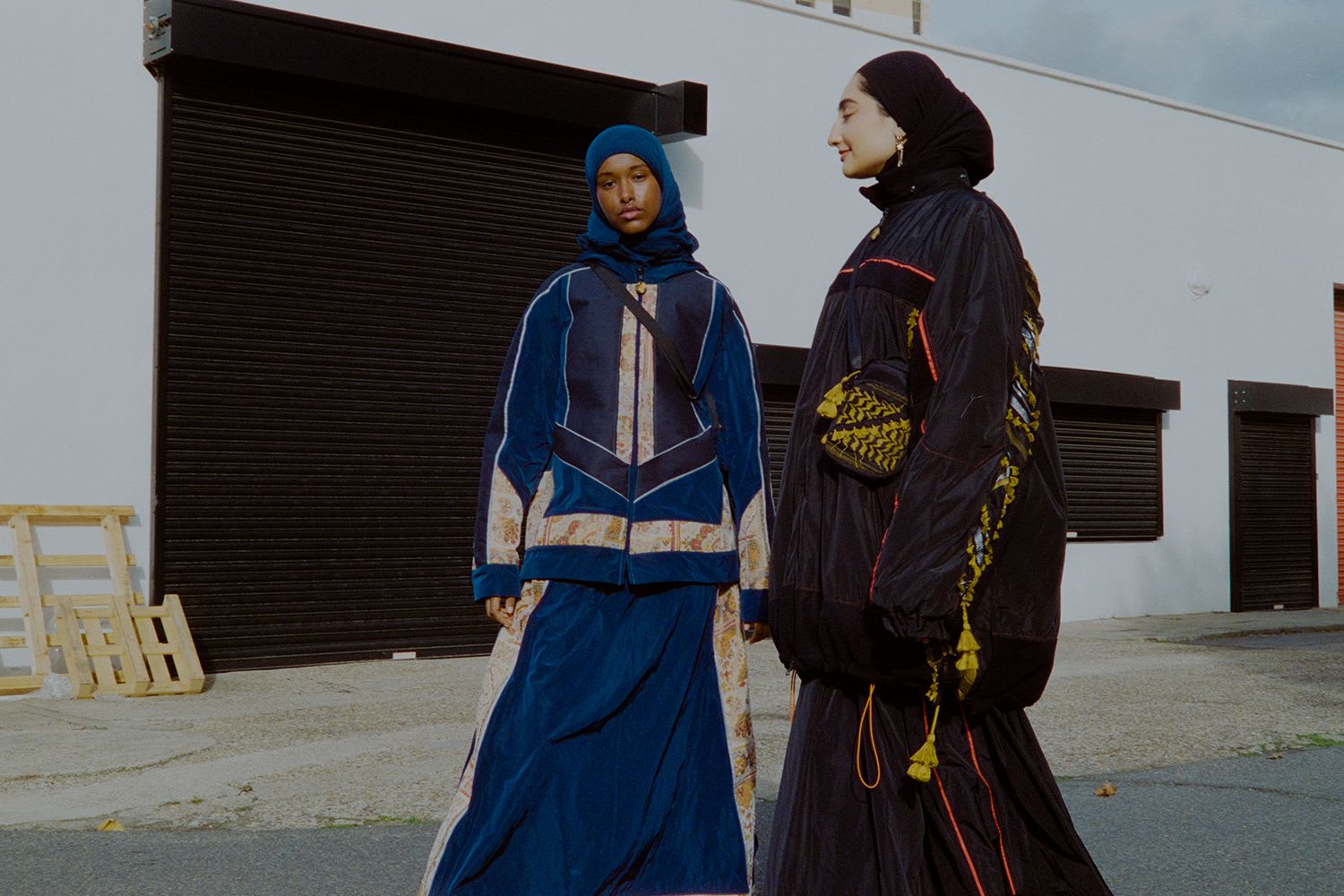 Kazna Asker is using fashion to challenge stereotypes and give back to her community
image courtesy of Kazna Asker
words Furvah Shah
When Kazna Asker won the debut talent award at the Arabia Fashion Trust, Bella Hadid was there to wipe away her tears. This might sound like a 'pinch me' fashion moment, but the 26-year-old British-Yemeni designer has stayed grounded, centring her work on giving back to the people and places she came from. Having grown up in a tight-knit community in Sheffield, she wants to bring that sense of community, culture and inclusivity to fashion.
"I want people to feel empowered and a part of a global community when they wear my clothes," Kazna tells woo over Zoom. Growing up, she was always drawn to art and design. Her interest in fashion was sparked aged eight, when she won a school competition to design jockey uniforms.
When Kazna got onto the MA fashion course at Central Saint Martins, she used the opportunity to design one of the university's first ever collections incorporating the hijab. "I would always hear comments about how our communities are 'oppressed' and I was so over that narrative, so I wanted to design for Muslim women and show others that we're cool people," she says. "Working in fashion, I didn't meet many Muslims. When meeting me, people would think of what they heard in the news about Muslims, so I knew I had to change that."
In Islam, both men and women are encouraged to dress modestly and some Muslim women choose to wear the hijab as an act of faith. However, lazy stereotypes and misrepresentations about the religion persist, something that Kazna is combatting through her work. Her graduate collection blended technical gorpcore fabrics with traditional woven Middle Eastern scarves and patterns, marrying contemporary sportswear with cultural tradition. Nylon hijab tracksuits and waterproof floor length coats prove that today, there's not just a singular version of Islamic style.
you are missing out on some content here because you rejected our cookies. want to change that?
After graduating last year, Kazna continued drawing inspiration from her community and culture to launch her namesake fashion brand. "My family are originally from Yemen and in Sheffield," she says. "There's a strong community there and a generational bond from our grandparents to us. I was raised around the culture and Yemenis are known to be happy, smiley people so that positivity translates through my work. People often say that our culture is built on revolution so that fearlessness also comes from being Yemeni."
From T-shirts raising money for the 24.1 million people in Yemen in need of humanitarian aid to supporting youth groups in her hometown, fashion is about much more than just clothes for Kazna. Alongside her brand, she has raised more than £26,000 for charity projects, but she sometimes struggles with balancing her activism with running a business. "It's hard to survive as a brand, especially in London," she says. "Fabric costs, studio rent, everything is so expensive right now so I've realised that I need to make some projects specifically for charity and others for business."
Last month, Kazna became one of the latest recipients of the British Fashion Council NEWGEN award for emerging designers, meaning she will now have financial support and mentorship to build her brand as well as the opportunity to showcase her designs at London Fashion Week. "It's so exciting," she said. "I can't wait to showcase this side of Britain at fashion week as I haven't seen it before, and I'm excited to bring my communities along with me for the journey. This feels like just the beginning."