the lcf grad making gorpcore trainers from hiking trail rubbish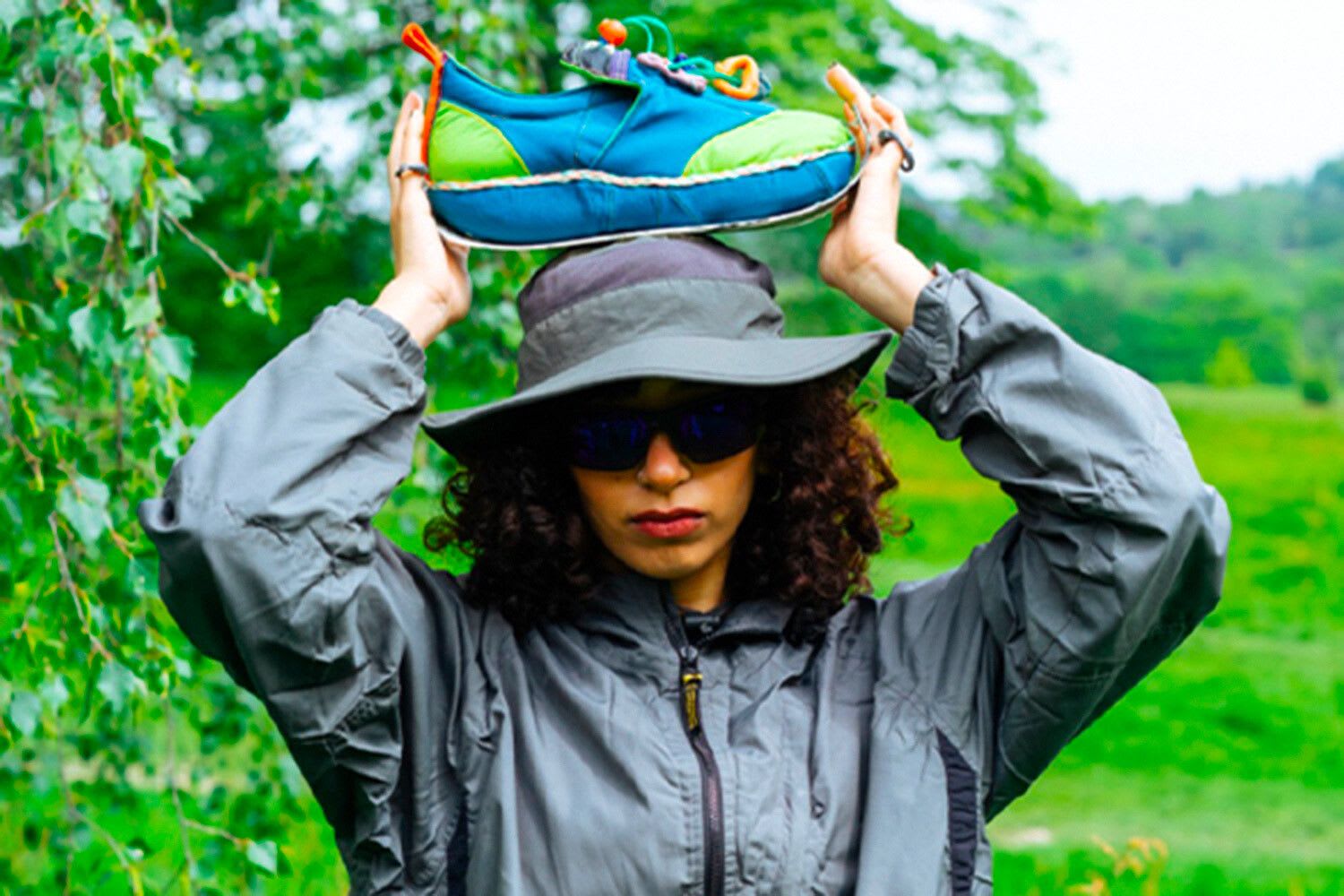 Plus London's answer to the Met Gala, The White Lotus cast do Loewe and more feel good fashion news
image Melina Lautenschläger
words Sophie Lou Wilson
One person's trash is another person's treasure. This old proverb holds true now more than ever as fashion designers try their hand at upcycling in an effort to create more sustainably. What was once thrown away can become a covetable designer handbag, sunglasses or, in the case of emerging footwear designer Annie Purdy, some colourful gorpcore trainers. The London College of Fashion graduate launched her debut collection this week and it's made entirely from rubbish left behind on hiking trails across the UK. In other fashion news, The White Lotus cast continue to be on top of their fashion game with Aubrey Plaza and season one's Murray Bartlett starring in Loewe's Autumn/Winter '23 campaign. We also have the latest on Nike and Jacquemus' Air Force 1s, Anna Wintour's London Fashion Week plans and the 27-year-old designer taking the helm at Ann Demeulemeester. Here's all the feel good fashion news from this week you might have missed.
Annie Purdy's vibrant footwear is made from rubbish hikers leave behind
you are missing out on some content here because you rejected our cookies. want to change that?
We all know the great outdoors is, well, great. Hiking, running, cycling, going for a lil' pub walk, all of these have wonderful benefits for our mental health. What's not so great, however, is the amount of litter that gets left behind. No one wants to see empty plastic bottles ruining a beautiful natural landscape, and littering can have some dire consequences for the surrounding wildlife too. But what if all this rubbish could be given a new life, helping us better appreciate the natural world instead of destroying it?
That was the thinking behind Annie Purdy's dynamic new footwear collection, 'Rambler', made from salvaged rubbish left behind on hiking trails across the UK. Discarded umbrellas, jackets, waterproof bags and food containers were used to create padded trainers in a palette of bright blue, green, purple and red. Kidcore meets gorpcore in their patchwork, cartoonish design and functional details. Purdy worked in collaboration with conscious creative agency Are You Mad? and recycled plastic beauty brand Re=comb to source recyclable plastic scraps for every pair of shoes. Along with tackling littering and elevating upcycling, Purdy hopes the collection will help promote community, female led hiking opportunities.
These days, fashion school graduates are expected to weave sustainable practices into their design process. It's no longer enough just to create cool clothes. They need to be backed up by conscious credentials too. Having recently graduated from London College of Fashion's BA footwear design course, Purdy is very much part of the new generation of designers building sustainability into the foundations of their output from the start.
Designers like Ancuta Sarca, who launched her namesake label with Fashion East in 2019, have helped pave the way when it comes to edgy, contemporary upcycled footwear. Her DIY designs made from deadstock fabrics and repurposed materials have been worn by Rihanna, Dua Lipa and Bella Hadid, cementing their status as a cool girl staple. Purdy takes a similarly patchwork approach to design and neither designer tries to hide the fact that the materials they use have lived other lives before. There are obvious traces of the salvaged items in the new shoes. Wearing shoes that look sustainable no longer means they have to look plain. Footwear's upcycled offerings are now as adventurous and expansive as Britain's vast, rugged hiking trails.
Aubrey Plaza, Dev Hynes and more front Loewe's uncanny campaign
you are missing out on some content here because you rejected our cookies. want to change that?
It's no secret that The White Lotus cast have been killing it when it comes to fashion. While the second series wrapped up in December last year, the cast have been spotted in some serious 'fits at fashion weeks and award shows ever since. Next up, they're fronting Loewe's AW23 campaign. Juergen Teller captures Aubrey Plaza and Murray Bartlett alongside musician Dev Hynes, American actress Myha'la Herrold and other creatives spanning the globe. Plaza wears the deflated balloon-covered heels that graced the AW23 runway while Bartlett gazes up at the sky in monogram denim and a crossbody bag. Another standout outfit comes in the form of a daring two-piece covered in a cutlery graphic worn by Japanese comedian Takeshi Kitano who's holding a knife and fork as props to complete the look. The campaign is part of an ongoing collaboration between Juergen Teller and Loewe, marrying their absurdist visions to create imagery that adds brings a touch of awkward humour to luxury, proving that having a laugh is sometimes the greatest luxury of all.
The Nike x Jacquemus Nike Air Force 1s join the woven sneaker trend
you are missing out on some content here because you rejected our cookies. want to change that?
While the blokette girlies have been weaving bows through their football boots, Nike and Jacquemus have been cooking up their own take on woven trainers, marrying the classic Air Force 1 silhouette with a distinctive woven sole to make their latest trainer, the JF1. The upper is instantly recognisable as a Nike Air Force 1, but nylon wraparound laces are woven through the trainer's rubber sole. This detail is borrowed from the ACG Terra trainer which Simon Porte Jacquemus has called "one of my fav shoes ever from Nike." It also rhymes with his brand's love of woven raffia basket bags and gargantuan Bomba straw hats. The JF1s will be available from 13 June on Jacquemus.com and from 21 June across select Nike stores globally.
27-year-old Stefano Gallici takes the helm at Ann Demeulemeester
you are missing out on some content here because you rejected our cookies. want to change that?
Earlier this month, French designer Ludovic de Saint Sernin, known for his slinky, provocative creations, exited his role as creative director at Ann Demeulemeester after only one season. Now, fashion is fast, but the turnaround usually isn't that fast. His debut AW23 show for the brand received a mixed reception although it was later worn by Kendall Jenner and Hunter Schafer. Today, Ann Demeulemeester announced his replacement, 27-year-old designer Stefano Gallici. At the time of writing Gallici has 2,200 followers on Instagram, so he's relatively small and unknown, but has worked on the menswear team at Ann Demeulemeester since 2020 as well as previously working as an assistant to Haider Ackermann. It's exciting to see such a big fashion house take a chance on a young, unknown designer who has quietly worked his way up within the brand. Perhaps being famous isn't the only way to get a top fashion job, after all. Gallici's debut collection will be shown at Paris Fashion Week on 30 September.
Is this event London's answer to the Met Gala?
you are missing out on some content here because you rejected our cookies. want to change that?
London has one of the most diverse, radical and exciting fashion scenes in the world. We love it here, but every first Monday in May we have to admit we get a bit of NYC FOMO when the Met Gala's on. But now Anna Wintour is returning to her home soil to launch London's answer to the fundraising extravaganza. Well, kind of. Vogue World will feature Naomi Campbell, Stormzy, Michaela Coel, Sadiq Khan and Ian McKellen to raise money for London's art scene. Unlike the Met Gala, it will be open to the public with tickets starting from around £150, compared to £40,000 for a ticket to the New York event. Some free tickets will be given to students, mirroring more inclusive entry policies seen in recent seasons from brands like Diesel and Raf Simons. The event will take place before London Fashion Week in September. Time to start planning your outfits!