the men at the met gala served pussycats and pearls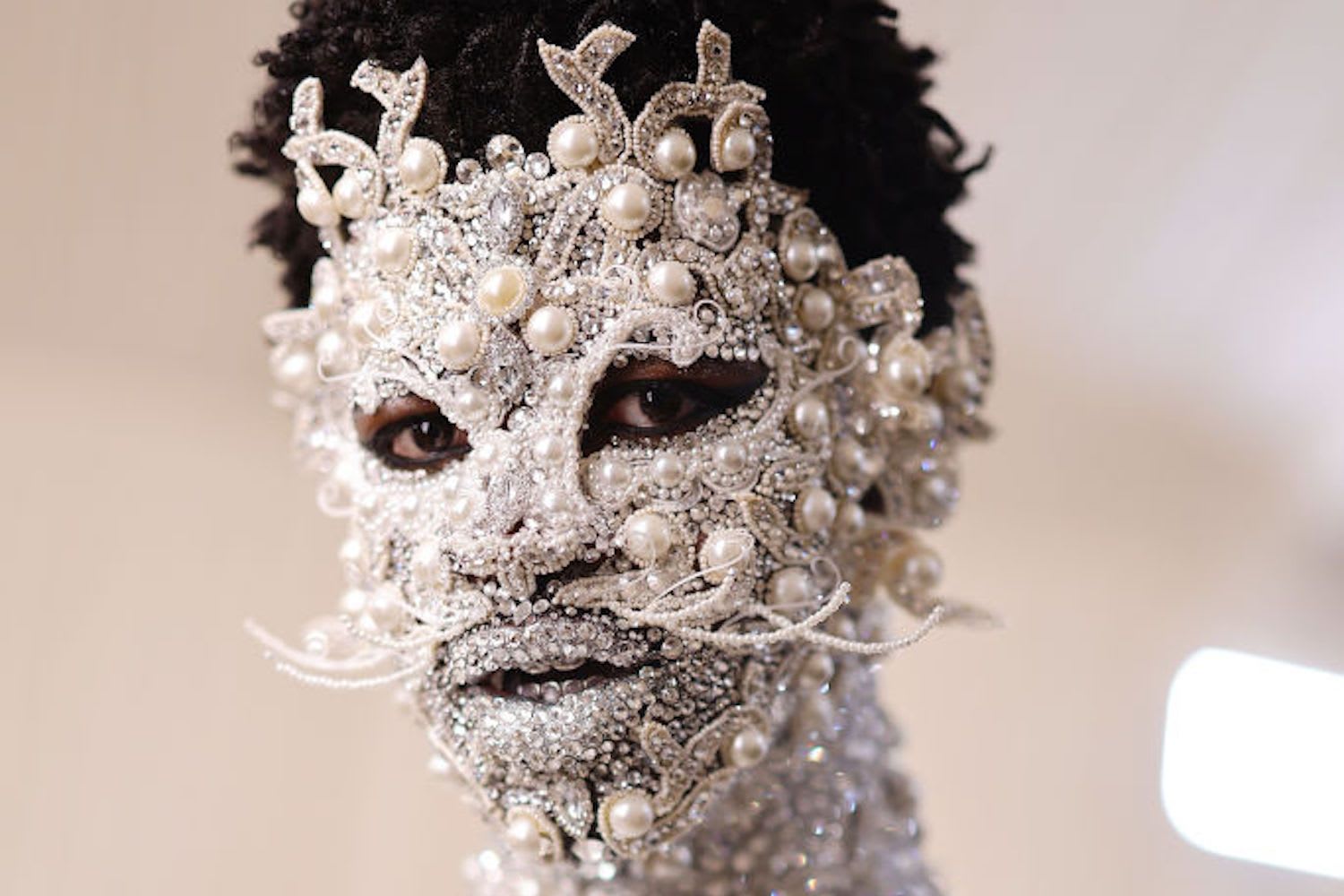 Despite a controversial theme, the men and masc folk in attendance at the Met Gala last night made it the most exciting year for menswear yet.
image Matt Winkelmeyer/MG23/Getty Images for The Met Museum/Vogue
words Joseph Bobowicz
Man, myth and controversial figure, Karl Lagerfeld altered the course of pop culture leaving a catalogue of fashion firsts and era-defining 'fits in his wake – not to mention a complicated biography. Today, he's synonymous with reigniting a flailing Chanel, Fendi's double-F motif, (standing for "fun fur"), a splashy personal wardrobe of choice brooches and starched collars and a long list of offensive comments on everything from the #MeToo movement to refugees, plus-size models to the Holocaust. Despite backlash, the dress code at last night's Met Gala was "In Honour of Karl" and it certainly gave the men in attendance some inspiration to work with.
Granted, Lagerfeld specialised in womenswear, but his influence transcends gender, pertaining more to form and silhouette. From his days as Pierre Balmain's assistant and head designer of Jean Patou in the 50s to contemporising Fendi in the 60s and succeeding Coco Chanel from the 80s, he perfected his use of line, which now takes centre stage in the Met Museum's current 2023 exhibition, Karl Lagerfeld: A Line of Beauty. As such, the men and masc folk attending yesterday had plenty of girl codes to play with in their sartorial response to the brief, alongside direct references to Lagerfeld's personal look.
Since passing in 2019, Lagerfeld has remained a fixture in fashion folklore. If it's not a gilt-splashed Cindy Crawford slaying the runway for Chanel SS93 couture or Naomi in a rhinestone bikini and interlocking-C waist chain for SS95, then it's Lagerfeld's own black shades and fingerless lambskin gloves that live rent free in our heads. Every guy who owns a set of biker boots and once toyed with a ponytail did so because of Lagerfeld. Laying claim to some 300,000 books and a nutritional regimen of Diet Coke, skimmed milk and no carbs, Lagerfeld was a lot, happiest when squeezed into Hedi Slimane's Saint Laurent drainpipes. Luckily, the menswear on show for the Met's 75th anniversary played accurate homage, placing pearls, pussycats and pendants in conversation with prim and (im)proper nods to his white-haired persona.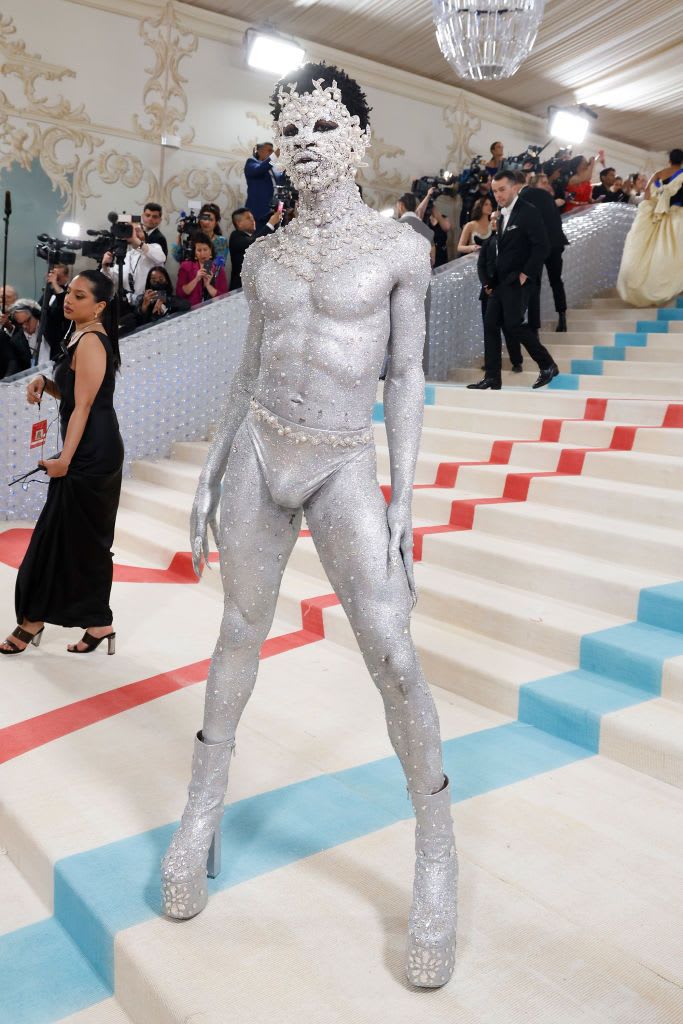 LIL NAS X (Taylor Hill/Getty Images)
If you thought this was a polite farewell to the late designer, then think again. Sashaying along the stairs like a camped-up Silver Surfer, Lil Nas X came drenched in glitter by makeup maven Pat McGrath, finishing the look with a skimpy thong, platform boots and whiskers. Hot on the heels of Doja Cat, whose feline facial prosthetics paid homage to Karl's famous Burmese pet, Choupette, Lil Nas X one-upped Doja, setting the tone for yet another night of meme-mongering goodness. Ass cheeks? Check. Bad taste? Far from it. Lagerfeld infused all his collections with a tongue-in-cheek touch, treating the old codes of Chanel as his to bastardise with postmodern nous.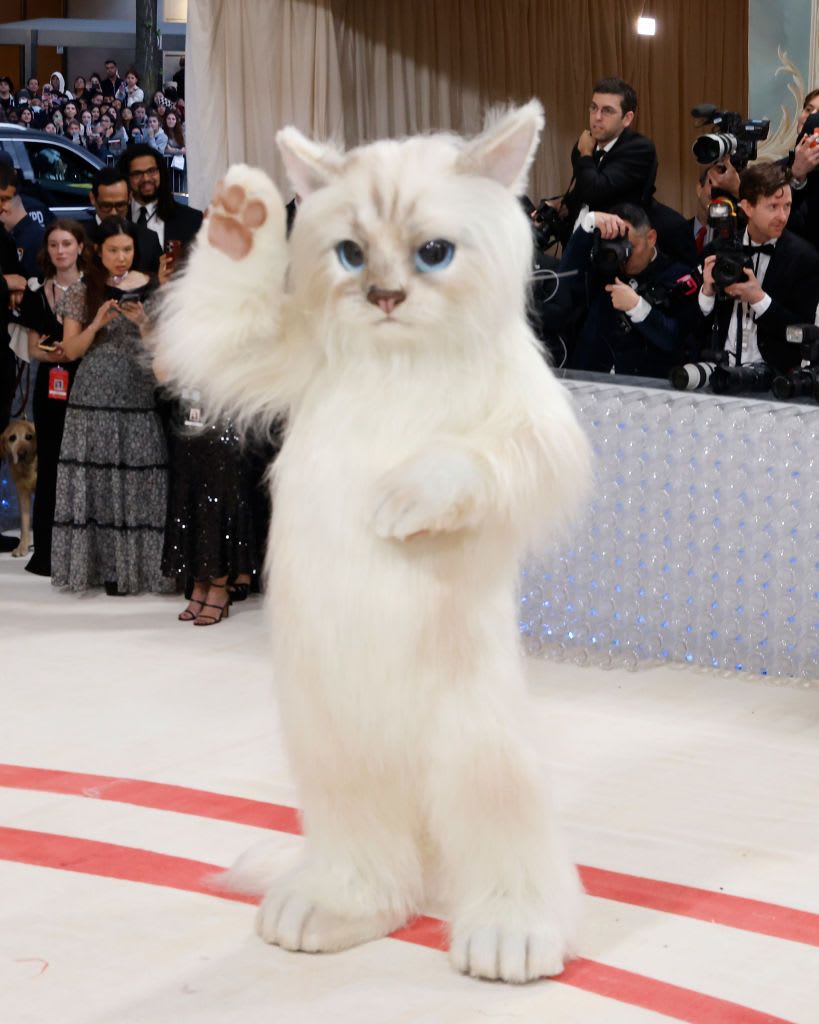 JARED LETO (Taylor Hill/Getty Images)
Following suit, Jared Leto arrived in a scaled-up kitty suit made in the image of Choupette, his cat who survives Lagerfeld with her own Instagram account. As Nick Jonas summarised the look on Vogue's livestream, "Jared Leto came as a furry. It's great." Leto, who will play Lagerfeld in his upcoming biopic later revealed another look below: a billowing, bejewelled shoulder cape, sheath-sleeved top, pleated skirt and fingerless gloves. In this all-black ensemble, Leto had gone from white fluffball to demure goth in Gucci loafers, a dark-light dichotomy reflective of Lagerfeld's work.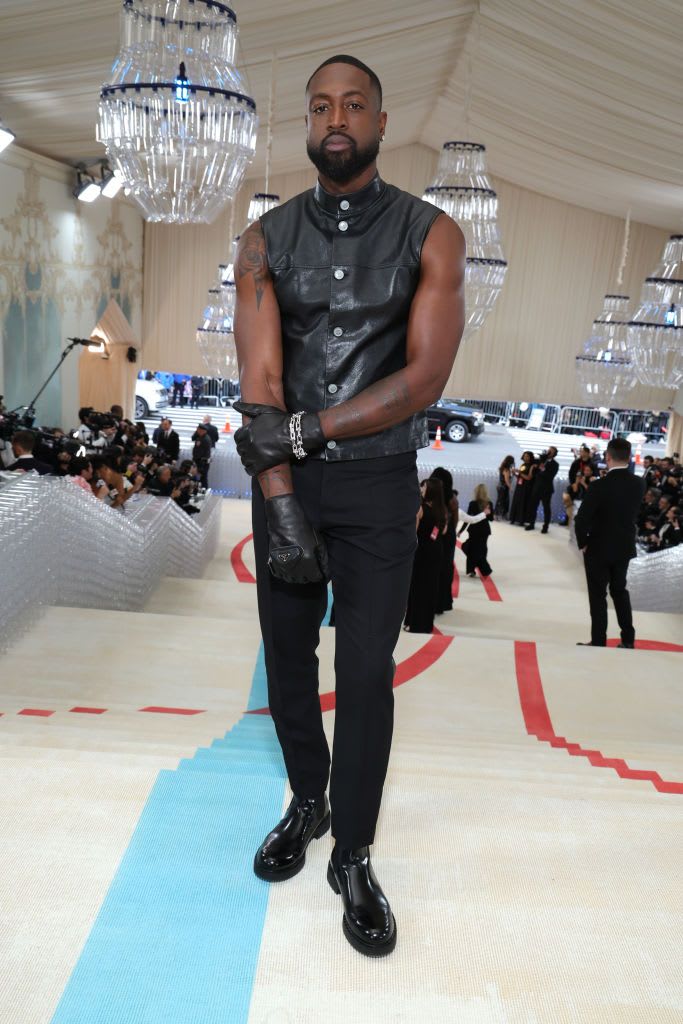 DWAYNE WADE (Kevin Mazur/MG23/Getty Images for The Met Museum/Vogue)
For those less partial to peacocking, the addition of floral brooches made cooler citations to Lagerfeld, who was rarely seen without an iced-out pendant and belt buckle (often, two at once), Chrome Hearts sterling silver jewellery and mother-of-pearl tie pins and pocket jewels. Former basketballer Dwyane Wade, for example, teamed his lapel-free overcoat and leather vest with a cool moon-shaped brooch and Prada's purse-patch gloves, again, layered with bling à la Lagerfeld. Meanwhile, Nick Jonas opted for a single tie pin and a leather biker-cum-dinner jacket by Valentino, a neat salute to Lagerfeld's blend of louche, leather details and tradition.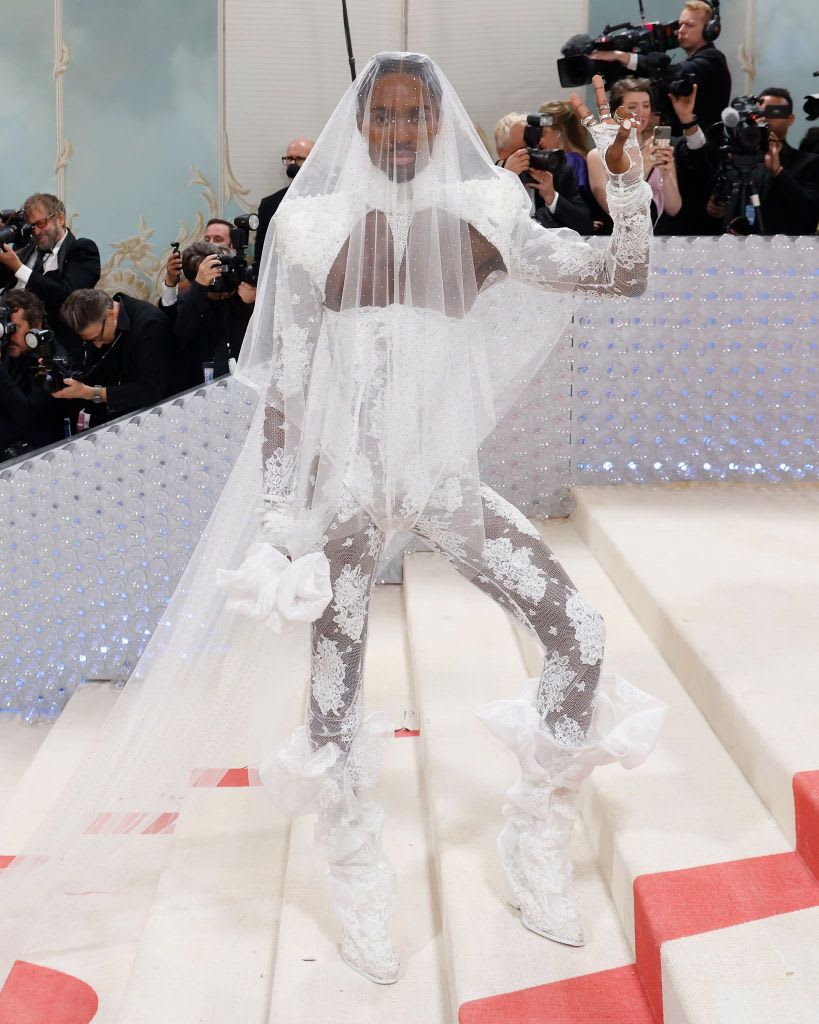 ALTON MASON (Photo by Taylor Hill/Getty Images)
Of course, when gender norms on the red carpet are as loose as today, it's little wonder guys seized the opportunity to unpick Lagerfeld's feminine touch, as well. Channelled into undulating florals and lace, the trend upped the femme, bringing Lagerfeld's couturier skills to the fore. Alton Mason came as a Chanel Bride, angelic in a sheer bustier bodysuit and veil, wielding white fabric flowers that only the petites mains of Chanel could craft. "My biggest memory with Karl ­– I got the blessing to meet Karl in person – was doing Chanel," he said in Vogue's livestream. "Becoming the first Black man to walk for Chanel. Such an honour."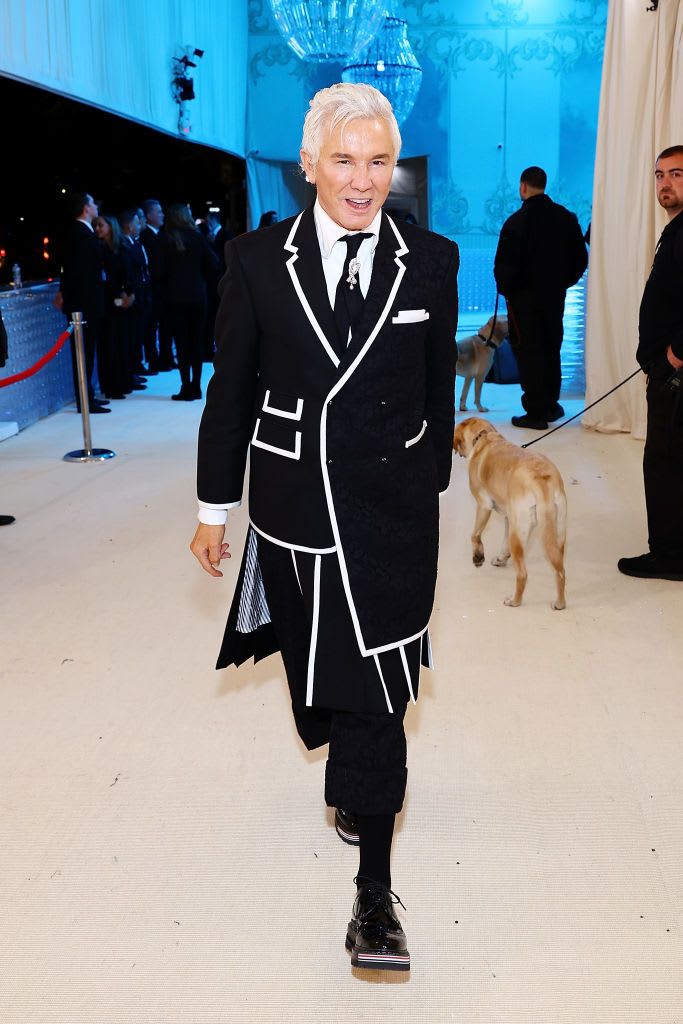 BAZ LUHRMAN (Photo by Arturo Holmes/MG23/Getty Images for The Met Museum/Vogue)
Elsewhere, plays with gender appeared in lighter quips. Case in point: director Baz Luhrmann's Thom Browne getup, a skirted suit with Chanel-style contrast piping and the blacked-out floral embroidery akin to Lagerfeld's creations and his own skinny jeans. Here, a fil rouge appears. Connecting two stylistic poles, Lagerfeld could balance restraint with opulence and forward-facing design with guilty nostalgia, costuming fetish films with the same ease as a runway show.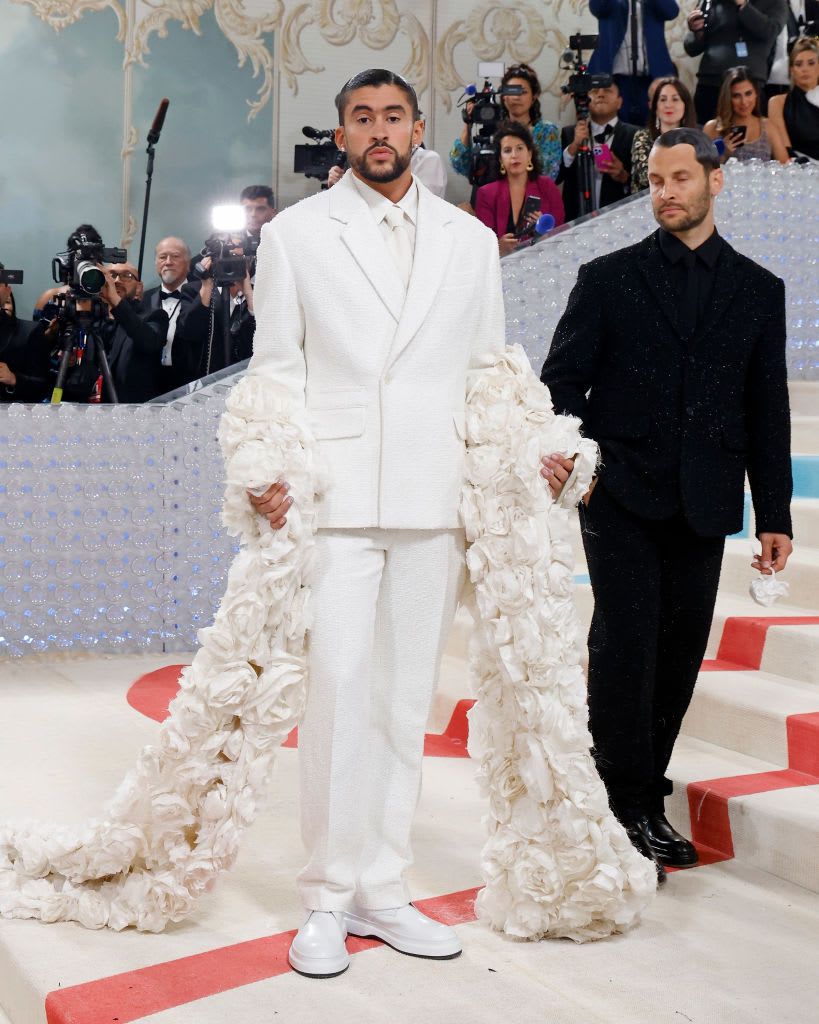 BAD BUNNY (Photo by Taylor Hill/Getty Images)
Commemorated poignantly by his admirers, this legacy in marrying contradictions was writ large along the red carpet. Rapper Bad Bunny, for instance, pulled a regal look, rocking a double-breasted ivory two-piece, rendered in the bouclé wool of traditional Chanel suits. Finished with a white rose-flower marabou, the Jacquemus getup made a moving memorial and celebration of Lagerfeld, adjoined by other monochrome plays on his sometimes-archaic style, like Idris Elba's swooping tail jacket and flowering shirt cuffs.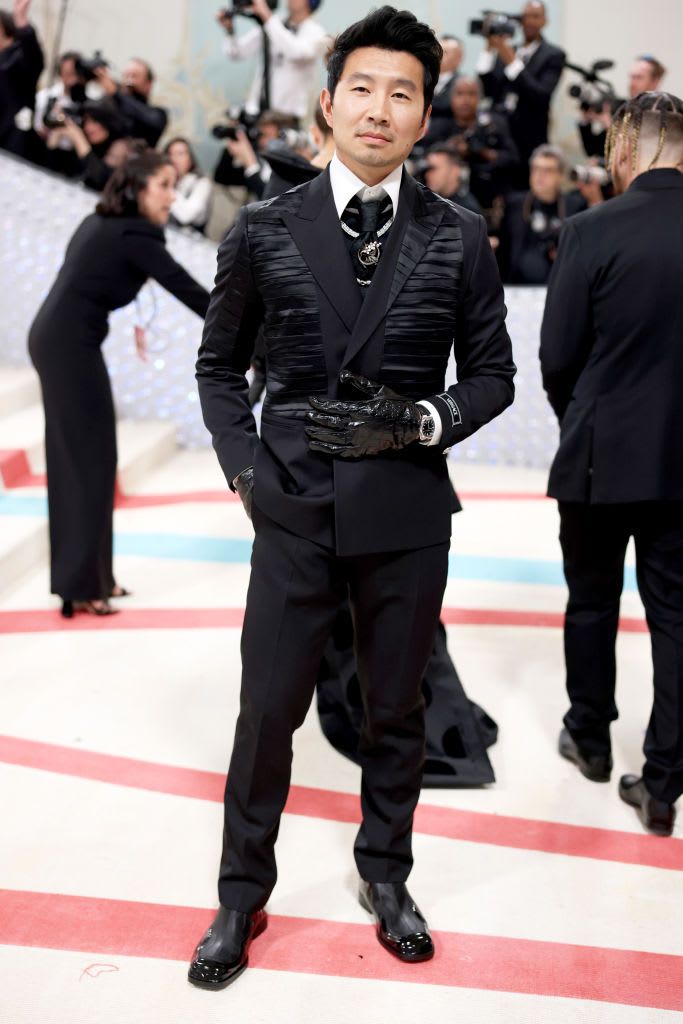 SIMU LIU (Photo by John Shearer/WireImage)
Similarly, Barbie star Simu Liu bucked the trend, combining polished, croc-effect gloves with patent-dipped boots and an inside-out-lined blazer, care of Versace. Meanwhile, actor Eddie Redmayne sported an exquisitely tailored, narrow-armed suit, bedecked with pearl brooches and flared trousers reminiscent of a 70s Lagerfeld. A look back and forward all at once. Similarly, A$AP Rocky paid homage to Lagerfeld's best-known personal style codes. Wearing custom Gucci, including a flash of colour in the form of a long tartan skirt over embellished jeans, he wore dark shades, a starched white shirt, single glove and tie in an unmistakable reference to the Chanel designer's distinctive look.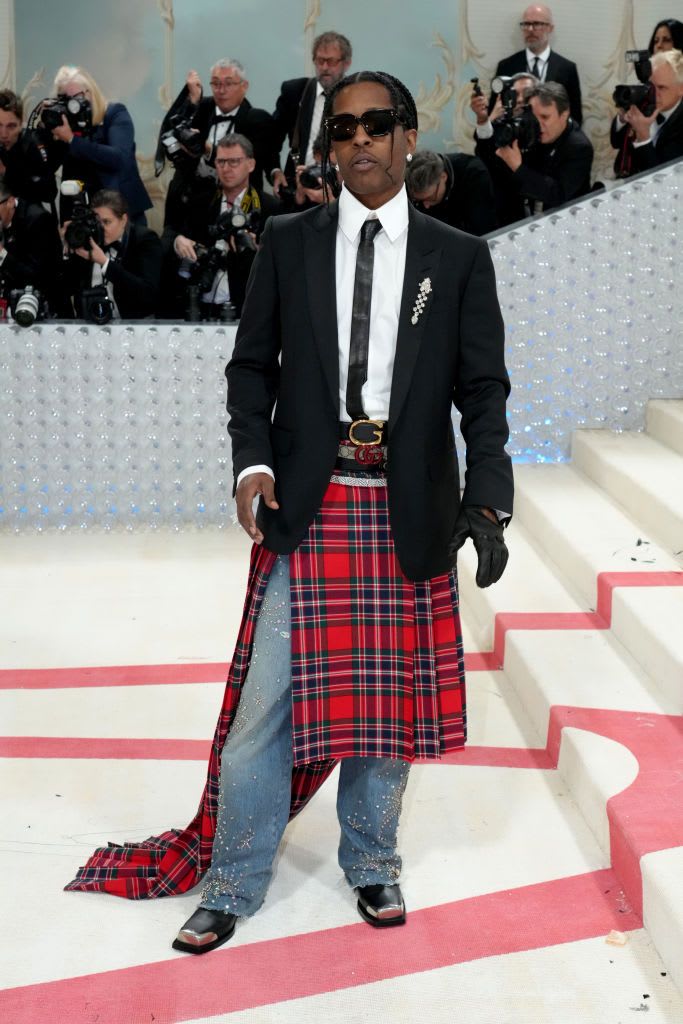 ASAP ROCKY (Photo by Jeff Kravitz/FilmMagic)
For such a varied array of looks, it was especially powerful to see their cohesion under the theme. Lagerfeld was a complex character, never mincing his words – often to a fault – putting his vision in black-and-white terms. Although he was not present in body, he was in the outfits. If the menswear told us anything last night, it's that Lagerfeld gave men the chance to push the boundaries of the traditional red carpet dress code further than ever before.