Casil McArthur on how to muck about with menswear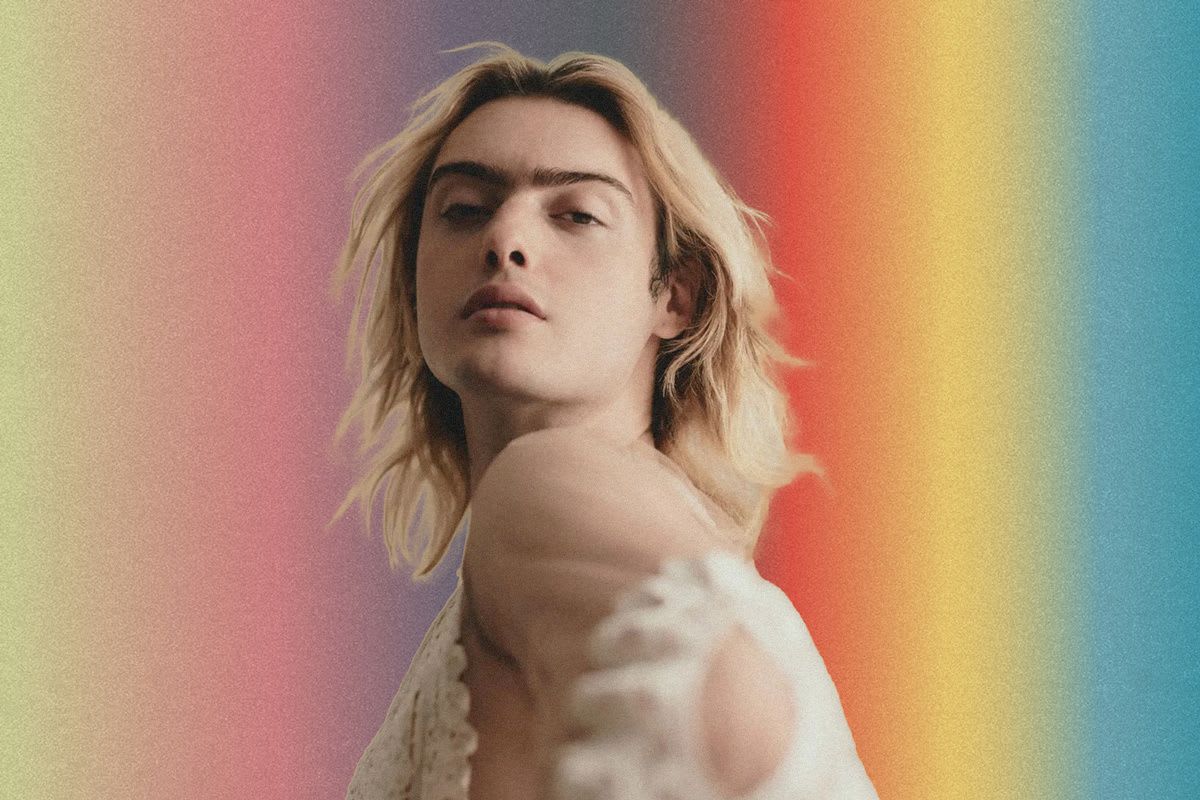 The model and activist talks finding inspiration from anime and feeling empowered by looking the way he wants to
image Team Woo
words Rhys Thomas
A guy's how-to is a column where we hear from men who've lived it about how to tackle the tough things in life in the gentlest of ways. Today we speak with model and trans rights advocate Casil McArthur about how to express yourself through style.
We've all had a moment where we've seen someone online, usually a celebrity of some sort, wearing a bold and different outfit. And it's had us thinking: Ah, I wonder how I'd look in such bright colours and interesting silhouettes, and then carrying on in the same clothes we've worn for years. There's nothing wrong with keeping the same style for years, actually, there's a lot that's great about it. But what's greatest, is being able to be completely confident and to love how you feel in your clothing. There's no guy better placed to talk to us about doing this than Casil McArthur.
At just 23 he has spent most of his life working and after beginning his modelling career at just 10 years old, he's racked up campaigns for Coach, Calvin Klein, Nike, Tommy Hilfiger and more. Working internationally, he's represented by agencies like Supa Model Management in London and Community in New York, where he is based. And on top of all that, he's also an activist. Speaking about LGBTQIA+ rights at a U.N conference back in 2017, he also regularly uses his platform to raise awareness of the experiences of trans and non-binary people in the fashion industry.
With clothing being a natural extension of how we feel, it's only natural that Casil's style has evolved alongside his exploration of identity. In 2015, when he was 17, he began taking testosterone as part of his transition (in the UK, hormone therapy isn't available on the NHS to trans and non-binary people under 18, but it has been in parts of the USA). In previous interviews he's spoken of how, pre-transition, he gravitated towards more masculine clothing. Now, he feels most himself when using his wardrobe to cleave traditional ideas of masculinity, embodying a confident androgyny, mixing swagger and delicateness in a way Harry Styles could only dream of.
In the spirit of spreading his fashion knowledge, Casil FaceTimes us from his family home in Colorado where it's very snowy and beautiful outside. There's views of the Rocky Mountain National Park. "It's a nice getaway for the holidays, I go outside and I can just smell pine trees." he explains as he shows us around the childhood bedroom he grew up in, and is staying in again during the holidays. He's in, well, there's a big white furry jacket covering most of his 6"1 body, and a miniskirt, lip gloss and mascara. All part of his personal style which he calls "male princess vibes".
you are missing out on some content here because you rejected our cookies. want to change that?
How to dress like a male princess
This is a style I've developed sort of across my entire lifetime. It's mainly black and pink. I also love miniskirts and I wear them all the time. Pants are so restrictive, they can be comfortable sometimes but not all the time. And I have a big faux fur jacket that I wear all the time too. I got it from a friend two or three years ago, he was just really cold one day and got it from a thrift store in New York. The name of the store will not be mentioned. It's thrift and vintage, though I think those kind of go hand in hand these days. But yeah, it was like 20 bucks and the store is always full of amazing shit.
Where he finds inspiration for his clothing
When I was younger I really got into manga and anime, I think as an art style in general it's very androgynous. Very queer. But also, in these worlds all your crazy ideas can come to life, they can be a reality. And they're also just like beautiful illustrations. But mainly the underlying queer and trans tones that have always existed in anime really pulled me in. A lot of friends who are trans also gravitated toward anime and manga when they were children too. It was also a great escape from reality, you know? Especially at a young age, I didn't necessarily always know how to express myself, but found I could vicariously through characters in the manga and anime I read or watched.
I started cosplaying when I was 13, female characters initially, but it was always a little weird because these much older men would start hitting on me, I was tall as fuck I guess but it was still weird. So I started cosplaying male characters and realised men wouldn't be approaching me as much, and then I started realising things about myself that I never really had before and became more comfortable with cosplaying male characters. It let me know that I was a trans guy. I used to cosplay Eren Yeager from Attack on Titan, and Aoba Seragaki from DRAMAtical Murder, and Akari from Karneval – he's very beautiful doctor that has pink hair. He's so beautiful. I've always been cosplaying very beautiful boys.
you are missing out on some content here because you rejected our cookies. want to change that?
The most impactful moment in my life was when I cosplayed Dave Strider from Homestuck, which is an American webcomic. And then this girl, and her two friends came over. I wasn't paying attention but my friend was like "Dave, she's trying to compliment you." And she was like, "oh my god, your name is Dave? I thought you were a girl, like you are the most beautiful boy I've ever seen in my life. That's the first time I had been complimented as a boy. It's the first time it meant something to me, to be beautiful. So that was my absolute aha moment in life. Like, oh shit. This is the compliment that makes me feel good, how do I keep this going?
How to feel good about the day ahead
I spend a lot of time with my chosen family. Every day we'll wake up and get ready together. Being mindful of those switches within my appearance is often what makes me feel good, what makes me feel soft, what makes me feel like that bitch. I don't really feel good about myself in a day until I've gone through the process of getting ready to pick my outfit. The routine is simple enough, there's a shower, skincare… I like to do my makeup: I'm always wearing at least bright red lipstick and mascara. I like it when I plan an outfit with my friends, so that when we can walk down the street sort of in unison. I really feel the power we have walking down the street being ourselves.
Every day I want to live as the version of me that is happiest. Because I don't know when the last day will come. And I want to look like a badass bitch while I can – you know how people buy amazing clothes and save them for a special occasion? And they can be sitting there for years? Bring the moment to you. Wear your extravagant shit to the grocery store, or to go get a coffee. Why not take yourself on a date and to the fucking nines?! I think and do that as much as possible. Fundamentally the feel good factor of clothing for me is that It's nice to have the world perceive you as exactly who you are. Even if sometimes the responses aren't sweet or safe. There's so much power in being who you are.
How to look after all your fits
Well, right now, it's not a mess. That's because my mom's helped since I've been away. It's often a mess. It's well put together, it's just hell and highwater. There's a system to the chaos. I try to separate colours. But there's not a lot of colour that exists in my wardrobe except for pink and black, I like to separate those. My issue is forgetting to put things back on the hangers after picking out an outfit. Because I start throwing around. I'm like: "This one? No. This one? NO." It's very chaotic. And then I have my outfit and leave, but when I get back it's like: "Oh, my God, I destroyed my closet. I gotta hang everything back up again." To combat it, I give myself like, one day in a week where I reorganise everything.
I generally look after my clothes quite well. I don't use electric dryers, and I use the coldest water that I can when washing clothes. I hand-wash my most precious items. I'm not the best at sewing, but I do have a lot of friends that can sew, so get a friend that can sew. It's important to look after your favourite pieces, and to have a signature outfit.
You can always hide behind a signature look when you aren't feeling great. Like my jacket, [he gestures towards the big fur jacket he's wearing] I can't go anywhere without one person complimenting this jacket. So if I want to know I'm going to look good, I wear the jacket. On that note, I am more than like 5000% sure that thigh high boots will look absolutely hot on everyone. Just fucking everybody should just buy a pair of thigh highs. Maybe some leg-warmers over the boot. Sexy.
How to style a unibrow
I've had a unibrow forever. Before modelling I plucked it out because that's what people do. But as I was finding myself, I just stopped plucking it out and I quite love the brows now. Anytime I run into someone else with a unibrow, there's a sort of camaraderie we share.
I always thought my eyebrows were getting thicker because of testosterone and I think they were like a little bit, but I started using this serum called Lash Accelerator, by Rimmel, like three years ago. It's for eyelashes, and it makes your eyelashes grow longer. It worked on me, I started using it to style my eyebrows, because I like to brush them up. And these bitches are so thick now. Mascara and lip gloss go a long way to just keeping you fresh and soft looking, they're the other essentials.