How trash becomes fashion at this Nigerian sustainability event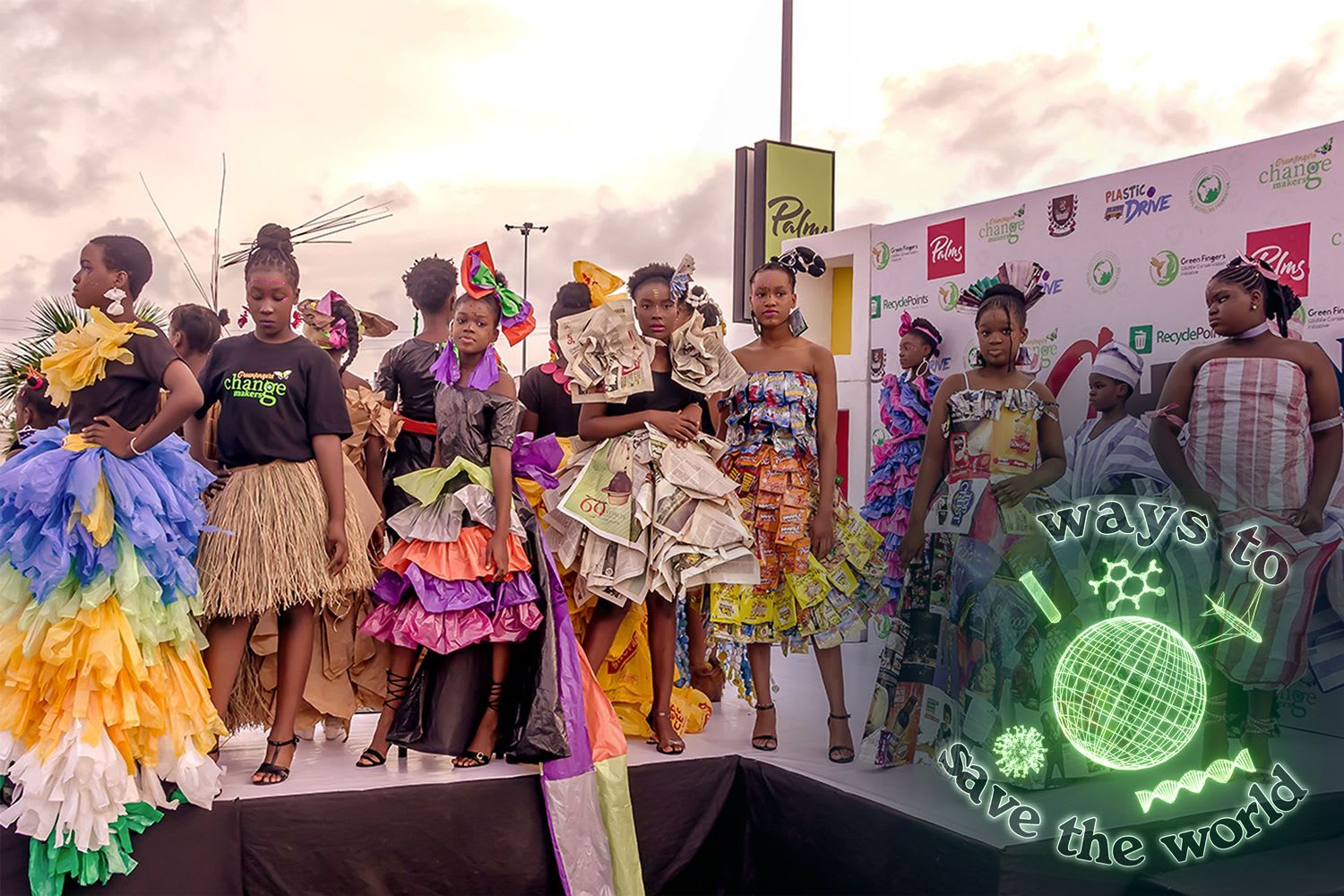 Want to feel good about the environment? Ways To Save The World is here to show you ideas and innovations that are changing the climate for the better
image Green Fingers Wildlife Initiative
words Lucy O'Brien
When you think of pioneering fashion, what comes to mind? No doubt the legendary runways of Paris, Milan and New York crop up, or landmark moments like Bella Hadid's iconic spray-on dress from SS23. But for climate activists in Lagos, Nigeria, the future of fashion is recycled trash. Upcycling everyday rubbish into runway-ready outerwear, young Nigerian models and activists came together to show off their "trashion" creations to help raise awareness for recycling, waste reduction and sustainable fashion.
What's it all about?
Plastic bottles, capri sun juice packets, plastic bin bags and used newspapers – these are just some of the waste rubbish seen upcycled into runway ensembles at this year's Trashion Show. Since its inception in 2012, the community-wide event has been hosted by Green Fingers Wildlife Initiative, a non-profit organisation that has led clean-up and environmental initiatives in Lagos for ten years.
Coinciding with the close of COP27, the show saw recyclable waste picked up from some of the charity's routine rubbish collections repurposed into ready to wear clothing and accessories. The show is an annual opportunity for teens and young adults in the local area to express their creativity while advocating for a greener, circular economy. After all, they will be the generation to inherit it.
you are missing out on some content here because you rejected our cookies. want to change that?
How did it begin, and will it actually make a change?
Lagos is one of Africa's most populous cities, home to more than 15 million people. But with this large population comes a huge systemic problem with waste management and pollution: Lagos alone generates around 12,000 metric tonnes of waste daily. According to The World Bank, it is estimated that at least 30,000 people die every year in Lagos due to the effects of pollution. The stats are pretty haunting, and that's exactly what Green Fingers have set out to change.
Starting out as a sanctuary to preserve local wildlife and plant more trees, the organisation then began to encourage locals to volunteer for their clean-up missions in an effort to enact community-wide change. Now, regular teams of eager volunteers travel to local beaches and drainage ditches to remove waste and recycle what can be. The Trashion Show was born out of their kids' club, CHANGE-MAKERS, where young members are given opportunities to use the arts to express their climate concerns and campaign for a greener future.
Want to get involved? You can read more about Green Fingers' mission here, or donate to their conservation campaign here.