i got chatgpt to dress me for a week and these were the results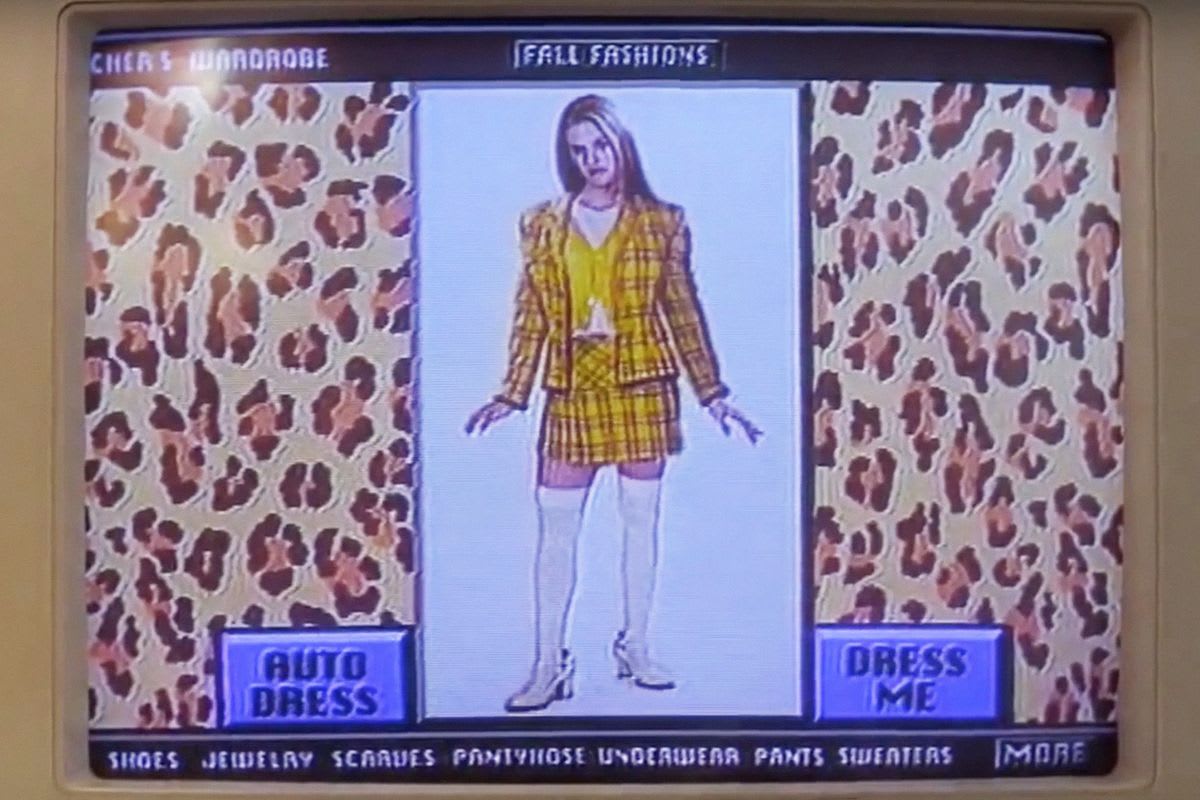 Stylists, your jobs are safe
If, like me, you've spent years fantasising about Cher's wardrobe in Clueless then any new technology that helps you decide what to wear will evoke a frisson of excitement and curiosity. Yes, even fashion writers get fed up with choosing their outfits sometimes. As fashion's flirtation with AI hits fever pitch, – the first AI Fashion Week took place in New York last week – I wondered whether AI technology could revolutionise the way we get dressed, helping us save time and make the most of our wardrobes.
The inaugural AI Fashion Week follows on from Vogue Brazil's divisive AI-generated March covers, AI-designed fashion collections and the rise of AI models. Whether you respond to these advancements with amazement, terror or simply a cynical eye roll, there's no denying that fashion is currently enamoured with the potential of AI. Admittedly, I'm not much of an AI expert, but I do know a lot about fashion so I decided to put infamous chatbot ChatGPT to the test and see if it could choose my outfits for a week.
Over the years, I've pulled style inspiration from everywhere possible. Print magazines, Tumblr and Googling 'Alexa Chung style' evolved into saved Insta posts, clicking through street style snaps and Googling 'Bella Hadid style.' I've dressed like characters in films and TV, copied stylish people I know IRL and pinned countless images to countless Pinterest boards. We have access to images of every style icon and micro-aesthetic literally at our fingertips. But sometimes all this choice is overwhelming.
What I love about fashion is how chameleonic it can be. You can be one person one day and someone completely different the next, but all this chopping and changing – not to mention an overflowing wardrobe – means that, some mornings, deciding what to wear can feel like a chore. Perhaps AI could cut through the noise, help me rediscover clothes I've not worn for a while and experiment with new outfits. Maybe it could help get me closer to the Clueless wardrobe I've been dreaming of since I was 13. To find out, I let ChatGPT dress me for a week. Here's what happened.
Day 1: Going to work
Most Monday mornings, I'm searching for anything that can help the week start more smoothly, especially if it saves time. This Monday I woke up feeling optimistic. Some say planning your outfits the night before is the way to a stress-free morning, but maybe ChatGPT could save me enough time that I can afford to snooze my alarm this week. I start by asking it a generic question so, unsurprisingly, I get a generic answer. But I don't want to be vaguely told to follow my personal style. I want to be told what to wear. So, I add details about the weather and occasion and study the results. It tells me to wear a white shirt and black skirt for work. How original! So far, it's giving WikiHow more than Law Roach. I put on a vintage blazer, white shirt, Heaven sweater vest, Diesel cargo mini skirt and my tabis. I usually have an aversion to this kind of outfit because it reminds me of being at school – not chic. It probably wasn't as professional as what ChatGPT had in mind, but my office doesn't have a strict dress code. Still, I didn't feel very comfortable and I probably wouldn't wear this look again.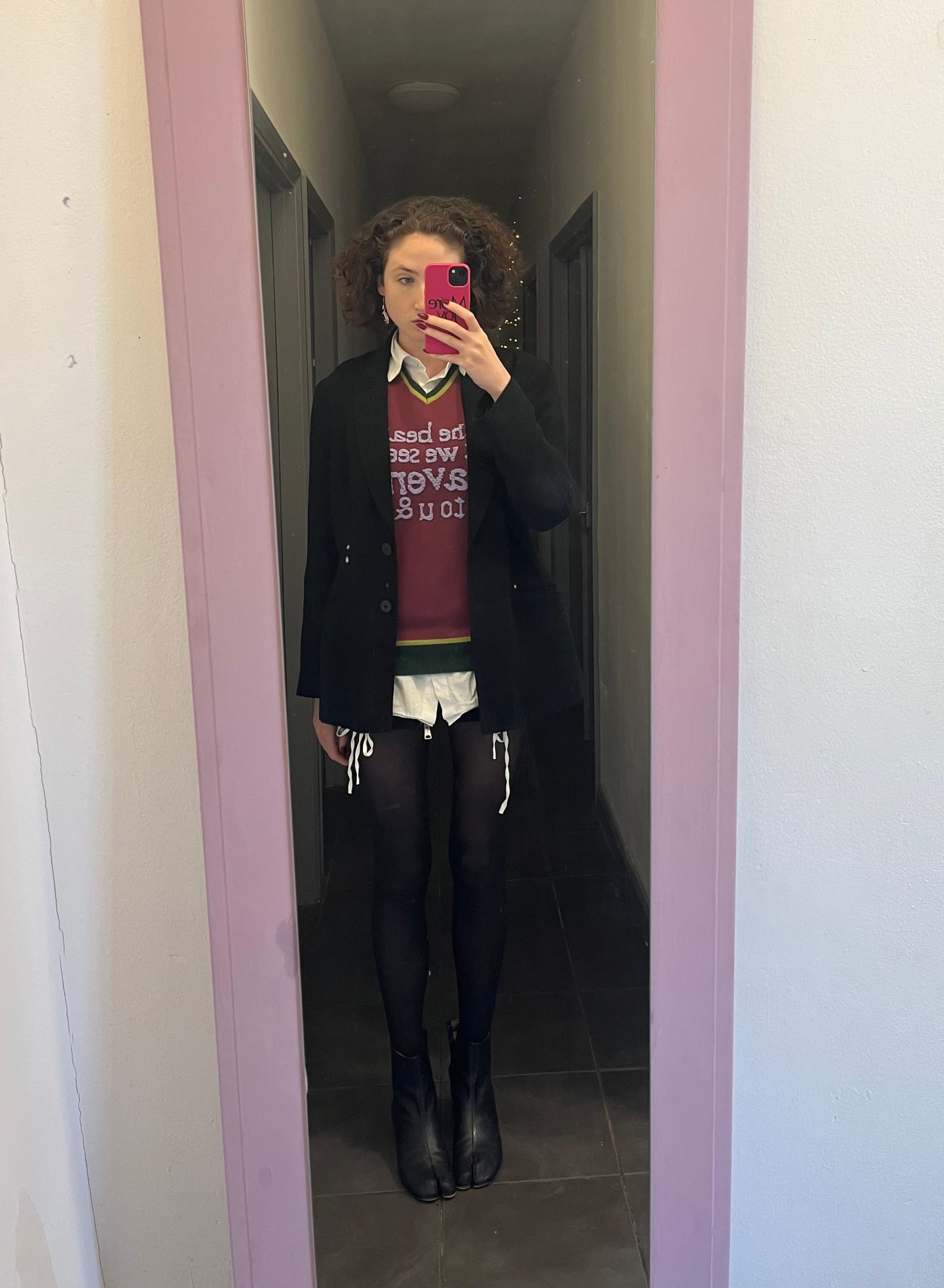 Day 2: Casual workwear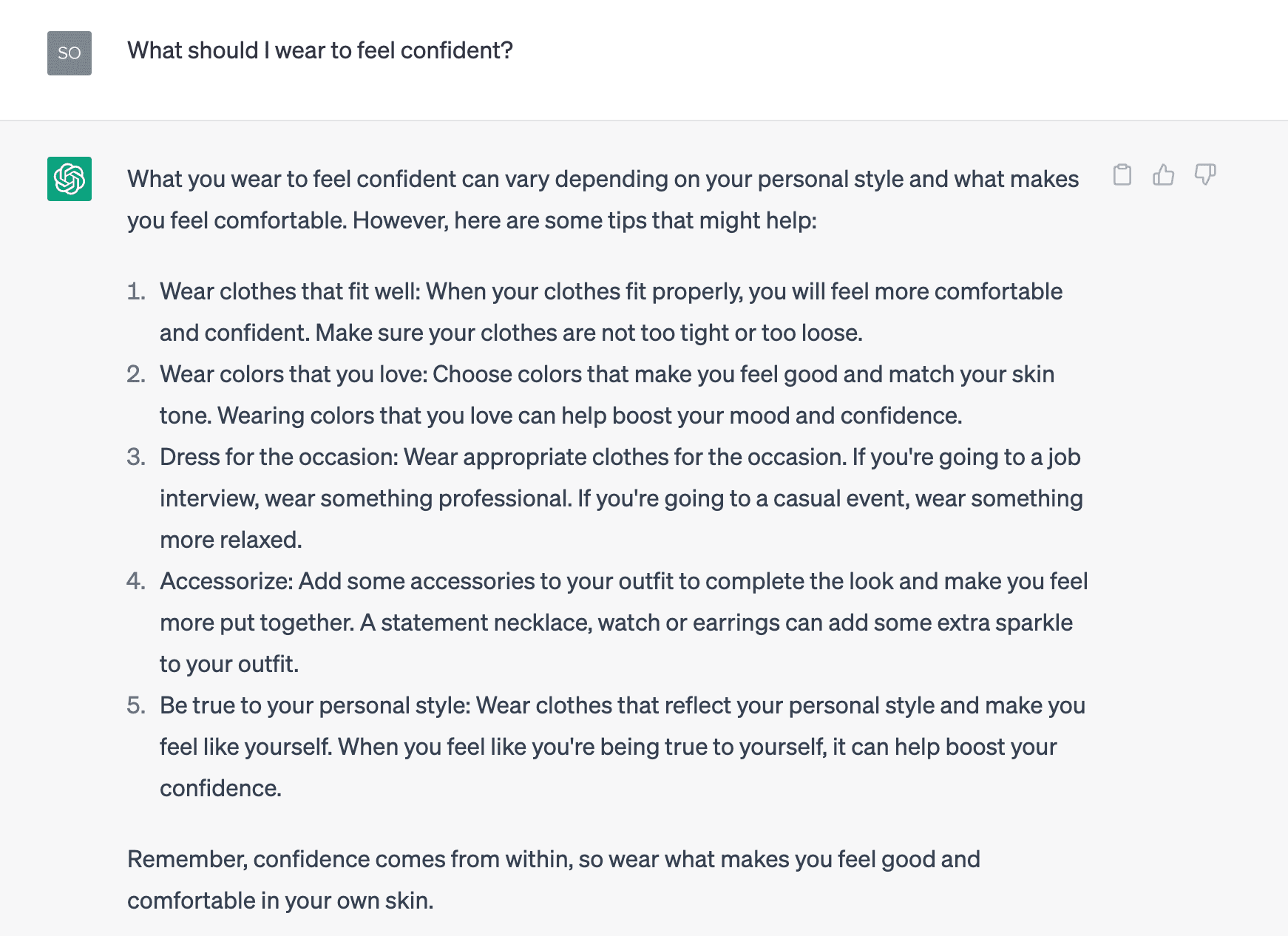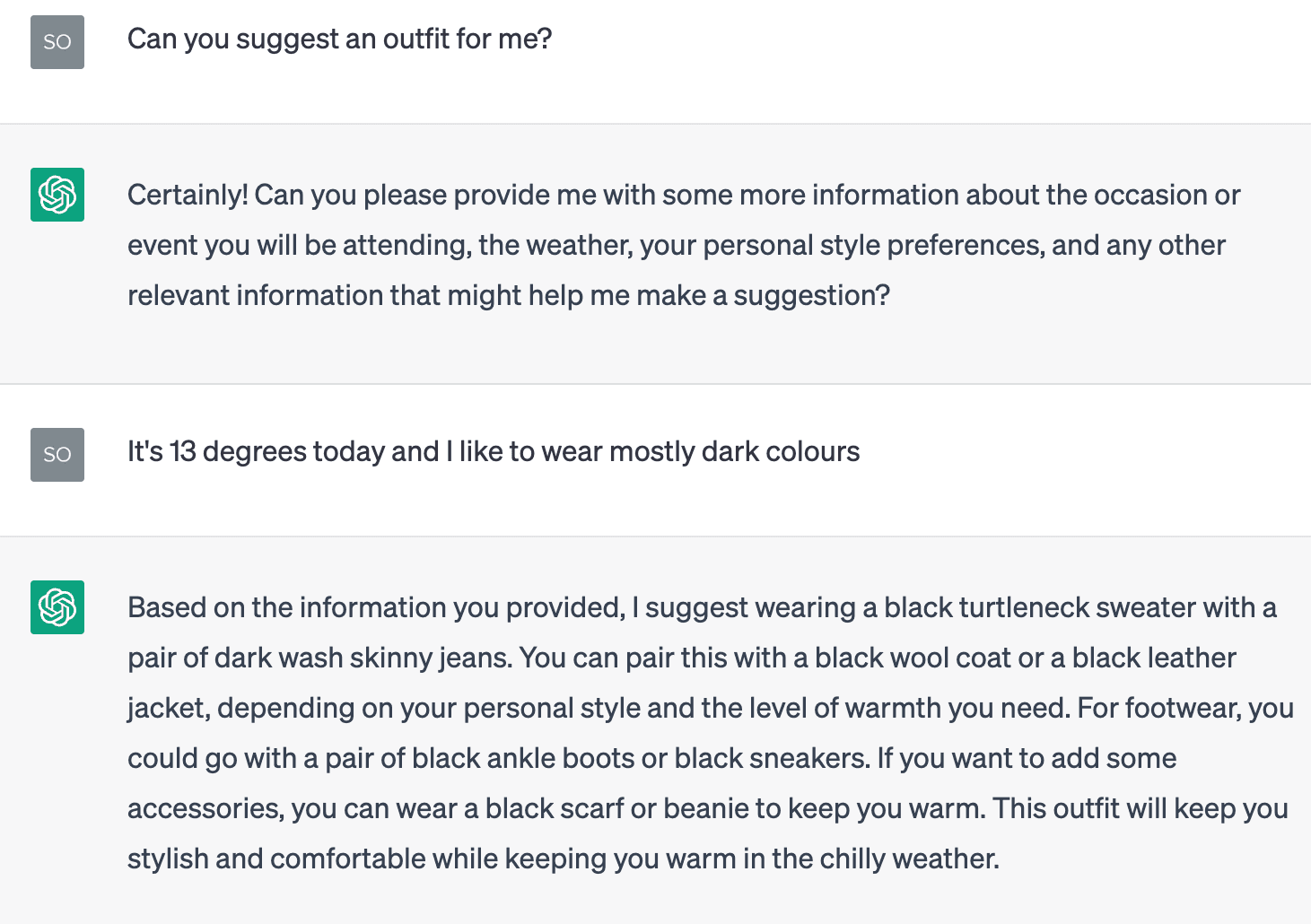 Today I'm going to the office, but I really don't want to be told to wear office wear again. It's 2023! Most professions don't require suits! Get with the program ChatGPT! Anyway, I remembered how yesterday it told me to wear something that makes me feel comfortable and confident so I decided to delve into that and find out what it means by dressing confidently and finding my personal style. I was comforted by how boring the responses were. Turns out AI isn't coming for my job yet! So, I fed it some more information about what I like to wear. It told me to wear a black turtleneck and black jeans which just so happens to be my go-to outfit when I can't decide what to wear. It's a safe option. You can't mess with it. Obviously, I'd wear this outfit again, but I'm still waiting for this experiment to get more exciting.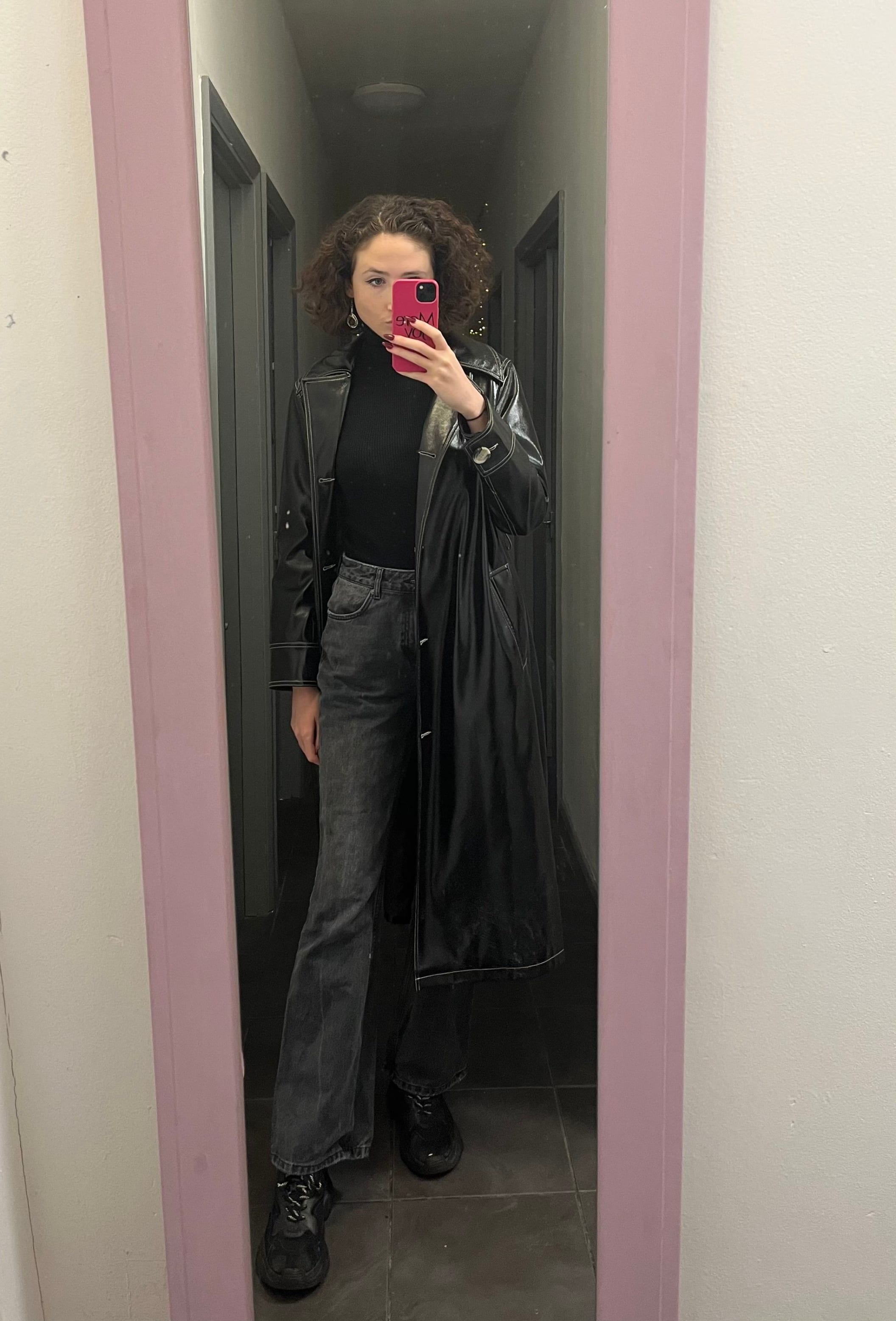 Day 3: WFH
The pandemic gave rise to the fashion phenomenon that is the WFH 'fit. The general consensus is that working from home means wearing comfy clothes. However, that doesn't mean staying in your pyjamas all day. We've all done it at some point. It doesn't feel good. Some say that getting dressed as if you're going into the office helps you get into work mode, but I'm glad ChatGPT is team cosy. I wear my Raf Simons x Fred Perry hoodie, KNWLS leggings and slippers. This was my favourite outfit so far, not just because it's comfy. I could wear some variation of it everyday. It feels like a warm hug, but still looks good. Thanks, ChatGPT.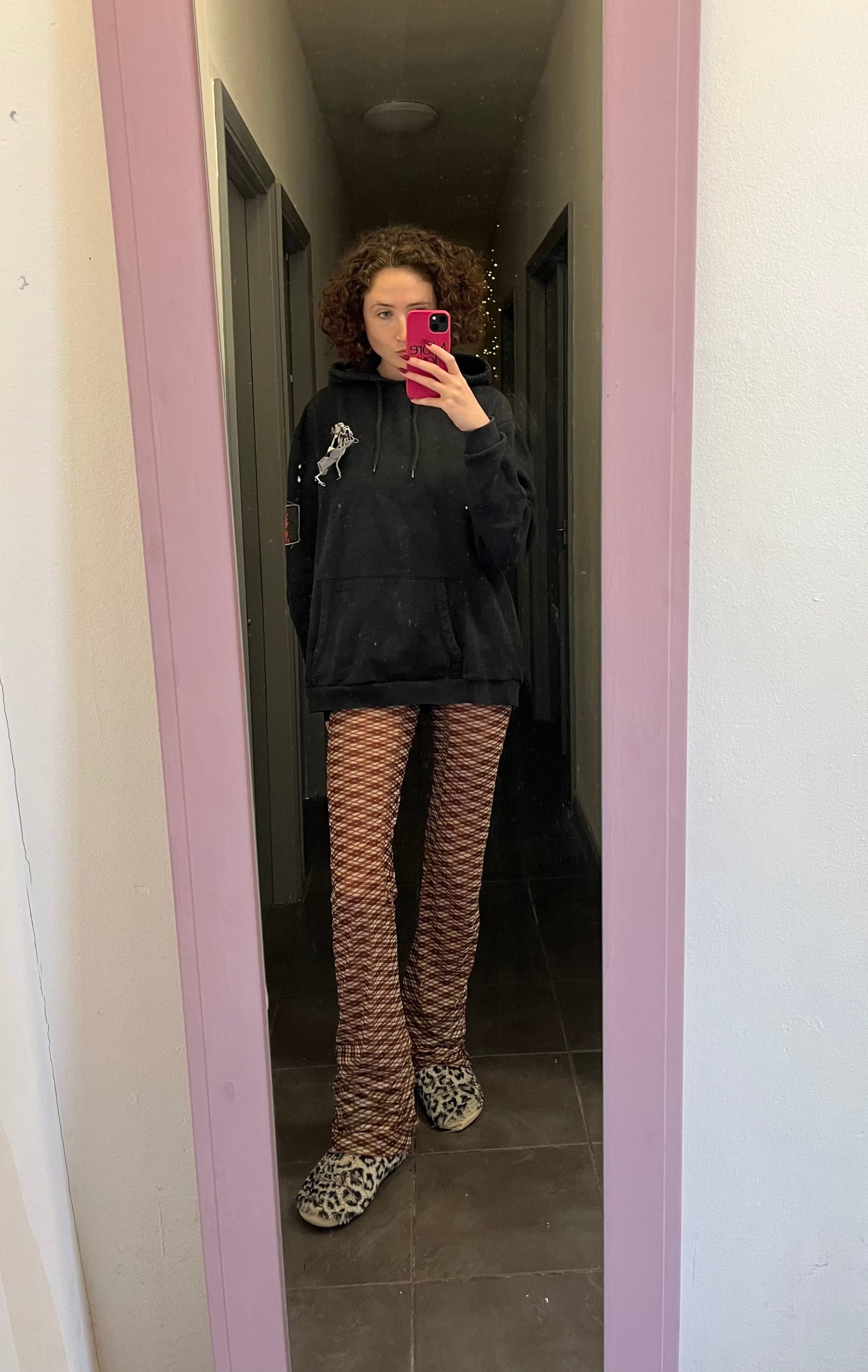 Day 4: Breakfast date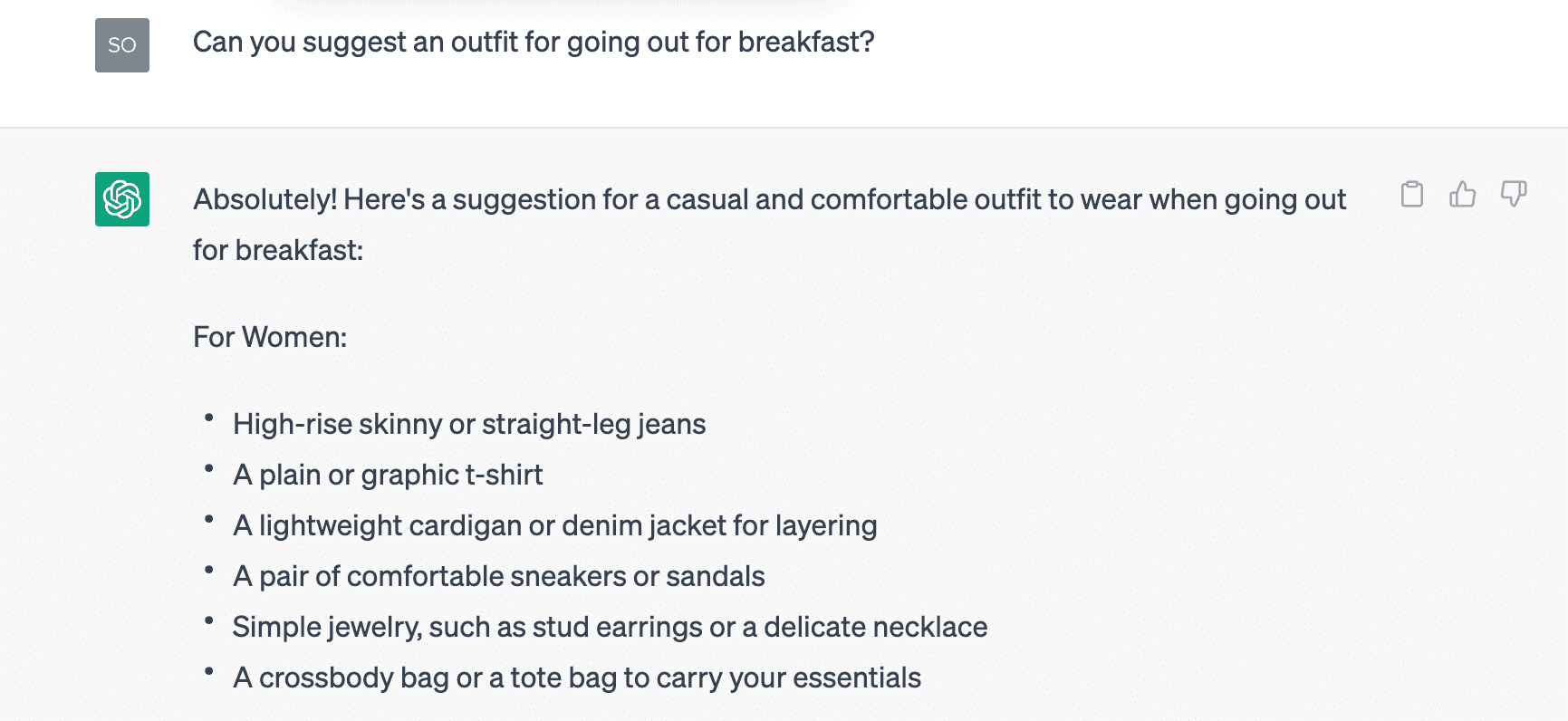 Today I'm going for a PR breakfast before going into the office so that's what I ask ChatGPT to dress me for. From its suggestion, I assume it thinks I'm going for a chill Sunday brunch. I feel quite dressed down for a work breakfast, but luckily, working in fashion means you can pretty much get away with wearing anything. I wear my MCQ tie-dye denim jacket, Heaven slogan T-shirt, vintage Prada bag, jeans from Depop and MCQ trainers. This is the sort of outfit I'd probably wear to go for a walk on the weekends when I can't be bothered to put together something more interesting.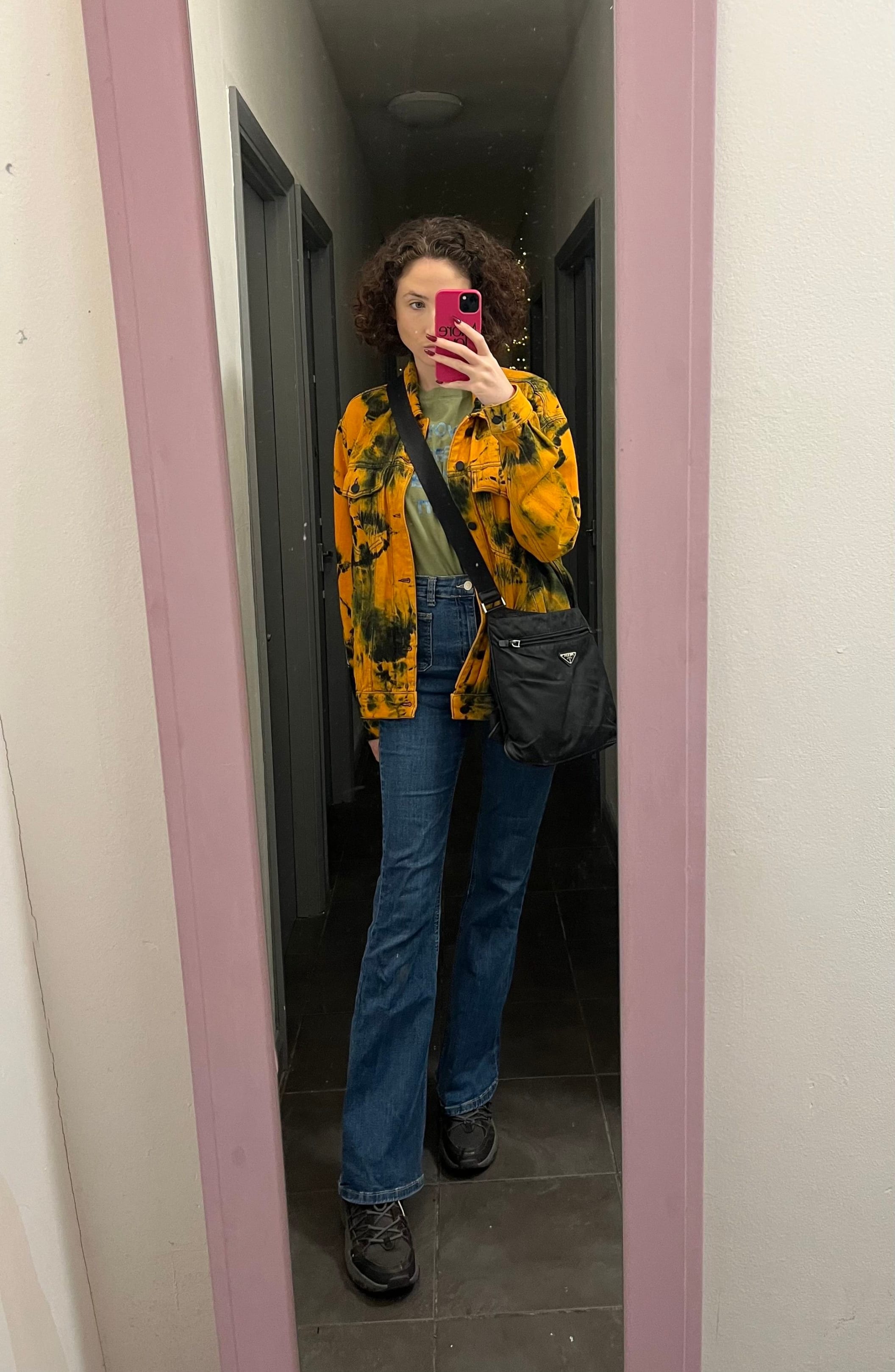 Art show opening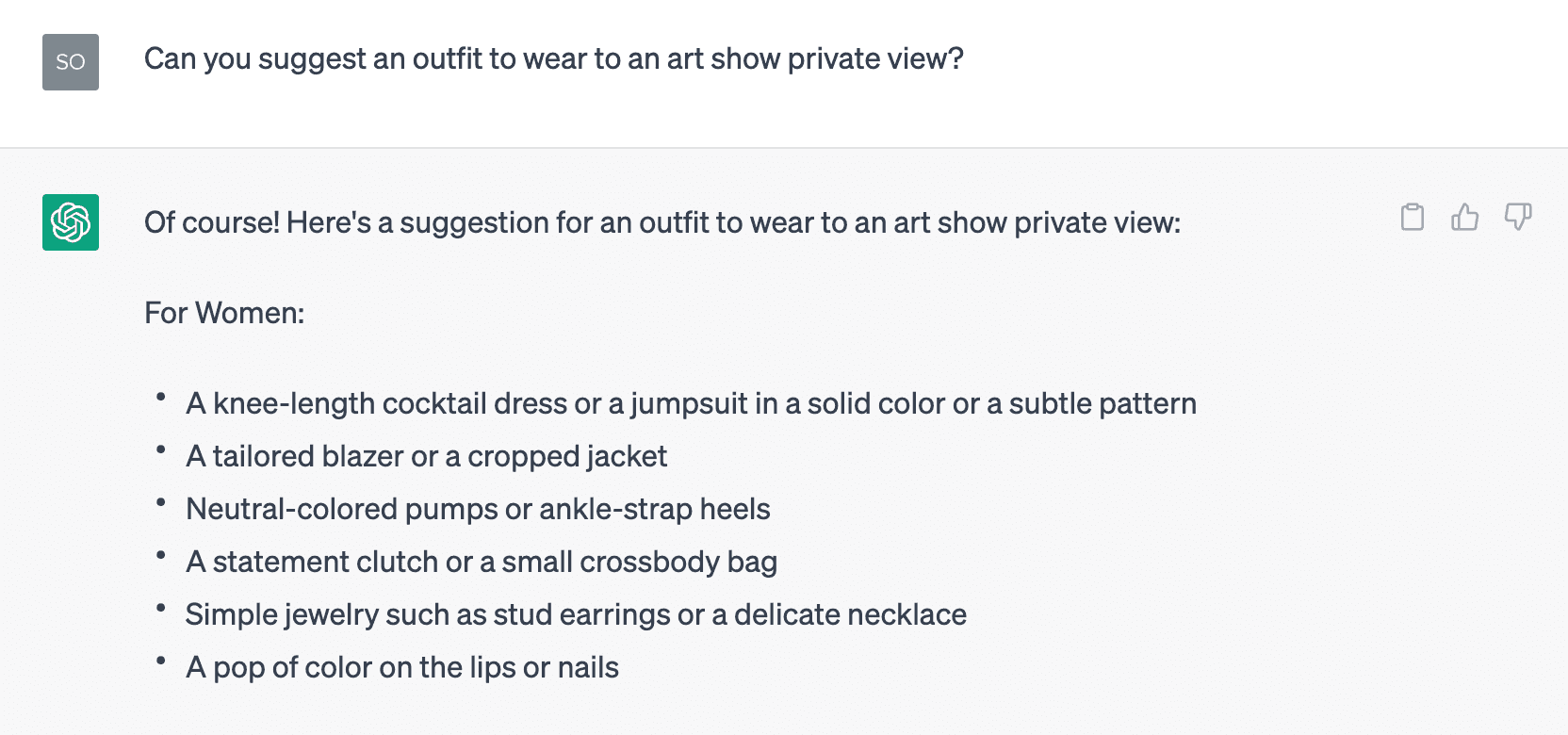 After work, I go to the opening of a friend's art show at St Bartholomew The Great church. I don't usually dress up that formally for these events, but ChatGPT obviously thought that I should. I wear a vintage red velvet dress with strappy heeled sandals. Admittedly, I feel a bit overdressed for a Thursday night, but once I arrive, I see lots of people wearing suits and cocktail dresses so that puts me at ease. Maybe I'll start making more excuses to dress up on a weekday evening. Sometimes AI can help you step out of your fashion comfort zone.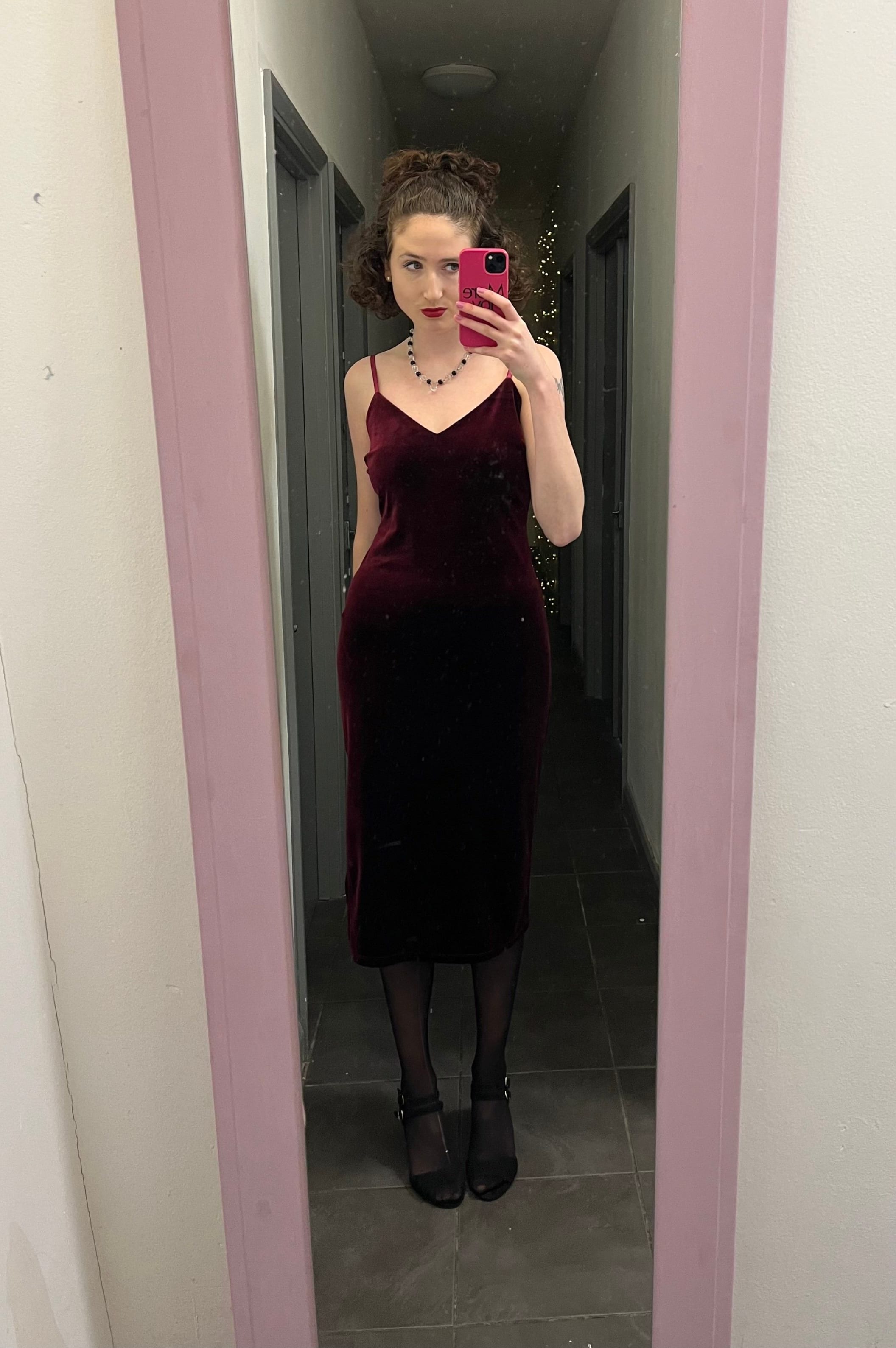 Day 5: First date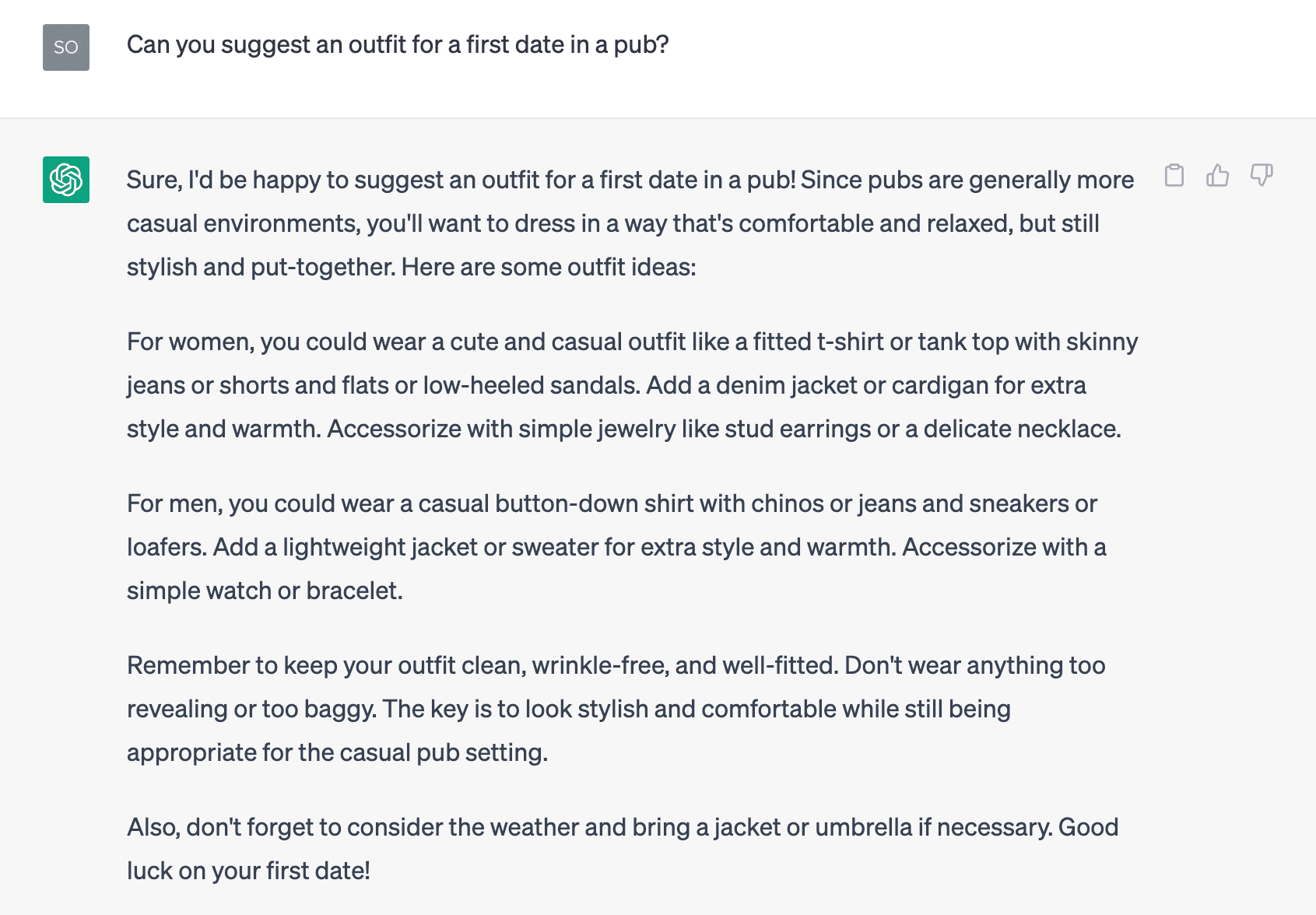 First impressions count. And in few places do they matter quite as much as on a first date. I've definitely got the ick from outfits before so I'm hoping ChatGPT can help me out for my Hinge date tonight. I'm working from home today so I decide to ask for date outfit advice in the morning so I can leave promptly after I finish work. I'm not ecstatic about this outfit suggestion. Firstly, I've not owned a pair of skinny jeans since 2011 so I put on these dark wash Topshop flares instead. Secondly, it's more casual than what I'd usually wear on a date. I pair the jeans with a band tee so, if the conversation falters, I can fall back on that. And lastly, the sandals?? It might be spring, but it was still only four degrees the other day and it feels quite perverse to have your toes out on a first date for no reason. However, I'm hoping this casual 'fit will trick my date into thinking I'm actually a really relaxed and chill person. I swap out the sandals for trainers though. During the date, I get a compliment on my jacket and we talk about the band on my t-shirt so, overall, I guess this outfit was a success.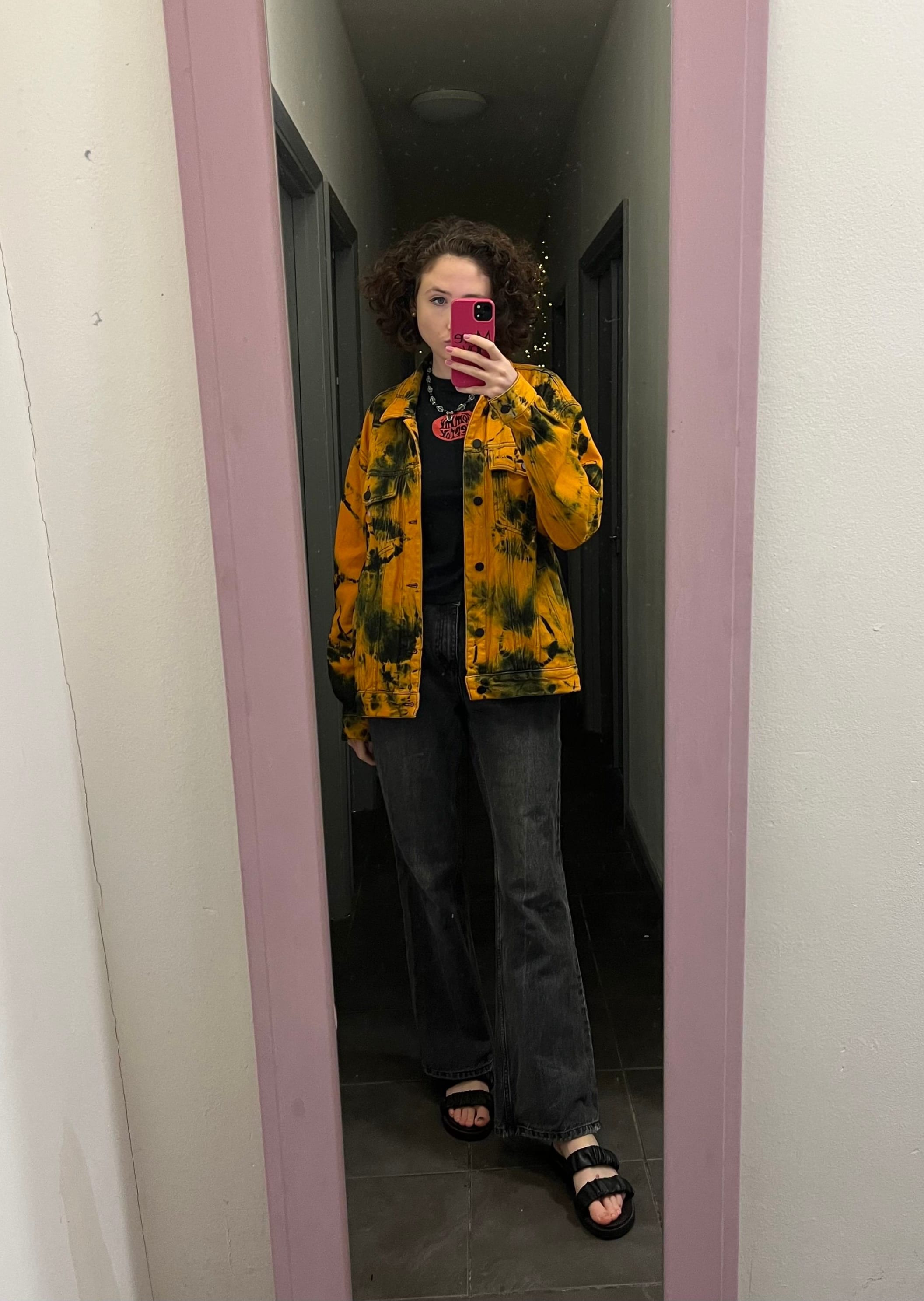 Day 6: Bella Hadidcore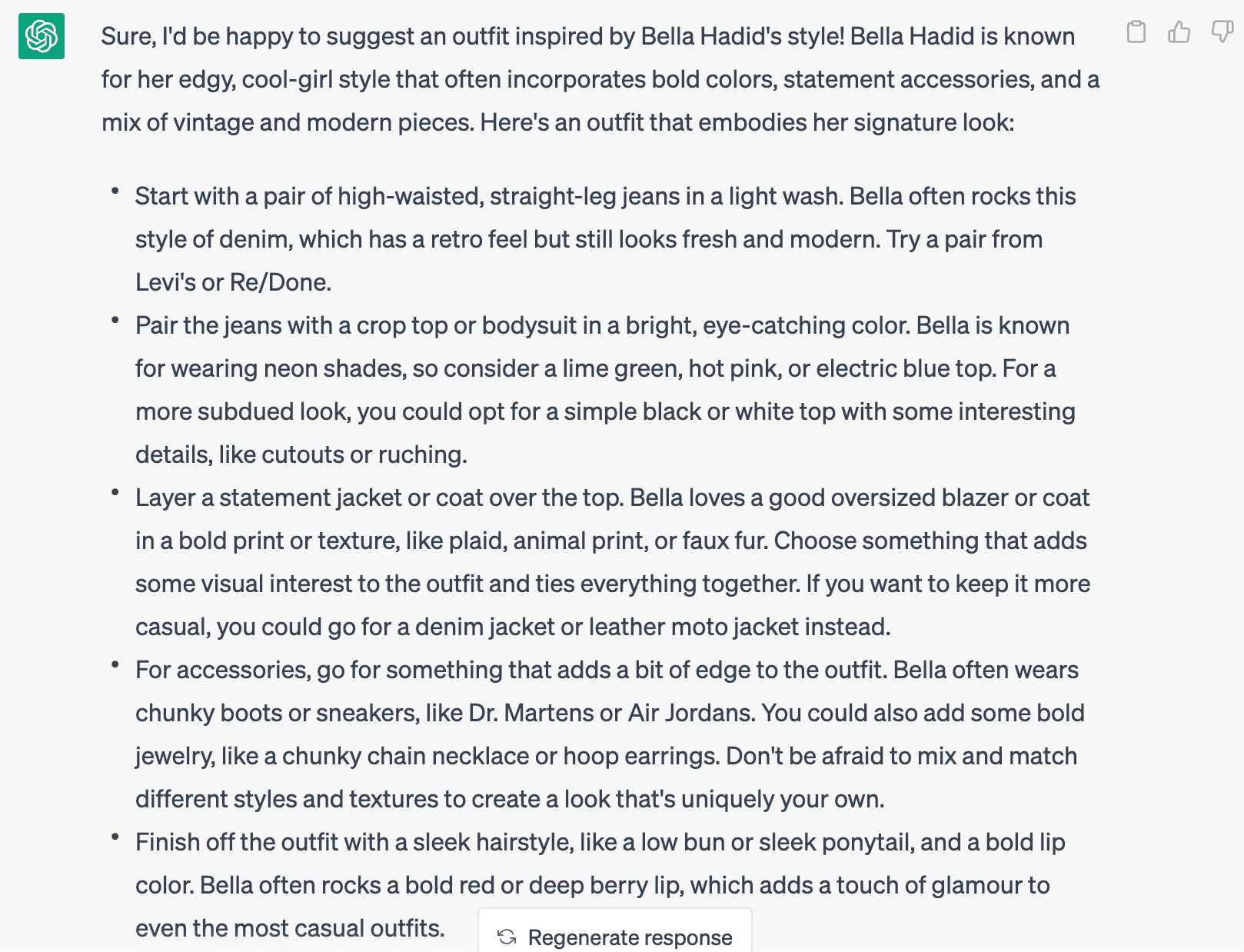 I have to confess to being the kind of basic fashion bitch who's inclined to Google 'Bella Hadid street style' when I'm stuck in a rut and struggling to choose what to wear. So, this Saturday to do a food shop and get my nails done, I decide to ask ChatGPT to suggest a Bella Hadid-inspired outfit for me. The suggestion feels more like Bella's style from a few years ago than how she dresses today. I'm not sure the resulting look is any better than what I could have gathered myself from looking on Google or Pinterest, but it is a combination of pieces I've not worn together before and I felt good in this outfit.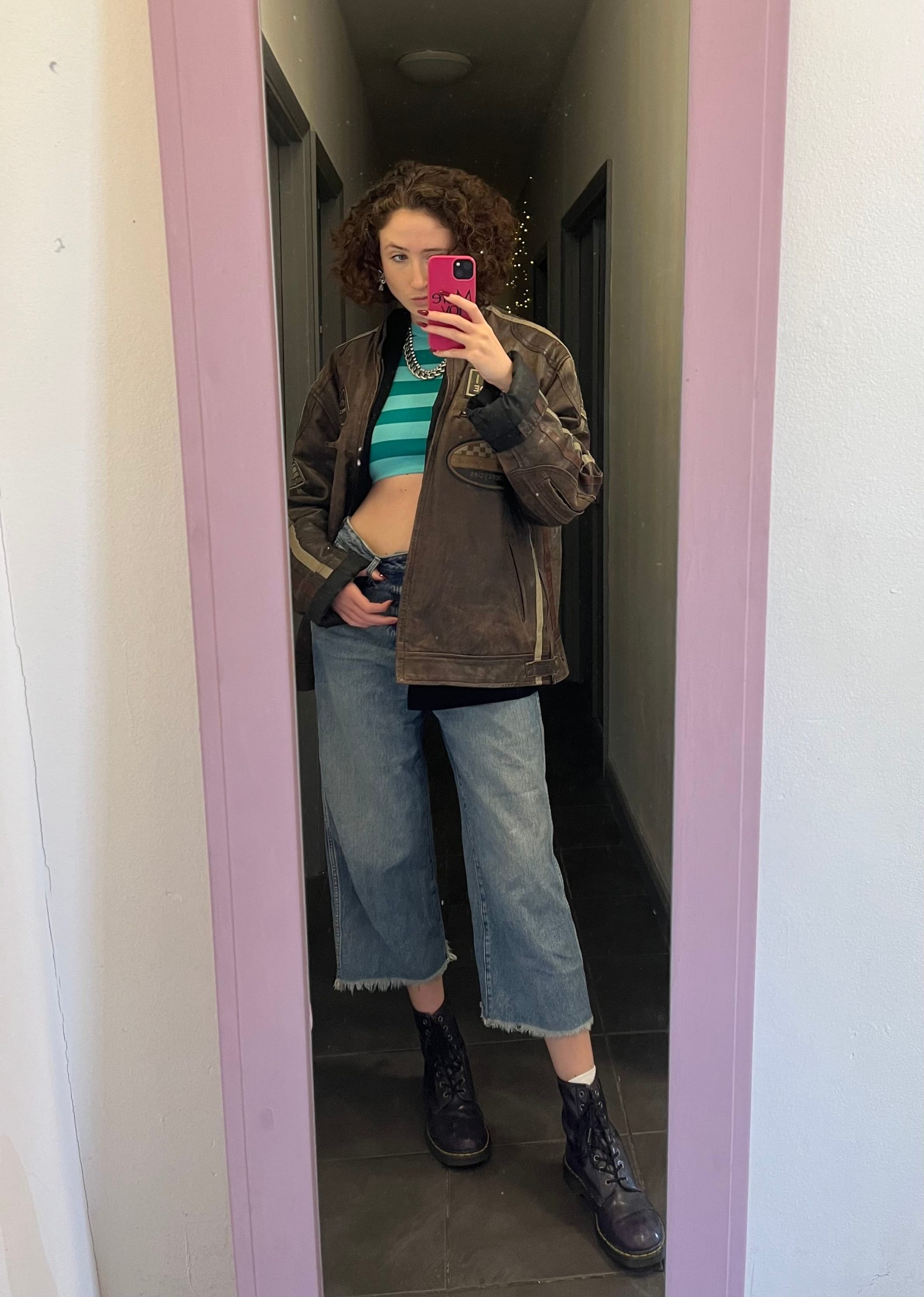 House party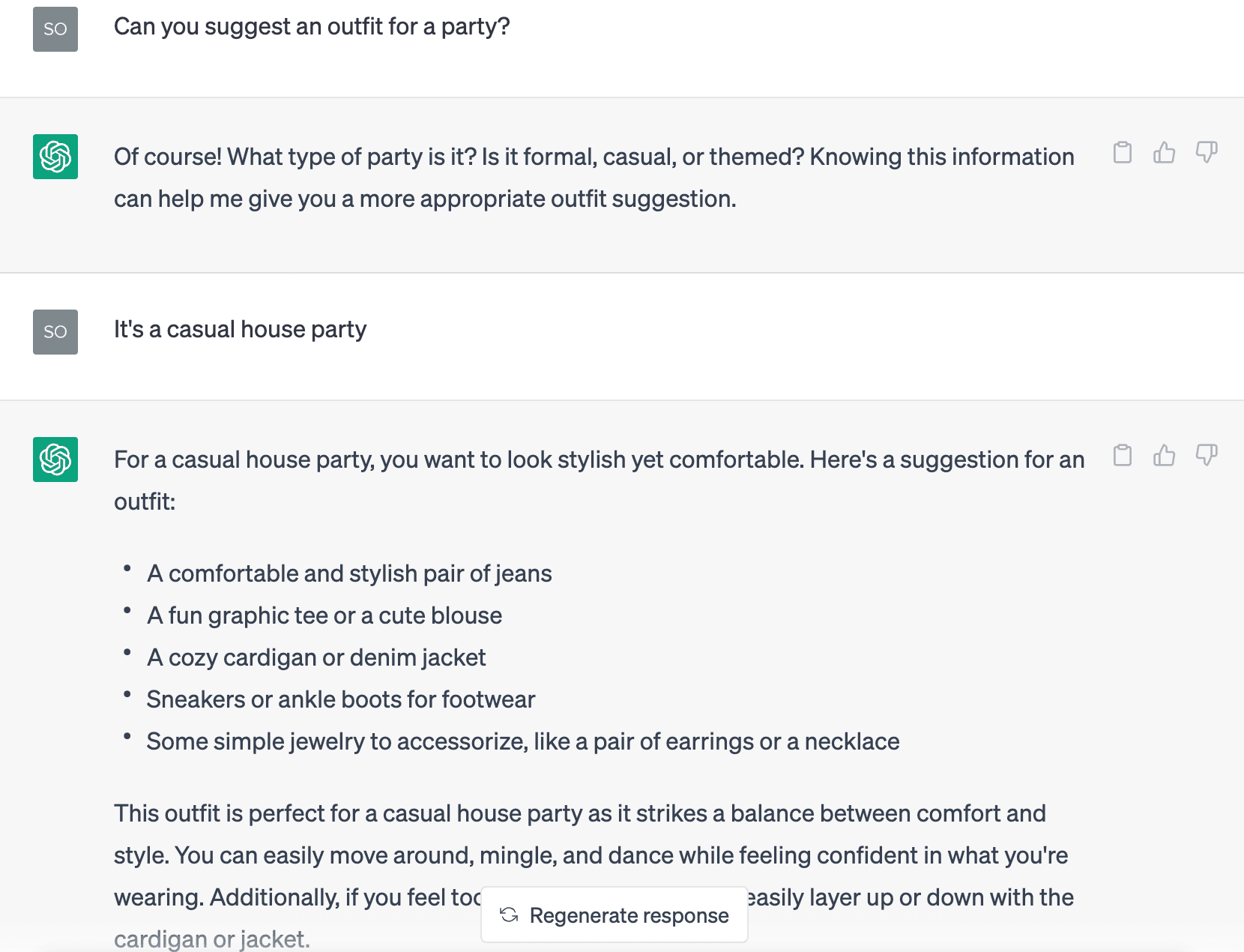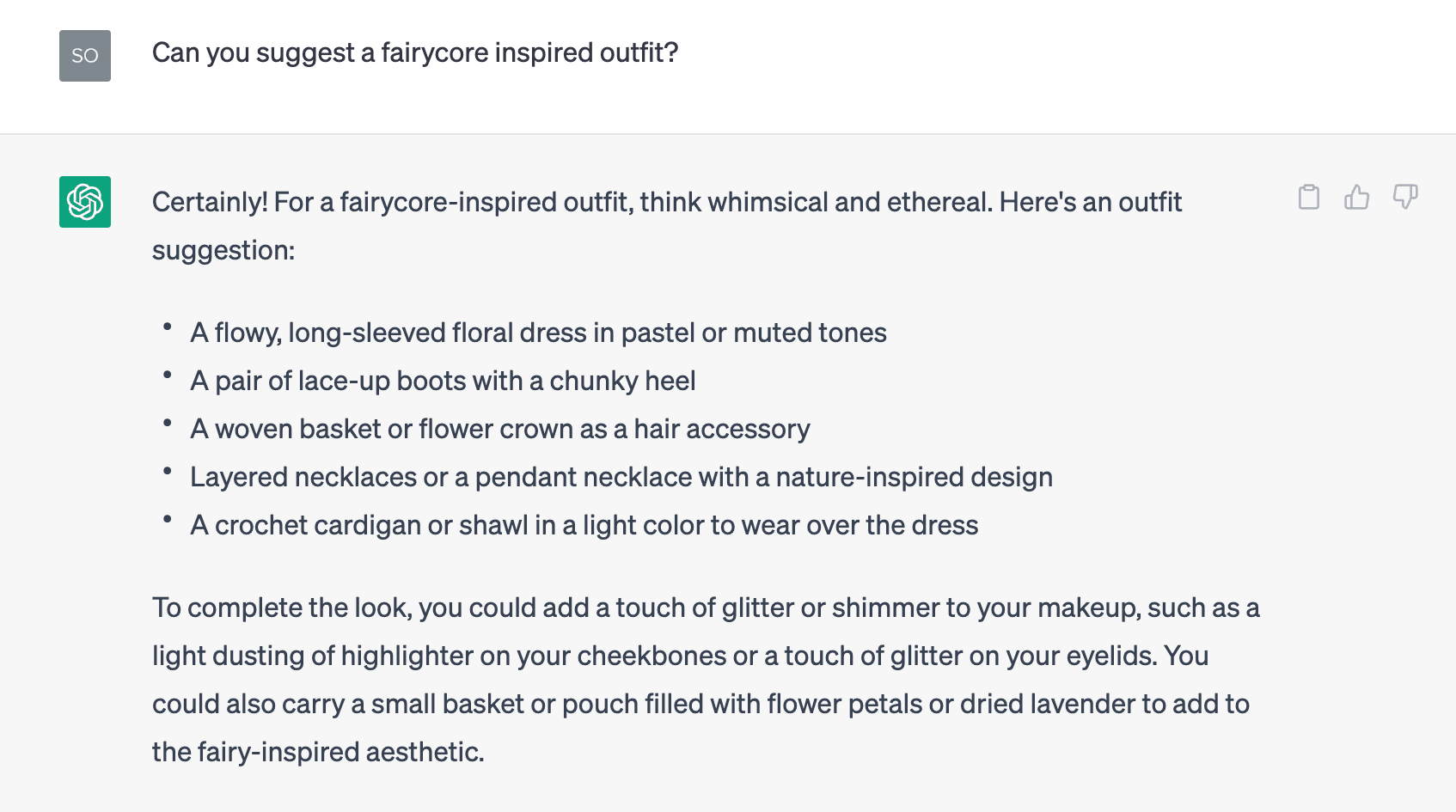 It's Saturday night and I'm going to a house party. I'm not planning on dressing up, but when I ask for a casual party outfit suggestion and ChatGPT tells me to wear a t-shirt and jeans again I know I'm not going to follow its advice. By this point, I'm fed up with t-shirts and jeans. I've worn more denim this week than I think I have ever done. So, I decide to change tack. I wonder how much ChatGPT knows about the latest TikTok cores and microtrends. I ask it to suggest a fairycore outfit for me. The answer is a bit rogue. I haven't worn a flower crown since my 2013 Lana Del Rey Tumblr phase and if I turn up to a house party with a basket full of flower petals I'll probably never hear the end of it. But I do my best at following the suggestion, wearing this flowy floral Topshop dress that I've had for years with my Doc Martens.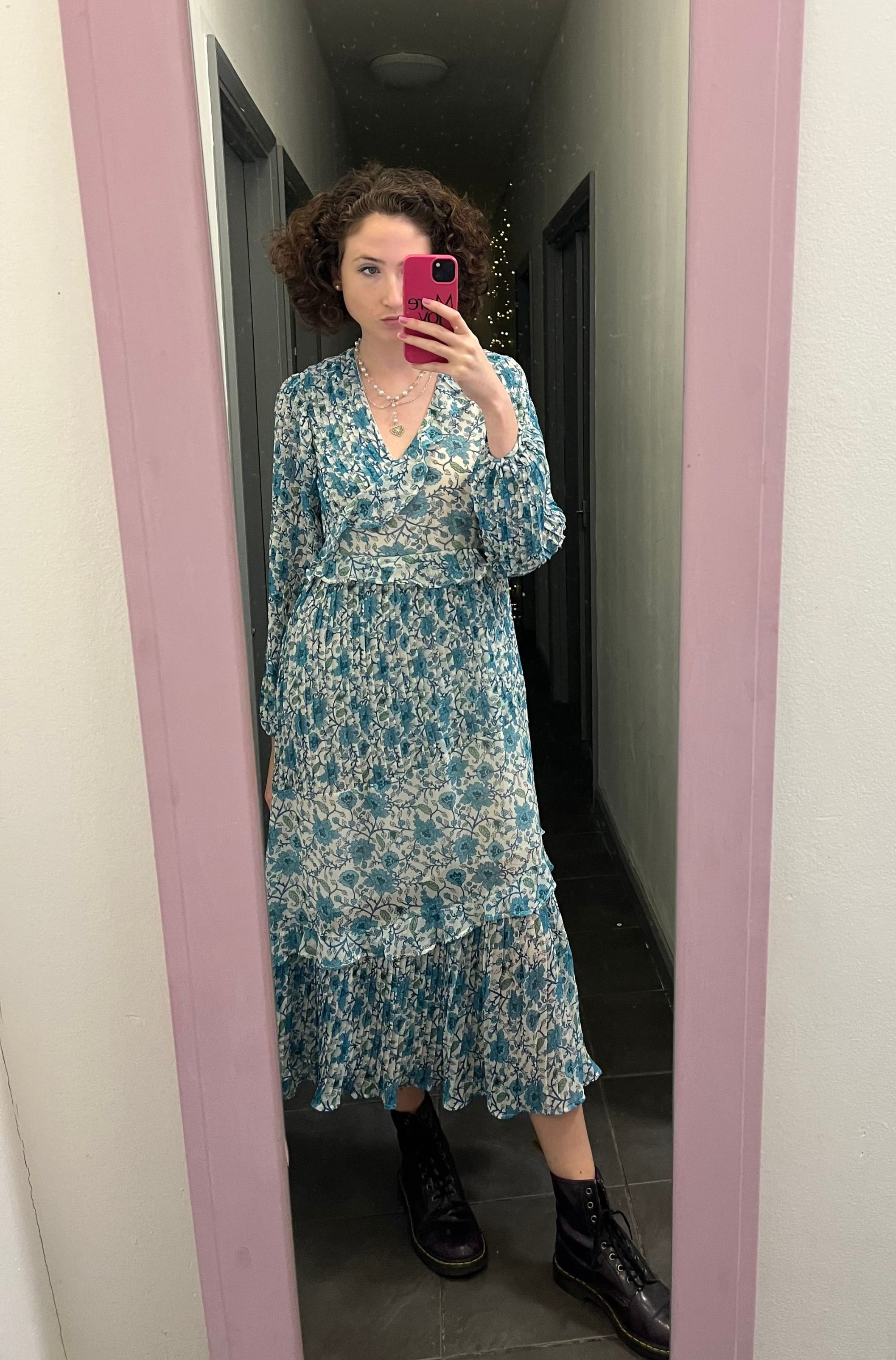 Day 7: Reviving old pieces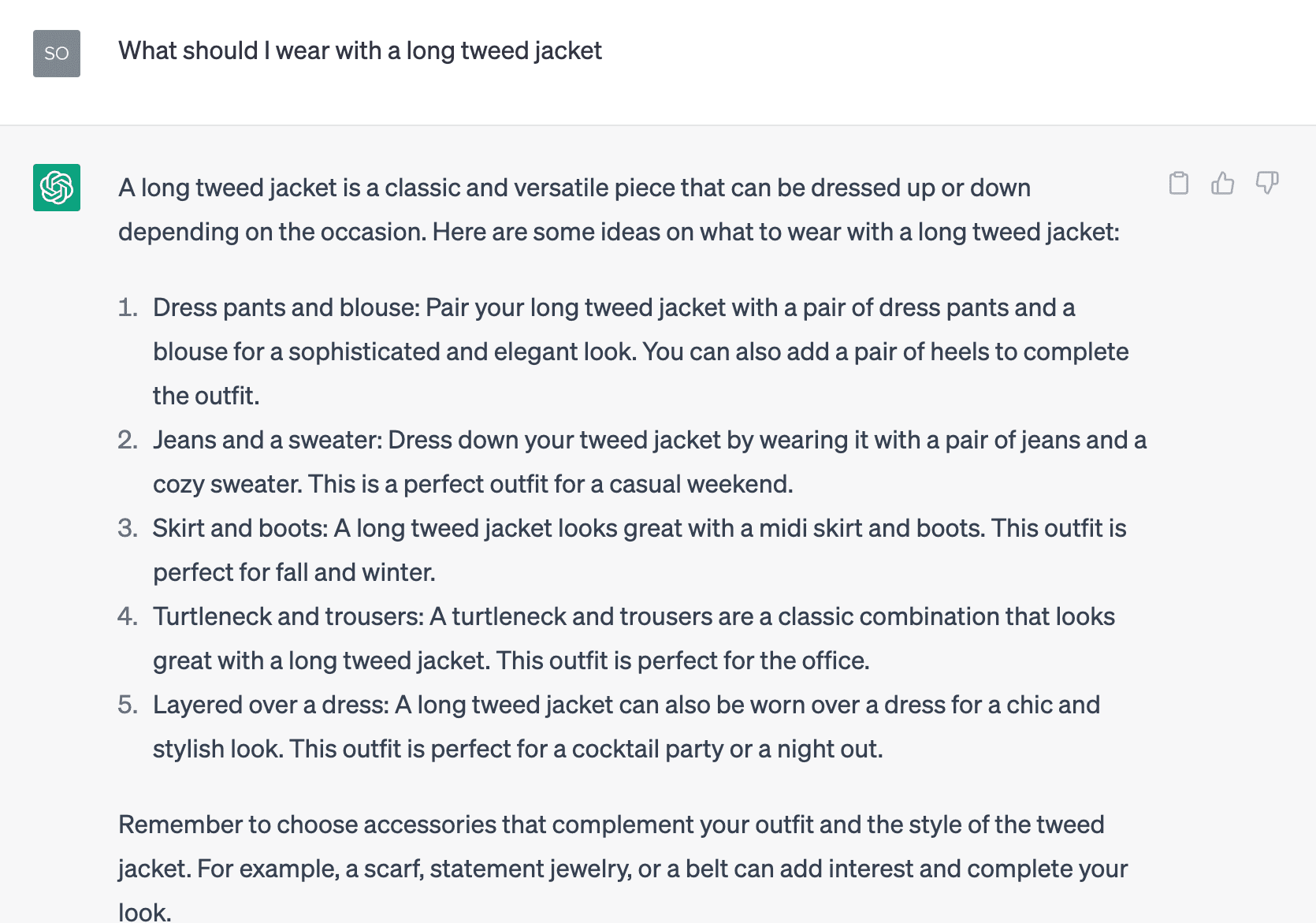 It's the final day of this experiment and I realise I haven't used ChatGPT for what it's probably best at; shopping your wardrobe. Shopping your wardrobe means wearing pieces you've not worn for a while in new ways. It can make your clothes feel exciting again and reduce the need for new shopping sprees. I picked this long tweed jacket as the starting point. I've had it for years, but I've not worn it in months. Following ChatGPT's first suggestion, I paired it with a vintage shirt, velvet trousers and my tabi boots. I felt very dramatic wearing this on my overcast walk in the park. I didn't really feel like I'd discovered a new way to wear something old, but if I were to use ChatGPT for fashion suggestions after the end of this experiment, this is probably what I'd use it for.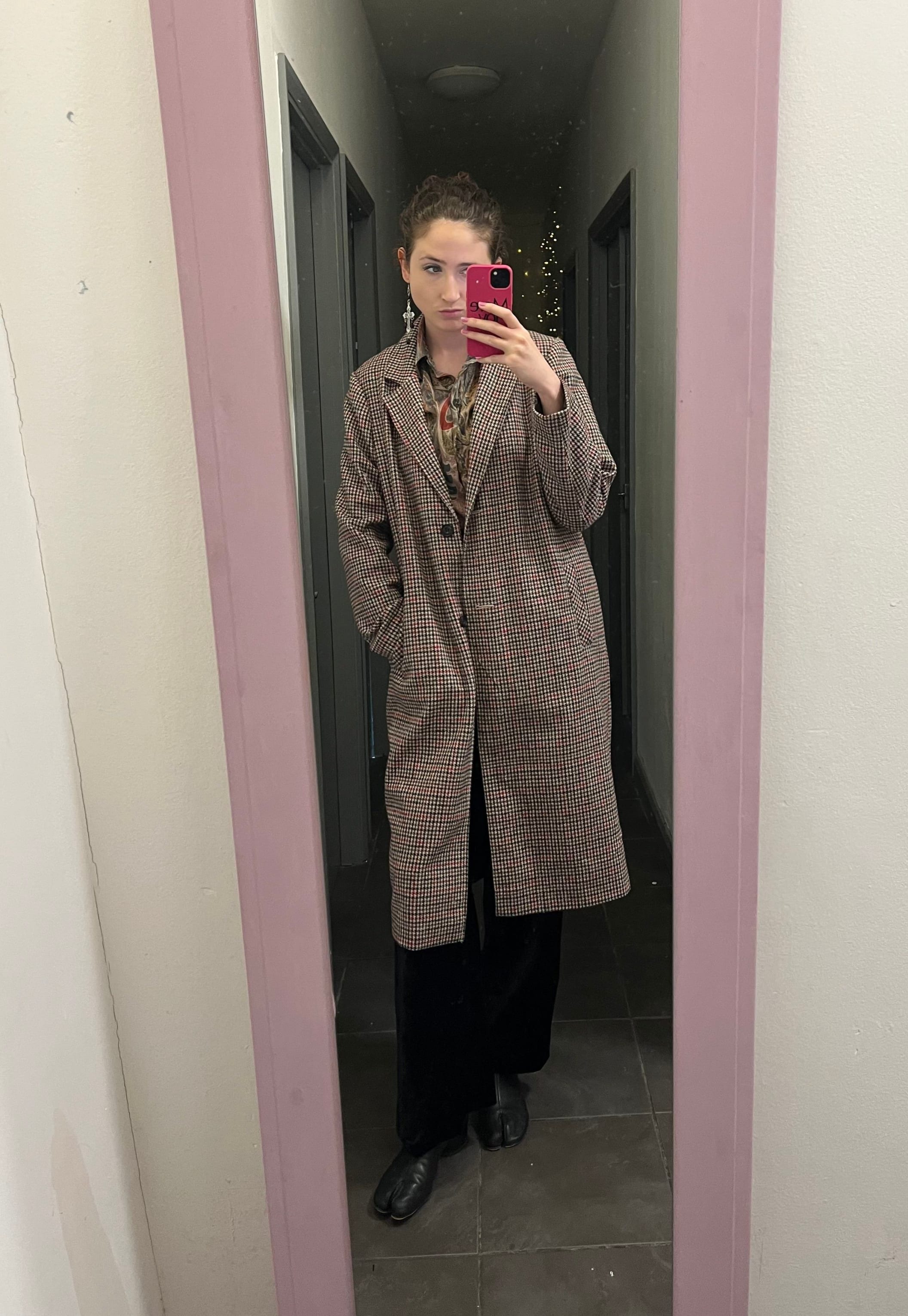 Conclusion
In conclusion, where ChatGPT is concerned, the jobs of stylists are safe. It's hardly the new Law Roach. Out of the nine looks I tried, only three of them were outfits I hadn't worn before so I didn't really get to experiment outside of my comfort zone. Did it save time and reduce decision making in the mornings? Well, not really. When I had to get up and out early, I resented having to feed my questions into my laptop before getting dressed. If I logged every item in my wardrobe using AI, the results might have been more specific, but as it is, I still had to choose exactly what to wear based off ChatGPT's suggestions. It wasn't quite Cher's Clueless wardrobe. And what about using AI to revive old pieces you've not worn for a while? This is what it's best at because you're giving it more information about the clothes you already own. That said, don't expect a particularly interesting outfit suggestion. Overall, you can have a lot of fun using ChatGPT to dress you, but don't expect it to revolutionise your style. We're not quite at the digital wardrobe from Clueless yet, but I imagine that reality is not far off.