Fashion is falling apart at the seams – here's why that's a good thing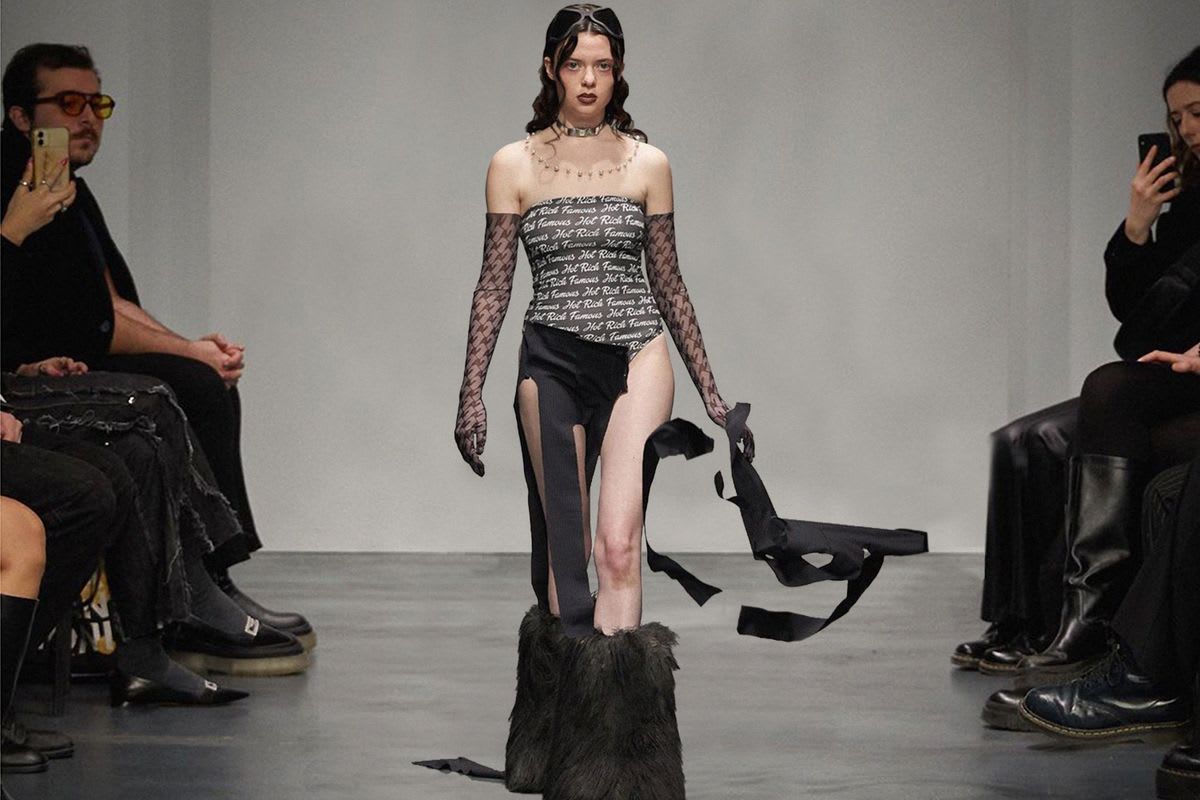 From wine stained clothes to beat up Birkins, worn in clothing has never looked so good – and it's helping change our consumption mindset
Once upon a time wearing clothes that were stained, wrinkled or falling apart was an undeniable faux pas. Whereas, wearing brand new, clean clothes from a brand's latest drop was the main way to flaunt how cool and up to date you were with fashion. But things have changed. From Dior to (di)vision, Prada to AVAVAV, designers are presenting clothes that are screwed up, dirty or coming apart at the seams. Meanwhile, a wider shift away from new clothes means that vintage finds and dishevelled aesthetics are fast becoming the new beacons of good taste.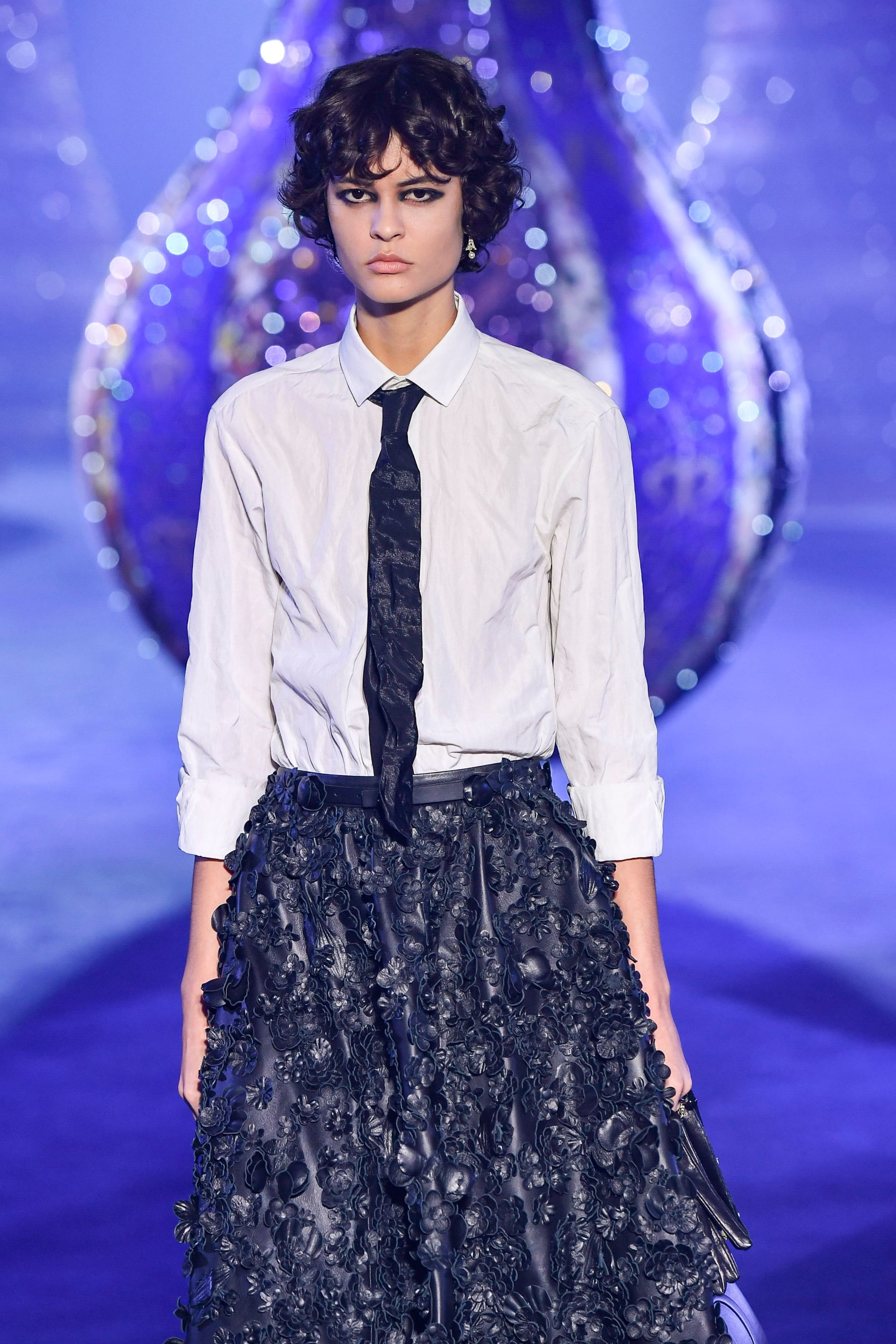 Dior Autumn/Winter 2023
Prada Spring/Summer 2023
This penchant for worn in clothes has been growing for some time. For AW20, Gucci sent grass stained jeans down the runway, causing uproar soon after when they went on sale for $1,400. Elsewhere, Balenciaga's ultra-distressed 'Paris' high-top trainers, which were made available last spring for a similarly eye-watering price tag, became the internet's most hated shoe when the brand was accused of appropriating poverty.
Meanwhile, in August last year, Heinz (yes, the ketchup company) partnered with thrift store thredUP on a capsule collection of ketchup stained streetwear and designer pieces – 100% of the proceeds went to Rise Against Hunger to support global hunger relief. And lets not forget the SS23 shows last season where wrinkled fabrics reigned supreme at Prada, Burberry, JW Anderson and The Row. When asked by reporters why garments appeared creased on the runway, Prada co-designer Raf Simons explained that these "gestures of error" were designed to replicate "pieces that have had a life." Put simply: old, stained or wrinkled clothes have stories to tell.
Off the runway, too, second hand fashion is still thriving. When someone asks where you got your coat from, it's now much chicer to cooly riff that, "it's vintage" rather than to mention a fast fashion brand. The reasons for this are twofold. Firstly, ethical and environmental concerns are increasingly at the forefront of our minds and shopping secondhand is better than buying new. Secondly, thrifting requires putting in more work and having an eye for what looks good rather than relying on brands to tell you what's trendy. Together, these factors continue to accelerate the rise of thrifting.
However, until recently, vintage fashion was still expected to be in perfect condition and look like new. Scuffed leather, unravelling cotton or wrinkled silk were all social signs of being unkempt and to be avoided where possible. But when designer resale platform The RealReal started accepting bags showing heavy signs of wear in early 2022, they soon realised that the tide was turning. Demand for designer bags with worn corners, significant scratches or interior wear nearly doubled in the following year. Some customers were attracted to the lower price point of these bags, but a growing number were also specifically seeking out this wear-and-tear aesthetic.
you are missing out on some content here because you rejected our cookies. want to change that?
On the runway this season, this dishevelled trend was on full display, especially at AVAVAV's Milan runway show. Titled 'Fake It Till You Break It', the show featured bags that broke and heels that snapped mid-runway. Clothes unpinned themselves and trousers exploded begging the question, asked by creative director Beate Karlsson, "Could bad quality still be luxurious?" Then at Dior, Maria Grazia Chiuri wondered whether wrinkled clothes could still be aspirational. Wrinkled, unironed shirts lent the collection a laid back, whimsical quality that felt empowering rather than embarrassing.
you are missing out on some content here because you rejected our cookies. want to change that?
Elsewhere, in Milan, influencer Madeleine White went viral when she took a pair of scissors to a gifted Prada jumpsuit, turning it into a two-piece with unfinished edges. While she got permission from designers Raf and Miuccia themselves, some called the raw edges messy and thought the finished look – which included leg warmers so no fabric went to waste – was ugly. Others compared it to Julia Fox's haphazardly chopped up DIY looks which have included a denim two-piece and a dress made entirely from leaves. They're messy and imperfect, but that's part of the allure.
you are missing out on some content here because you rejected our cookies. want to change that?
At Copenhagen Fashion Week in January, (di)vision also confronted the joy of imperfection head on, closing their show with a dress whose train was a tablecloth, the model leaving a path of destruction in her wake as she stood up and dragged dinner plates and red wine glasses behind her. The moment went viral and the red wine stained cloth was later turned into a capsule collection of shirts, jackets and bags in collaboration with digital insurance company Hedvig. The collection was all about finding beauty in things that are broken or ruined and celebrating a carefree lifestyle. "With the right mindset, a stain can serve as a reminder of a great night instead of an accident," said Hedvig creative director, Petter Swanberg.
Indeed, the trend's potential to prompt a mindset shift is where its radical potential lies. "I believe this aesthetic is incredibly important for the future because it is the door that opens on the understanding that we've got all we need," says Orsola de Castro, co-founder of Fashion Revolution and author of Loved Clothes Last. "Before we make new clothes that are valueless, let's value what we've made already. I never advocate buying nothing new because I do 100% believe in the power of new sustainable and ethically made clothing, but this new clothing can come from a different source and that source can be old clothing."
Some of the bigger brands who are championing this aesthetic may be creating new clothes that look old without actually being old, but elsewhere emerging designers are increasingly looking to upcycling to make something new from discarded, pre-loved materials. And some are even using previously worn fashion to cultivate a torn, stitched together and imperfect look. In doing so, they're making DIY and make do and mend aesthetics seem cool, luxurious and aspirational.
you are missing out on some content here because you rejected our cookies. want to change that?
One such brand is Soup Archive who use upcycled fabrics to create mismatched, screwed up garments that look like sculptural works of art. "The idea of luxury and DIY going together is inspiring," says a representative of the label. "Shifts in consuming, make do and mend and looking at what you already have and changing it means that style can evolve into something deeper instead of changing everything every season."
Clearly, this trend exists well beyond the runway. People have been mending clothing long before we had streetwear drops or fashion weeks and this deliberately dishevelled aesthetic has long been a hallmark of punk subcultures. Some designers may play with wear-and-tear looks while still creating brand new clothes, but if the repercussions of this can change our relationship with old, stained or screwed up clothes then the positive impact is still felt.
After all, perhaps wearing a garment that still looks good despite its imperfections is actually the height of luxury. "It's actually a really good way to show the quality of clothing," concludes de Castro. "Something vintage that is allowed to naturally go its own way and become destroyed in time can look more like a piece of art, like a statement, like a piece of culture. Each tear and each rip is part of your own personal history."