6 designers to check out at London Fashion Week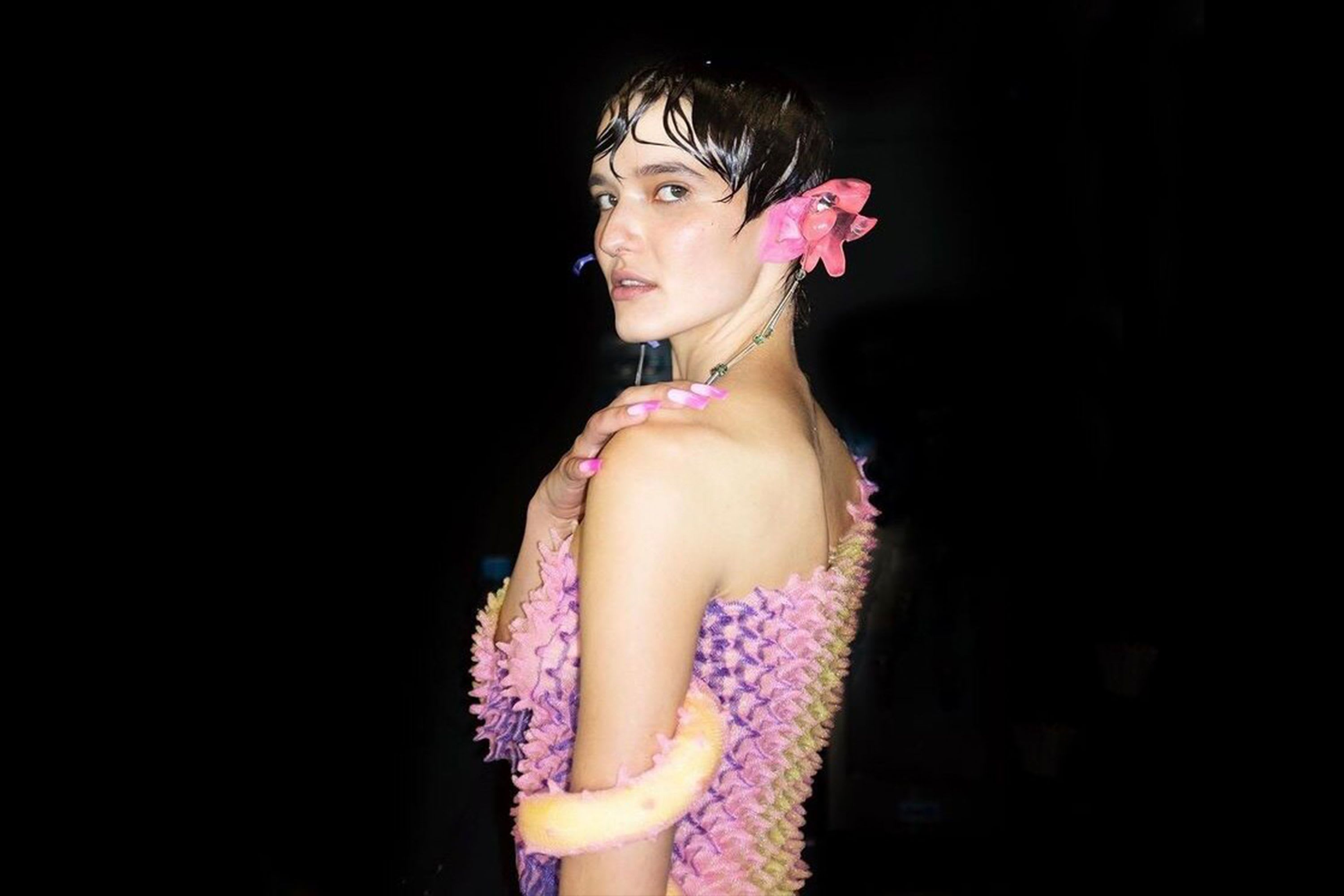 From sex-positive corsetry to maxi kilts and futuristic knitwear, these are the cool young brands to watch at LFW and their key pieces
London is known for its disruptive fashion talent. Each season, bright young things fresh out of the capital's leading fashion schools take over the runway to show the establishment how it's done. Today marks the start of London Fashion Week SS23 where now formidable designers including JW Anderson, Molly Goddard and Christopher Kane will showcase their latest collections, but beyond the big names, it's a platform for emerging brands to build their rep and put on a show of a lifetime.
Talent incubator Fashion East has selected some of the buzziest young designers to present at their show. This season Jawara Alleyne, Karoline Vitto and Standing Ground make up the roster. Recent Fashion East alumni KNWLS (previously known eponymously as Charlotte Knowles) and Chet Lo also have their very own shows this season, and eyes of the fashion media are on them to produce something special. Elsewhere on the schedule, don't miss the eccentric maximalism of Chopova Lowena or Ukrainian designer Masha Popova's colourful Y2K-infused designs.
Making it in fashion has never been easy, but constraints thrust upon young designers by the pandemic and Brexit have thrown an extra spanner in the works for fashion students and recent graduates. Young designers are at the beating heart of London's fashion scene, keeping it fresh and exciting. Supporting emerging creative talent has never been more important, whether that's sharing their work on Insta or buying something from their brand.
From the sex-positive corsetry and sheer fabrics of KNWLS to Chet Lo's futuristic textured knitwear, here are the coolest young brands to know this fashion week. And while we wait to see their SS23 collections, here are the key pieces you can shop now.
KNWLS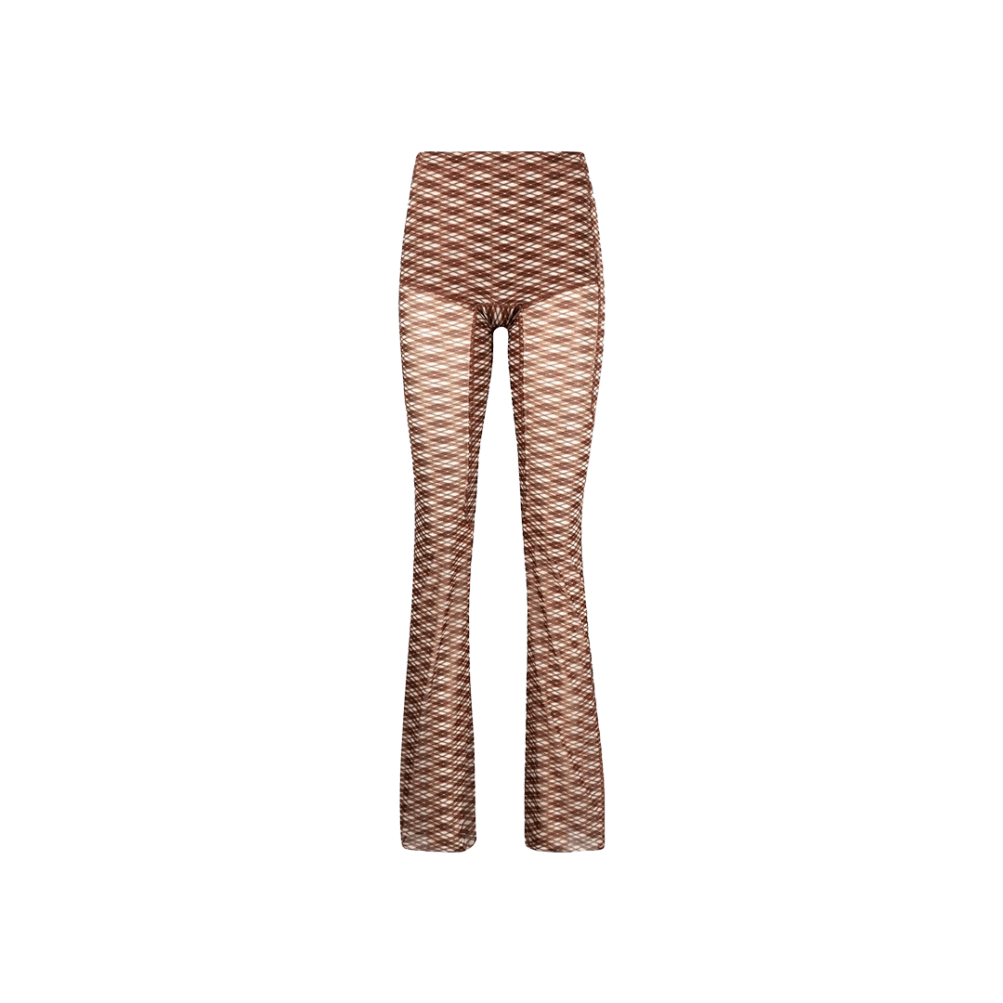 Argyle-print flared trousers
KNWLS
£492.00
Couples that make clothes together stay together. KNWLS (previously known as Charlotte Knowles) was founded by partners in work and life Charlotte Knowles and Alexandre Arsenault in 2017. The Central Saint Martins graduates blend sex-positivity and futurism with 90s and 00s silhouettes. Their skin-baring sheer garments and contemporary corsets are a cult fav adored by celebs including Dua Lipa, Bella Hadid, Julia Fox and the Kardashians. Their printed flared leggings embody their vision of functional femininity.
KNWLS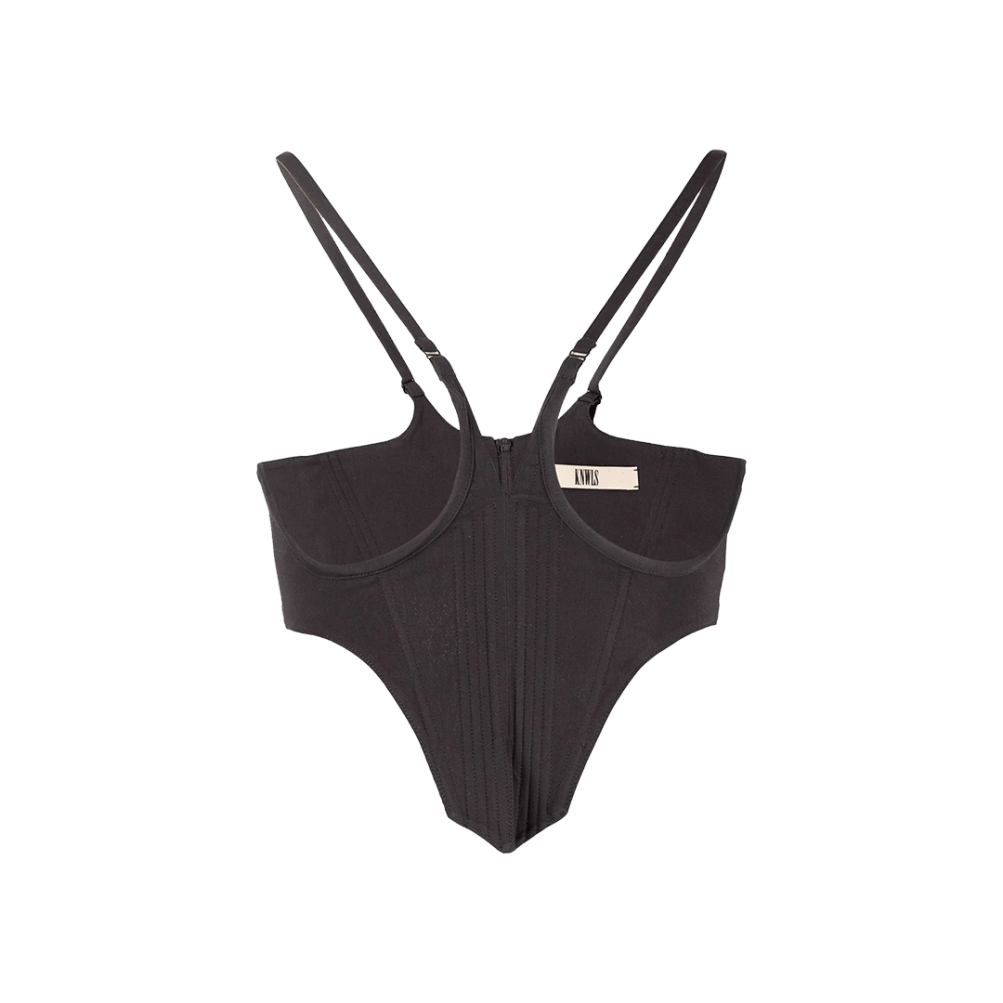 Spaghetti strap harness
KNWLS
£575.00
KNWLS helped redefine the corset, transforming a symbol of restriction into one of protection and empowerment. Knowles says that when she wears a corset, she feels supported. Their one-of-a-kind corsetry comes in unique shapes designed to be layered with their sheer patterned tops. The KNWLS woman wears hers like an armour.
DANIEL W. FLETCHER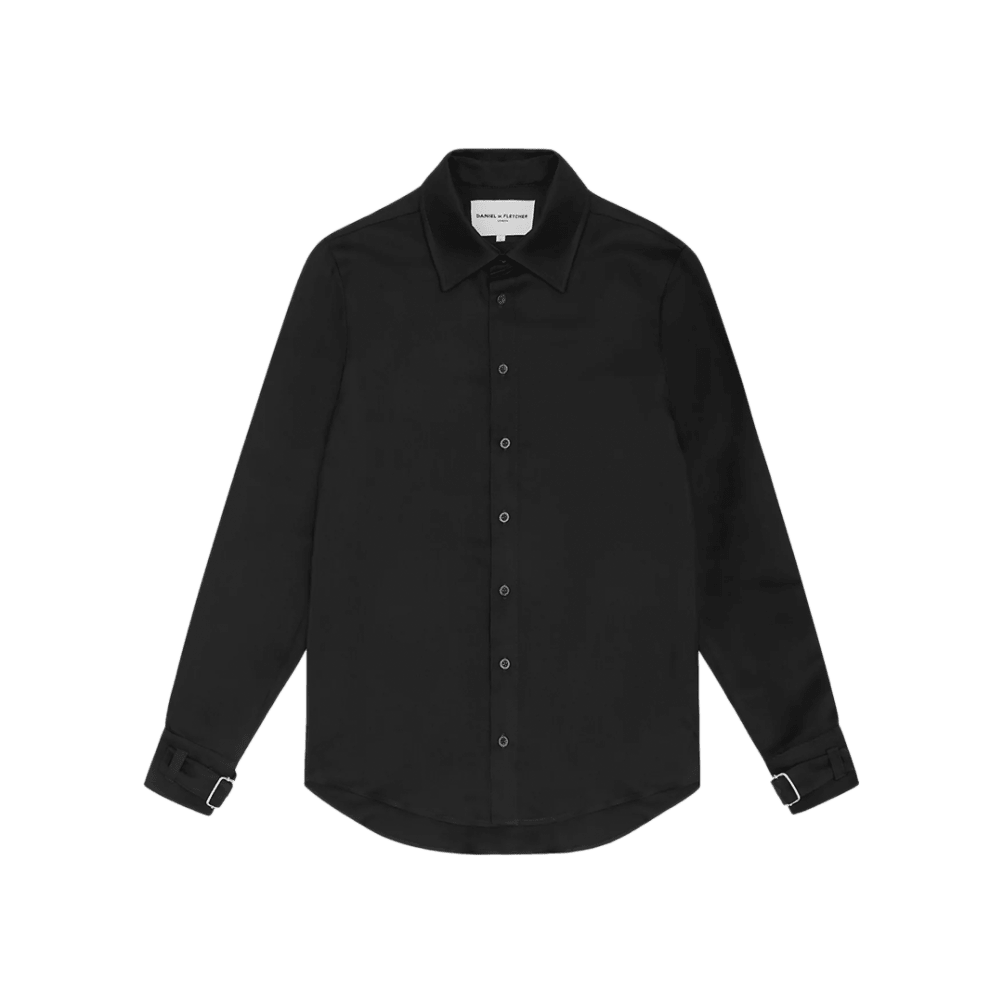 Buckle Sleeve Shirt
Daniel W. Fletcher
£290.00
Meet one of Harry Styles' favourite brands. In 2020 menswear designer Daniel W. Fletcher got to the final of Netflix's 'Next in Fashion', having previously launched his namesake brand upon graduating CSM in 2015. His work is inspired by current affairs and social issues and he's dressed Harry Styles, Charlie Heaton and Sam Smith. In fact, Styles' stylist Harry Lambert was Fletcher's first ever customer after he'd just shown his graduate collection. He's best known for his lush shirting and this 100% silk shirt with buckle details on the cuffs is certainly no exception.
DANIEL W. FLETCHER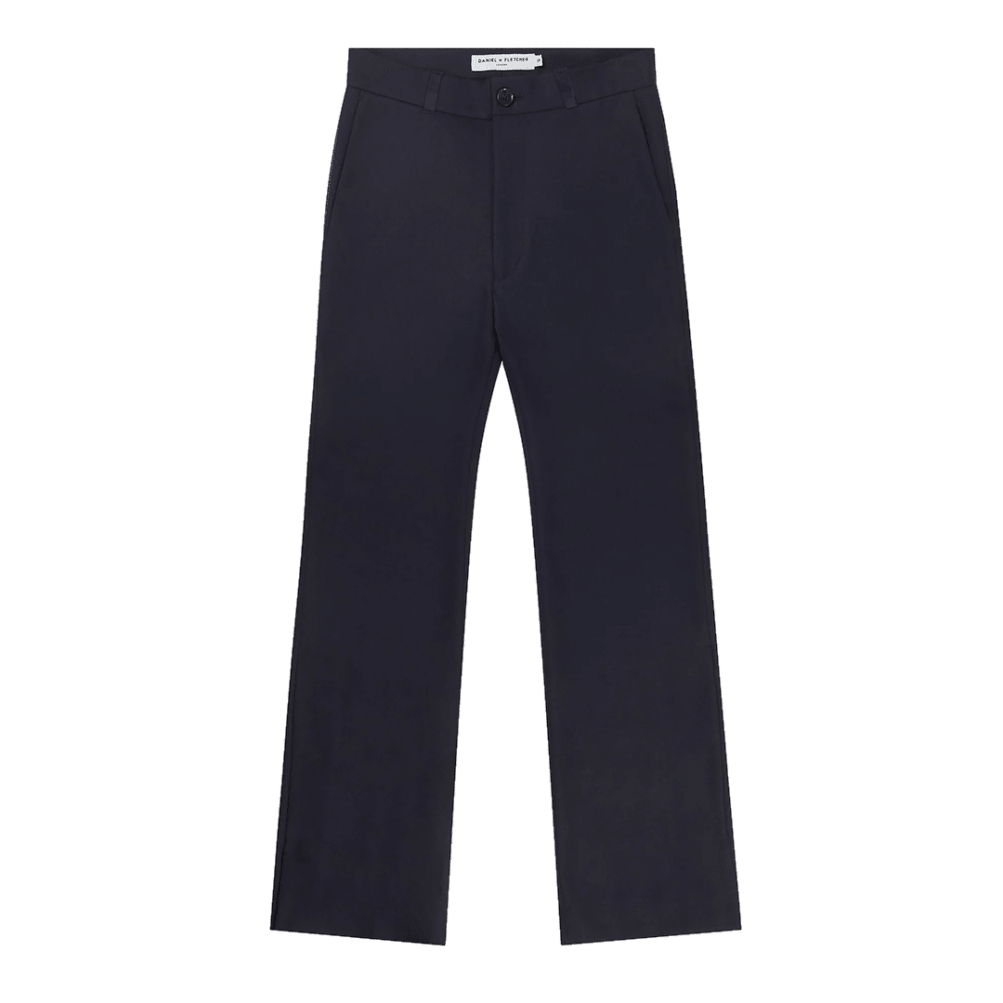 Wide Leg Trousers
Daniel W. Fletcher
£350.00
Casual luxury tailoring is a core tenet of Daniel W. Fletcher's brand. These wide leg trousers are a new silhouette for AW22. They're crafted from 100% wool and each pair is made to order to reduce waste. Classic with a high fashion twist, it's easy to see why Harry Styles is a fan.
CHET LO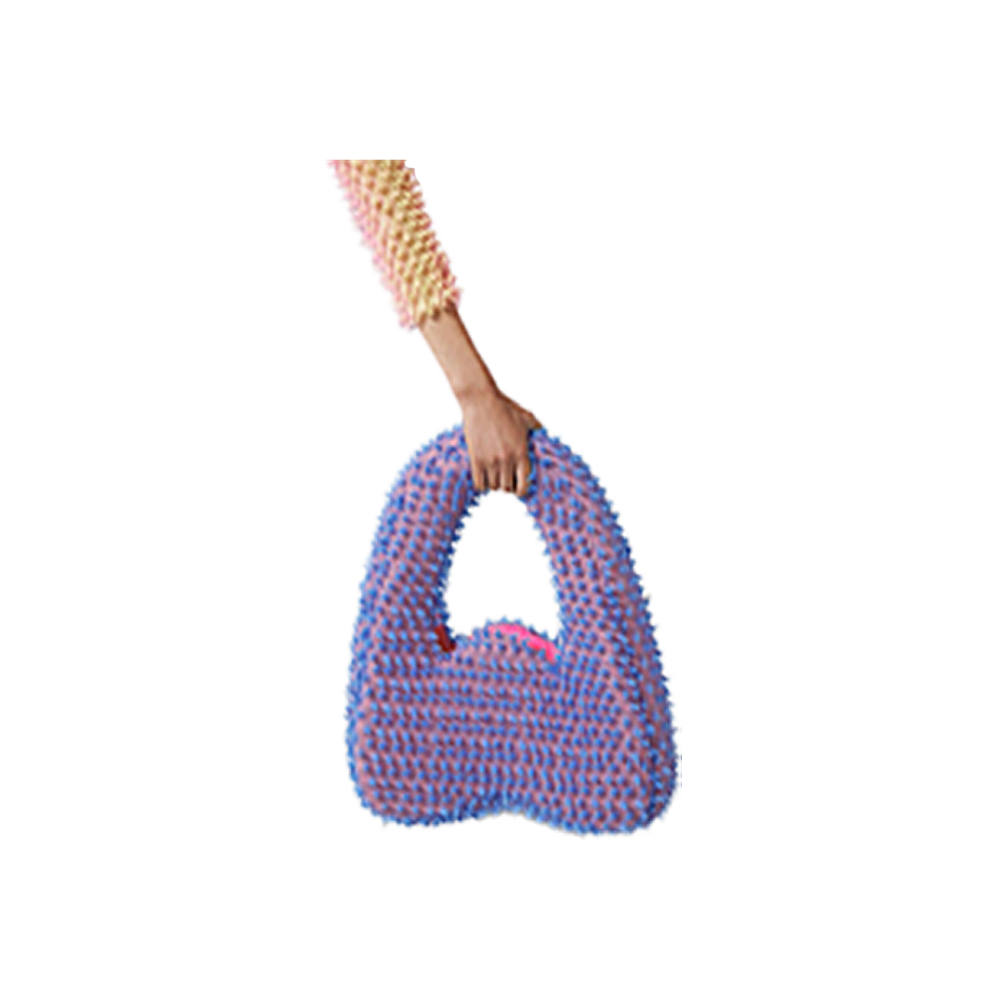 Small Spiky Bag
Chet Lo
£495.00
In Chet Lo's bright universe, clothes are vibrant and futuristic universe. Taking inspiration from retro futurist Japanese comics, the 25-year-old designer counts Kylie Jenner, SZA and Chloe Cherry among his fans. Garments are instantly recognisable for their distinctive spikes in a neon colour scheme that renders them playful rather than threatening. This spiky bag is the perfect entry point to brand too, especially if the neon leg warmers and swimming caps on offer feel a bit too out-there.
CHET LO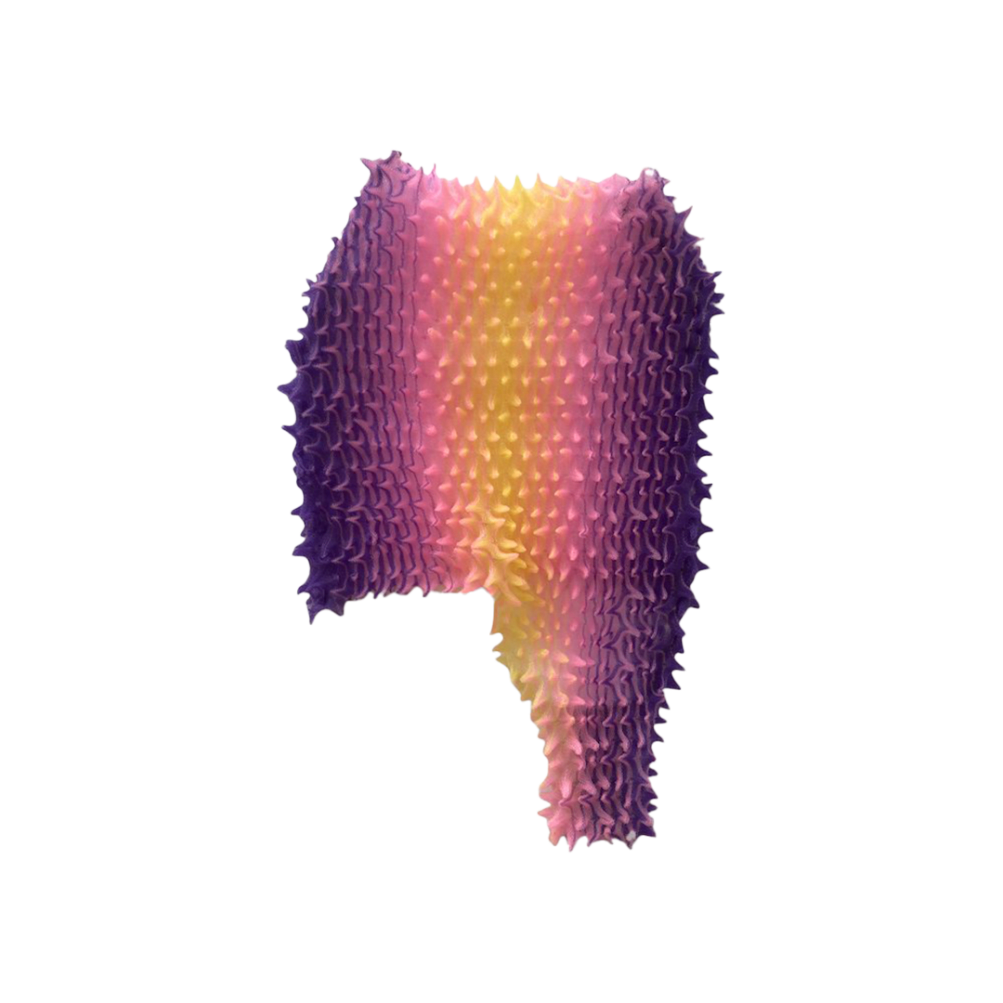 Tropicana Skirt
Chet Lo
£350.00
Chet Lo's irreverent take on knitwear uses monofilament yarn which is basically like really thin fishing wire that he forces into spikes to get the desired spiky look. Each piece is available in multiple colourways, made to order and knitted in London. This asymmetrical Tropicana skirt is avant-beachwear for daring party girls and spiky sea creatures.
CHOPOVA LOWENA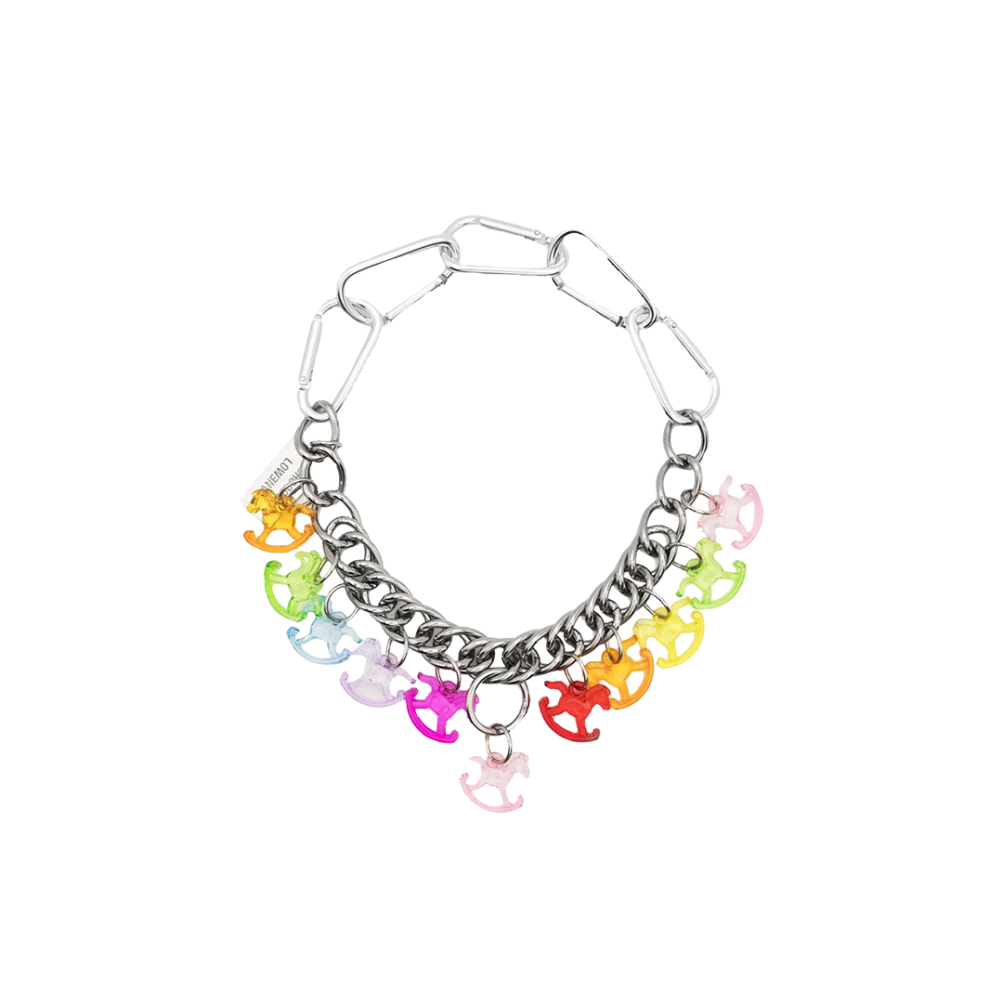 Charm-Detail Choker Necklace
Chopova Lowena
£191.00
Chopova Lowena's first collection sold out immediately on Matches.com when they were fresh out of CSM. The duo met during their BA and by the time they started their MA, they'd joined forces, combining Chopova's Bulgarian heritage with Lowena's love for climbing to form their sporty folkloric aesthetic that's popular with Dua Lipa, Willow Smith and Charli XCX. They're known for their pleated skirts, but their jewellery is also a hit. Relive your childhood with their nostalgia-infused charm necklace.
CHOPOVA LOWENA
Ruched check-pattern cropped top
Chopova Lowena
£295.00
Chopova Lowena use deadstock fabric sourced from unused textile forums, auction sites and social media groups to craft their hybrid garments, often using material from pillowcases and aprons. They work with skilled female artisans in Bulgaria, creating job opportunities and connecting with Chopova's Bulgarian roots. There's a grungy undercurrent to their designs as shown with this mesh checked crop top. Wear with a tartan skirt for more is more maximalism.
KAROLINE VITTO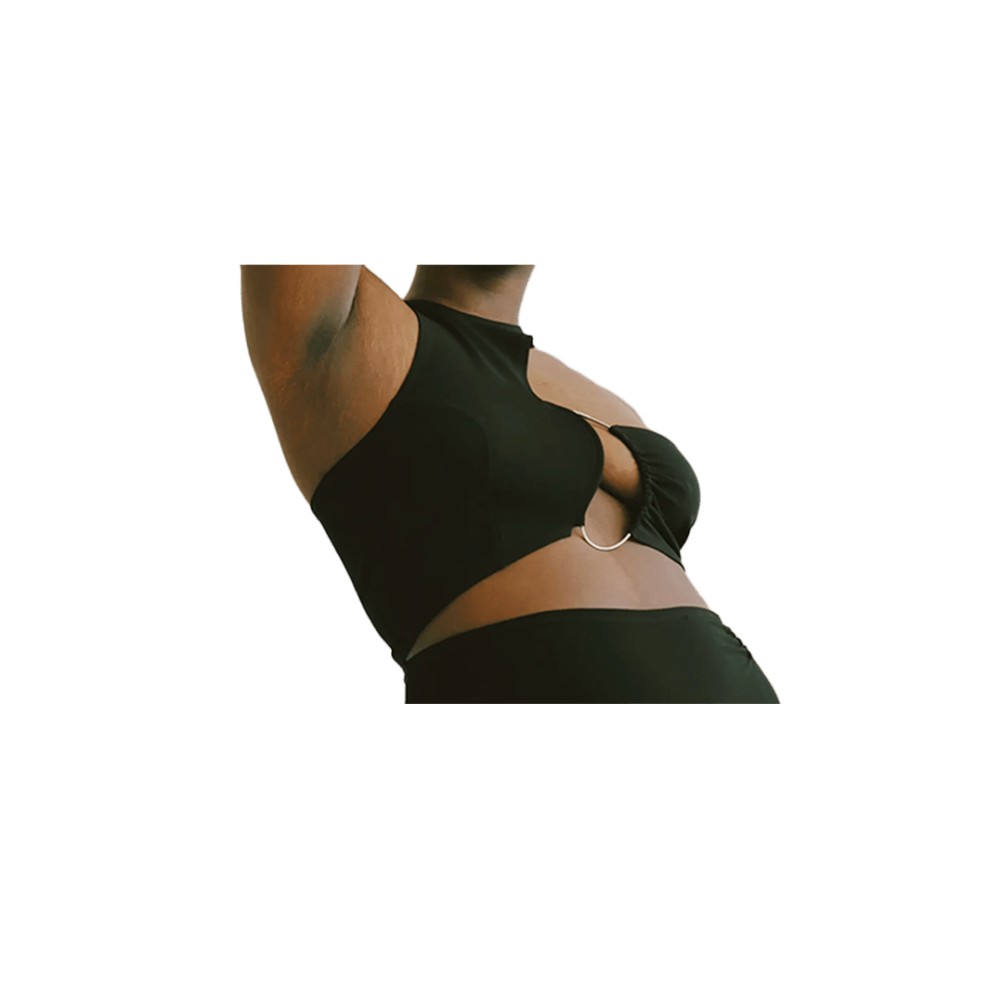 Framed Hourglass Draped Top
Karoline Vitto
£257.00
Karoline Vitto is one third of this year's Fashion East lineup. Her visually striking cut-out pieces are available in UK sizes 8 to 28, designed to accentuate curves rather than cover them. Barely-there dresses, shoestring straps and peek-a-boo halter necks are both sensual and daring. The Hourglass Top is framed around the wire connecting pieces of fabric and is shaped to support larger busts without needing a bra.
KAROLINE VITTO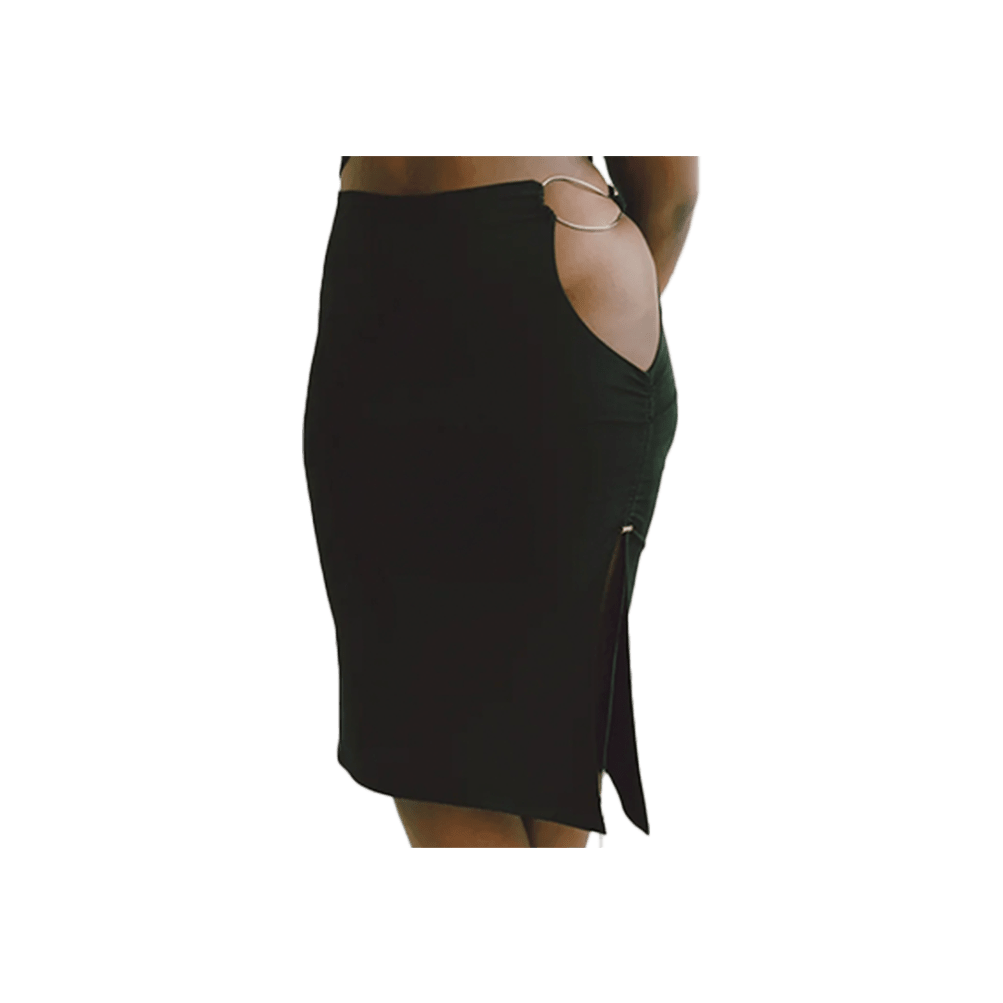 Barely There Skirt
Karoline Vitto
£257.00
Karoline Vitto's campaigns celebrate the fat rolls we're taught to hide, delicately showcasing the beauty in all bodies. While some have feared the ubiquitous cut-out trend could exacerbate fashion's idealisation of thin bodies, Vitto offers an enlightened alternative. Flesh that's exposed through the cut-outs becomes almost part of the garment, like with this hip-baring skirt, made to order in their London studio.
MASHA POPOVA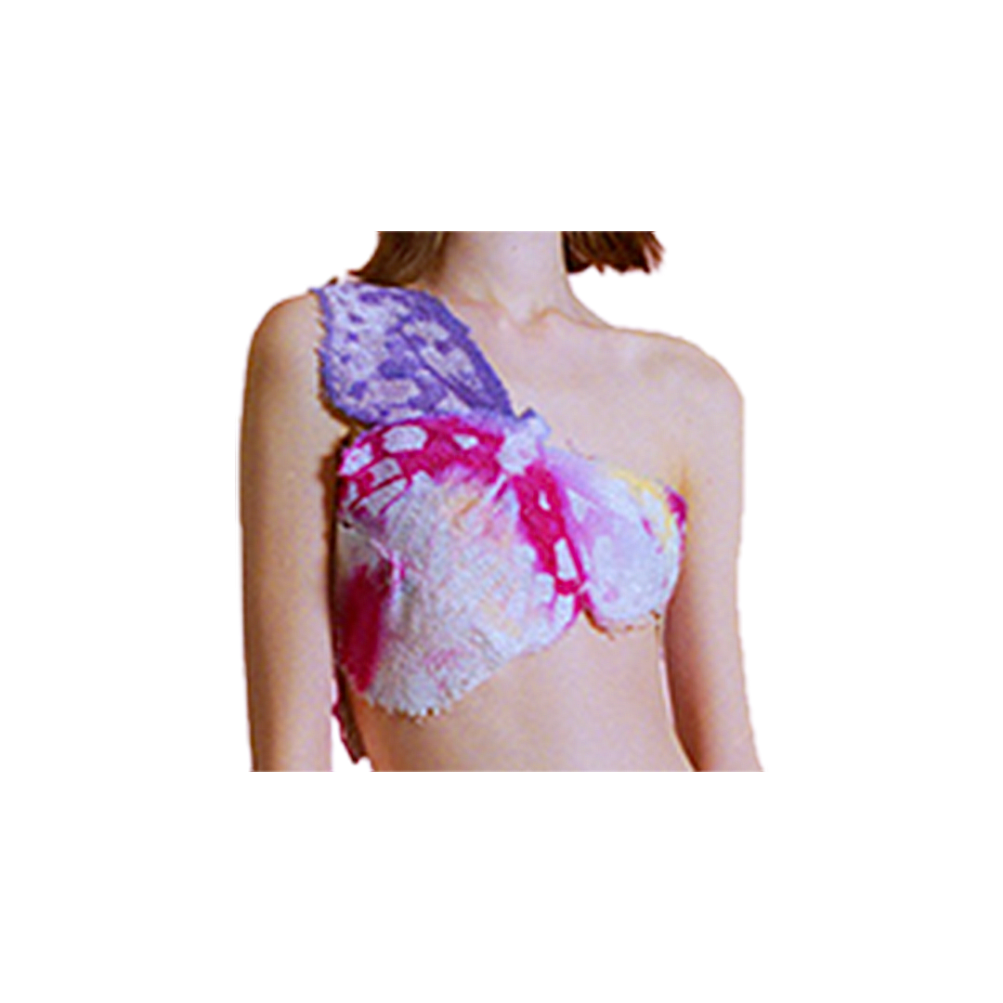 Bleached Azalea Embroidered Butterfly Top
Masha Popova
£310.00
The Y2K butterfly top has fluttered back into fashion and Masha Popova's interpretation of the trend is a pop influencer fave. But Popova didn't anticipate the butterfly moment when she made the tops and says she chose the symbol at random. It's been an Insta hit with celebs like Kylie Jenner, Bella Hadid, Billie Eilish and Rina Sawayama.
MASHA POPOVA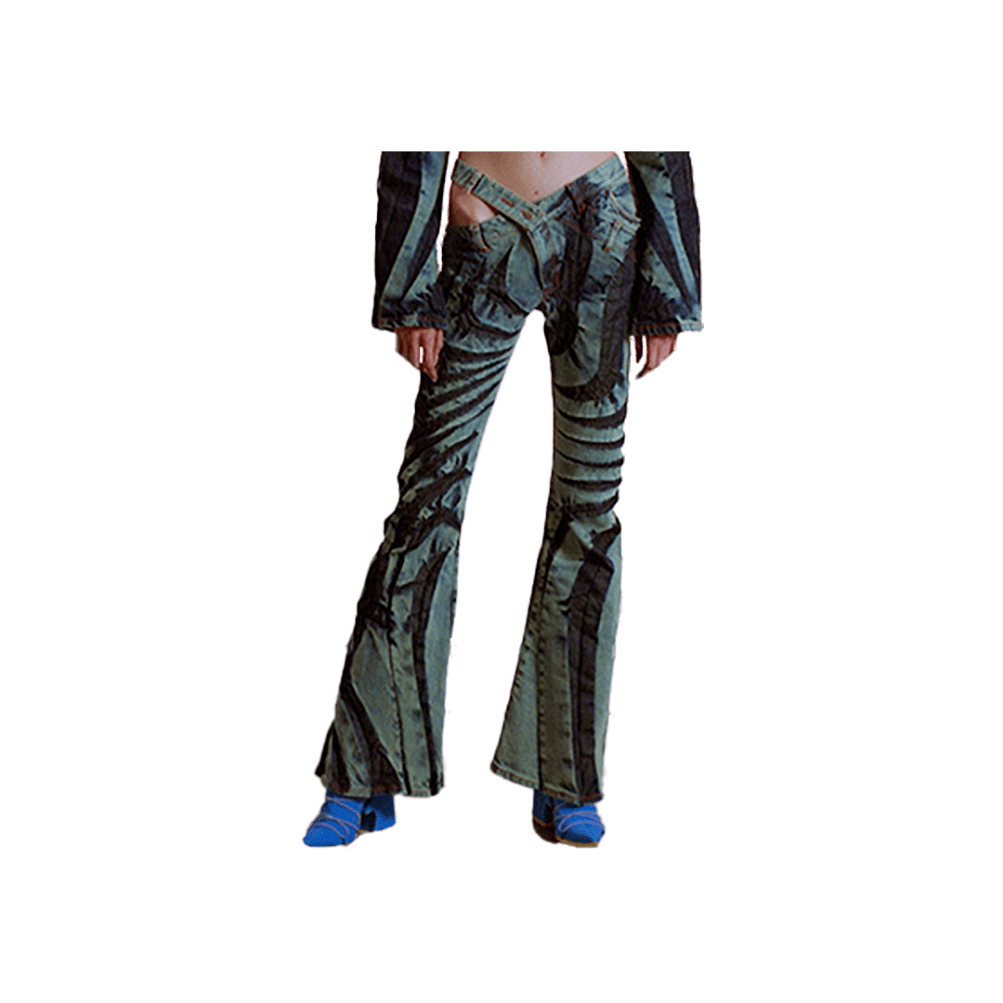 Dirty Denim Bias Cut Jeans
Masha Popova
£350.00
Butterfly tops aside, Masha Popova's signature is high fashion denim. She experiments with various dying and fabric techniques to reach the final product. The bold and colourful designs are hand-dyed in her studio and inspired by 80s and 90s sci-fi and horror films. So take an influencer-approved nostalgia trip with Popova's take on Y2K denim.
All products are selected independently by our editors from the Woo online store, a carefully curated platform for feel good fashion, beauty, wellness and lifestyle. Discover more here.