Paris Fashion Week was a battle between wearability and gimmick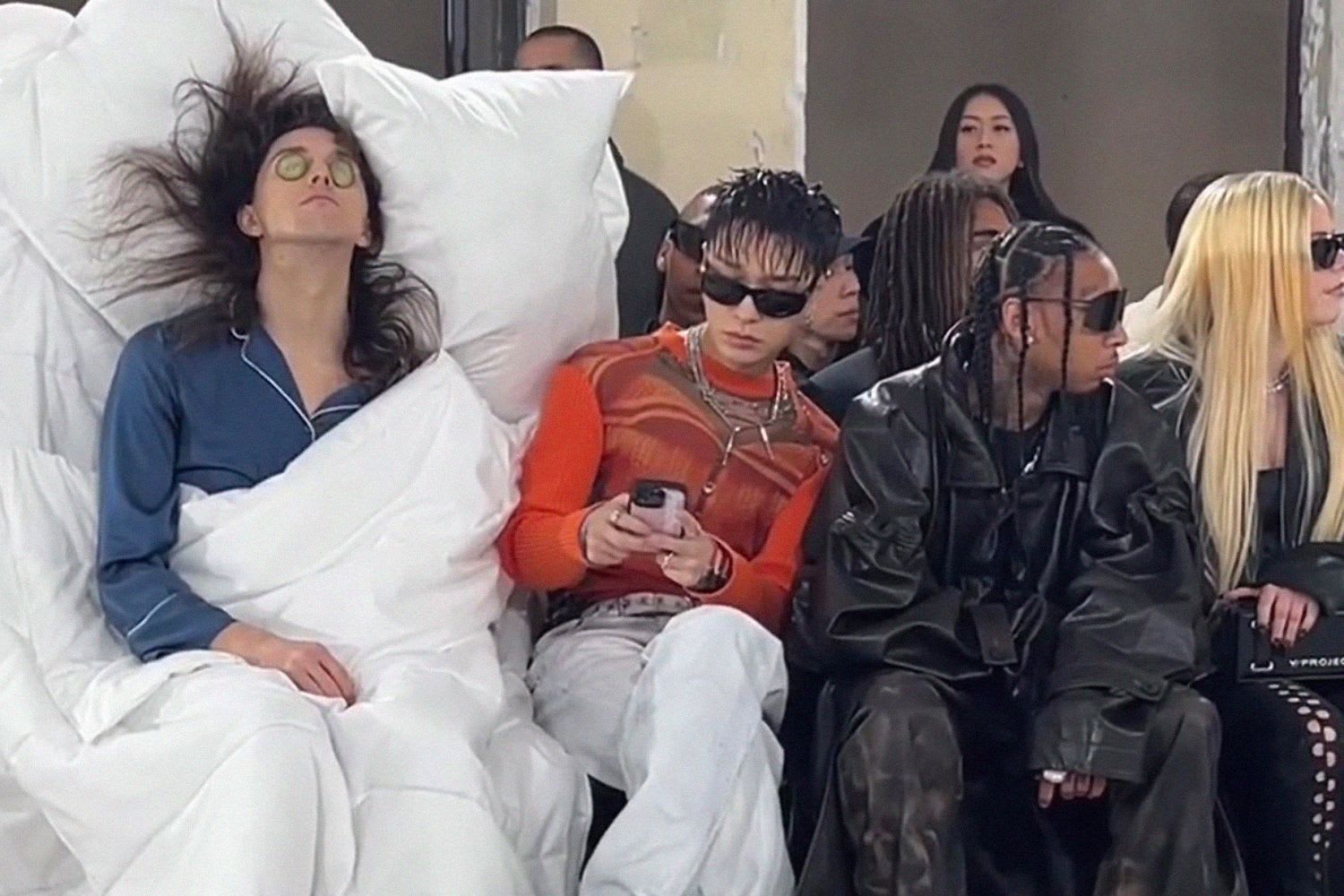 Viral fashion moments have become commonplace. What comes next?
image Victor VIRGILE/Gamma-Rapho via Getty Images
words Sophie Lou Wilson
Viral fashion gimmicks for spring? Groundbreaking.
Seeing performance, technology and live animals on the runway is basically a given these days. In fact, it's become so ingrained in fashion week that this season, focusing on the clothes themselves felt like the more radical and original approach.
The designers who have just shown at Paris Fashion Week were divided on the issue. While some continued to pursue those viral moments, like Coperni, who collaborated with Boston Dynamics to bring cyberdogs to the runway, others toned down the spectacle and honed in on the clothes.
Last season, Coperni's spray-on dress was crafted on the runway in real time. The video of technicians spraying Bella Hadid with Fabrican paint went viral instantly. It felt like we were seeing a special moment in fashion history unfold, even if the technology wasn't new. Yet this wasn't the first viral runway moment, nor would it be the last. At (di)vision, in Copenhagen earlier this year, the final model stood up to reveal her dress was attached to the tablecloth, leaving a trail of destruction as she pulled plates, cutlery and glasses of red wine behind her. In Milan, Sunnei models crowd surfed and clothes fell apart on the runway at AVAVAV. From there, the scene was set for Paris Fashion Week where horses galloped down the runway at Stella McCartney, robotics were back at Coperni and, at Heliot Emil a model was literally set on fire – yes, really.
Meanwhile, brands like Louis Vuitton and Hermes were praised for remaining immune to the promise of social media virality. Of course, it's much easier to disregard TikTok friendly fashion when you don't need to worry about building a customer base – people are going to keep buying Louis Vuitton luggage and Birkin bags regardless of whether the runway shows are exciting or not.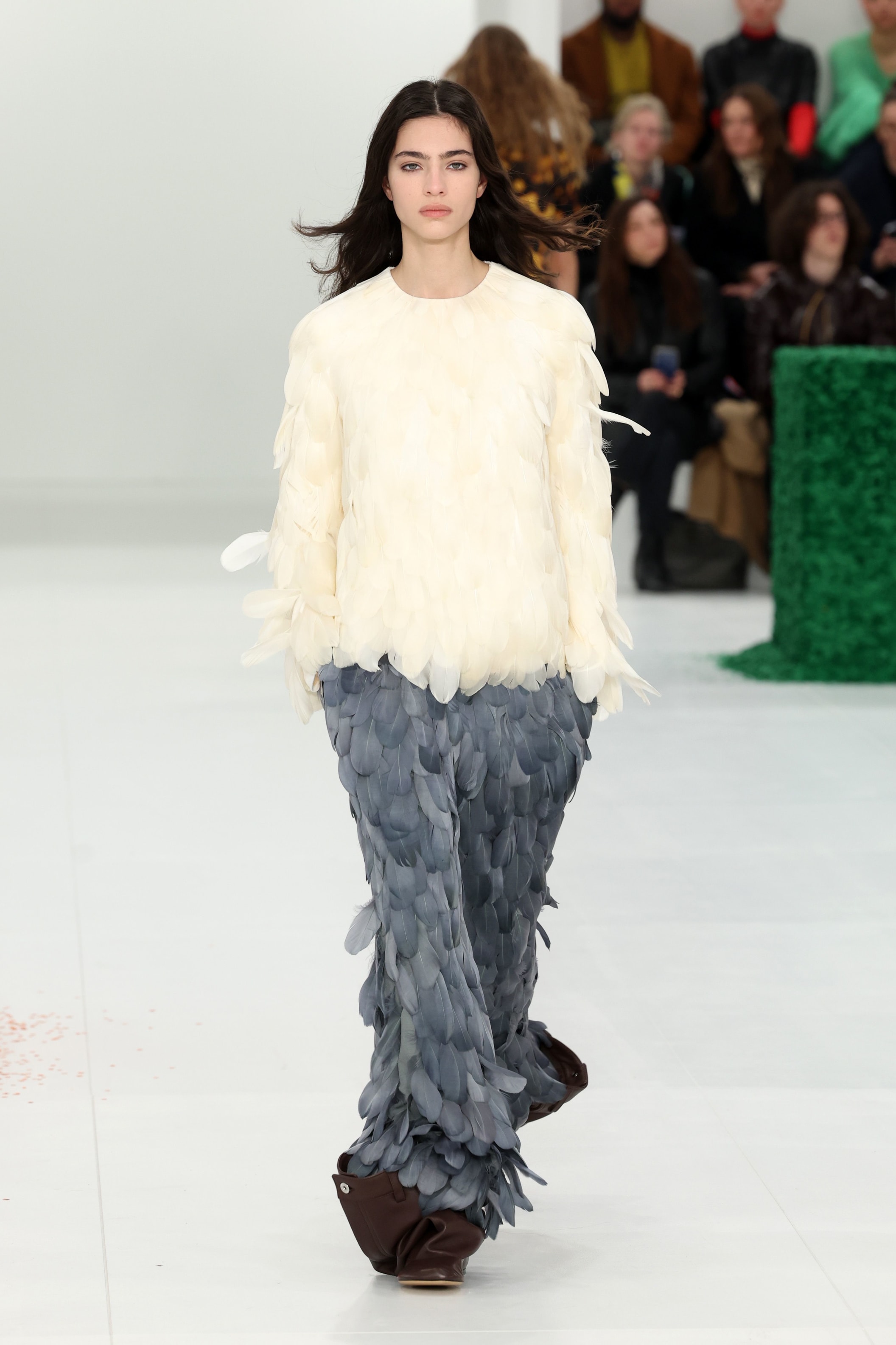 Photo by Victor VIRGILE/Gamma-Rapho via Getty Images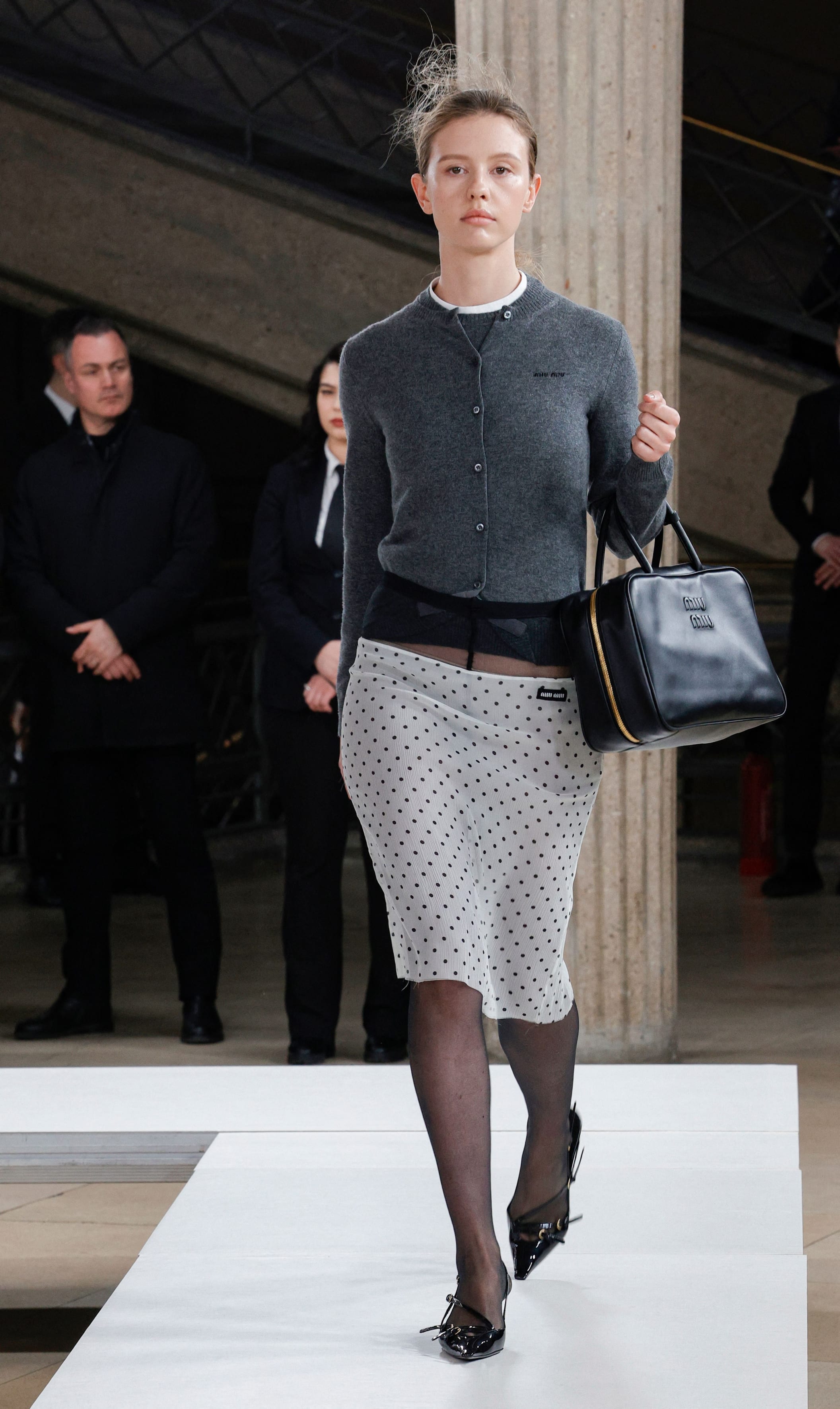 Photo by GEOFFROY VAN DER HASSELT/AFP via Getty Images
It would be wrong to assume, however, that fashion gimmicks and well-made clothes are mutually exclusive. Sometimes garments themselves become viral moments. Think back to Miu Miu's SS22 cropped sweater and micro mini skirt set or last season Loewe's ubiquitous anthurium tops. These are wearable – albeit a little extra – examples. At Loewe this season, Polly Pocket clothes and striking feathered garments were juxtaposed with simple trench coats, marrying tongue-in-cheek fashion with wearable basics. Miu Miu's show included an all-star cast of buzzy celebs, including Mia Goth, Emma Corrin and Ethel Cain, but the clothes could hardly have been simpler. Preppy cardigans, zip up hoodies and opaque tights are pieces that nearly everyone has in their wardrobes. Meanwhile, Saint Laurent's power dressing parade was praised for being made up of clothes that women actually want to wear, but the show's strong point of view still got people talking.
Conversely, Balenciaga returned to the runway with the opposite goal. They wanted people to stop talking following the global scandal at the end of last year. The show notes expressed this in no uncertain terms. "Fashion to me can no longer be seen as entertainment but rather as the art of making clothes," read the note from creative director Demna. What followed was a stripped back collection of oversized blazers, floral dresses and leather coats. But surely, fashion shows could focus on the clothes without being so, well, dull?
By the end of fashion month, you'd be forgiven for feeling a little disenchanted with it all. For an industry that shouts so loudly about sustainability, the past four weeks have bombarded us with a lot of new clothes, with some collections featuring nearly 100 looks. When fashion weeks are so oversaturated, it's no surprise that brands turn to fun gimmicks to help them stand out.
Indeed, fashion week hasn't been just about the clothes for a long time, if it ever was. Yet fashion fans are just as split as designers themselves, so much so that a hierarchy is forming online where those who care about the clothes above the gimmicks are the real fashion lovers and everyone else is only interested in moments that are easily digestible on TikTok.
However, most people who engage with fashion as a form of culture want entertainment from it in some form or other, especially considering the price point of the clothes makes them inaccessible for the most part. That said, gimmicky TikTok friendly fashion can sometimes have negative real world consequences by feeding into ever increasing trend cycles. Just think back to the MSCHF red boots from last month. They already feel like they belong to a past moment in time. Instantly recognisable, social media friendly garments might rake in the likes on Insta, but they become dated so quickly that it's unlikely many wearers will hold onto them and wear them for longer than they're considered trendy.
So, what does all of this mean for the future of fashion week? It's clear that there's increasing fatigue with the runway gimmick, but when it works, it works. To think of fashion as entirely divorced from entertainment is not only unrealistic, but undesirable. It makes sense that designers are putting on these runway spectacles given that fashion shows were non-existent during the pandemic. But putting on a fun show doesn't have to mean neglecting the clothes because the best history-defining fashion moments still come when fashion and culture collide.