wearing pink isn't the only way to be a barbie girl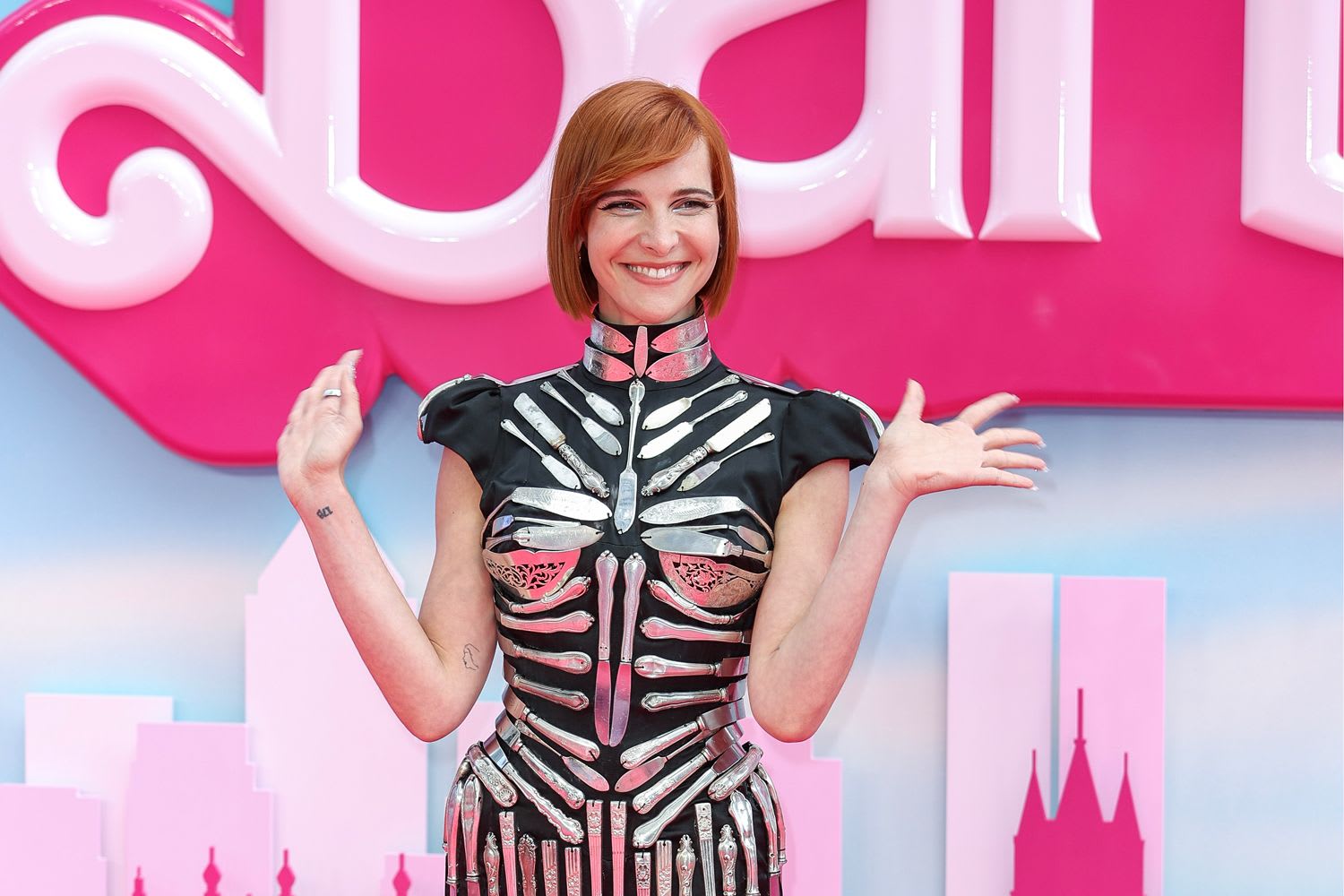 Plus more feel good fashion news from this week
image Mike Marsland/WireImage
words Sophie Lou Wilson
As a wise teenage girl once proclaimed, "On Wednesdays we wear pink!" But last night, when the London Barbie premiere's hot pink carpet unfurled across Leicester Square, stars proved that wearing pink isn't the only way to be a Barbie girl. It might seem like the whole world has gone mad with Barbie fever, but that's not all that happened in fashion this week. We're here to dish out all the latest news from Telfar, JW Anderson and Burberry as well as diving into the best looks from last night's premiere. So, without further ado, here's all the feel good fashion news from this week you might have missed.
Barbie's London premiere was better than the Met Gala
you are missing out on some content here because you rejected our cookies. want to change that?
The Barbie press tour feels like fashion week, awards season and the Met Gala all rolled into one. In fact, it's everything the Met Gala should be – celebrities dressing on theme, paying homage to archival fashion and smart, referential looks that prove fashion's scope for storytelling.
Margot Robbie has has finally shaken off her association with bad Chanel 'fits, stepping out in look after look inspired by the Barbie archives, from a vintage Versace chainmail mini originally worn by Claudia Schiffer in 1994 to last night's Vivienne Westwood couture gown inspired by the 'Enchanted Evening' doll from 1990. But while Margot's archival wardrobe might have been whipping us all into a frenzy these past few weeks, some of the most exciting fashion moments have come from her co-stars. That was certainly the case at last night's London premiere where the likes of Dua Lipa, PinkPantheress, Sam Smith and Hari Nef flexed their best fashion game. Big name designers like Vivienne Westwood, Versace and Saint Laurent appeared alongside independent London-based labels Nensi Dojaka, Dilara Fındıkoğlu and Stefan Cooke.
There's power in Barbie's hot pink hyper-femininity, but you'd be forgiven for never wanting to look at the colour pink again after being bombarded with 'barbiecore' everything for the past six months. And, of course, some people just don't like wearing pink, which is fine, but maybe you're still excited for Barbie to come out and want to dress up in your own way. Pink is the easiest shorthand for making a Barbie reference, which works for fancy dress, but last night's most innovative looks went beyond barbiecore fuchsia and into a more experimental realm.
you are missing out on some content here because you rejected our cookies. want to change that?
That's why last night's premiere felt like the Met Gala, only better. Looks were camp, on-theme and the best outfits went beyond the pink colour palette. Hari Nef stepped out in Dilara Fındıkoğlu's iconic cutlery gown, titled 'Joan's Knives', which imagines Joan of Arc coming back to life to claim her revenge. Aesthetically, it's in sharp contrast to the bubblegum pink Y2K looks that spring to mind when we think of Barbie, but both Barbie and Joan of Arc have become symbols of womanhood in their own ways, lodged in our imaginations since childhood. Hari referenced their dualled symbolic power while honouring the spectrum of female trailblazers. Meanwhile, Margot Robbie also donned a Dilara 'fit – a signature red satin corset – for yesterday's Barbie photocall. This Barbie supports independent designers.
you are missing out on some content here because you rejected our cookies. want to change that?
Elsewhere, PinkPantheress also repped a young London label in a pleated bleached denim maxi by menswear designer Stefan Cooke. The singer paired it with a ripped black corset and pink satin mini bag for a gothic Barbie look that rings true to her chill, vintage-inspired personal style. Now all we need is a 'Barbie Girl' x 'Boy's a liar' mashup.
Meanwhile, Sam Smith's oversized Vetements look might have become instant meme fodder, but their '16 XL Barbie' felt delightfully tongue-in-cheek. We've got used to all the glam pink carpet looks, but surely once all her high-pressure public facing responsibilities are over, Barbie just wants to snuggle up at home in a giant sweatshirt like the rest of us? The look also indulged in some '90s nostalgia, when some of us would've played with Barbies for the first time.
From what we know of Greta Gerwig's upcoming film so far, Barbie isn't just a doll in a pink dress. She's a diplomat, she's a doctor, she's a lawyer. She's everything. So, whoever you are, there's probably a Barbie for you – Amelia Dimoldenberg best embodied this at the premiere, dressing as 2010's 'News Anchor Barbie' to interview celebs as they came down the pink carpet.
And if there isn't a Barbie that represents you, become it yourself. Barbiecore is about more than dressing in pink. It's an attitude. It's about stepping into yourself and being the main character. The London premiere was the jewel in the Barbie press tour crown, not just because it repped independent designers and referenced archival fashion, but because it showed that barbiecore can be about much more than wearing head to toe pink – although that's fun too.
Telfar's see-through jelly totes bare it all
you are missing out on some content here because you rejected our cookies. want to change that?
Personally, I don't even want to know what's lurking in the depths of my Telfar bag. Crumbs, receipts, empty antihistamine packets, whatever, it's a mess. But if you do want everyone to know what's in yours, the creator of the ubiquitous Bushwick Birkin has collaborated with jelly shoe brand Melissa to bring you their iconic shopper in transparent PVC. If you think about it, it's the perfect bag for the era of 'what's in my bag' TikToks. Now, you can effortlessly show everyone what you carry around with you day to day. If you don't have a completely clear bag, how will anyone know that you use Dior lipgloss, smoke Vogues and read all the chicest books? The drop also features a pair of jelly sliders just in time for beach season. The Melissa x Telfar collab will be available on the Telfar website from 14 July at 12pm ET.
JW Anderson's £490 pillow clutch is made for the bougiest beauty sleep
you are missing out on some content here because you rejected our cookies. want to change that?
Back in January, JW Anderson officially declared AW23 as the season of the pillow prince when he sent his pillow clutches down the runway. Now, the perfect bed rotting fashion accessory is available to buy – if you have £490 to spare, that is. I will always advocate for investing in a decent pillow. It can do wonders for your neck and back. However, Anderson's is a little less functional, even if it could double up as a cosy headrest if you nod off in the back of a taxi or on the bus. It follows on from the brand's other off-kilter accessories like the iconic pigeon clutch and amphibian Wellipets. You can check it out here. Sweet, sweet dreams!
Burberry's winter campaign is an ode to cosy boy szn
you are missing out on some content here because you rejected our cookies. want to change that?
Summer might have only just begun, but we miss nights where you could snuggle up in a blanket without sweating to death. Seemingly, Burberry does too, as their latest campaign is all about cosy boy szn. Snug blankets woven in the new Burberry blue are modelled against the gorgeous, sprawling landscapes of the Isle of Skye and Giant's Causeway. The campaign depicts Daniel Lee's debut Burberry collection, including cosy shawls and hot water bottle covers. The summer holidays are finally here, but we're already daydreaming about our winter getaways.