Michelle Yeoh makes history at this year's Oscars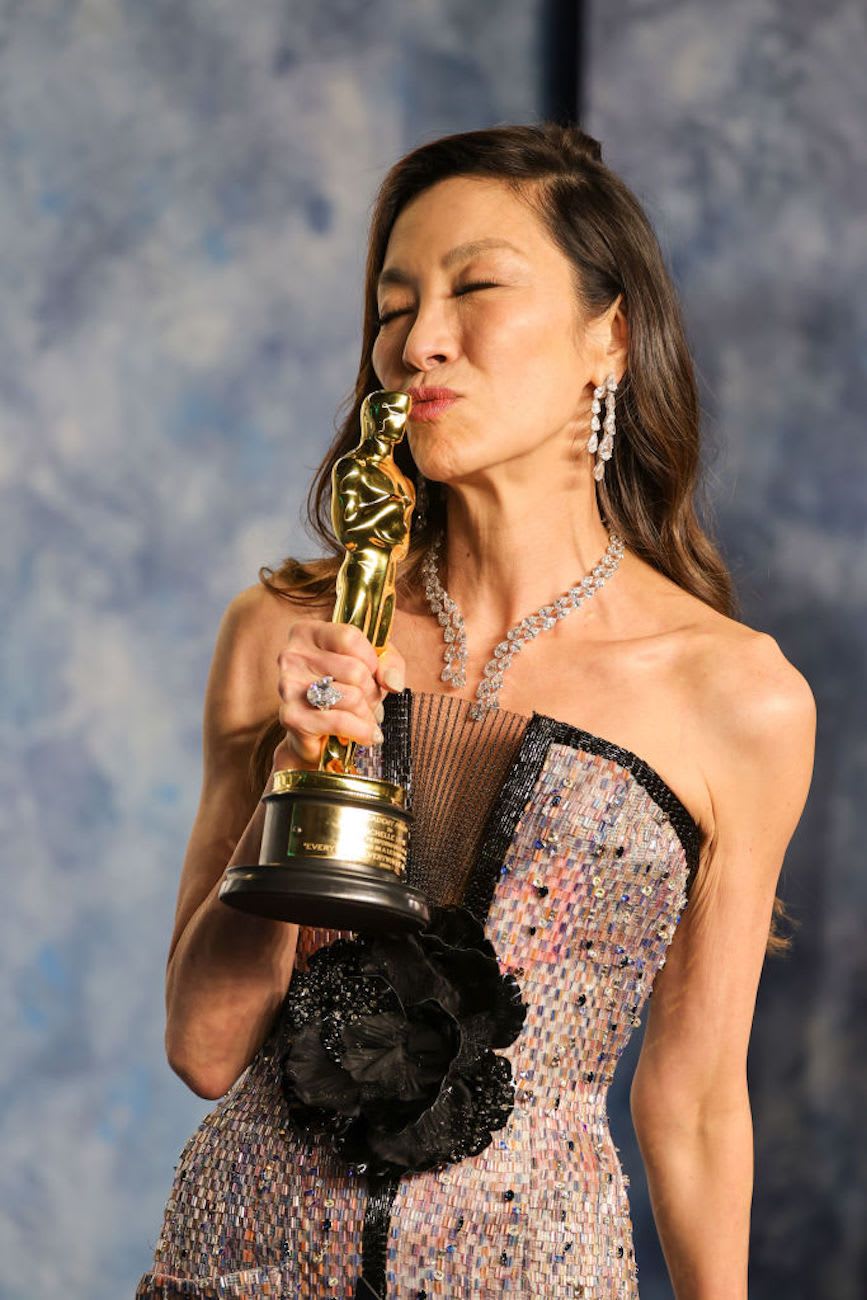 And all the other feel-good moments you might have missed from the 2023 Academy Awards ceremony
image Amy Sussman/Getty Images
words Megan Wallace
That's a wrap on Awards Season, people! With the Brits, BAFTAS, Grammys, SAG Awards and Oscars now officially behind us, we've seen our best and brightest celebs take to the stage, give their heartfelt thanks and indulge in the occasional awkward moment.
But, of course, with the Oscars only happening last night (12 March), we've still got plenty of memes and wholesome moments left to digest. And, speaking of wholesome moments, it doesn't get much more heartwarming that Michelle Yeoh's Oscar win for Best Actress for her role in Everything Everywhere All at Once, which saw her make history as the first Asian actress to take home the statuette.
In her speech, she emphasised the cultural significance of the win. "For all the little boys and girls who look like me watching tonight, this is a beacon of hope and possibilities," she said. "And ladies, don't let anybody tell you that you are ever past your prime."
EEAAO took home a total of seven awards, Best Picture, Best Director, Best Film Editing, Best Supporting Actor, Best Supporting Actress, Best Actress, and Best Screenplay, officially cementing its status as 2022's best film.
But that's not all that went down at last night's Academy Awards ceremony, we've rounded up our picks of the best moments below.
Ke Huy Quan's touching acceptance speech: "This is the American dream"
Okay, so we know we talked a lot about EEAAO in the intro but we couldn't miss out Ke Huy Quan's touching acceptance speech for his Best Supporting Actor win, where he gave a shoutout to his 84-year-old mother and also his wife, who he described as "the love of my life".
Specifically, he opened the speech by noting that his mother was watching the ceremony and recapping his history. "My mom is 84 years old and she's at home watching. Mom, I just won an Oscar! My journey started on a boat, I spent a year in a refugee camp, and somehow, I ended up here, on Hollywood's biggest stage. They say, stories like this only happen in the movies. This—this is the American dream!"
He then proceeded to give thanks to various industry figures and family. "Thank you so much, thank you so much to the Academy for this honour of a lifetime. Thank you to my mom for the sacrifices she made to get me here," he said. "To my little brother, David, who calls me every day to take good care of myself. I love you, brother. Thank you to Ken for all your support in everything you've done. Thank you to A24, the Daniels, Jonathan, Jamie, Michelle, and my Goonies brother for life, Jeff Cohen."
Finally, he wrapped it all up with a dedication to his wife. "I owe everything to the love of my life, my wife Echo, who month after month, year after year, for 20 years, told me that one day my time will come. Dreams are something you have to believe in. I almost gave up on mine—to all of you out there, please keep your dreams alive. Thank you, thank you so much for welcoming me back! I love you! Thank you, thank you, thank you!"
We're not crying - you're crying!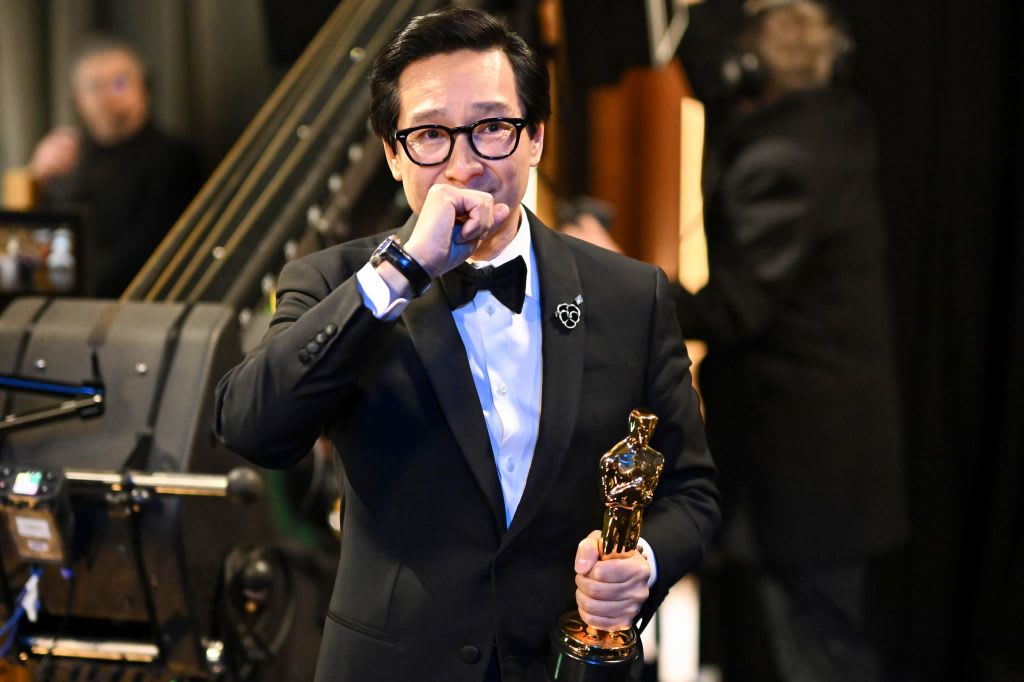 Richard Harbaugh/A.M.P.A.S. via Getty Images
Ashley Graham fangirls over RiRi
Celebs, they're just like us! At least that's what last night's Oscars taught us, especially a certain interaction between supermodel Ashley Graham and musician/businesswoman/all-around-icon Rihanna. While Graham was hard at work co-hosting the Oscars pre-show on the champagne-coloured (red is so last year) carpet, she couldn't resist running up to RiRi when she saw her making her entrance. When Rihanna obliged Graham's request for a social media video, the two then proceeded to pose for the model's followers on IG Story and Twitter.
A moment!
you are missing out on some content here because you rejected our cookies. want to change that?
Jenny the donkey takes to the stage (kinda)
Banshees of Inisherin is a hugely major movie of the past year for which Barry Keoghan has already scooped up a BAFTA and which was up for nine Oscar nominations, despite not taking home any awards. But the Academy Awards ceremony did pay homage to the film's breakout star: Jenny the donkey, a miniature West Irish steed who appears in the film as Pádraic's (Colin Farrell's character's) pet.
On stage, host Jimmy Kimmel brought out a miniature donkey wearing a red bowtie and a gold vest with the words "Oscars 95 Emotional Support". Kimmel then introduced the donkey by saying; "This is Jenny, she's one of the stars of Banshees of Inisherin. Not only is Jenny an actor, she's a certified emotional support donkey, or at least that's what we told the airline to get her on the plane from Ireland. So if you're feeling upset, or you didn't win or you're anxious or you just love mules, feel free to come up and give her a hug."
He finished up by pointing to Farrell and saying; "And Jenny, I want you to see there's your friend Colin right there." While the actor responded by blowing kisses to the animal on stage, it wasn't actually Jenny! Later, the film's director Martin McDonagh clarified that the donkey wasn't actually flown from Ireland, saying; "It wasn't Jenny. We never would have allowed that to happen."
you are missing out on some content here because you rejected our cookies. want to change that?
EEAAO hot dog fingers make an unexpected appearance
If you've seen EEAAO then you'll know about its fantastic special effects and props, which were recently auctioned off to raise money for charities benefitting LGBTQIA+ rights, Asian mental health and low income workers. Among the best-known items from the movie include the hot dog fingers worn by Michelle Yeoh and Jaime Lee Curtis during a sequence where the two are lesbian lovers in a parallel universe where everyone has hot dogs for fingers. In the auction, an original pair fetched 55,000 USD but you can buy A24 replicas for 36 USD.
This is likely what the musician David Byrne was wearing when he took to the stage to perform This Is A Life from the Everything Everywhere All at Once soundtrack alongside fellow musician Son Lux and actress Stephanie Hsu (who plays Joy in EEAAO and took over vocal duties on the track from Mitski). Whatever the story, it's kind of a look!
you are missing out on some content here because you rejected our cookies. want to change that?
Lady Gaga stops to help a stumbling photographer
Turns out, Lady Gaga isn't just an amazing musician and actress (who's ready for Joker 2?) she's also a pretty cool person, too. Don't believe us? When the mega star was strutting down the red – sorry, champagne, carpet – she noticed a photographer had stumbled while doing his pre-show duties. After seeing him, she ran over to to help him up, showing that you're never too busy to be kind.
More of this behaviour, please!
you are missing out on some content here because you rejected our cookies. want to change that?
Cocaine Bear? Is that you?
And, lastly, how could we forget Cocaine Bear? Rather than the real cocaine bear making an appearance at the ceremony, aka a bear who went on a bender and inspired a Hollywood movie, a person in a bear suit took to the stage alongside actress Elizabeth Banks to present the Visual Effects category. Understandably, plenty of weird moments ensued – with Banks tripping on stage and blaming the bear, as well as the bear accosting Nobel Prize Peace Winner Malala Yousafzai.
The real question on our minds, however, is who was in the suit?!
you are missing out on some content here because you rejected our cookies. want to change that?
you are missing out on some content here because you rejected our cookies. want to change that?