ready, set, go: the sports field is fashion's favourite playground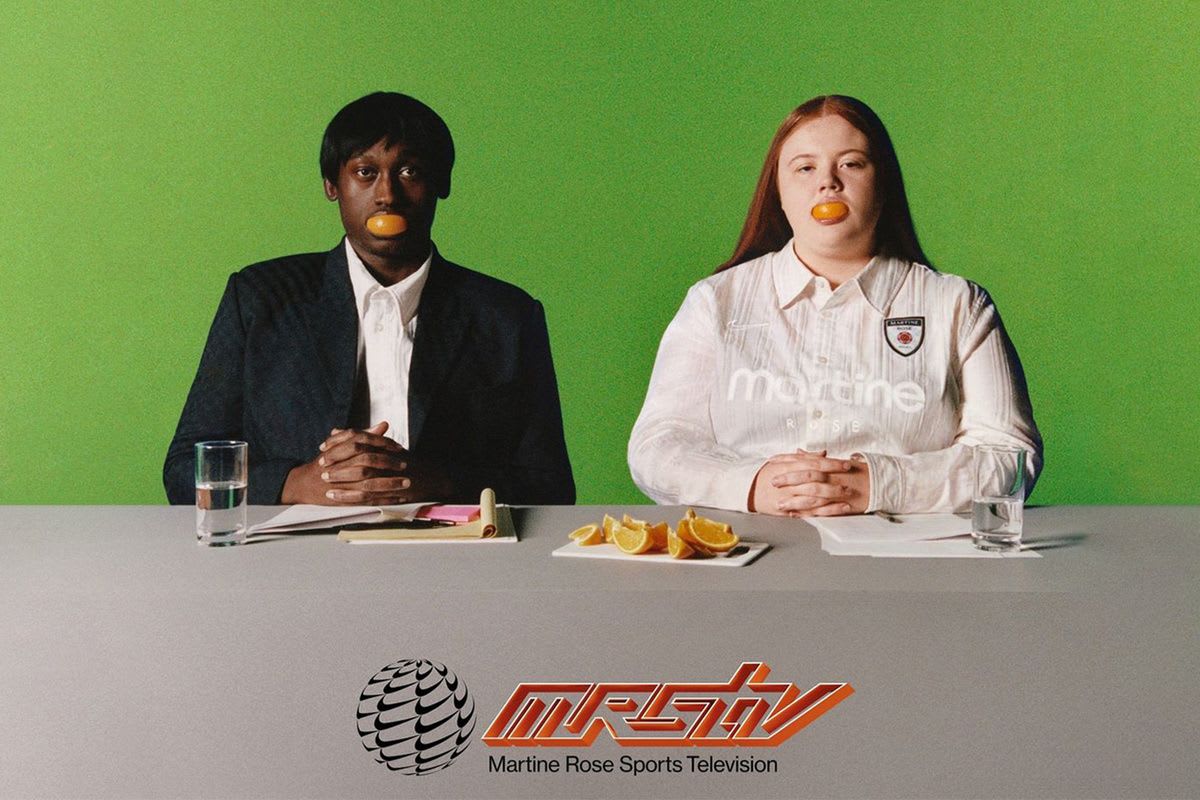 Plus Levi's Studio Ghibli fantasy, Paris Hilton's MSCHF Crocs and more feel good fashion news
image @martine_rose via Instagram
words Sophie Lou Wilson
When you think back to the most stylish moments of your life so far, it's unlikely sports day even ranks. Sweaty, athletic and often at least a little bit humiliating, it was a day in the school calendar that many approached with trepidation. It's simply impossible to look chic when jumping over hurdles unless you possess the elegance of an Olympic athlete.
Thankfully, all that is in the past. Sporty fashion has been very much rehabilitated, as proven by Martine Rose's latest Nike campaign, 032c's new Juventus football kit and two very stylish upcoming Olympic Games. Fashion is finally taking sport seriously as a creative and cultural inspiration on the same level as art, music and cinema.
Elsewhere this week, Studio Ghibli have partnered with Levi's for a collection inspired by their 1997 historical fantasy film Princess Mononoke and MSCHF's big boots are back, this time in yellow, modelled by Paris Hilton and in collaboration with Crocs. There's also a Gucci exhibition coming to London soon and a chance to attend Diesel's SS24 show in Milan this September.
Here's all the feel good fashion news from this week you might have missed.
How the sports field became fashion's favourite runway
you are missing out on some content here because you rejected our cookies. want to change that?
Despite both being huge cultural forces, the worlds of fashion and sport haven't always quite seen eye to eye. While it's necessary for athletic gear to have certain practical functionalities, fashion is often most praised at its most impractical; a high heel or a tailored suit is all the more beautiful if it serves little functional purpose other than beauty.
This tension between fashion and sport is also highly gendered. Traditional gender roles would dictate that women like to go shopping while men like watching and playing sport. Of course, the reality is rarely that rigidly divided and sport and fashion have a joint history that goes back far beyond the recent series of collaborations. However, fashion's latest era of sports mania has taken athletic fashion to new heights, finally acknowledging sport as a creative and cultural source of inspiration on the same level as art, history and cinema.
you are missing out on some content here because you rejected our cookies. want to change that?
This week, to promote her latest Nike drop, Martine Rose launched her own fictional sports TV channel, 'Martine Rose Sports Television' or MRSTV for short. Featuring Chicken Shop Date's Amelia Dimoldenberg, musician Babymoroco, TV legend Ruby Wax and Lioness Leah Williamson, the show includes segments on the new Martine Rose x Nike Shox, a Subbuteo tournament and half-time oranges. Directed by London-based photographer Rosie Marks, the 1980s-style news report showcases Rose's latest Nike collab, replete with football jerseys, the iconic Shox sneakers and post-match tailoring. The gender-free collection was designed to arrive in tandem with the Women's World Cup. "I felt the women's team should be presented as the elite athletes they are, and with the same polish and seriousness as the men's squad," Rose explained. The collection launched this week with the Shox MR4 trainers selling out almost immediately.
In another football fashion takeover, Italy's Juventus Football Club has partnered with Berlin-based magazine and fashion brand 032c. The capsule is made up of exclusively customised, limited edition graphic jerseys, football scarves and flame print hats. The black and white striped jerseys reference the 36-time Italian champions' home kit while the flame motif is inspired by archival 032c designs.
you are missing out on some content here because you rejected our cookies. want to change that?
Beyond these skilful football fashion balancing acts, fashion and sport crossovers are appearing left, right and centre. Earlier this week, it was announced that luxury conglomerate LVMH – who house brands including Louis Vuitton, Dior, Fendi and LOEWE – will be sponsoring the 2024 Paris Olympic Games. According to LVMH, the Paris team will be kitted out in Dior, Louis Vuitton and Berluti while sipping on an endless supply of post-event Moët champagne. And looking ahead to the 2028 Olympics in LA, Ralph Lauren has already designed the special emblem for the games.
These recent crossovers prove the merging of sport and fashion is complete. It doesn't get much more prestigious than football champions, Olympic athletes and LVMH. Fashion is in its healthy era, glamorising feel good, endorphin-boosting activities as a wholesome counterpoint to the messy, party aesthetics of indie sleaze. Life, and style, is all about balance, so you're now just as likely to find fashion types spending their weekends down at the tennis court or football pitch kitted out in Martine Rose as you are to find them at trendy fashion parties. Time to join the club!
Levi's 'Princess Mononoke' Studio Ghibli collection is a fashion fantasy
you are missing out on some content here because you rejected our cookies. want to change that?
Following from a star-studded LOEWE collab earlier this year, Studio Ghibli is back with a gorgeously hand-printed denim collection Levi's. This time, the capsule is inspired by the Japanese animation studio's 1997 historical fantasy film, Princess Mononoke. The film tells the story of a struggle between animal gods who want to protect the forest and humans who want to cut it down to mine iron. As pertinent today as it was upon its release in the '90s, the film's fantastical animations are now reimagined in Levi's denim. The collection features hand-painted forest print jackets, jeans, kimono-style shirts, dungarees, denim accessories and graphic tees. The campaign is shot amid lush forest greenery, a reminder of the power of nature and the necessity to protect it. The collection will launch on 10 August online and in select Levi's stores.
That's hot? MSCHF and Crocs launch the big yellow boot with Paris Hilton
you are missing out on some content here because you rejected our cookies. want to change that?
Remember MSCHF's big red boots? How could you forget? The cartoonish Astroboy-inspired shoes broke the internet back in Feb when their release spawned a thousand memes. Now the brand behind the microscopic Louis Vuitton bag has partnered with Crocs on a yellow iteration of the iconic, memeable silhouette finished with classic Croc perforations. And if that wasn't already the perfect recipe for viral fashion fodder, they're modelled by none other than Y2K fashion icon Paris Hilton kitted out in a Kill Bill-esque yellow jumpsuit. The Spongebob-inspired boots drop on 9 August.
Gucci Cosmos to land in London
you are missing out on some content here because you rejected our cookies. want to change that?
Sabato de Sarno's much-anticipated Gucci runway debut will take place in Milan this September. But if you want to learn more about the luxury brand's 102-year history, from their origins as a small family-run luggage brand up to the kooky extravagance of Alessandro Michele, then be sure to visit Gucci Cosmos in London this winter. After a successful debut in Shanghai, the fashion exhibition is coming to the UK capital. The immersive installation will showcase designs from the brand's century-long history. British artist Es Devlin designed the original Shanghai exhibit and has reworked the show to pay homage to Gucci's links to London through creative sets, sculptures and multimedia artworks. It was at London's Savoy Hotel that founder Guccio Gucci first came up with the idea to start an artisanal luggage brand. The exhibition, showcasing never before seen pieces from the archive as well as iconic looks from Tom Ford, Frida Giannini and Alessandro Michele, will be staged at 180 Studios from 11 October to 31 December.
You can attend Diesel's SS24 show
you are missing out on some content here because you rejected our cookies. want to change that?
Glenn Martens has transformed Diesel into one of the most in-demand brands since taking the helm in 2020. His Y2K-infused designs and youthful approach have revived the formerly struggling denim label. Part of that approach has been about making fashion more accessible and inclusive. Last season, Diesel invited students and fashion enthusiasts to their AW23 safe sex extravaganza where models walked out to a soundtrack of sensual moans, foregrounding a pile of 200,000 branded condoms. For SS24, free tickets to Diesel's runway show will be made available to the public once more. The show will take place at Milan Fashion Week on 20 September with tickets available on a first-come first-served basis on the Diesel website on 6 September.