what would you put in MSCHF's microscopic Louis Vuitton bag?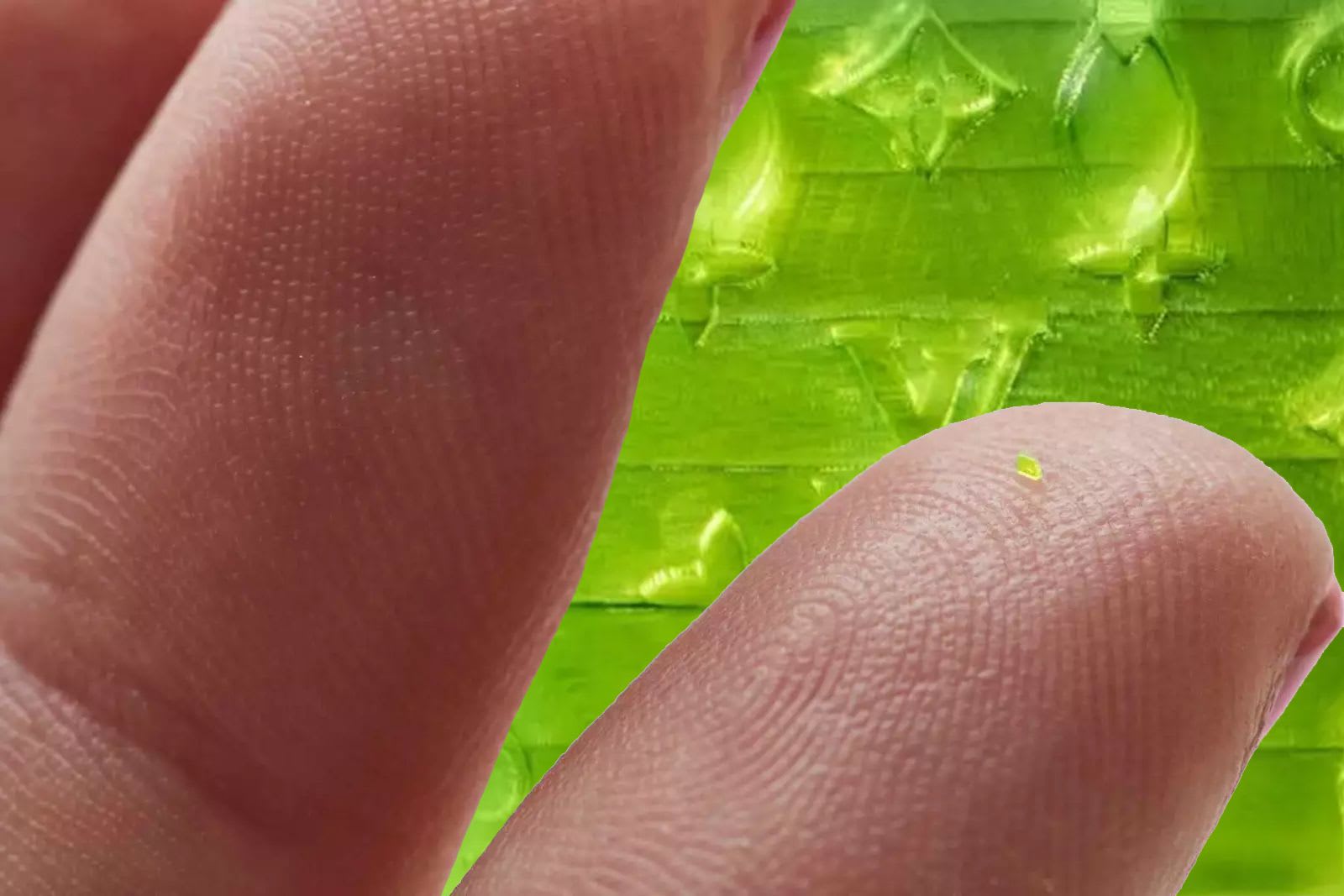 Plus Pharrell joins forces with Rihanna, Martine Rose's ode to community centres and Blumarine's hot girl summer
image MSCHF
words Sophie Lou Wilson
Good afternoon, fashion friends! If you were lucky enough to snag a ticket to Glasto, you're probably knee deep in festival outfit planning right now – as opposed to this time next week when you'll be knee deep in mud! Not chic. So, before you go, get your dose of fashion news before you resign yourself to a week of wellies and no showers. From MSCHF's latest cheeky fashion moment to Pharrell's first Louis Vuitton campaign and new collections from Martine Rose and Blumarine, here's all the feel good fashion news from this week you might have missed.
MSCHF's latest bag is smaller than a grain of salt – what could you fit in it?
you are missing out on some content here because you rejected our cookies. want to change that?
There's very little that viral art and fashion startup MSCHF can't get away with. They broke the internet with those red Astro Boy boots earlier this year and were behind the controversial, satanic Lil Nas X Nike shoes that had real blood in them, but their latest cheeky foray into high fashion irony is quite literally much smaller.
This week, the company launched a microscopic Louis Vuitton handbag that's even smaller than a single grain of sea salt. It really puts to shame Jacquemus' Le Mini Chiquito microbag which was dubbed the world's smallest handbag in 2019 at 5.2cm wide. This isn't the first time MSCHF has pulled a stunt like this. Their first project was selling a bad piece of advice for $1 on Twitter and their most expensive product to date was a functioning laptop infected with six of the most infamous computer viruses in history. It sold for $1.3 million.
Measuring just 657 by 222 by 700 micrometres, their latest piece is a bag comparable in size to just one strand of human hair. If you want to see it with your very own eyes, the bag will be on display in a sealed case beneath a microscope at Paris' 8 Avenue Matignon gallery from 20 to 24 June before going on auction at Pharrell's Just Phriends sale during Paris Fashion Week Men's. The piece is a comment on functionality vs luxury in the fashion space with the Instagram caption stating, "As a once-functional object like a handbag becomes smaller and smaller its object status becomes steadily more abstracted until it is purely a brand signifier."
Thinking of putting in a bid at the auction or just curious about what the hell you could actually put in such an itty bitty bag? We've got a few ideas...
The fucks you give
It's summer! Which means no fucks given! Pints on a Tuesday just because the sun's out? Sure! Spending all your money on a last minute city break? Of course! Buying a ludicrously impractical piece of clothing because, well, why not? Yes, MSCHF's microscopic bag is perfect for storing all the fucks you give because it's the season for giving none.
A fraction of a single teardrop
Let's be honest, sometimes you just can't beat a good cry. Letting out your emotions is good for you. Whether you're crying tears of happiness or sadness (or hay fever), honour your capacity to feel feelings and express emotion by holding onto a teardrop in MSCHF's teeny tiny bag.
A swab of your crush's DNA
Love is in the air. The MSCHF bag is about the width of one strand of human hair which makes it perfect for manifesting your summer romance by plucking a strand of your crush's hair or swabbing their DNA so you can carry them with you at all times. How cute!
Your dignity after a night out
Peeling your face from the pillow, you reach for your phone and shudder when you realise you quadruple texted your situationship last night telling them you missed them. What's worse is you can vividly remember singing along to 'WAP' while animatedly telling everyone it's your favourite song. After that, all your dignity will fit neatly into MSCHF's microscopic bag.
All the money you have left after the weekend
Life is for living! Money is for spending! Sure, that's your weekend motto. Until you check your bank balance on Sunday night, that is. Thankfully, there's now a bag for keeping what's left of your well earned cash after a weekend spent living it up.
Your ex's capacity for empathy
Yeah, it's basically non-existent, especially when they got into a new relationship just two months after your break up. Store their empathy in MSCHF's microscopic bag and if you see them out and about with their new partner you can lob this teeny tiny bag right at their stupid heads.
Fashion killas: Rihanna fronts Pharrell's first Louis Vuitton campaign
you are missing out on some content here because you rejected our cookies. want to change that?
With Pharrell's Louis Vuitton Men's debut mere days away, excitement is ramping up. The show is scheduled for Tuesday 20 June at Paris Fashion Week Men's and, earlier today, he released the first campaign image of his tenure, starring fellow fashion/music multi-hyphenate Rihanna. Pharrell's appointment as men's creative director was controversial, despite his fashion background, yet this casting suggests he won't be shying away from leaning into the cult of celebrity. The campaign depicts a pregnant Rihanna clutching bundles of large, primary coloured monogram bags and a takeaway coffee cup. Does this casting signal that Pharrell's menswear offering will come from a genderless perspective? We don't have long to wait to find out.
Martine Rose's retro ode to the humble community centre
you are missing out on some content here because you rejected our cookies. want to change that?
You might associate them with that sixth birthday party where you got a sugar high after drinking too much lemonade, but for her Spring 2024 collection, Martine Rose elevated the humble community centre to high fashion status, weaving her signature magic to find beauty in the mundane. Presented in St. Joseph's Community Centre in Highgate, the collection sees a roster of street cast models in rave-inspired tracksuits, oversized suits, sleazy leather and casual denim that looks like it could've stepped straight out your dad's '80s wardrobe. The collection also featured a first look at Rose's Clarks collaboration with chunky classic loafers and their snakeskin iterations stomping over the burgundy hued carpet. From reggae to rave, Rose's eclectic melting pot of influences came together once more this season, as she transported guests back to the '70s and '80s when community centres were the social hubs of cities. The designer's work continues to celebrate the spaces where in-person connection happens. As guests sat clustered around small tables, sipping cold pints of Stella it felt like there might be hope for these spaces, after all.
Blumarine kicks off another Y2K hot girl summer
you are missing out on some content here because you rejected our cookies. want to change that?
Sun, sand, sea, sex and slinky draped dresses. Blumarine's Resort 2024 collection is a summer dream. Stretch jersey in Barbiecore pink, sun-kissed orange and bright swimming pool blue was imagined in body skimming silhouettes. Meanwhile, boudoir undertones came through in silk trimmed camis and harness detail tailoring. Elsewhere, low-rise still reigned supreme and this Y2K sensibility – a Blumarine hallmark – extended to flashy diamante belts, double denim and an array of mini bags. Sleek, sensual and archetypally feminine, creative director Nicola Brognano noted how, "The look isn't as dirty as the last two seasons." When asked about how the brand's ubiquitous Y2K influences have spawned endless fast fashion copycats, he replied, "Y2K? Honestly, I think it's a bit passé." Fair enough!