a guide to Lil Nas X's unapologetic personal style
The singer's subversive style is always rewriting the rules
image Team Woo
words Sophie Lou Wilson
Lil Nas X is not your average pop star. Shooting to fame in 2019 when country rap song 'Old Town Road' went viral on TikTok, he went on to break the record for the longest running number one song ever on the Billboard Hot 100 chart. The then 20-year-old used his personal style to continue riding the wave of cowboy mania, putting his own unique spin on yeehaw style with a wardrobe full of hot pink cowboy hats, metallic fringing and neon snakeskin.
Much like his rise to fame, Lil Nas X's style is unconventional. That's to say he's not afraid to challenge gendered fashion norms and he knows how to master a viral, show stopping fashion moment. He showed up at this year's Met Gala in nothing but a metallic thong, tons of Swarovski jewels, silver body paint and bejewelled platform boots, apparently in tribute to Karl Lagerfeld's pet cat, Choupette. His style is all about turning heads, be it in crop tops, neon tailoring or a shimmering skirt moment. Here, in anticipation of his Glastonbury set later this month, we take a look at some of the key hallmarks of Lil Nas X's personal style from crop tops to cowboycore.
cowboycore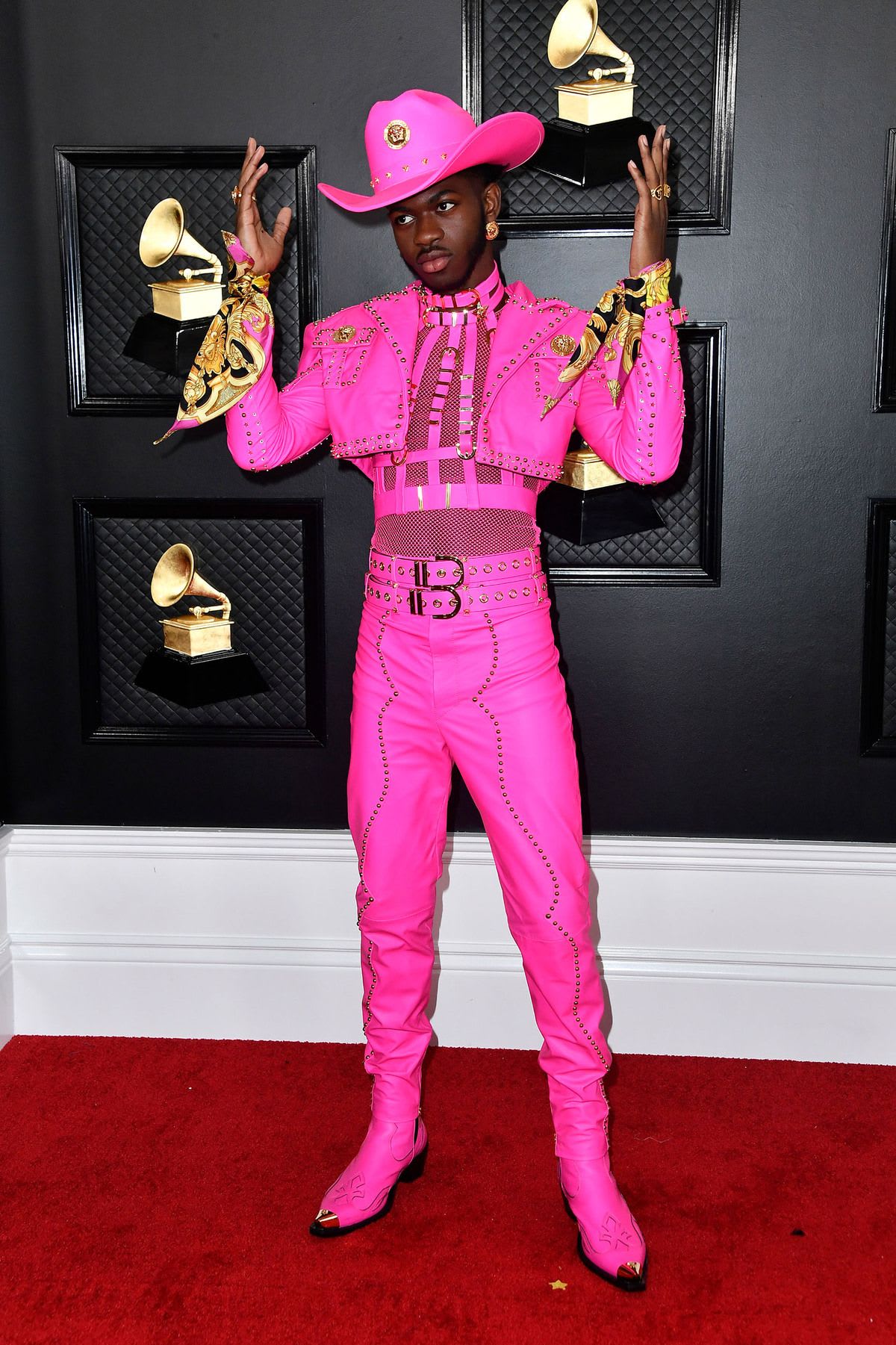 Photo by Frazer Harrison/Getty Images for The Recording Academy
There's a line in 'Old Town Road' that references a "cowboy hat from Gucci", so it's no surprise that Lil Nas X's first style persona drew from cowboy style codes. In 2019, you could rarely catch him without an ubiquitous cowboy hat perched on his head. But this was cowboy fashion with a twist. Lil Nas X turned the traditionally masculine archetype on its head, reimagining the aesthetic through a playfully camp lens with suits in hot pink, reflective silver and sparkly orange. The singer came out as gay when 'Old Town Road' was at the top of the charts, becoming the first artist ever to come out while having a number one record. Yeehaw to that!
show stopping style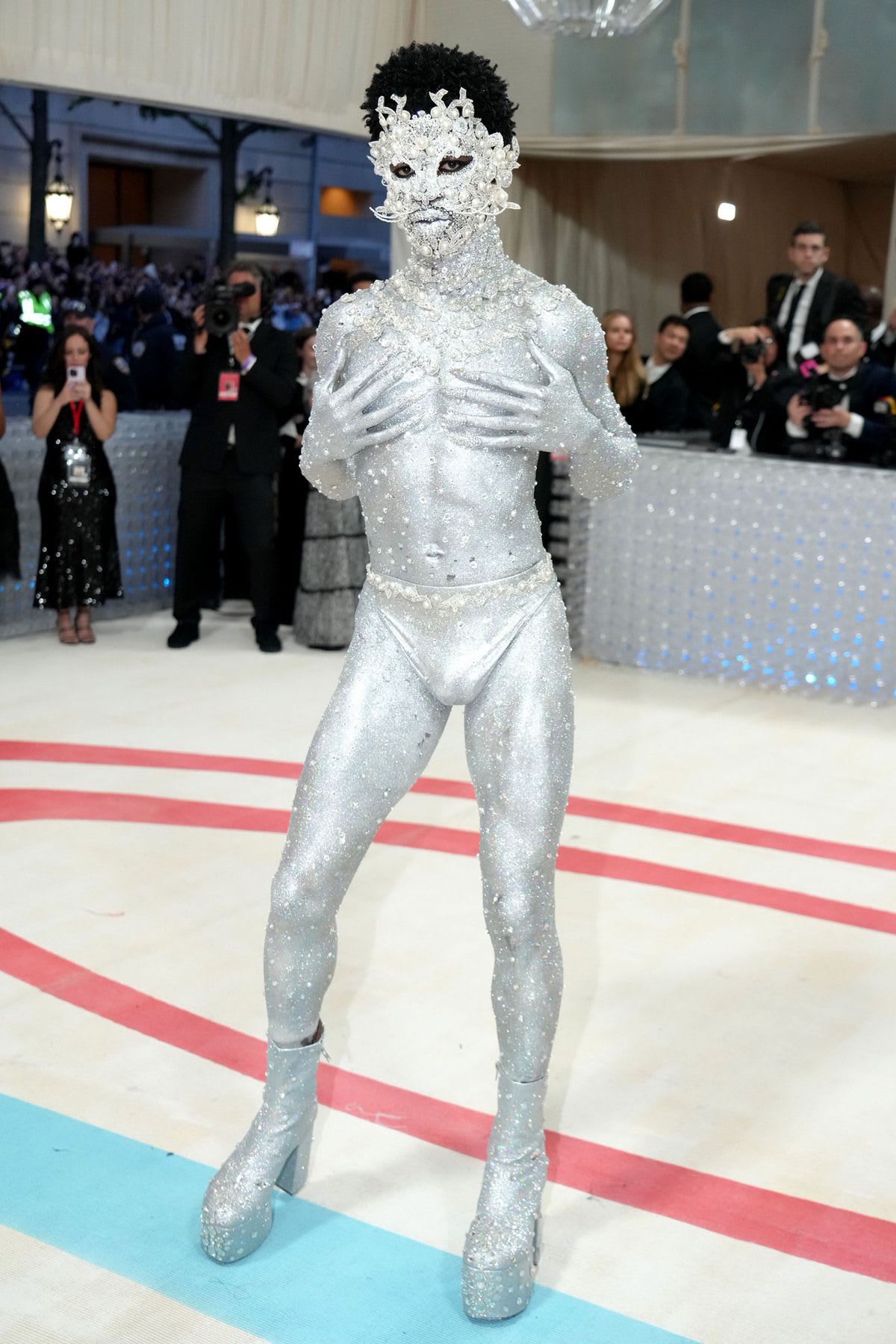 Photo by Jeff Kravitz/FilmMagic
Lil Nas X is never one to shy away from a daring fashion moment. He uses style as a performance, like at this year's Met Gala when he rocked up in an extremely bedazzled look in honour of Karl Lagerfeld's pet cat, Choupette. But this isn't the first time the singer's Met look has caught our eye. He wore a dramatic, regal gold cape to the event in 2021 with a full suit of gold armour beneath. Then there's the time he replicated Iman's 2021 Met look at the 2022 VMAs in an all black gilded feather cage overskirt and bespoke matching headpiece from Harris Reed. Or the moment when he sat front row at Christian Cowan's AW23 show in a full Las Vegas style feathered headpiece. Indeed, the formula for Lil Nas X's most head turning looks is much the same as a Vegas show – feathers, glitter and the more dramatic the silhouettes, the better.
neon tailoring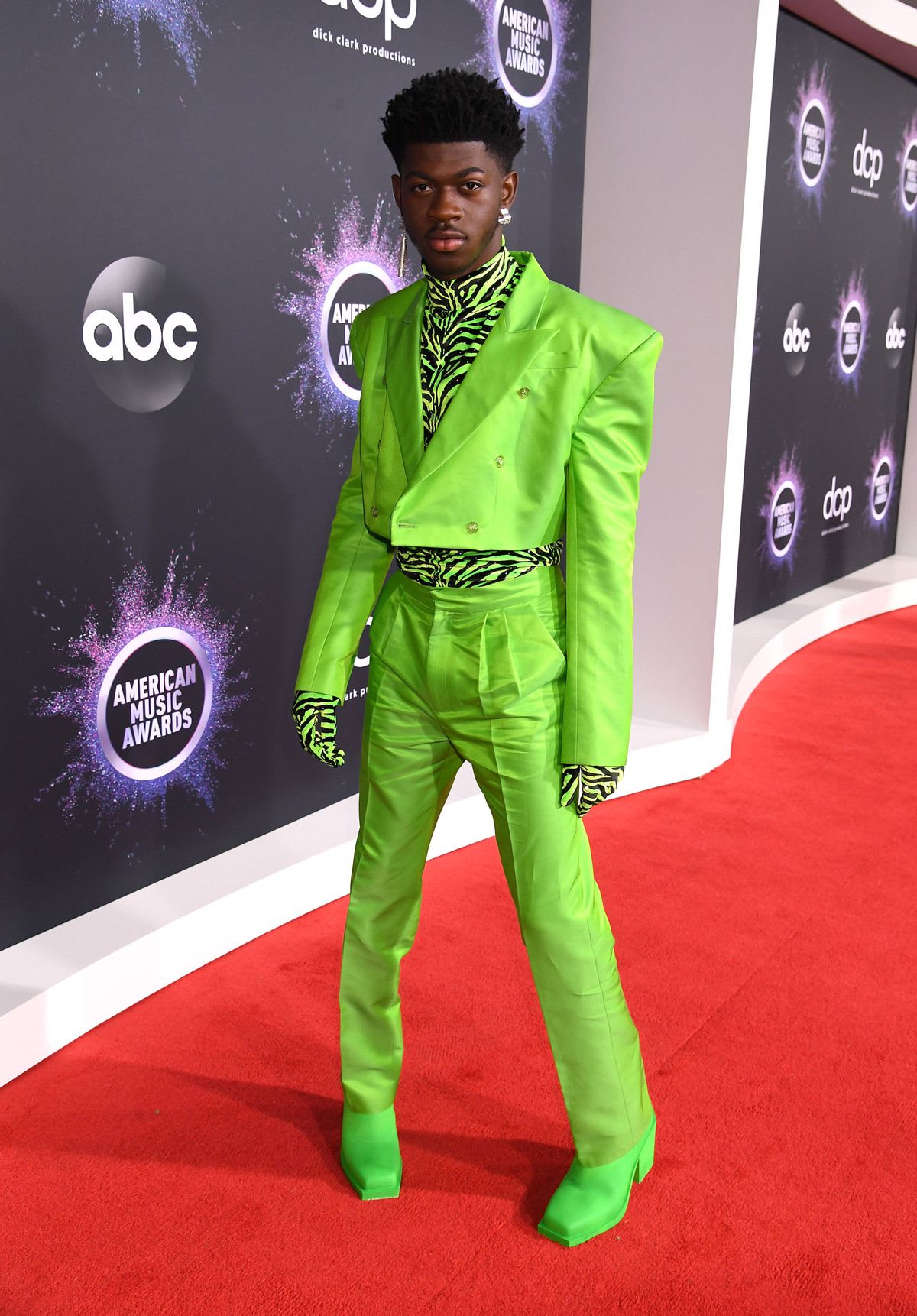 Photo by Jeff Kravitz/FilmMagic for dcp
Menswear is in its fun era and Lil Nas X is very much a part of this experimental new wave of red carpet style. When he's not flaunting an outrageous, show stopping ensemble, he's putting his own idiosyncratic take on traditional tailoring. Typically, this means neons, sparkles and snakeskin. For the 2019 American Music Awards, where 'Old Town Road (Remix)' won the award for favourite rap/hip hop song, he wore a green neon matador style suit from Christopher John Rogers over a bold zebra print top and matching opera gloves. No one can accuse the singer's style of being boring.
wild prints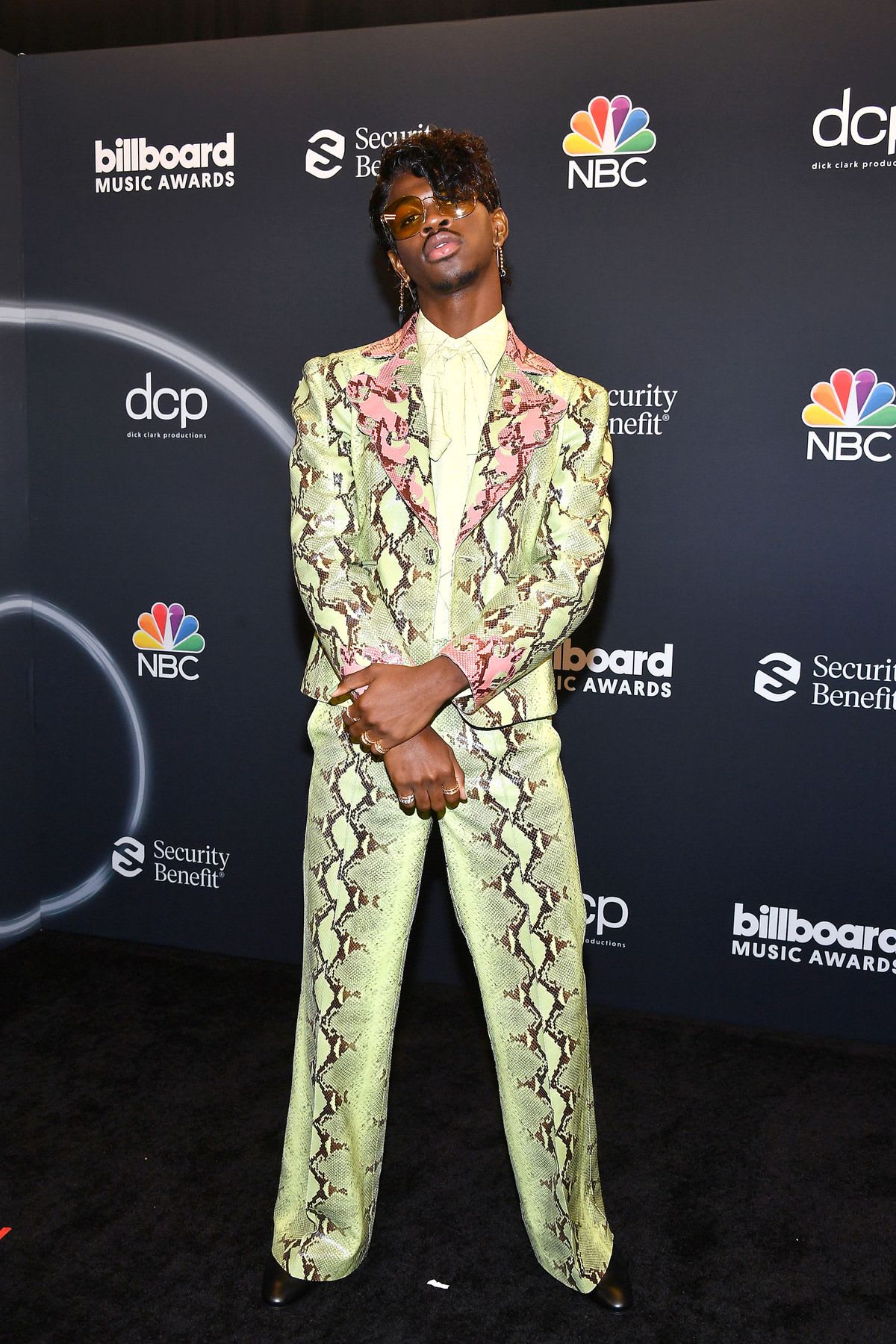 Photo by Amy Sussman/BBMA2020/Getty Images for dcp
As we've established, Lil Nas X isn't afraid to take a walk on the wild side. However, this style cue is one of the simplest to work into your wardrobe. The singer loves an animal print, be it snakeskin, leopard or zebra. And, of course, the more colourful the better. To attend the 2020 Billboard Music Awards, he was giving 70s sleaze in a custom Gucci snakeskin suit by Alessandro Michele. To complete the look, the singer channelled Prince with a side swept hair do and tinted shades.
set your younger self free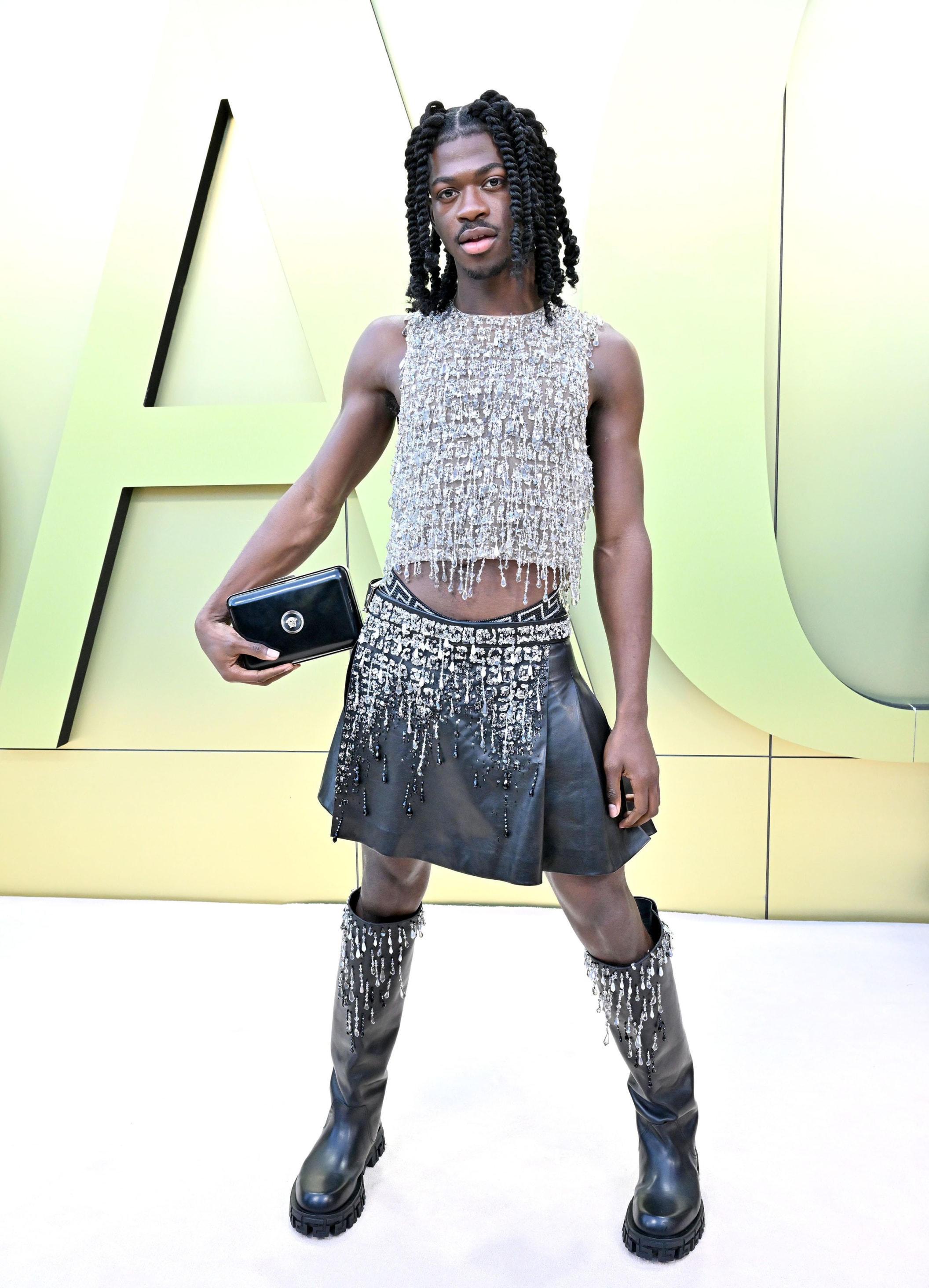 Photo by Axelle/Bauer-Griffin/FilmMagic
Lil Nas X has said that walking out on stage wearing a skirt, "felt like I was setting my younger self free." During his 2022 tour, he wore a series of pleated skirts from Coach, the brand for which he is an ambassador. "I feel like I'm changing some minds [with what I wear]," he added. Skirts are for everyone, but there's still some resistance to masc people wearing them. Lil Nas X doesn't listen to the naysayers, instead using his platform to express himself and hopefully change some attitudes towards gendered fashion in the process. In 2021, he wore a plaid skirt from Virgil Abloh's AW21 Louis Vuitton collection to appear on The Tonight Show with Jimmy Fallon, promoting menswear's skirt revolution to the masses. To attend Versace's AW23 show earlier this year, he wore a crystal embellished skirt and matching mesh top to sit front row with fellow style icons Miley Cyrus and Elton John.
crop tops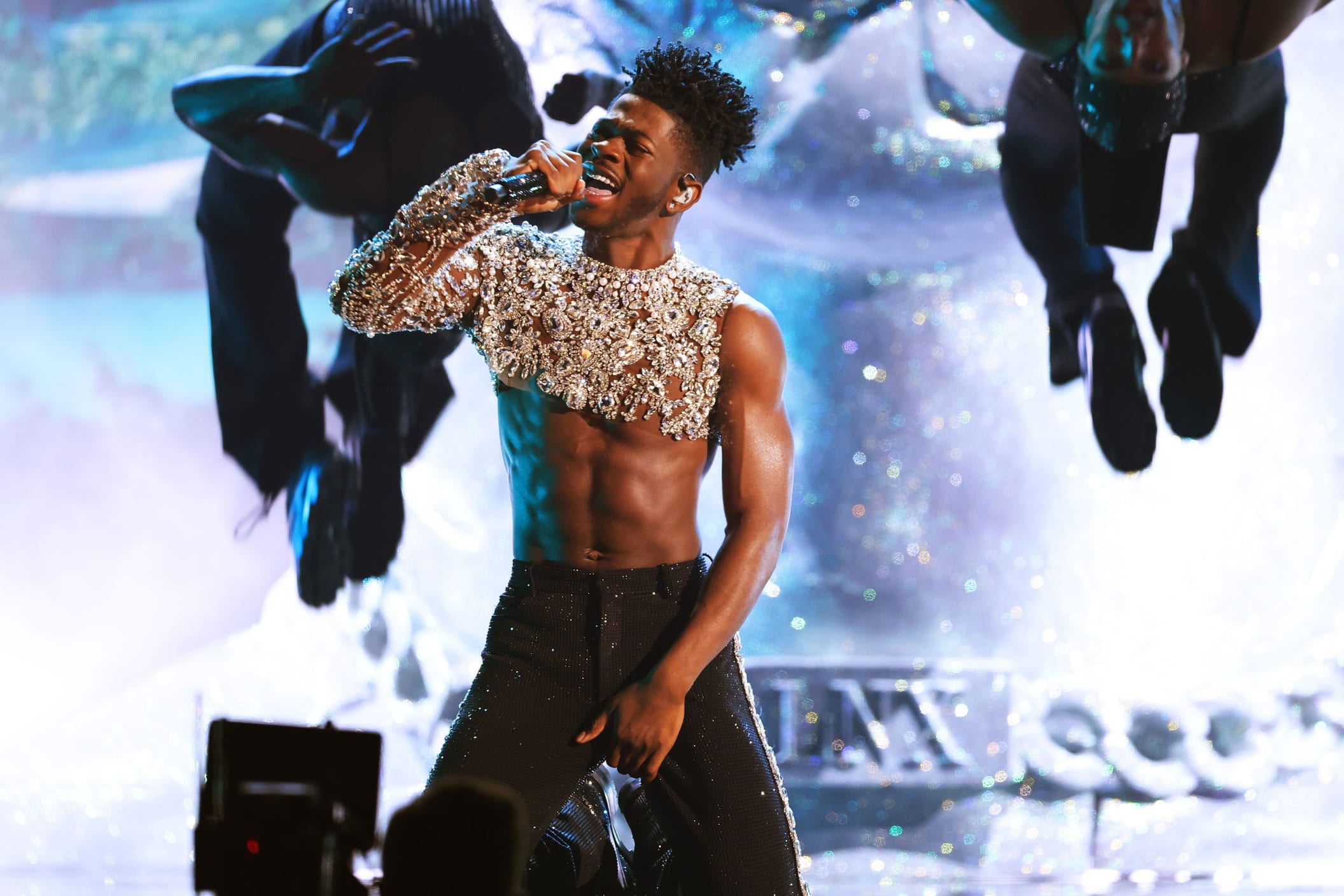 Photo by Rich Fury/Getty Images for The Recording Academy
Lil Nas X loves a crop top moment. Last year, the singer performed at the Grammy's in yet another bejewelled look, abs on full display – as he should! One conservative commentator shared a photo from the performance, calling the singer "a little fool with zero talent" to which Lil Nas X clapped back, "damn greg all i did was wear a crop top this time." In another iconic on-stage crop top look in 2021, he rocked a metallic pink two-piece complete with a harness and cowboy hat. Forget hot girl summer, it's time for hot boy crop top summer.
satanic panic
you are missing out on some content here because you rejected our cookies. want to change that?
Iconic red carpet looks and challenging gendered style expectations aside, Lil Nas X's most infamous fashion moment might just be when he released the 'Satan Shoes', a pair of custom Nike Air Max 97s made in collaboration with MSCHF which reportedly contained a droplet of human blood. The $1,018 trainers were released shortly after the controversial video for 'Montero (Call Me By Your Name)' dropped, sparking a mixture of overlapping homophobic and satanic panic backlash. The video opens with the singer wearing a diamante mesh bodysuit in the Garden of Eden before cutting to a scene where several versions of him are wearing blue pastel coloured wigs and patchwork denim looks. Next, he's sentenced to hell to give Satan a lap dance in boxers and PVC thigh high boots. Slay!
fashion as armour (literally)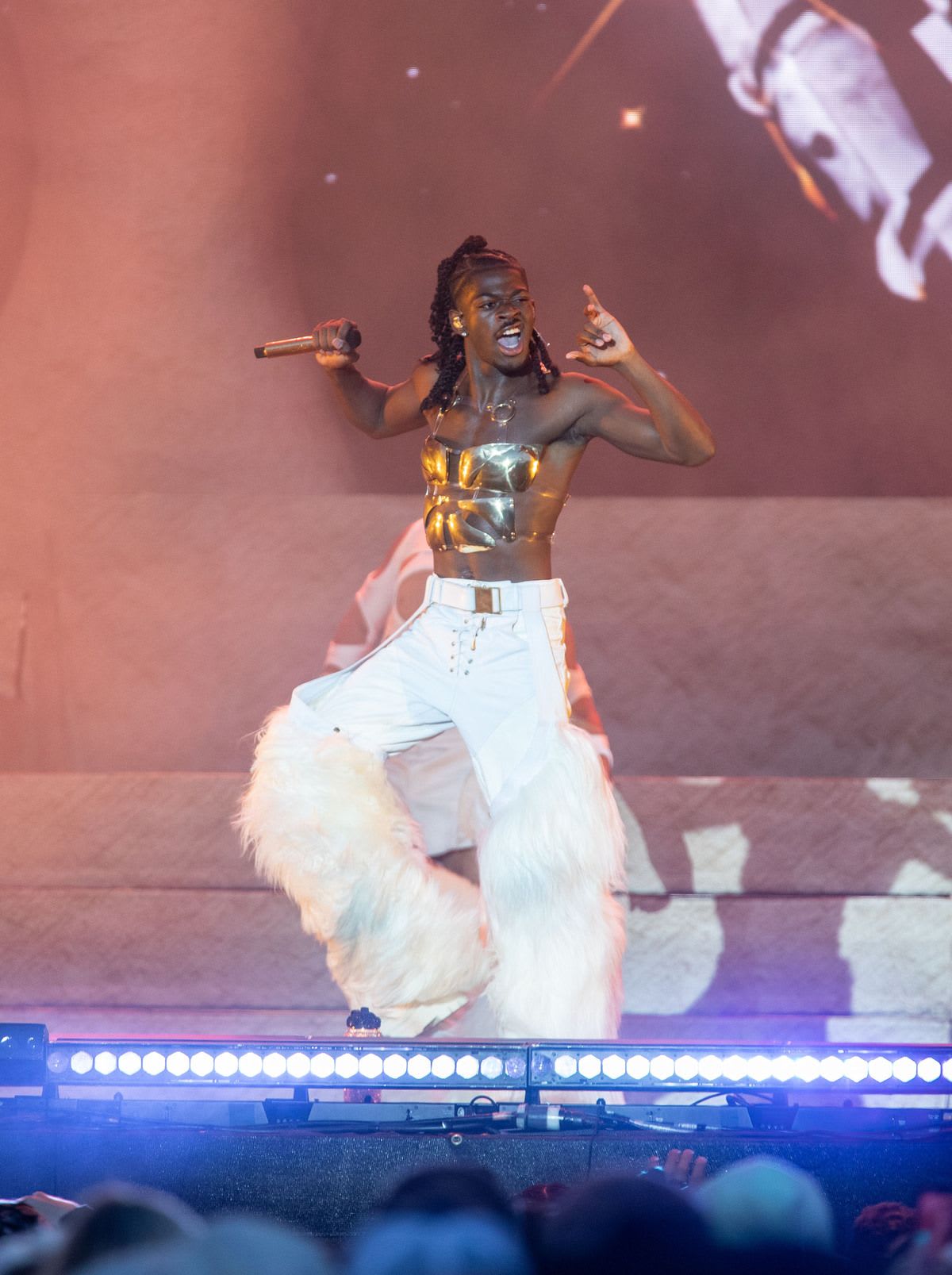 Photo by Miikka Skaffari/FilmMagic
Lil Nas X often claps back at his critics, protecting himself from their barbed words with humour. But fashion, too, is like protective armour, sometimes literally. At the 2021 Met Gala, he took off his regal gold cape to reveal a full suit of gold armour beneath. His on stage looks have also riffed on intergalactic warriors and paid homage to Ancient Egyptian dress. Then at this year's Bottlerock Napa Valley festival, he wore a metal chestplate with furry white trousers, a teaser for his Glastonbury wardrobe later this month.