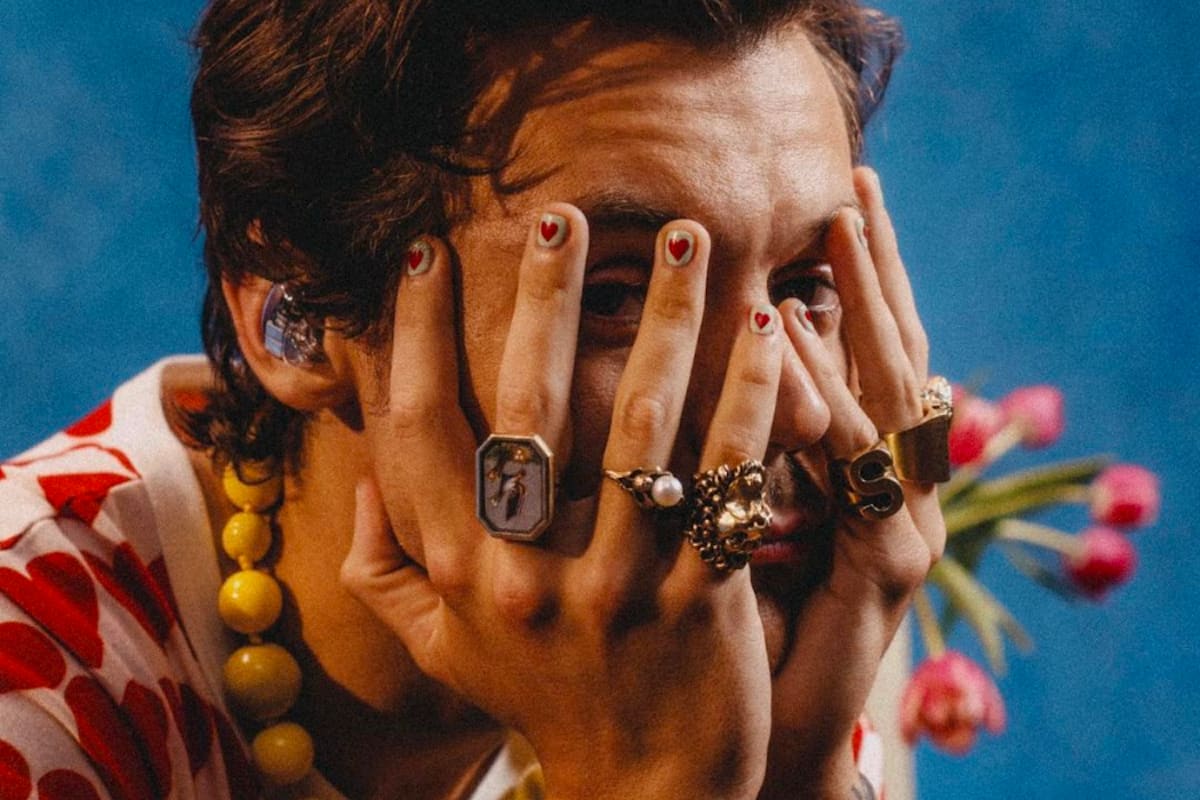 Looking for the best nail art ideas? We've got you covered, alongside a nail artist's guide on how to execute them
There's nothing like stepping out of the salon having just spent the last couple of hours being completely pampered. From a fresh mani to a fresh pedi or both - having nice nails can make you feel 10 times better. Showing off manicures or a fresh set of acrylics have now even become something of a social media staple - meaning that Instagram has become a great place to source the best nail art ideas. But, if you'd rather DIY your manicure, how do you execute all these brilliant nail ideas? Well, we're glad you asked - and we're on-hand to answer that question for you.
Best nail art ideas to try at home
Want to try to get that salon experience at home? In order to learn more, we contacted professional nail technician and independent salon owner, Amii Stansfield. She also swears by the positive effect pampering can have on a person, especially when it comes to nails and believes that a nail appointment is a time to "disconnect, relax and have the time focused on just you."
"I love creating beautiful nails and seeing them lift my clients' mood and confidence. It's so wholesome and I feel very lucky to be able to bring happiness to people as a job," she adds.
Below, Amii has shared some of the best nail art ideas out there (and her favourites) plus how to execute them if you're giving it a go at home. Whether you're a classic French manicure type of person, you like to mix the old with the new, or bold colours and abstract prints are more your thing, there's a look for all preferences.
Catch us trying out Hailey Bieber's trending glazed doughnut look the next time we've got a spare couple of hours…
Easy nail art ideas
For nail art newbies, Amii provides some super easy advice that will take away any apprehension from your first time doing your own nails.
"It's a step-by-step process," she assures, stressing how "having a plan and taking your time," is one of the most important aspects of success. "Use a nail art palette and a selection of nail art brushes, and dab excess product off the brush to avoid flooding of the product," she continues.
Amii insists that the smaller the brush the better, as it will make any detailing much easier to achieve. She also suggests checking out Pinterest for nail art ideas and inspiration, plus thorough instructions that will take you through the whole process from the base layer all the way through to the finishing touches.
In terms of some of the easier designs, Amii says polka dots are a great first step if you're new to nail art. "A nude base with vibrant polka dots or a single dot at the base of the nail looks cute, and it's not that hard to do," she says.
These dots are created using a dotting tool, which Amii also uses to create small details like hearts and daisies. "They're also surprisingly easy."
For a heart, she instructs to make two dots before joining them together to point with a brush. For daisies, she suggests drawing five dots in a circle and then finishing with a different coloured dot in the middle.
"This makes a super cute daisy design," she says, "and it looks perfect in spring."
While Amii uses said dotting tool for such designs when treating clients, she reveals that there are other DIY methods that you can use to get the same look, including a toothpick or the end of a kirby grip.
(This is great news for those people - and by that, we mean us - who constantly find hair grips in the most random places around the house. From the bedroom floor to the bottom of our handbags to the back of the washing machine, literally, nothing shocks us anymore.)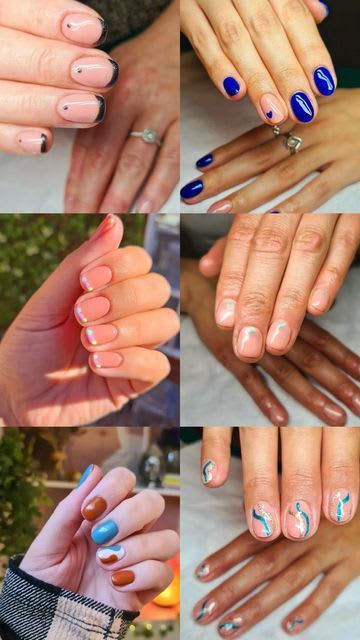 Nail art ideas for short nails
Not everyone has claws like Khloé Kardashian. Whether it's because you prefer them shorter, work won't allow long nails, or they simply won't grow past a certain length, there are some gorgeous shorter designs that can be done at home.
In Amii's opinion, there are a few specific styles that work really well on shorter nails - both traditional and minimal and a little more adventurous.
"Nude nails with details look great on shorter canvases," she says, adding that wavy lines across the nail look subtle but effective.
Then there's the trusty French, which Amii says is a definite go-to for shorter nails. "You can change it up, too," she continues, explaining how an "alternative French" has been pretty popular amongst her clients.
There are a few ways you can achieve this look, but for shorter nails, she suggests how having an accent nail can draw attention away from the length. Amii says she prefers to have no more than one or two nails accented, specifying that the ring finger is usually a good choice.
"They can be contrasted in colours," she adds, sharing that many people opt for glitter or have "art of their choice on them."
Nail art ideas for toenails
True, who's really going to have their feet on display at the minute? Over the past few months, we've swapped our flip-flops for socks, more socks and slippers, and it doesn't look like we'll be changin back anytime soon.
But if you're planning on escaping the cold weather this winter and heading for somewhere a little warmer, it's going to be sandal season round two, which only means one thing. P-e-d-i-c-u-r-e, please.
In terms of toenails, Amii provides some expert inspo if you're planning on taking on the challenge yourself. Foam toe separators at the ready.
"I would always focus on the big toenail for art to make it easier and eye-catching," she advises.
"A simple glitter line across the cuticle area is also a good idea. I've done this on a few brides and it's added a subtle something to the pedicure."
For those who prefer to have a design that stands out more, Amii suggests animal print, flowers (get digging out those kirby grips), or lines across the toenail.
But if you're not hitting the sun loungers with a cocktail in one hand and a book in the other this Jan, just keep these ideas in mind for next summer.
Trending designs
According to Amii, abstract nail art has been incredibly popular this year, and it suits all nail lengths. "Using vivid and contrasting colours to create mismatching shapes, like circles, half circles, and lines has been massive," she recalls.
Stating how the more mismatching and random, the better, Amii shares how there are no rules with how you paint the shapes on. "Quite often, I paint with the flow and see how they end up."
"To make them pop, you can outline the patterns with a line of glitter using a small brush," she continues.
The alternative French she mentioned before has also been a trending design this year, too. Specific versions of this include mixing up a classic French with vibrant colours and adding coloured dots instead of the line.
Or, there's the reverse French, which consists of the colour along the base of the nail where the cuticle line is."I use a small nail art brush to create the perfect French," she explains.
And finally, Amii shares how animal print is a constant in the nail art world, and it's something she's asked to do a lot of. Whether it's cheetah, tiger or zebra, they're "classic nail art designs" that will always be popular.
Nailed it
Seen a nail trend on TikTok and you're desperate to try it? Or do you want to start pampering yourself for self-care purposes? Whatever the reason, nail art is super accessible, and bottom line - it just looks good.