A guide to Phoebe Bridgers' meta goth personal style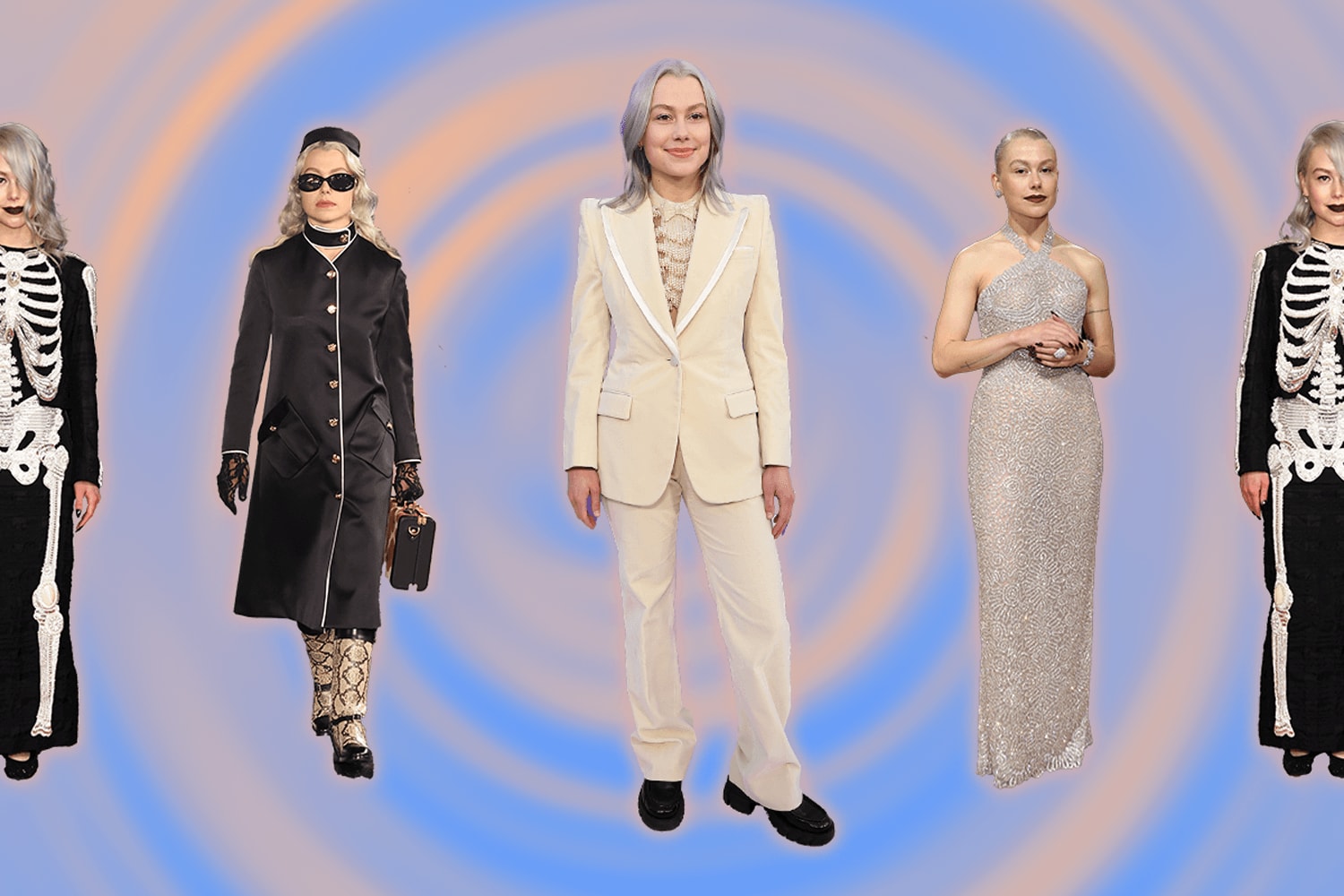 There's more to the singer-songwriter's style than her signature skeleton suits
image Team Woo
words Sophie Lou Wilson
Phoebe Bridgers is the moment. The perennially busy confessional songwriter, serial collaborator and patron saint of sad bisexuals everywhere broke through in 2017 with Stranger In The Alps before soundtracking our lockdown crying sessions with 2020's Punisher. At the same time, she's been busy forming supergroup boygenius with Julien Baker and Lucy Dacus, collaborating with Connor Oberst on Better Oblivion Community Center and supporting Taylor Swift on her record breaking Eras tour.
The foundation of Bridgers' gothic signature style is less pop superstar and more child getting ready for a Halloween party. Early on, Bridgers became known for her ubiquitous skeleton onesie worn onstage, in music videos and even on the red carpet. But what started out as a discount store costume has evolved into more elevated iterations courtesy of Chanel, Thom Browne and Gucci. And, in 2021, Bridgers made her runway debut at Gucci's Hollywood Boulevard show alongside Macauley Culkin and Jared Leto. Since then, she's attended two Met Galas and appeared on the covers of Teen Vogue, BRICKS and Wonderland.
Her lyrics might plunge into the depths of human feeling, but Bridgers doesn't take herself too seriously, and her style reflects this. Who else could dress up as a skeleton to attend the Grammys? It's ironic and playful, but also self aware. Take the classic suit and black tie she often wears. Like the skeleton costume, it's a nod to the darkness in her music, playing up to her sad girl persona while humorously poking fun at the reductive nature of the label.
Here, as boygenius kick off their UK tour this weekend with a Gunnersbury Park show supported by Ethel Cain, MUNA and Soak, we look back at some of Bridgers' most iconic style moments to give you a guide to her camp and spooky personal style.
everyday is halloween
you are missing out on some content here because you rejected our cookies. want to change that?
If there's one item of clothing that comes to mind when you think of Phoebe Bridgers, it's the skeleton onesie. The singer wore the children's Halloween costume on the cover Punisher, in the music videos for "Garden Song", "Kyoto" and "I Know The End" as well as on various television performances. "I put on the skeleton suit, and it's like, 'Damn, this is comfortable,'" she told The Ringer in 2020. "So I think being a character is funny, but it's also rooted in reality. Like, I really have been wearing the same pyjamas for like two months. I wash them every three days, and tried to get another pair online, but they're sold out." She later clarified in GQ podcast Corporate Lunch that she owns, "like, 15" pairs and bought them from Amazon. Not everyone can turn a kitschy Halloween costume into a fashion statement, but Bridgers did, giving indie girls everywhere fancy dress party inspiration for the foreseeable future.
the classic suit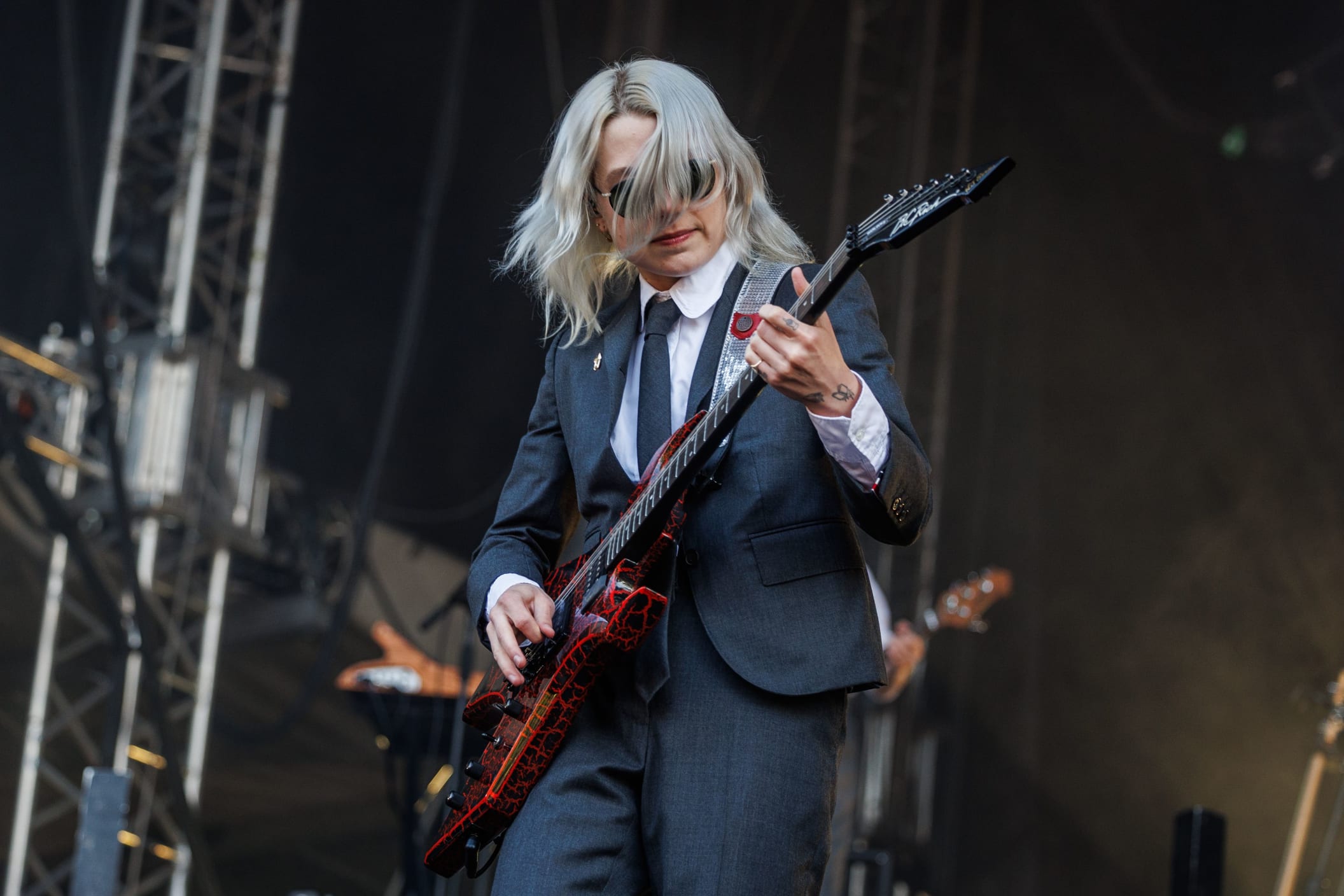 Photo by Per Ole Hagen/Redferns
In 2017, Bridgers released the music video for her second single, "Motion Sickness.| In it, she rides around town on a kid's scooter in a classic suit with a black skinny tie and a bike helmet – safety first! This tailored menswear staple quickly became part of her regular roster of onstage looks. A staple to this day, the members of boygenius often wear matching suits when they perform. "I make my whole band wear suits," she told L'Officiel. "I love wearing fancy things. I made boygenius wear matching costumes – they were very down."
gucci girlie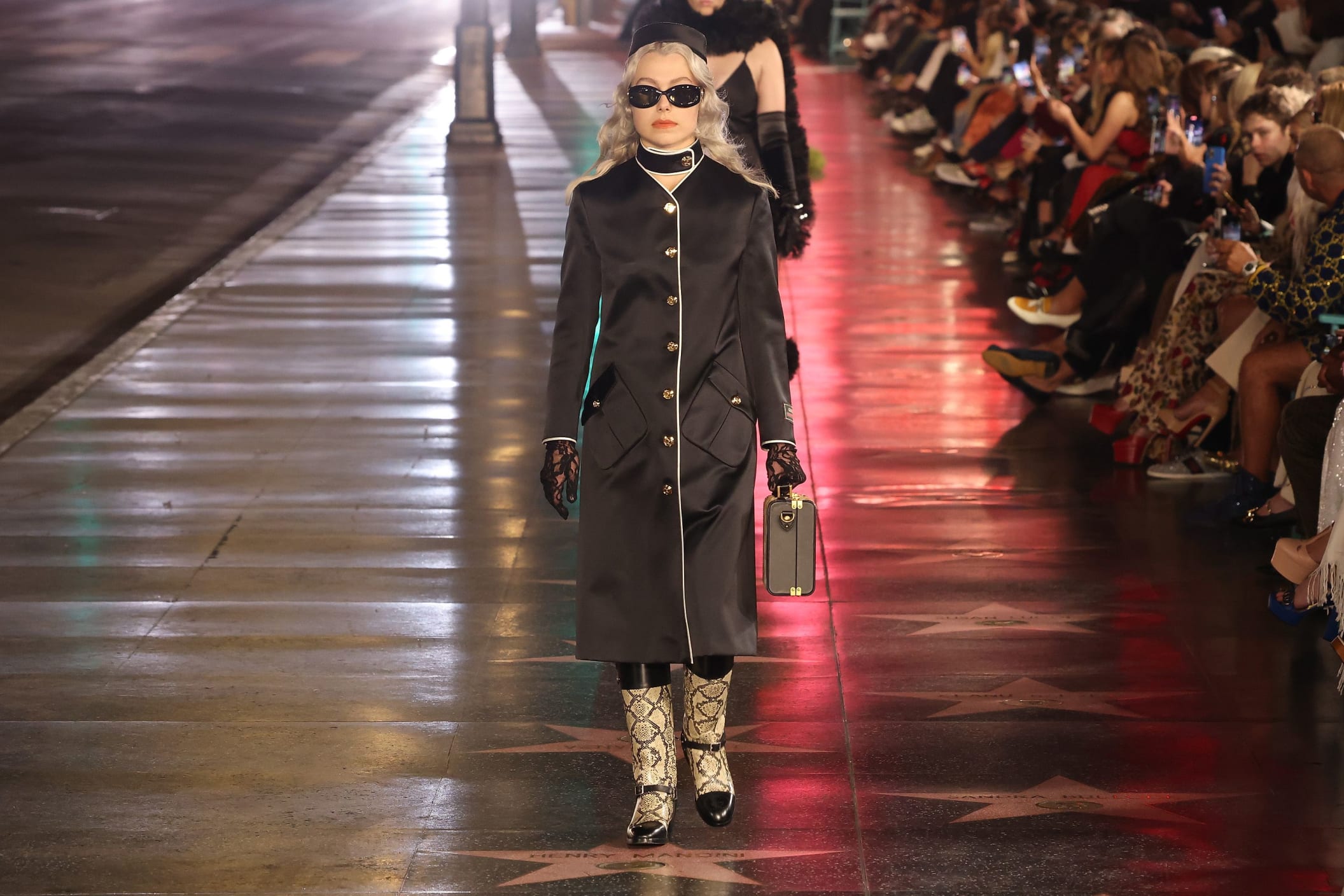 Photo by Taylor Hill/WireImage
In 2021, Phoebe Bridgers made her runway debut at Gucci's Love Parade show alongside Jared Leto and Macauley Culkin. Alessandro Michele shut down Hollywood Boulevard for the star-studded event that delved into showbiz in all its gilded glamour. Bridgers herself was dressed like a gothic hotel porter with black lace gloves and snakeskin boots. The singer has described her personal style as "like something Jared Leto would wear in a Gucci ad." Her kooky style and persona made Bridgers the ideal Michele-era Gucci muse.
skeleton suit but make it slay
you are missing out on some content here because you rejected our cookies. want to change that?
When Phoebe Bridgers went on SNL in 2021, she wore a custom Gucci skeleton suit replete with pearls, giving her signature style a high fashion upgrade. But it wasn't her outfit that made headlines. At the screaming end section of "I Know The End", the singer smashed up her guitar live on air. The performance was met with backlash, despite the fact that male rock stars have been smashing their instruments onstage for decades. All's well that ends well and when Bridgers' broken guitar was put up for auction, it raised $101,500 for LGBTQ+ advocacy non-profit GLAAD. Bridgers wore a similar pearl embellished skeleton look recently to support Taylor Swift at the New Jersey show of her Eras tour and to attend the 2022 Billboard Women in Music Awards, she wore a ruffled pearl skeleton shirt beneath a cream Gucci suit.
tim burton energy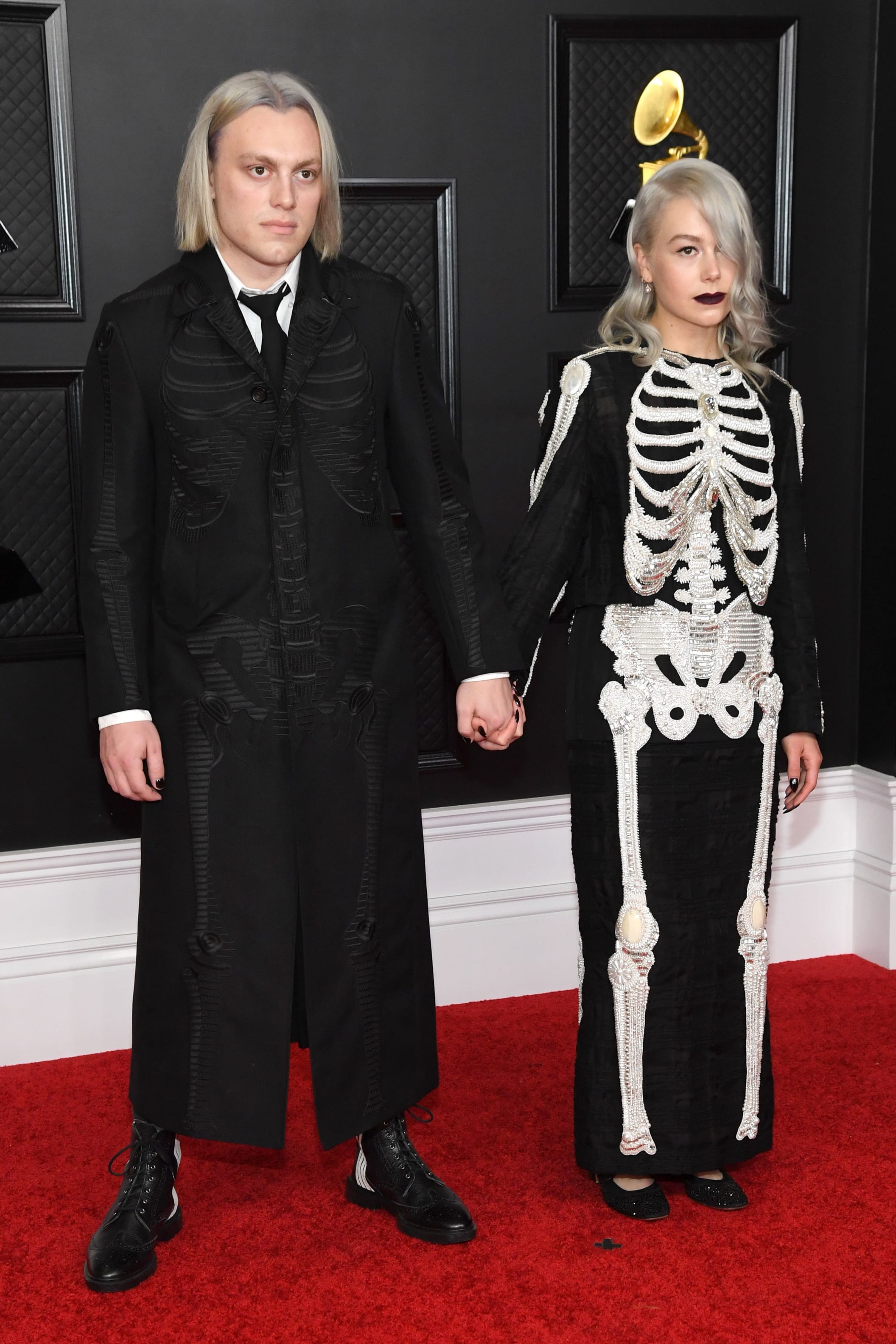 Photo by Kevin Mazur/Getty Images for The Recording Academy
Phoebe Bridgers attended the 2021 Grammys, where she was nominated for best rock song and best rock performance, with her brother as her date. The pair held hands and stared into space like an uncanny pair of siblings from a creepy Tim Burton film. Bridgers wore a crystal and pearl bejewelled skeleton dress by Thom Browne and also provided some more context about her skeleton suit obsession. "I wear a skeleton costume all the time, but one of the reasons I do is because I saw this Thom Browne dress forever ago and thought it was so cool," she said in a red carpet interview. "And I asked for it. I basically stole it."
get phoebe bridgers' style
i am weed
you are missing out on some content here because you rejected our cookies. want to change that?
It might all seem like a weird fever dream now, but in 2021, Megan Fox and Machine Gun Kelly were seemingly everywhere, telling anyone who would listen about how intensely, tragically, world-shatteringly in love they were – wearing vials of each other's blood, writing Instagram poetry, talking about being twin flames, that sort of thing. For Halloween that year, Phoebe Bridgers and then-boyfriend Paul Mescal dressed up as the controversial couple which was high-key iconic. Bridgers and Mescal have since separated, but like Megan Fox and MGK's coupling, their relationship remains a defining pop culture moment of the early 2020s. Love fades, but photos of couples' Halloween costumes are forever.
queef urban
you are missing out on some content here because you rejected our cookies. want to change that?
When boygenius played Nashville this summer, they wore drag makeup and costumes to protest Tennessee's anti-drag legislation. Phoebe Bridgers became 'Queef Urban', Lucy Dacus became 'Lucille Balls' and Julien Baker became 'Shanita Tums.' Bridgers put a camp spin on her Halloween-inspired personal style in a black leotard embellished with silver crystals in the shape of a spider's web. She wore a voluminous curly wig and pink sparkly eye makeup. The trio led the crowd in a "fuck Bill Lee" chant against the governor who criminalised drag shows, with Julien Baker saying, "I'm so grateful for my life, not because I get to be on stage with my best friends, but because I am content with the person that I am. I have a lot of anger for the people that have made me feel small and feel erased. And I found it's a really powerful and humiliating tool to make those people fuck off. I would like you to scream so loud that Governor Lee can hear you."
rock legends
you are missing out on some content here because you rejected our cookies. want to change that?
For their Rolling Stone cover earlier this year, boygenius recreated the iconic Nirvana cover from 1994, which was not only cool as hell, but had the added bonus of pissing off classic rock dads on Twitter. The trio donned matching pinstripe business suits with burgundy ties, with Phoebe Bridgers taking on the role of frontman Kurt Cobain. Julien Baker described the shoot as "shitposting", saying, "You saw somebody do something and you were like, 'Wow, I wanna do that. I want to be that rockstar guy. And then by some random miracle, we get to do it." boygenius's name comes from the idea that little boys are told they are geniuses who will rule the world, but adults rarely put the same faith in girls. By taking on the name boygenius, Bridgers, Dacus and Baker are stepping into that confidence and proving there's no singular way to be a rockstar.
red carpet glam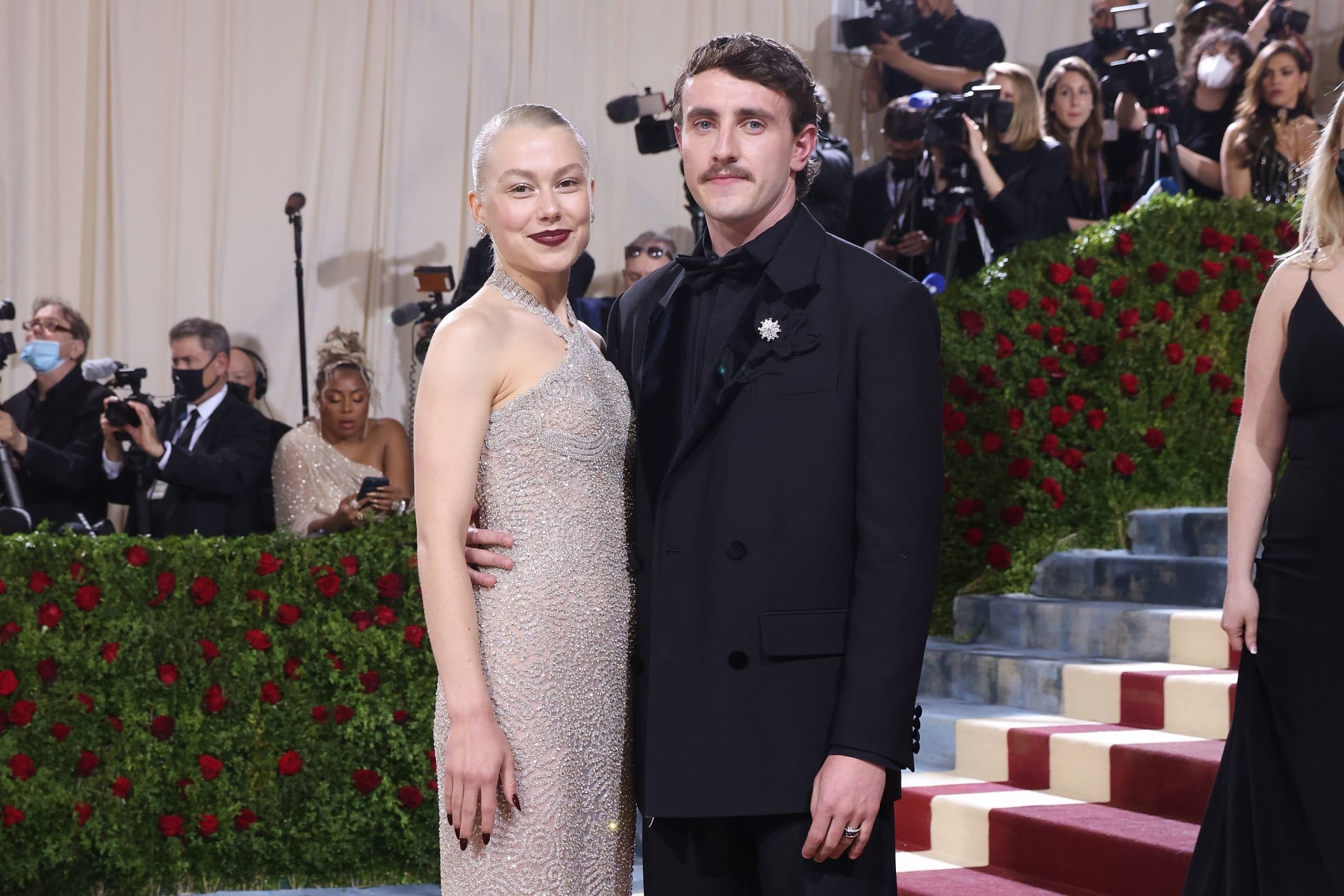 Photo by Taylor Hill/Getty Images
For the 2022 Met Gala, Phoebe Bridgers left her skeleton onesie at home and instead went full glam in a crystal embroidered dress designed by Jonathan Simkai. She attended with then-boyfriend Paul Mescal and their attendance spawned a thousands memes (and throuple rumours). Bridgers finished her look with with diamond jewellery and dark red lips and nails that hinted at her usual gothic style.
Products are selected independently by our editors from the woo online store, a carefully curated platform for feel good fashion, beauty, wellness and lifestyle, as well as externally. Items on sale are subject to change pending stock availability. Discover more here.